I'm not sure why, but I rarely make cupcakes.
Perhaps because I know I would eat way too many of them since they are just too easy to eat when no one is looking!
Layer cakes require a knife and a fork and a plate
That's way too much effort when you can get right down to it with a perfect cupcake!
Like these Banana Cupcakes with Cream Cheese Frosting!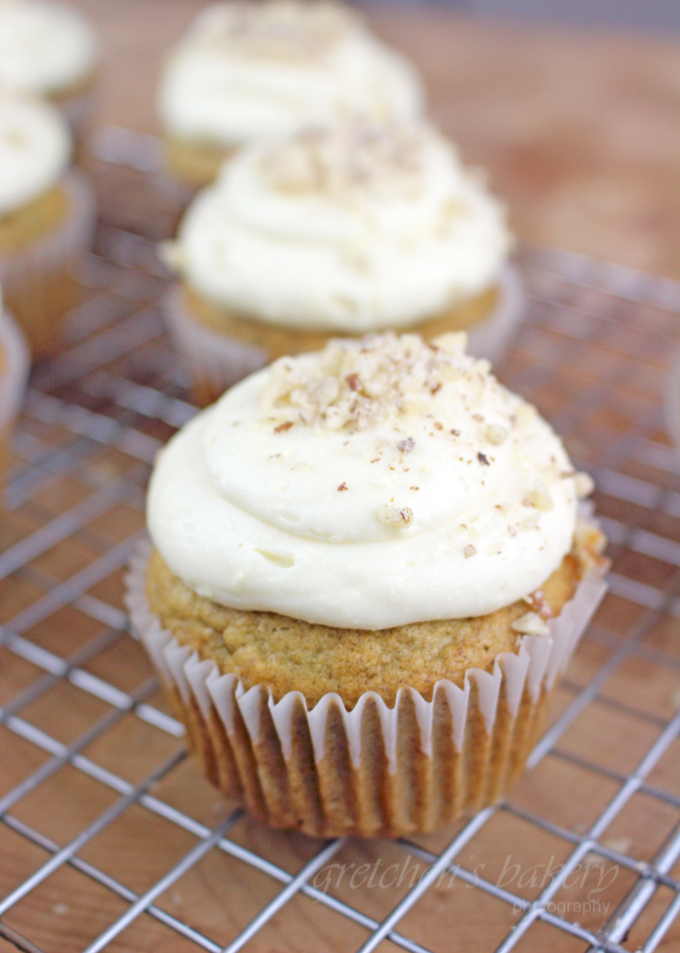 Not only does this recipe make the most moist, delicious banana cupcakes you have ever tried
But you can equally bake the batter into cake pans for an amazing Banana Layer Cake too!
The Cream Cheese Frosting is so perfect with these banana cupcakes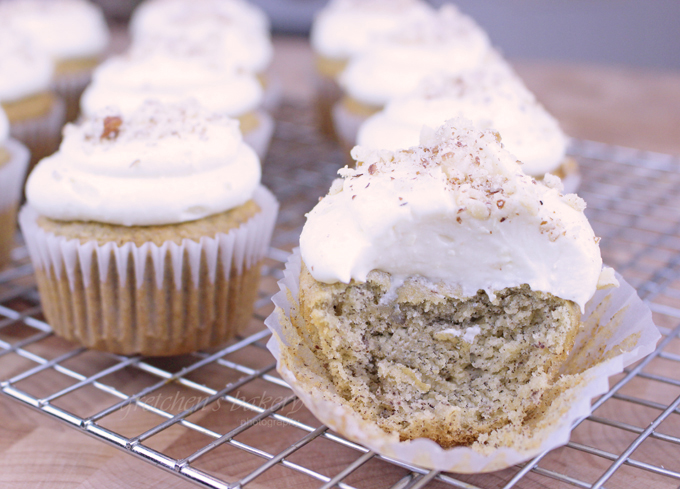 But you can of course use whatever icing you like the best.
I also used some finely chopped and lightly toasted walnuts for inside the batter, but I know many people don't like to use nuts in their recipes
Nuts or no nuts~ this recipe is going to become one of your forever favorites!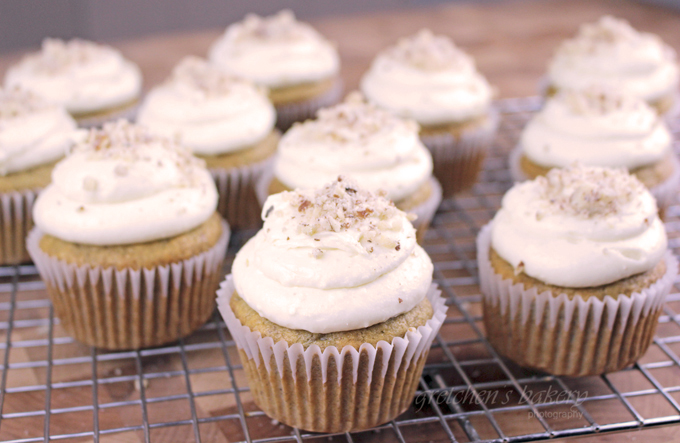 CLICK HERE FOR THE FULL YOUTUBE VIDEO TUTORIAL FOR HOW TO MAKE THESE CUPCAKES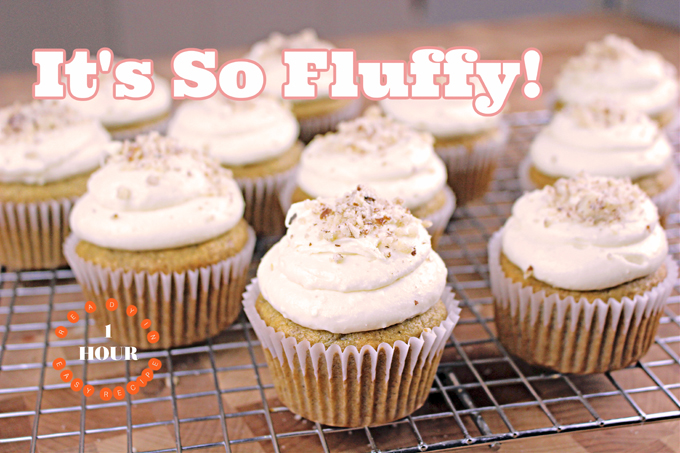 Notes for Success:
In this recipe you will see that I am using The Plant Based Egg ~ Egg Replacer by Freely Vegan in this recipe, but I know many people have a hard time getting that one.
You can sub in any other dry blend egg replacer of your choice equivalent to 1 egg, or use 1 Tbs flax meal reconstituted with 3 Tbs of the plant milk from the recipe below.
I also use soy milk in most of my baking recipes but for those wanting to avoid soy, you can use any plant milk of your choice.
The vegan cream cheese recipe is a very fragile one, since vegan cream cheese likes to break down into a soupy mess when it is mixed too harshly
So be sure to mix that simple 3 ingredient recipe by hand with a spatula as shown in the video tutorial.
Since I always have a stash of buttercream in my refrigerator, I like to add a bit of it to my cream cheese icing recipe
This helps with stability but it is completely optional.
For more Banana Recipes click the links below!
Vegan Banana Cupcakes with Cream Cheese Frosting
If you use another egg replacer of your choice or even flax, you will add the reconstituted egg replacer to the recipe after the creaming in the first step, then proceed with the recipe as written.
Preheat the oven to 375°F and line your cupcake molds with paper liners
Ingredients
For the Banana Cupcakes:
All Purpose Flour 1 cup + 2 Tablespoons (140g)
Baking Powder ½ teaspoon
Baking Soda ½ teaspoon
Vegan Butter 5 Tablespoons (70g)
Granulated Sugar ½ cup + 2 Tablespoons (128g)
Salt ⅛ teaspoon
Ground Cinnamon ¾ teaspoon
Plant Based Egg Replacer 2 teaspoons *or any egg replacer you prefer according to the package instructions for 1 egg
Vanilla Extract 2 teaspoons (10ml)
Ripe Mashed Banana 1 large for 1 cup puree (approx 175g)
Plant Milk ⅓ cup (78ml)
Chopped lightly toasted walnuts *optional ½ cup
For the Cream Cheese Icing:
Softened Vegan Butter 8 tablespoons (112g)
Confectioners Sugar 2 cups (240g)
Vanilla Extract 1 teaspoon
Vegan Cream Cheese 2 -8ounce packages (454g)
Apple Cider Vinegar 1 teaspoon *optional
Instructions
For the banana cake batter:
Cream the softened vegan butter with the sugar on medium high speed until light and fluffy, this will take approximately 4 minutes.
Stop and scrape the bottom & sides of the bowl for an even mix
Sift the flour, baking powder & soda, the plant based egg *if using* with the salt and cinnamon.
Combine the vanilla extract to the soy milk
Once the butter is creamed sufficiently add ⅓ of the sifted dry ingredients and mix just until combined
Add ½ of the soy milk vanilla mixture and mix just until blended
Add another ⅓ of the dry ingredients while mixing on low, then add the remaining milk and then the last of the dry.
Add the mashed banana last mix well to incorporate
Scoop the batter into paper lined cupcake molds filling¾ full and bake immediately in a preheated 375°F oven for 10 minutes, then turn the oven down to 350°F to bake the rest of the way
Total bake time should be about 25minutes or until springy to the touch when you gently press the centers
Cool completely while you prepare the cream cheese icing
In a large bowl BY HAND mix the softened vegan butter with the confectioners sugar until smooth
Add the vanilla extract and the apple cider vinegar then add the vegan cream cheese and blend smooth
Ice cupcakes and sprinkle with additional chopped toasted nuts *optional
Notes
Un-iced cupcakes can be stored at room temperature for up to 4 days in an airtight container.

Iced cupcakes with Cream cheese icing must be refrigerated, however buttercream or fudge iced cupcakes can stay out at room temperature