Look no further! Your Christmas Cookie baking just got a whole lot easier!
There is nothing worse than mixing a cookie recipe intended for cut out shapes, only to find it spreads like no body's business in the oven; leaving you with Gingerbread Men that look like Jabba the Hutt rather than cute little guys worthy of bows and buttons.
This is honestly the best sugar cookie dough recipe.
Easy to mix, easy to roll (with a secret tip I will mention in the video) and fun to cut out and decorate!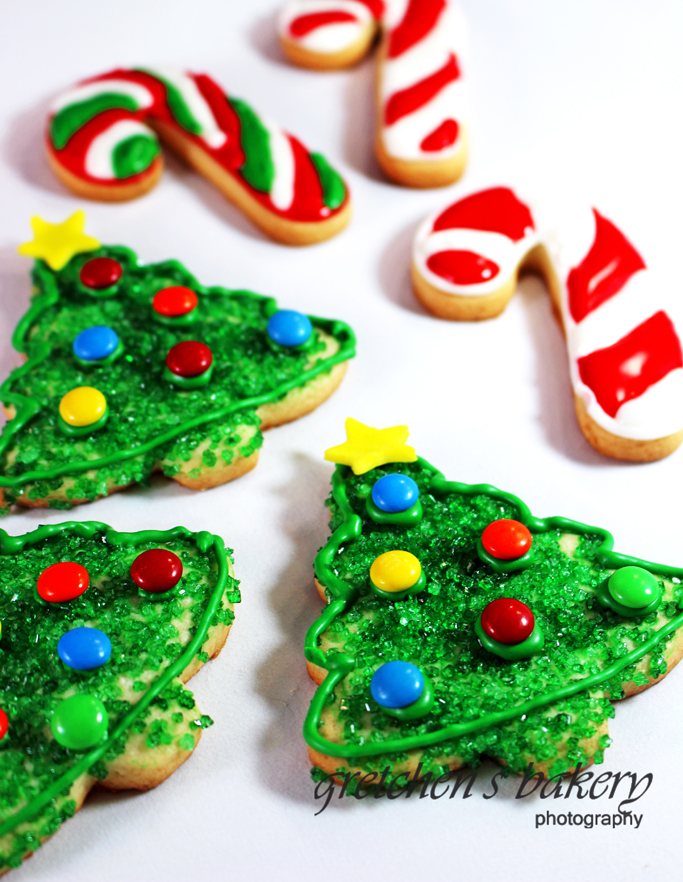 This recipe makes quite a large amount (for about 2 dz small to medium sized cookies) but for some of you, I have a feeling that may not be enough!
You can easily cut the recipe in half or even double it, just check your math if you do because 9 times out of 10 it is poor math and measuring that causes recipe failures!
Click here for more about that!
I also recommend a stand mixer since this is a hefty recipe that once you add the flour, a hand mixer may not be up for that task!
You can of course mix the flour in by hand if you don't have a stand mixer though.
Just a note about this dough recipe: I have gotten some comments from people saying the dough was sort of "bland".
While I think these cookies are really great on their own! I do know that "taste" and peoples opinions of taste are all unique as we all have slightly different taste buds; but I will note that this recipe is not meant to be the "star of the show".
It is more of a vessel to carry other flavors like the sugar decor which will take over any cookie dough recipe with it's sweetness (but hey, that's why they are called Sugar Cookies!)
I use this dough as a tart shell for almost all of my tarts like Fruit Tarts, Chocolate Tarts, Lemon Meringue Tarts etc…
So again the neutrality of this recipe is on purpose, as it is (what we call in the baking industry) a 1-2-3 dough.
Very basic with just a touch of lemon & vanilla extract and I like to add the zest of a lemon as well.
Some people have also had trouble with the rolling of a dough like this, but I do explain in the video that is is necessary to knead the dough back to a pliable consistency before rolling it out, or it may seem crumbly. (Ah, there was the secret tip! Darn, I am so bad at keeping secrets! LOL)
But quite possibly the problem for them was more of a measuring error too, so again click here to read a quick post about that!
But just watch the video for all the tips to success and you will add this recipe to your favorites file, I promise!
Oh one other thing, I know in the video I am making Halloween Cookies, but it is the same dough for the Christmas cutouts too!
Christmas Cookies The Best Sugar Cookie Dough Recipe
Serves:
2lbs of dough for approximately 3dz cookies
Ingredients
For the Sugar Cookie Dough
All Purpose Flour 3 cups (375g)
Baking Powder 1½ teaspoons (7g)
Salt ½ teaspoon (3g)
Vegan Butter 1 cup (226g)
Granulated Sugar 1 cup (200g)
Aquafaba 4 Tablespoons (60ml)
Vanilla Extract 1 teaspoon (5ml)
Lemon Extract *optional ¼ teaspoon
Lemon Zest 1 lemon approximately 2 teaspoons
For the Vegan Royal Icing
EnerG Egg Replacer 4½ teaspoons (20g)
Warm Water 6 Tablespoons (90ml)
Vanilla Extract ½ teaspoon
Confectioner's Sugar 4 cups (480g)
Instructions
For the cookie dough
Cream the vegan butter with the sugar until light and fluffy, about 3- 5 minutes.
Add the lemon zest, the aquafaba and the extracts to the creaming butter/sugar mixture and then stop the mixer and scrape the sides of the bowl
Next sift together the flour baking powder and salt and add it all at once to the creamed mixture. Mix just until it is all combined.
Wrap this dough disc in plastic wrap and chill for at least 2 hours or overnight before using or you can store it for up to 1 week wrapped in plastic wrap in the refrigerator, or in the freezer for 2 months.
You must re work this dough with some additional flour to a pliable consistency after it has been chilled. Do not skip this step.
Knead it with some flour until it is no longer a crumbly mass, but a soft pliable dough
Roll out the dough to ¼" thick and cut shapes as desired
If you are dipping in crystal sugar, spritz each cookie with water and then sprinkle with the sugar.
Transfer cookie cutouts to a parchment lined sheet pan and bake in preheated to 350° F oven for approximately 18-22 minutes or until light golden brown.
* For royal iced cookies just bake the cookies then decorate as shown in the video on cooled cookies
For the Royal Icing
Combine the egg replacer with the warm water and whisk smooth
Place the sifted confectioners sugar in a mixing bowl and then add the vanilla extract and the egg replacer mixture.
Mix on medium to high speed until it is smooth
Color as desired with food colors and decorate as you like on baked and cooled cookies.
Allow cookies to dry slightly at room temperature
Notes
Cookies stay fresh at room temperature for up to 2 weeks in an airtight contaner