This recipe for vegan sausage stuffed mushrooms will have your most carnivorous friends begging you to make them again and again!
These little mushrooms are packed with more flavor than you can imagine!
Perfect as an appetizer for any party, but I do love to serve these specifically on New Year's Eve.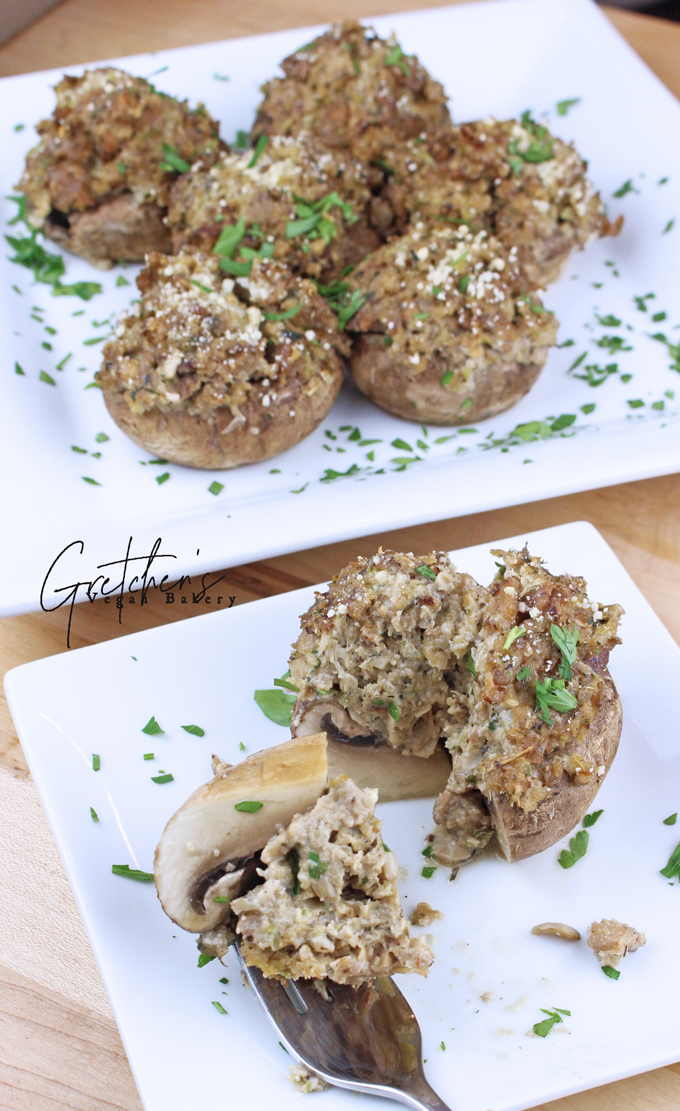 I have also made this recipe with Portabellas for a single serving appetizer or even the main course
Or just grab a couple dozen smaller ones for the bite sized finger food for your next gathering.
You can use any brand vegan sausage you like just be sure to read the ingredients as many brands claim to be "meatless" but will then add egg whites or even milk.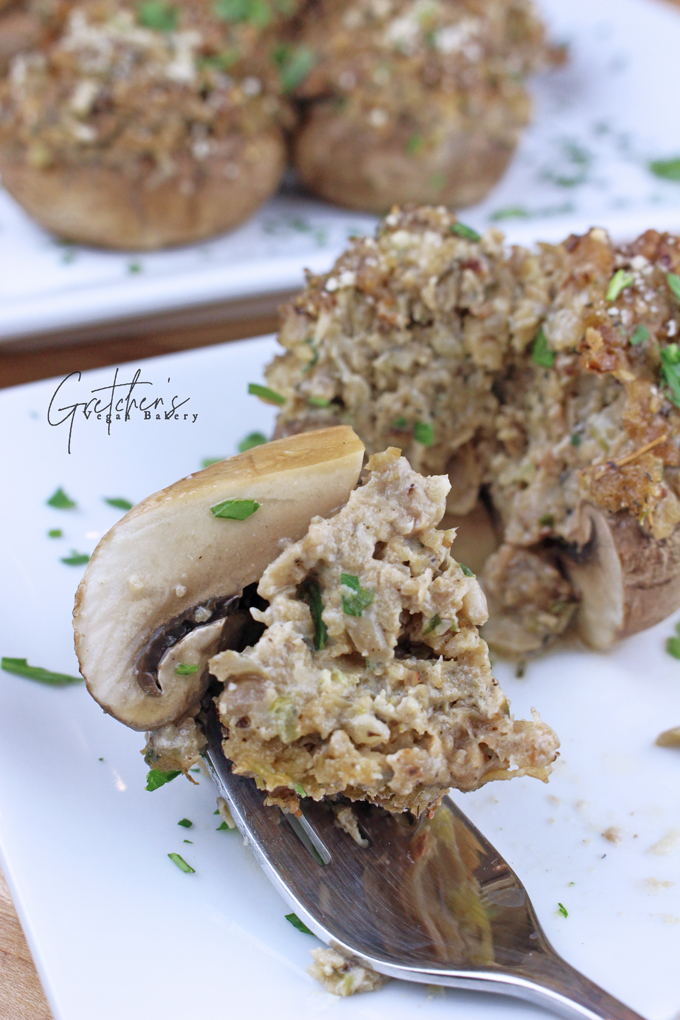 I also used panko whole wheat bread crumbs but any bread crumbs will do fine.
I've also used gluten free bread crumbs with great success.
CLICK HERE FOR THE YOUTUBE VIDEO TUTORIAL FOR HOW TO MAKE THESE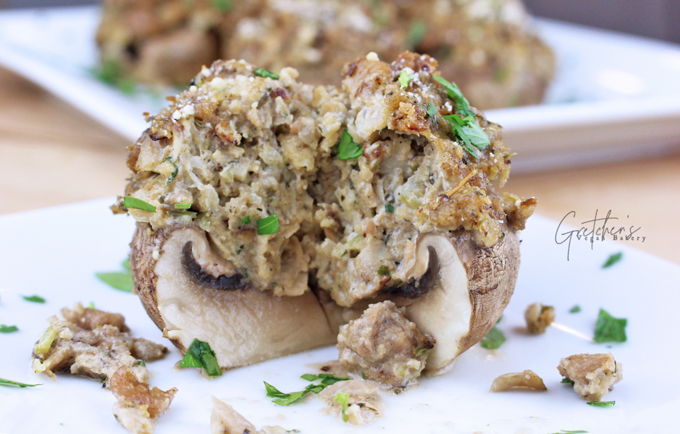 Notes for Success:
I only use Tofutti Cream Cheese for my BAKED recipes *not sponsored
I have not had success with any other brand in BAKED recipes; for some reason the other more expensive brands I've tried have broken down into an oily mess when baked.
However recently some of my viewers have told me that other brands work great in my baked cheesecake recipes!
I cannot verify personally if that is true because I cannot get ANY vegan cream cheees near where I live now!
Bit one viewer said, "I've had success with Violife! It's a little less perfect than Tofutti but still delicious"
Anotehr viewer said, "I used Miyokos original and it turned out divine!!"
In Connecticut~ Treeline cream cheese worked really well.
In UK cream cheese regular supermarket brand called Asda.

Vegan Sausage Stuffed Mushrooms
Serves:
6-8 Dz Jumbo or 18 Small
Ingredients
12 Jumbo Mushrooms or 24 Baby Bellas
Vegan Sausage 8 ounces (226g)
Vegan Cream Cheese 6 ounces (170g)* I've only had success cooking & baking with Tofutti Brand
Vegan Parmesan Cheese ¼ cup + 1 Tbs
Yellow Onion 1 small (approx ¾ cup)
Celery Ribs 1 large (approx ½ cup)
Flat Leaf Parsley ¼ cup packed
Garlic 2 cloves
Bread Crumbs ¾ cup
Dried Thyme 1 teaspoon
Dried Sage ¾ teaspoon
Salt 1 teaspoon
Ground Black Pepper ½ teaspoon
Vegan Butter 2 Tablespoons (26g)
Instructions
Wash and de-stem the mushrooms but reserve the mushroom stems
Take 1 tbs of the vegan butter and coat the bottom of a 9" X 13" baking pan
Arrange the mushrooms in the pan
Combine the parsley, celery, garlic and onion with the mushroom stems in a food processor and process until everything is shredded like hash
Cook the vegan sausage over high heat until it is browned then add the chopped veggies with the sage and thyme and cook for about 1 minute
Lower the heat and add the vegan cream cheese and cook over medium heat until all is combined well
Add the bread crumbs and the ¼ cup of Parmesan cheese and mix well
Season with salt and pepper then remove from the heat and fill the mushroom caps with the sausage mixture
Top each one with the remaining 1 Tbs Parmesan cheese and the 1 Tbs remaining butter (each mushroom gets a tiny spot of vegan butter) Or just melt the butter and brush over the tops of each one
Bake in a preheated 350°F oven for 25 minutes
Serve hot
Notes
Mushrooms are best served hot out of the oven but can be made ahead of time and reheated

Leftover mushrooms should be stored in the refrigerator for up to 3 days