This recipe for vegan sausage stuffed mushrooms will have even your most carnivorous friends begging you to make them again and again!
Perfect as an appetizer for any party, but I do love to serve these specifically on New Year's Eve.
Maybe it's my little way of coaxing those folks who are on the fence about trying a plant based diet as many people do consider it more around new years resolution time, after all plant based eating is a healthier diet choice, so why not!
And believe me, once they try these little mushrooms packed with more flavor than they have ever experienced on a meat diet (yes it's true!) they will be ALL IN!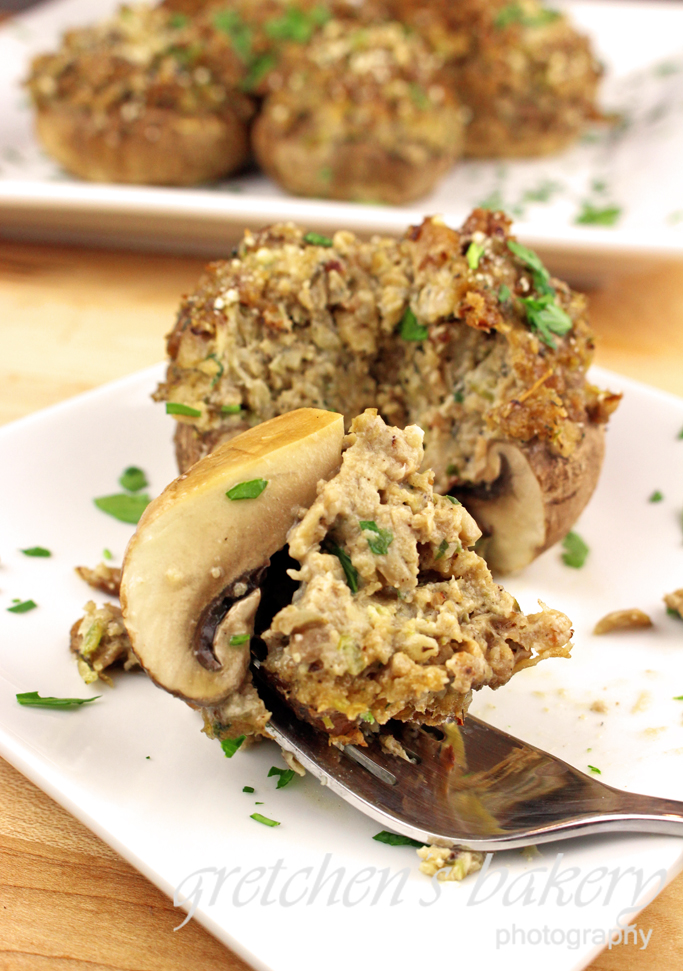 Ok so mine are not so "little" but I could not pass up those giant mushrooms at the grocery store this week!
Some of them were as big as my hand!
But whatever size you get or want will work!
You can make them giant as a single serving appetizer or even the main course; or just grab a couple dozen smaller ones for bite sized finger food for your next gathering.
This recipe has been with me for more than 20 years and before I transitioned to vegan, I made them at every party I ever had!
So you can imagine how thrilled I am to show you how to easily veganize this recipe without compromising a stitch of flavor and the texture is right on!
You can use any brand vegan sausage you like, just be sure to read the ingredients as many brands claim to be "meatless" but will then add egg whites or even milk.
In the video I used white mushrooms since those were the giant ones that were just calling my name, but normally I buy baby Bellas since I find them to be more flavorful and just better (in my opinion).
If portabellas are more your style, go for it!
Any mushrooms that are stuff-able will work great!
I also used panko whole wheat bread crumbs, but again, any bread crumbs will do fine.
I've also used gluten free bread crumbs with great success.
In a pinch I've even used a piece of toast crumbled up when I ran out of bread crumbs in the pantry!
That's the thing about cooking versus baking, it is just way more forgiving!
Speaking of baking I would definitely be serving these with an equally finger food-able dessert like my Chocolate Chip Cookie Dough stuffed Brownies or Whiskey Truffles!
Happy New Year!
Vegan Sausage Stuffed Mushrooms
Serves:
6-8 Dz Jumbo or 18 Small
Ingredients
12 Jumbo Mushrooms or 24 Baby Bellas
Vegan Sausage 8 ounces (226g)
Vegan Cream Cheese 6 ounces (170g)* I've only had success cooking & baking with Tofutti Brand
Vegan Parmesan Cheese ¼ cup + 1 Tbs
Yellow Onion 1 small (approx ¾ cup)
Celery Ribs 1 large (approx ½ cup)
Flat Leaf Parsley ¼ cup packed
Garlic 2 cloves
Bread Crumbs ¾ cup
Dried Thyme 1 teaspoon
Dried Sage ¾ teaspoon
Salt 1 teaspoon
Ground Black Pepper ½ teaspoon
Vegan Butter 2 Tablespoons (26g)
Instructions
Wash and de-stem the mushrooms but reserve the mushroom stems
Take 1 tbs of the vegan butter and coat the bottom of a 9" X 13" baking pan
Arrange the mushrooms in the pan
Combine the parsley, celery, garlic and onion with the mushroom stems in a food processor and process until everything is shredded like hash
Cook the vegan sausage over high heat until it is browned then add the chopped veggies with the sage and thyme and cook for about 1 minute
Lower the heat and add the vegan cream cheese and cook over medium heat until all is combined well
Add the bread crumbs and the ¼ cup of parmesan cheese and mix well
Season with salt and pepper then remove from the heat and fill the mushroom caps with the sausage mixture
Top each one with the remaining 1 Tbs parmesan cheese and the 1 Tbs remaining butter (each mushroom gets a tiny spot of vegan butter)
Bake in a preheated 350°F oven for 25 minutes
Serve hot
Notes
Mushrooms are best served hot out of the oven but can be made ahead of time and reheated

Leftover mushrooms should be stored in the refrigerator for up to 3 days