One last lick of summer before we roll head first into Pumpkin Everything Season!
This Ice Cream Sandwich Cake recipe is what I call a "half and half"
Half homemade and half store bought!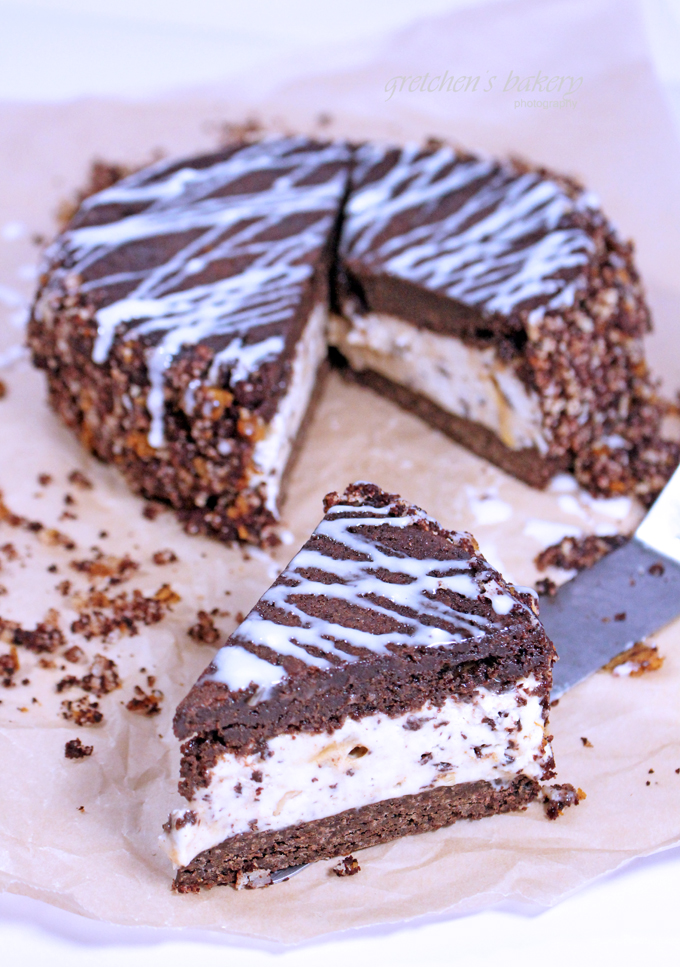 Don't judge me!
I just can't bring myself to make homemade ice cream anymore!
There are so many awesome dairy free alternatives out there and each one is better than the next!
Lately I have found myself hopelessly addicted to SoDelicious Salted Caramel Cluster!
*not sponsored!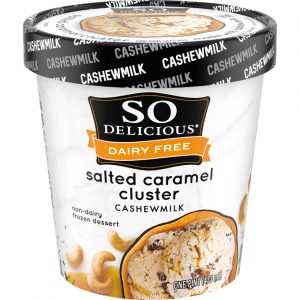 So while I am buying my ice cream to show you how to make this Ice Cream Sandwich Cake
You and Martha Stewart can certainly make your own ice cream recipe and then meet me back here!
The winning touch to this recipe happens to be my Ice Cream Sandwich Cake Recipe anyway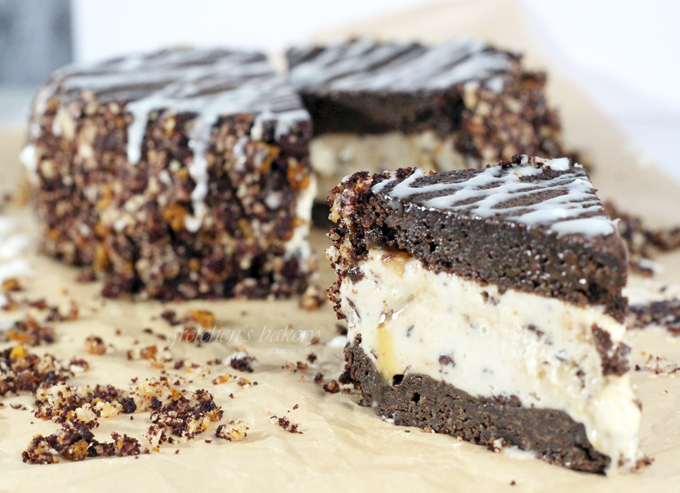 So as long as you make this part I don't really care what you do about your ice cream part!
Authentic Ice Cream Sandwich Cake is the real deal
You know, that thin cake that gets stuck all over your fingers while you try to lick all the melt-y ice cream from running down your hands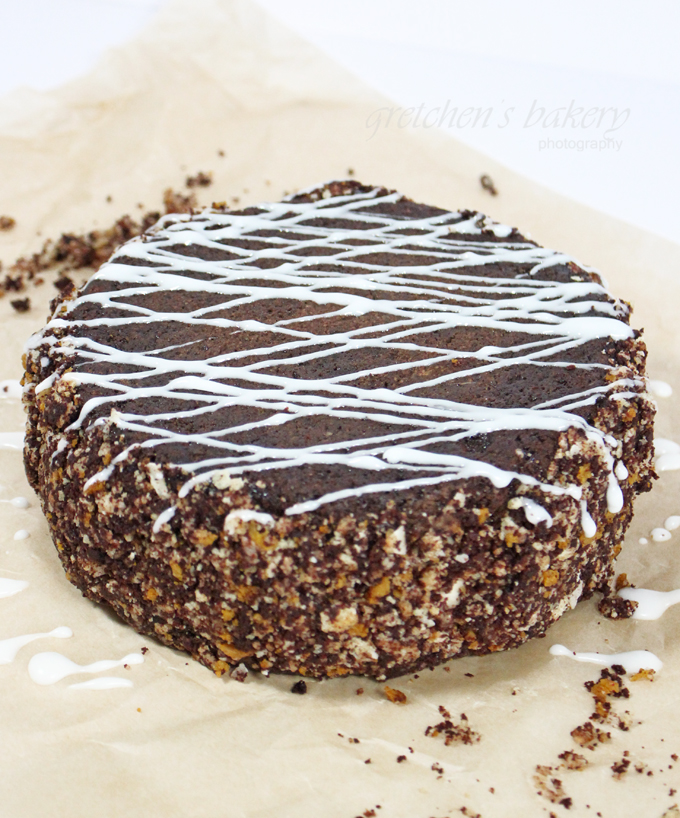 It doesn't get frozen so you can actually bite into this one like a real deal soft ice cream sandwich!
However, rather than baking my ice cream sandwich cake into sheet pans this time
I decided to go with round cake pans instead
For a giant "chip-wich" sort of look
Except with giant soft crumbs of cake that I had in my freezer instead of those hard, frozen chocolate chips on the side!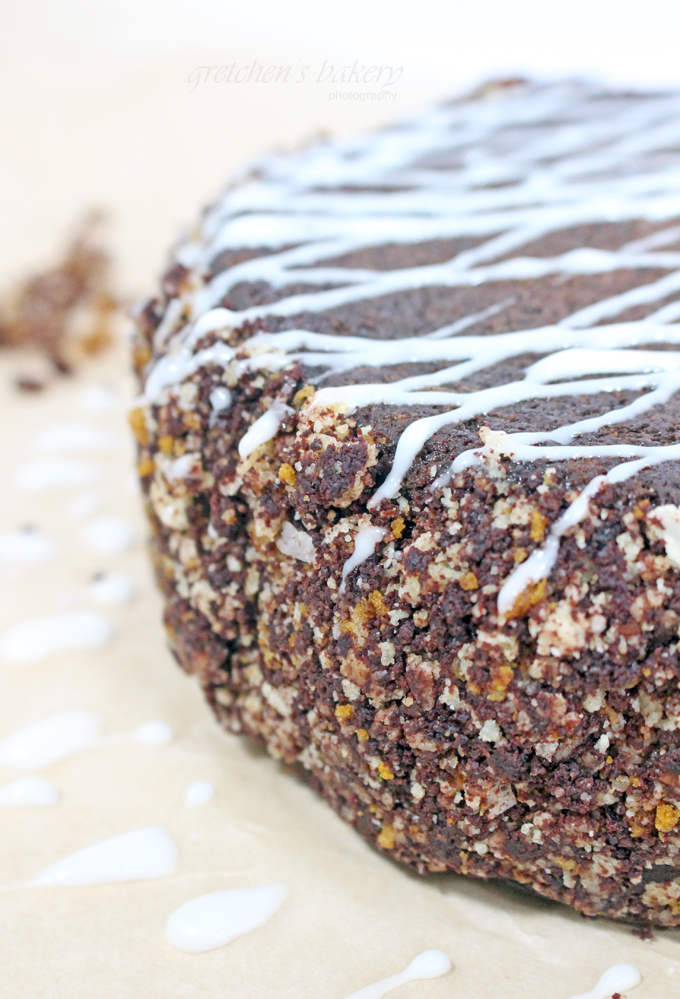 It's more of an ice cream sandwich that can actually double as an ice cream cake but with way less fuss!
Just add some candles and you have yourself a party!
Or do what I did, and eat it in private for a romantic party of one!
So go ahead and grab your favorite ice cream
Or make a recipe of homemade you over-achiever you!
For more ice cream recipes click the links below
Toasted Coconut Caramel Ice Cream Sandwiches
Ice Cream Sandwich Cake
I am using 7" cake pans to make this entire recipe
You will bake the Ice Cream Sandwich Cake recipe into 2-7" pans and then mold your entire ice cream cake into those same pans after cooling.
You can also divide the batter into 2-¼ sheet pans instead, for rectangle shaped ice cream sandwiches
Ingredients
For The Ice Cream Sandwich Cake Recipe
All Purpose Flour 1¾ cup (225g)
Natural Cocoa Powder 4 Tablespoons (28g)
Baking Soda ¾ teaspoon
Salt ¼ teaspoon
Vegan Butter softened 8Tablespoons (113g)
Granulated Sugar 1 cup (200g)
Vanilla Extract 2 teaspoons (10ml)
Cold Plant Milk *i used soy milk ⅓ cup (77ml)
2 Pints of your favorite non-dairy ice cream
Instructions
Preheat the oven to 300°F
Grease & parchment line your cake pan(s)
Cream the soft vegan butter with the sugar on medium high speed until light and fluffy (about 3-4 minutes)
Sift the flour with the baking soda, salt & cocoa powder
Add the vanilla extract to the plant milk
Add a few tablespoons of the liquid to the creamed mixture then scrape the bottom & sides of the bowl for an even mix
Add ⅓ of the sifted dry ingredients, mixing just until combined ~ do not over mix
Add half of the remaining liquids and then another ⅓ of the dry
The remaining liquids and then the last of the dry ingredients
Scrape the bottom & sides of the bowl well then whip on high speed for 10 seconds
Divide the batter between your cake pans and spread as evenly as possible
Bake immediately in the preheated oven for 10 minutes be careful not to over bake or it will be dry
Cool completely then remove from the pans, peel off the parchment paper
Line the same cake pan (just one) with plastic wrap and place one of the ice cream cake circles in the bottom
Mash up your favorite ice cream into the cake pan and then top with the other ice cream cake circle
Freeze solid then just before serving remove by pulling on the plastic wrap flaps over hanging and roll the exposed ice cream cake sides into crushed up cake crumbs or cookies
Notes
Ice Cream Cake must be kept in the freezer at all times, will stay fresh wrapped well for up to 2 months