Cobbler recipes are the easiest way to celebrate all the fruits of summer!
Not to mention they are the easiest recipes to veganize because the only ingredients in question would be the butter and the milk used to make the topping.
Today I have my favorite combination of all time ~ Blueberry Peach Cobbler
You can literally pick any fruit or combination of fruits and then just pile on the cobbler topping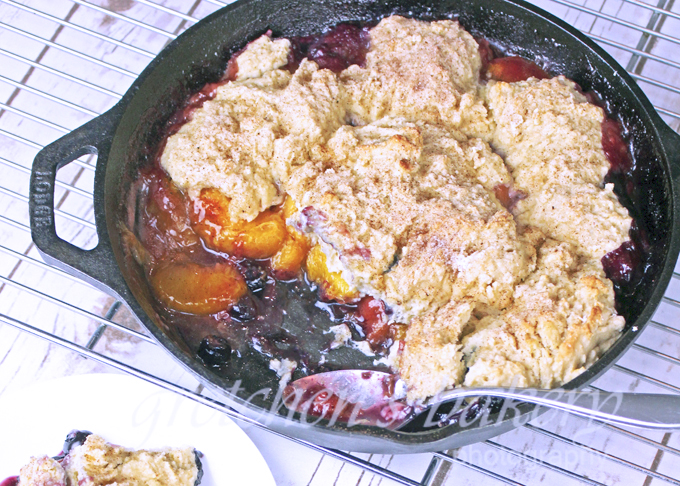 The main difference in my peach blueberry cobbler recipe versus most of the recipes I have seen on the internet is in the way I make my cobbler topping.
Mine is more of a biscuit style, almost like a dumpling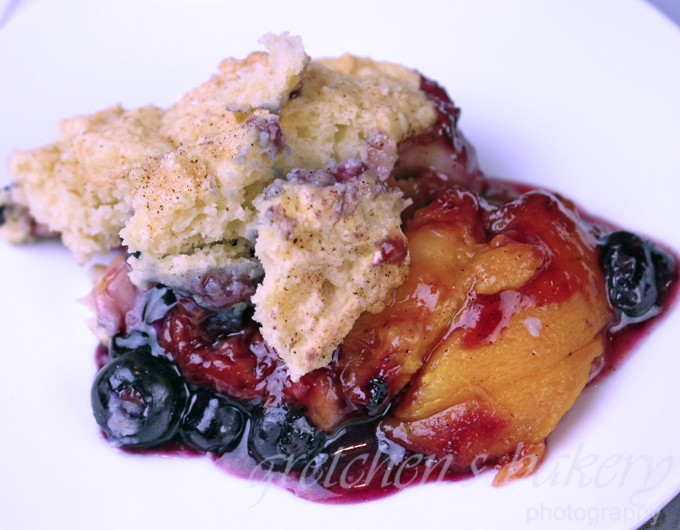 Whereas most others that I see are more like a pancake batter poured over the fruit and baked that way.
I have been making fruit cobblers with the biscuit topping since my early days as a Pastry Chef back in 1997 and I just love this style so much
Honestly it brings more texture more to each bite rather than that cake type batter
Biscuit toppings are a better option to soak up all that juicy and delicious fruit filling without making it all soggy like a pancake or cake topping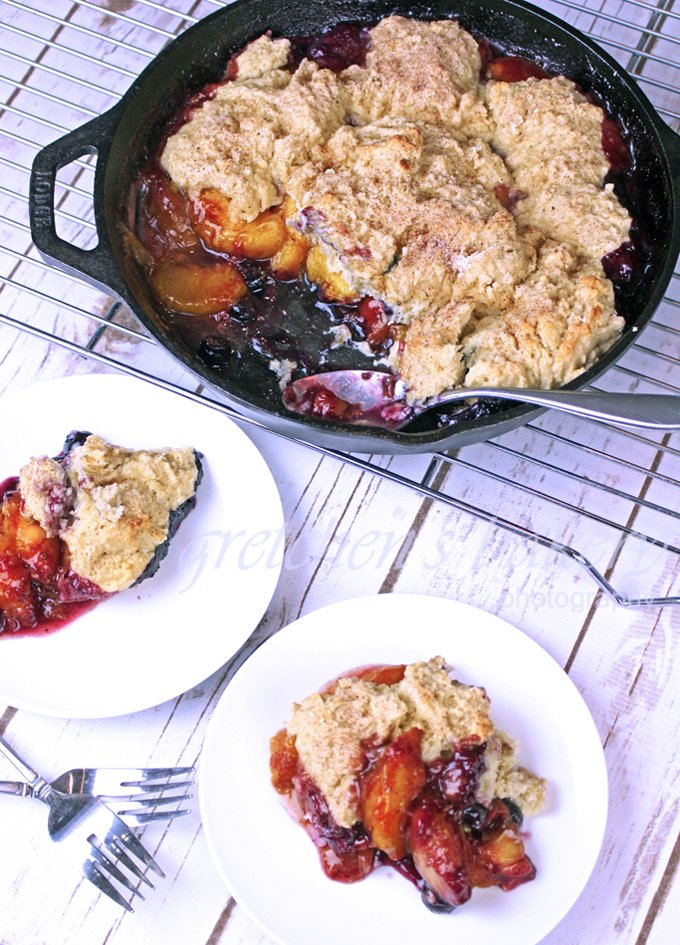 Biscuits in general though take a delicate hand in mixing or you lose that flaky, light crumb and end up with a more bread-like crumb that is dense and tough.
If you watch the YouTube video tutorial for how I make this recipe you will get a close up view of how to handle the making of the biscuit topping for the most flaky and light dough you have ever tried!
CLICK HERE FOR THE YOUTUBE VIDEO TUTORIAL FOR HOW TO MAKE THIS COBBLER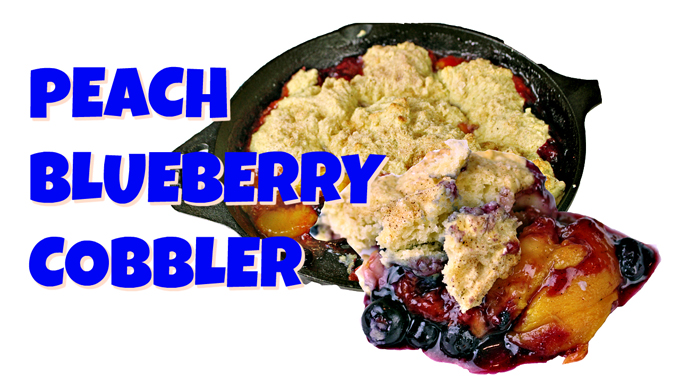 Tips for Success:
When making a biscuit or cobbler topping, the ingredients must be cold!
I usually put the vegan butter in the freezer while I gather all my other ingredients this way it is super cold when I grate it into the flour mixture
Using a box grater for the butter is also a professional tip to getting the butter worked into the dough with as little hand pressure as possible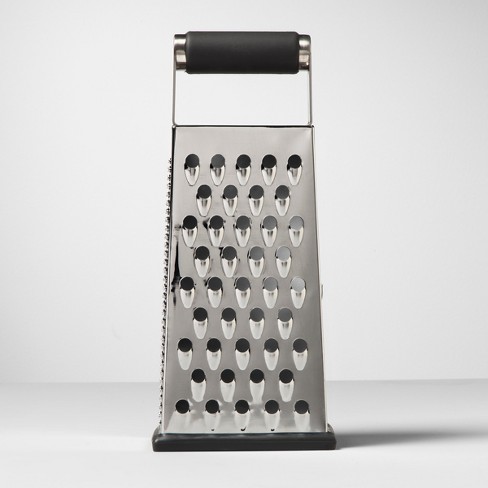 Since as I mentioned a delicate hand is the key to a flaky, light biscuit.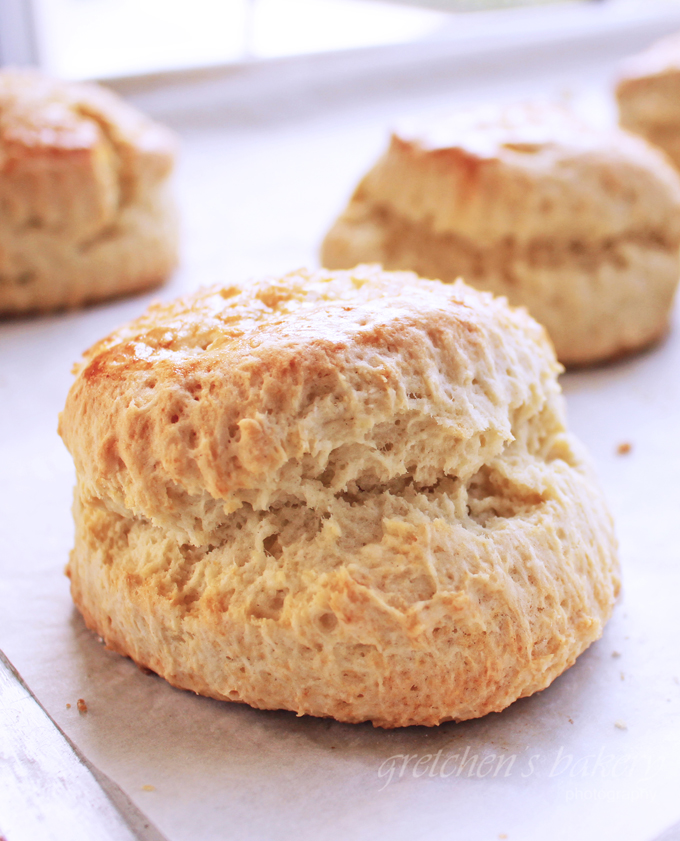 For more Fruity Summer Recipes Click the links below!
No Bake Key Lime Pie Cheesecake
White Chocolate Berry Cream Pie

Blueberry Peach Cobbler Recipe
You can use frozen sliced peaches here if you can't get fresh or don't want the extra work of peeling them, just thaw slightly before tossing with the other ingredients.
Canned peaches will be too mushy since they are already cooked to soft before they are canned
Ingredients
For the Fruit Filling:
Fresh Peaches 5 or 6 large for about 3½ cups of peeled sliced peaches
Fresh or Frozen Blueberries 1 cup
Granulated or Light Brown Sugar 1 Tablespoon
Cornstarch 1 Tablespoon
Ground Cinnamon ¼ teaspoon
Ground Nutmeg ¼ teaspoon
Ground Ginger ⅛ teaspoon
Lemon zest from 1 small lemon approx 1 teaspoon
Juice from half an orange approx 2-3 Tablespoons
For the Cobbler Topping:
All Purpose Flour 1¾ cup (218g)
Granulated Sugar 2 Tablespoons (28g)
Salt ½ teaspoon
Baking Powder 2 teaspoons
Vegan Butter COLD 2 Tablespoons
Plant Milk COLD ¾ cup (177ml)
Instructions
Combine all the ingredients for the fruit filling together in a large mixing bowl, toss well to combine evenly
Pour into a lightly greased casserole dish (9" x 9") or a 10" Cast iron Skillet
In another large bowl combine the flour, salt, baking powder and sugar together and make sure it is all blended well.
Add the cold grated or small diced butter to the flour mixture and cut in with a pastry cutter, fork or by using a box grater to incorporate as best as possible without melting the butter with the heat from your hands.
Once the flour mixture resembles course meal and the butter is distributed evenly pour in the cold soy milk and toss gently to absorb the flour.
You are not making bread so try not to knead or overwork the dough
Place dumplin sized pieces of the cobbler dough over the fruit filling in the dish and then sprinkle with optional cinnamon sugar
Bake in a preheated 375°F oven for approximately 45 minutes or until the fruit is bubbling and the cobbler toppings is not raw (pick up a small piece of the dough to make sure it is not raw & doughy)
Serve hot with your favorite non dairy ice cream or whipped coconut cream
Notes
Leftover cobbler can be stored for up to 5 days in the refrigerator, covered and simply rewarmed before serving.