Summer is approaching so that means BBQ's outdoor parties and easy buffet style food!
This is the Best Vegan Potato Salad Recipe ever and I want you try it!
No one will know it's vegan (since apparently the mere mention of "vegan food" invokes the vomit emoji in those who are less "aware") so fear not, this recipe is going to be a crowd pleaser!
You will notice in the video below I started with red potatoes as I laid out my ingredients in the first couple minutes, but switched to Yukon Golds for the final result.
For me and my potato salad preferences I like a creamy, mash-y like consistency and this can only be achieved using Yukon Golds, or even baking potatoes will work.
The red bliss potatoes (while delicious in their own right) will not get that mash-y, mingle and meld with everything and get all up close and personal with the other ingredients kind of consistency; they just want to stay in their own lane.
So whether you like mash-y creamy potato salad as pictured here or a potato salad with a bit more "boundaries" you simply switch up the potato you are using and keep all the other ingredients the same.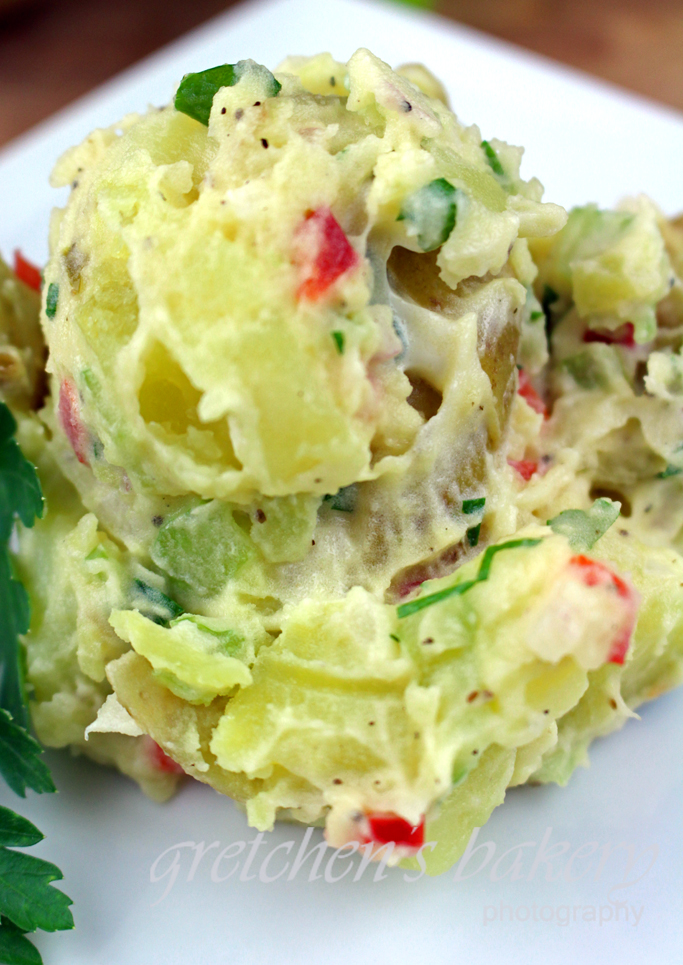 A note about Vegan mayo : I use Just Mayo by Hampton Creek and while I do (did) love it the best and wanted to really support them after the crazy lawsuit ignited by Hellman's and the Egg Board they have since changed their formula and sadly it is not a good as it was when they first came out.
I have tried Hellman's and liked it too, but wanted to stay away from supporting them because of all this craziness a couple years ago.
I say just go with what you like best, what you feel is the best choice ethically or just make your own!
While I don't have my own recipe posted yet, there are many many Vegan Mayo recipes on the internet and since mayo is the star of any Potato Salad show, you will have to pick the one you like best.
The Best Vegan Potato Salad Recipe
Whenever I make my potato salad I never measure, so I am giving you my best estimates of what I use and you can feel free to increase or decrease anything to your liking
The relish is purely optional too but I like the sweetness it adds
Before I was vegan I would add hard boiled eggs to my potato salad, so now I just use Kala Namak instead for that slightly "egg-y taste"
Ingredients
Yukon Gold Potatoes 2½ lbs
Vegan Mayo ¾ cup
Celery Ribs 1 large minced
Bell Pepper (pick your color, red, green, orange or yellow) ½ large minced
Sweet White Onion or Red Onion ½ medium minced
Scallions 1 stalk minced
Sweet Relish ¼ cup
Apple Cider Vinegar 2 teaspoons
Fresh Parsley 3 Tbalespoons
Kala Namak 1½ teaspoon
Fresh Ground Pepper ½ teaspoon
Celery Seed 1 teaspoon
Garlic Powder ¾ teaspoon
Smoked Paprika ½ teaspoon
Instructions
Dice the potatoes to ½" cubes and bring to a boil, cook until fork tender
Drain and cool slightly (about 5 minutes) then add all the other ingredients while the potatoes are still slightly hot
Mix well adjust to taste with extra seasonings if needed
Transfer to a serving bowl or storage container and cool in the refrigerator before covering
Serve cold but I can never wait that long!
Notes
Store for up to 1 week in the refrigerator, covered