Saint Patrick's Day is a time for all the Irish inspired recipes to come out!
I do love Irish Soda Bread and would serve it all year round!
I found this recipe on the internet many years ago.
I've tweaked it slightly and have been using it every year.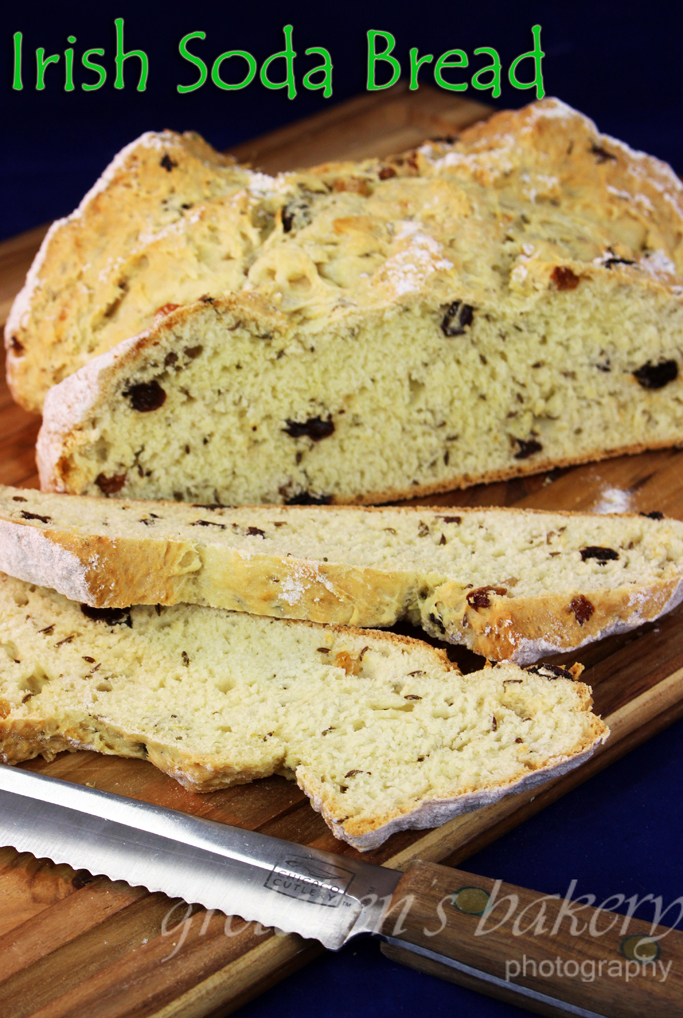 Traditional Irish soda bread can have a tendency to be dry to the point you can barely swallow it, but this recipe is not that way!!
With just a handful of ingredients that you probably have in your pantry right now, you will be eating Irish Soda Bread in less than an hour.
Okay let it cool first, so maybe an hour and a half!
Leave out the raisins and caraway if you don't like either and you will still have a great tasting, quick & easy bread in less than 2 hours!
Irish Soda Bread
I like to make 2 smaller loaves rather than 1 large loaf (mostly because they bake better that way)
If you go for the larger loaf, turn the oven down to 300°F for the last 20 minutes of baking to avoid over browning.
Ingredients
All Purpose Flour 500g (4 cups)
Salt 6g (1 teaspoon)
Baking Powder 5g (1 teaspoon)
Baking Soda 5g (1 teaspoon)
Caraway Seeds (optional) 8g (1 Tablespoon)
Light & Dark Raisins 82g (½ -¾cup total)
Soy Milk 475ml (2 cups)
Apple Cider Vinegar 2 Tablespoons
Coconut Oil any Vegetable Oil 2 Tablespoons (28g)
Instructions
Add the apple cider vinegar to the soy milk and let stand to thicken about 5 -10 minutes.
In a large mixing bowl combine all the sifted dry ingredients and the raisins and caraway seeds.
Add the coconut oil and the soured soy milk and work this dough to a very soft, sticky mass.
Turn out onto a lightly floured work surface and knead it gently into a disc (or 2 if you are making the smaller loaves).
This loaf is what we call a "free form" bread. So you will place onto a sheet pan with parchment paper or a non stick sheet pan lightly floured and cut an X in the top of the dough round.
Dust with a little more flour, and bake immediately in preheated 350° F oven
Bake for 15 minutes at 350°F then turn the oven down to 325°F and bake for another 30 min to 40 minutes (depending on the size of your loaf or loaves smaller loaves take less time) or until it reaches 200°F on an instant read thermometer
Cool completely before slicing
Notes
Store bread in an airtight container at room temperature for up to 1 week