Ever wonder how you can get those jumbo bakery style muffins?
With high domes and all loaded up with berries and topped with crunchy buttery streusel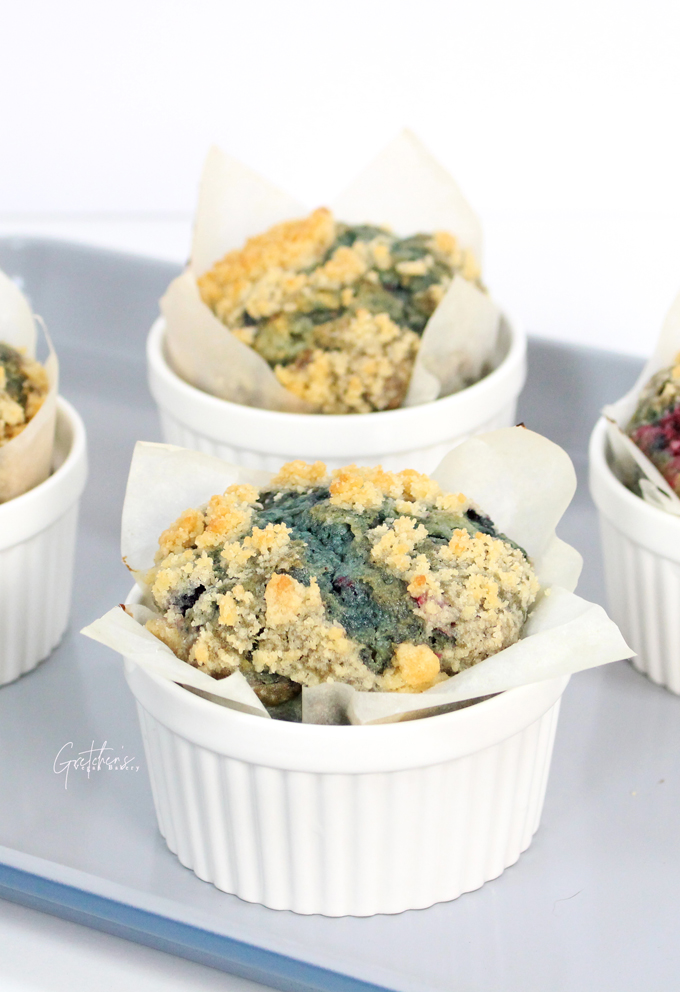 It's an easy one bowl mix and it's all ready in about an hour!
Mixed berries are my preference today but you can use anything you like to add to this base recipe for muffin batter
Pro Tip:
Weighing your ingredients versus the volume cups measure will give you perfect results!
If you have ever measured a cup of flour several times in a row, I guarantee you will get a different weight every time which translates to a different outcome of your recipes each time!
I have owned this scale for almost 10 years and I love it! A small investment will yield awesome results!
CLICK HERE FOR MORE ABOUT MEASURING INGREDIENTS!
Transform this recipe into a coffeecake simply by baking all the batter in an 8″ cake pan!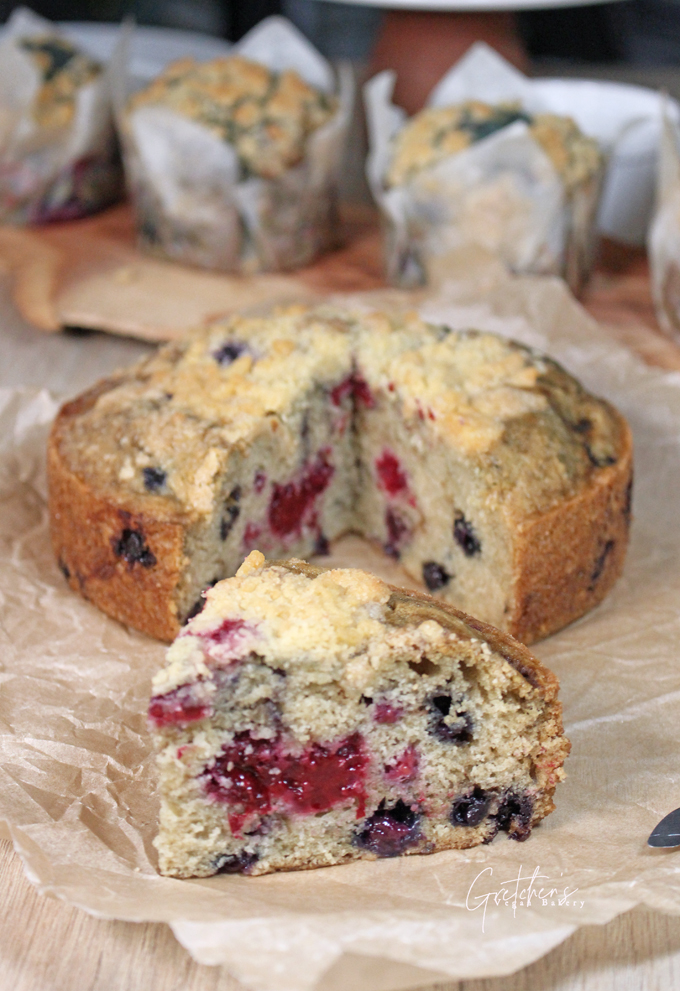 This website may contain links as part of the Amazon Affiliate program, which means when you click a link and make a purchase through my website I may earn a small commission at no additional cost to you
Notes for Success:
Baking the muffins in a preheated 375F oven will ensure a good rise in the initial stage of baking
Although I like to turn the oven temperature down to 350F after the first 20 minutes to make sure the tops and edges don't get too browned
While I have used a jumbo muffin tin for 6 muffins, a standard sized muffin tin will yield 12 muffins
Actually I used ceramic ramekins since I could not find my jumbo pan!
With a parchment paper liner these look exactly like the ones I sold in my bakery!
Substitute any berry you like the most instead of the mixed berries
Fresh or frozen berries can be used interchangeably, but using frozen berries will bring a juicier berry blast to each bite, however they will streak your muffins since they will start to thaw out as soon as they hit the batter
Frozen berries are already semi broken down due to the freezing process and they continue to break down quickly inside the muffin batter as it bakes
So if you are like me and want to get your "Smurf-berry Blast" on then be sure to use frozen berries!
The streusel topping is optional but I always have a bulk bag in my freezer for moments like this!
Alternatively you can leave the muffin tops plain or add a sprinkling of cinnamon sugar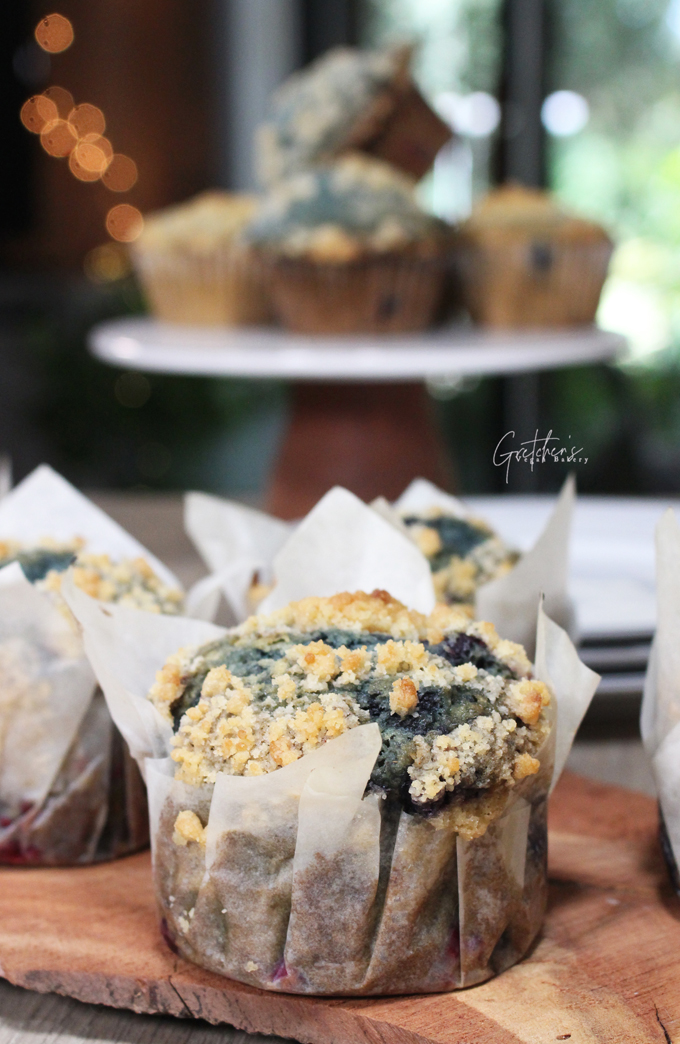 WATCH THE YOUTUBE VIDEO TUTORIAL FOR HOW TO MAKE THESE MUFFINS!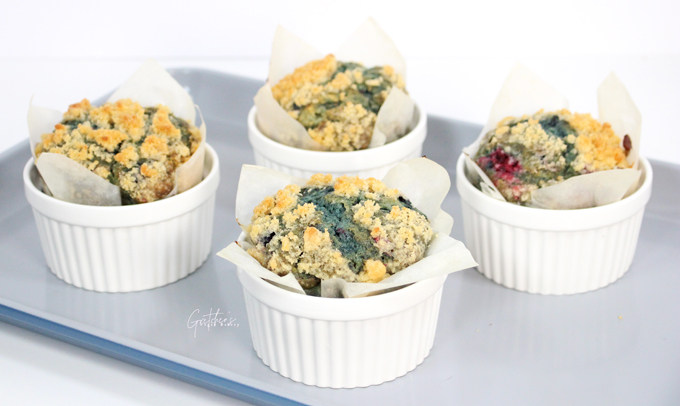 Yield: 6
Jumbo Bakery Style Muffins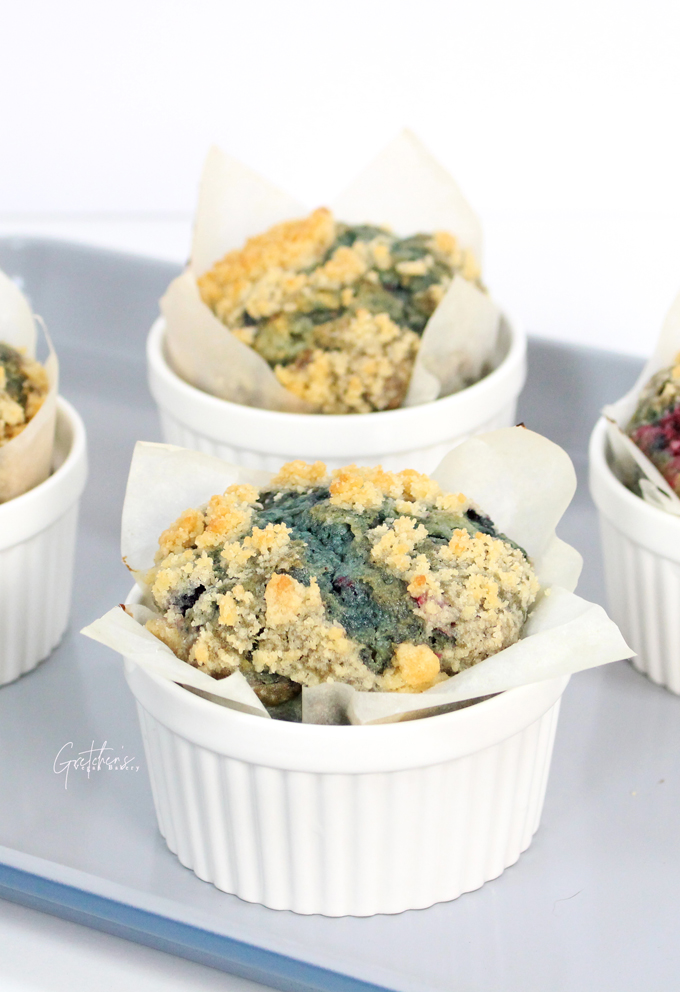 Ingredients
Plant Milk ¾ cup (177ml)
Vinegar 2 teaspoons (10ml)
Almond Extract 1 teaspoon (5ml)
Vanilla Extract 2 teaspoons (10ml)
Melted Vegan Butter 4 Tablespoons (56g)
Vegetable Oil 4 Tablespoons (60ml)
All Purpose Flour 2½ cups (312g)
Granulated Sugar 1 cup (200g)
Baking Soda 1½ teaspoons
Baking Powder ½ teaspoon
Salt ½ teaspoon
Cardamom 1½ teaspoons *optional
Mixed Berries fresh or frozen *see notes 1¼ cups
For the Streusel:
All Purpose Flour ½ cup (62g)
Cinnamon ¼ teaspoon
Light Brown Sugar 6 Tablespoons (90g)
COLD vegan butter 1½ Tablespoons (42g)
Instructions
First make the streusel topping by combing the flour, brown sugar and cinnamon in a mixing bowl then add the cold diced vegan butter and mix by hand of with a pastry cutter just until it resembles coarse meal.
Sprinkle the streusel onto a parchment lined sheet pan breaking up any large chunks to the size of peas
It is best to freeze before topping the muffins so I usually make this part first
Preheat the oven to 375°F and then line your muffin tray with paper liners. I like to give each liner a spritz of pan spray to ensure they come off the wrapper after they have cooled
First add the vinegar to the plant milk (soy milk is my choice & the only plant milk that will thicken like buttermilk) add the extracts as well
Now in a large mixing bowl combine the flour with the sugar, baking powder, baking soda, salt & cardamom and whisk together to incorporate well
Melt the vegan butter & add the melted coconut oil and pour both into the flour mixture in the bowl along with the thickened plant milk
Whisk to a smooth batter. The batter will not be liquidy it will actually be very tight~ this is OK
Add the berries and fold into the batter
Scoop into the prepared muffin tins filling 3/4 to the top then add 1 Tbs of frozen streusel to the tops of each one
Bake approximately 30-35 minutes for the jumbo muffins and about 25 minutes for the standard sized muffins, turning the oven temperature down to 350F after the first 20 minutes of baking
Cool for at least 15minutes before serving
Notes
Muffins will stay fresh at room temperature in an airtight container for up to 4 days
For longer storage freeze for up to 2 months wrapped well top prevent drying