Every Thanksgiving I make Fudge Brownies and a Pumpkin Pie
And every Thanksgiving I stick my brownie on top of my Pumpkin Pie and eat them together!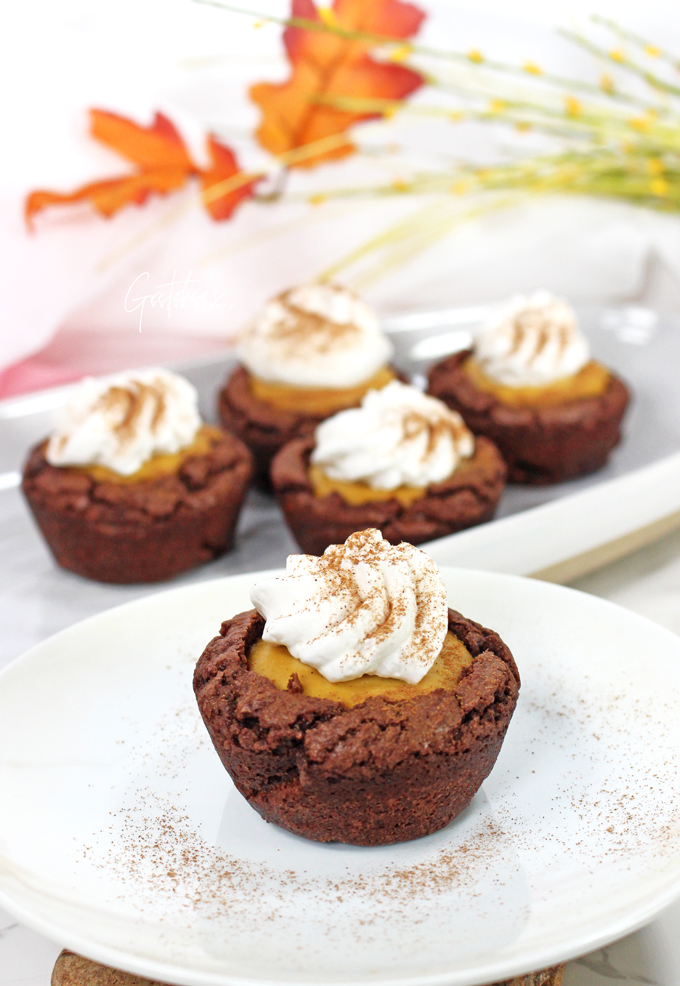 So this year I thought I would save myself a move and make Fudge Brownie Pumpkin Pie Cups!
A unique spin on two traditional holiday desserts
Individual fudge brownie cups filled with luscious creamy pumpkin pie!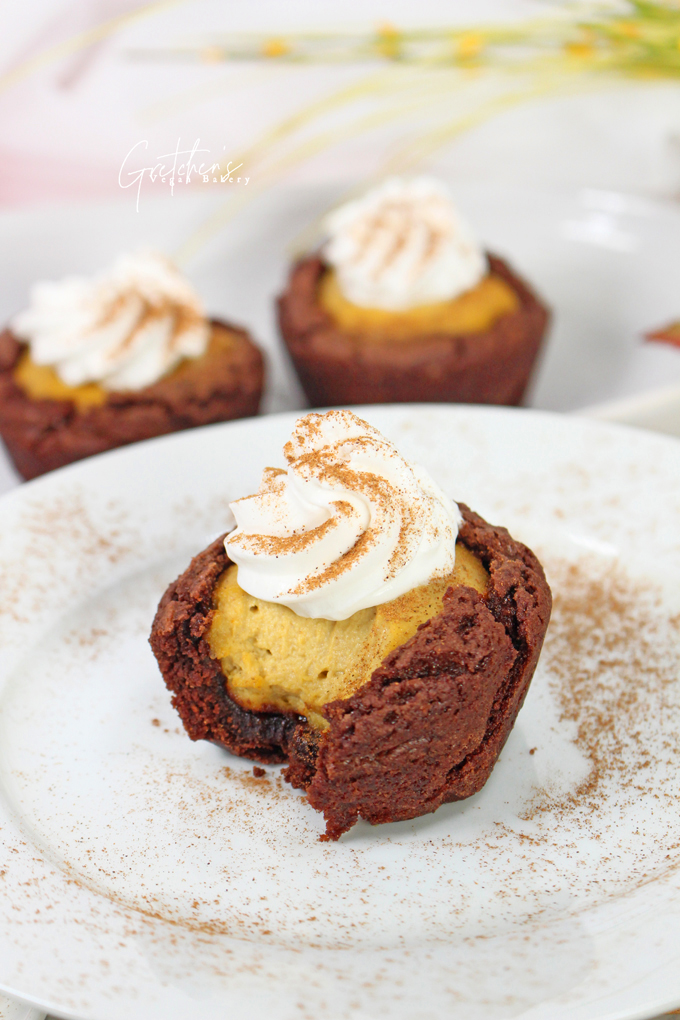 Vegan whipped cream to top it off and trust me this dessert will be the first to go!
It's just too easy to grab one and go! Or two…or three!
Believe me you have not lived until you stick your brownies in your pumpkin pie!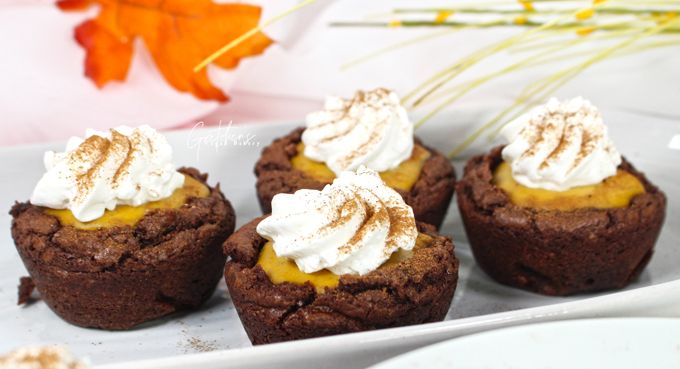 But for those who like to stay with the traditional way of doing things
By all means check out my Classic Pumpkin Pie recipe with melt-in-your-mouth flaky crust!
A direct replica of the pumpkin pie recipe I sold in my bakery!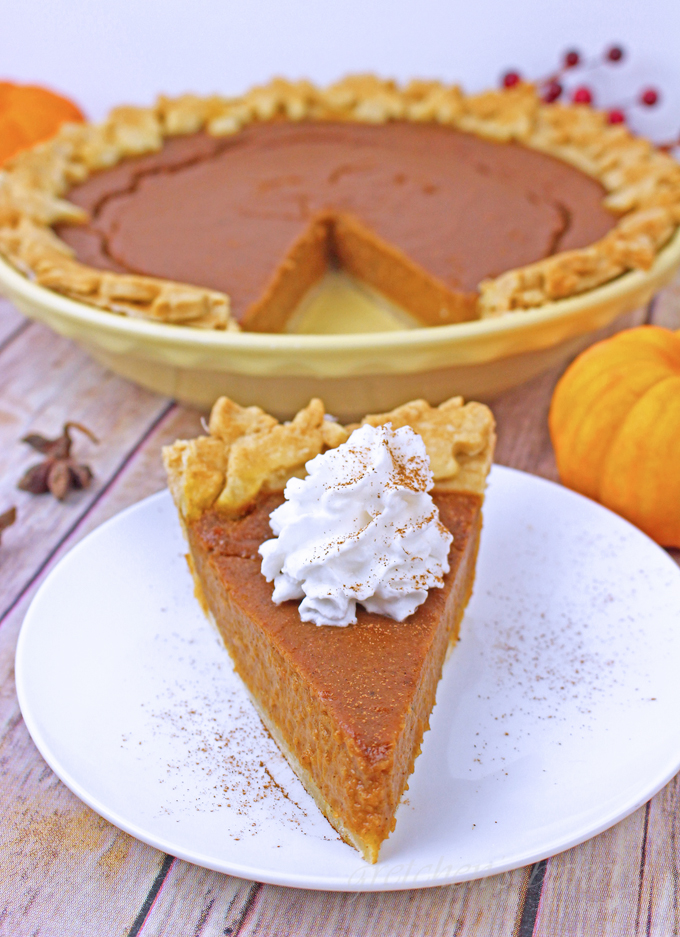 Notes for Success & Substitutions
Because these little desserts are self contained, you can get away with eliminating the agar in the recipe
If you were to make this into a larger cake or pie for slicing, definitely be sure to include the agar!
I am using white chocolate as an added sweetener, not to mention it helps set the no bake pumpkin pie filling
If you cannot get white chocolate or want to leave it out just add more vegan sour cream (or yogurt) and be sure to use the agar thickener
I have made this recipe with both vegan cream cheese and yogurt and the results are almost identical
As mentioned in the video if you do not want to buy an extra ingredient like yogurt or cream cheese, simply replace that total amount with more plant milk
The higher the fat in the plant milk the better, so I am using canned coconut milk for this recipe
It is a good idea to line your cupcake molds with parchment paper to make sure you can get these little brownie cups out after baking!
Alternatively you can simply use paper cupcake liners!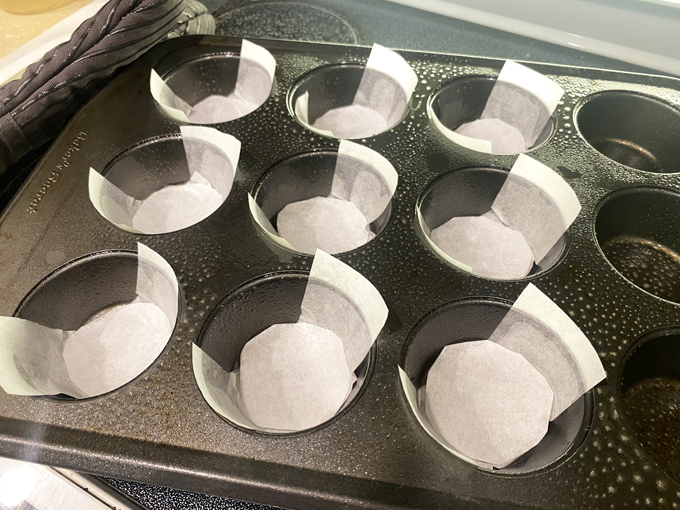 If you use the brownie recipe I have listed below in the recipe section and the one I show in the video you will get only 9 brownie cups
But if you use the brownie box cake method you will get 12
CLICK HERE FOR BOX BROWNIE LIFE HACK
The recipe for the pumpkin pie filling makes about 12 portions, so if you only have 9 cups you may have to eat the remaining filling with a spoon!
CLICK HERE FOR THE YOUTUBE VIDEO FOR HOW TO MAKE THESE PUMPKIN PIE BROWNIE CUPS!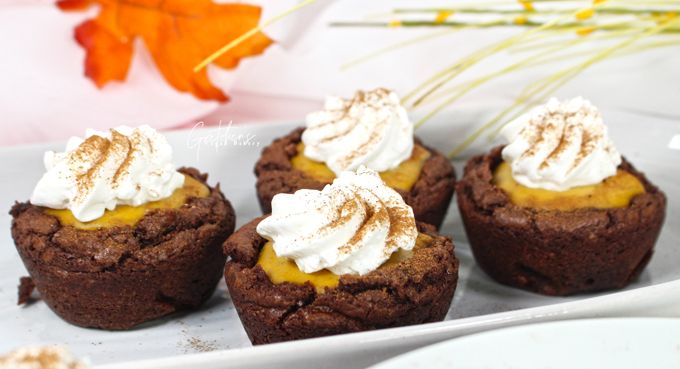 For more awesome Pumpkin Recipes click the links below!
Fudge Brownie Pumpkin Pie Cups
Ingredients
For the Brownie:
All Purpose Flour 1 cup (125g)
Baking Powder ½ teaspoon
Salt ½ teaspoon
Granulated Sugar 1 cup (200g)
Coconut Oil 2 Tablespoons
Unsweetened Applesauce 2 Tablespoons *Or more oil
Brewed Coffee ½ cup (120ml)
Bittersweet or Semi Sweet Vegan Chocolate 1½ ounces
Unsweetened Cocoa ⅓ cup
Vanilla Extract 2 teaspoons (10ml)
For the No Bake Pumpkin Pie:
Raw Cashew soaked for 12 hours, then drain well 1 cups (170g)
Vegan Sour Cream or Yogurt 2 Tablespoons (60g) *see notes above
Confectioners Sugar ½ cup (60g)
Plant Milk ½ cup (118ml)
Solid Pumpkin ⅔ cup (160g)
Vegan White Chocolate 2 Tablespoons (35g)
Agar Powder ½ teaspoon
Ground Cinnamon ¼ teaspoon
Ground Ginger ⅛ teaspoon
Nutmeg pinch
Cloves pinch
Vanilla Extract 1 teaspoon (5ml)
OR ½ teaspoon Pumpkin Pie Spice
Vegan Whipped Cream homemade or store bought *optional
Instructions
For the brownie chop the chocolate to fine pieces then melt slowly in the microwave or over a double boiler
Add the cocoa powder and the hot brewed coffee to the chocolate and whisk together
Add the sugar, melted coconut oil and the applesauce and whisk smooth
Add the vanilla extract and then sift the flour, baking powder and salt into the chocolate mixture and whisk smooth
Divide batter evenly into the greased and parchment lined cupcake molds and bake in a preheated 350°F oven for 10 minutes then turn the oven down to 300°F for another 10-13 minutes or until a toothpick inserted comes out with moist crumbs
Cool for only 5 minutes and then using a glass or similar item with a slightly smaller diameter than your brownies, push in to make indents for the cups
For the pumpkin filling combine the plant milk, pumpkin, confectioners sugar, spices, and white chocolate together in a medium sauce pot over medium heat sprinkle the agar over it and whisk everything together smooth until boiling.
Once boiling, remove from the heat and transfer the hot mixture carefully to a high speed blender or food processor and then add the vegan sour cream or yogurt and the vanilla extract and the soaked drained cashews.
Puree to a super smooth consistency making sure there are no nuts remaining.
Divide the batter evenly into your prepared brownie cups and then refrigerate until set approximately 2 hours
Serve with vegan whipped cream and a sprinkle of pumpkin pie spice
Notes
Fudge Brownie Pumpkin Pie Cups should be kept refrigerated, but can stay at room temperature for about 2 hours

You can freeze them for up to 2 months wrapped well