If you think these Edible Chocolate Box Cakes are out of your league~ Think Again!
This is one beginner cake decorating project that will have everyone think you took a master decorators class!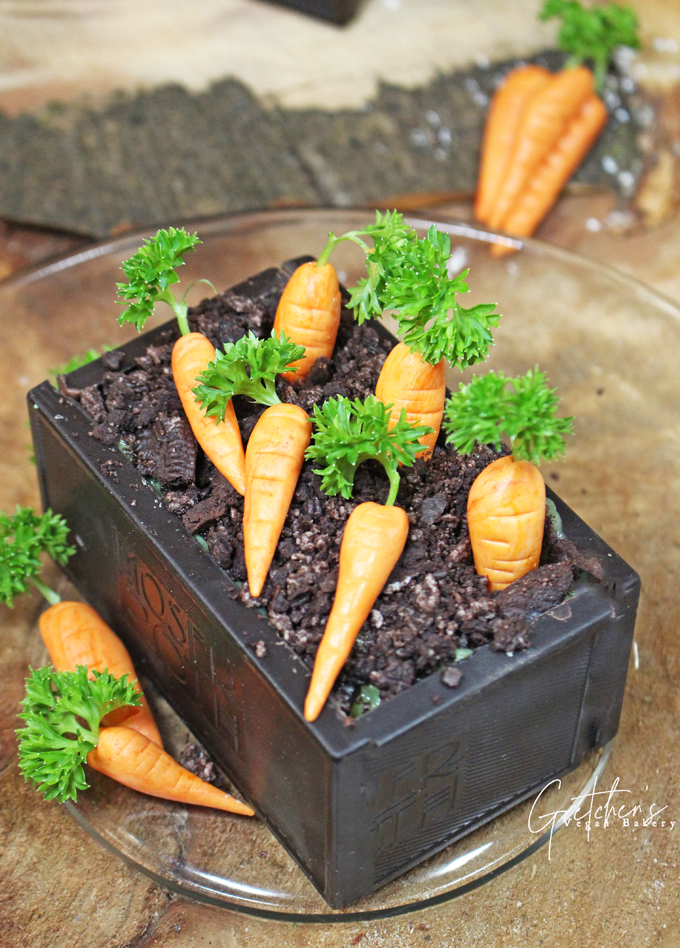 All you need is some store bought chocolate and three simple recipes!
I decided to fill my chocolate flower boxes with vanilla cake, mixed berry compote and lemon custard!
But you can make any combinations of flavors that you love the most!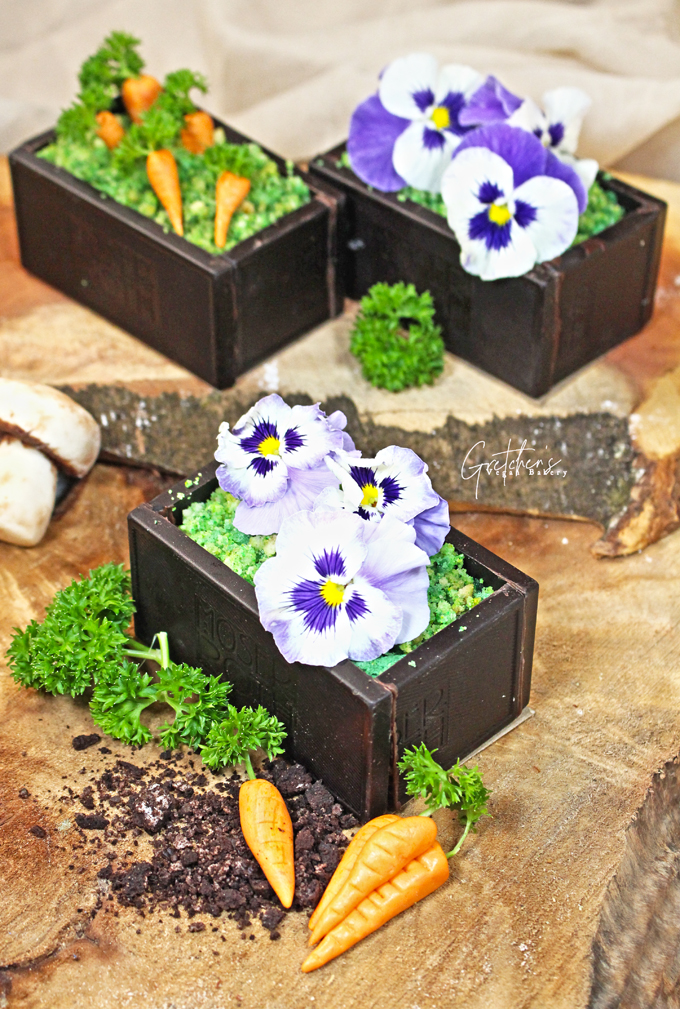 Of course the decor for these cutest little chocolate cake boxes are what really makes them perfect!
I made the carrots out of vegan marshmallows and used edible flowers and parsley for the greenery!
CLICK HERE TO WATCH HOW TO TURN STORE BOUGHT VEGAN MARSHMALLOWS INTO DECORATING DOUGH!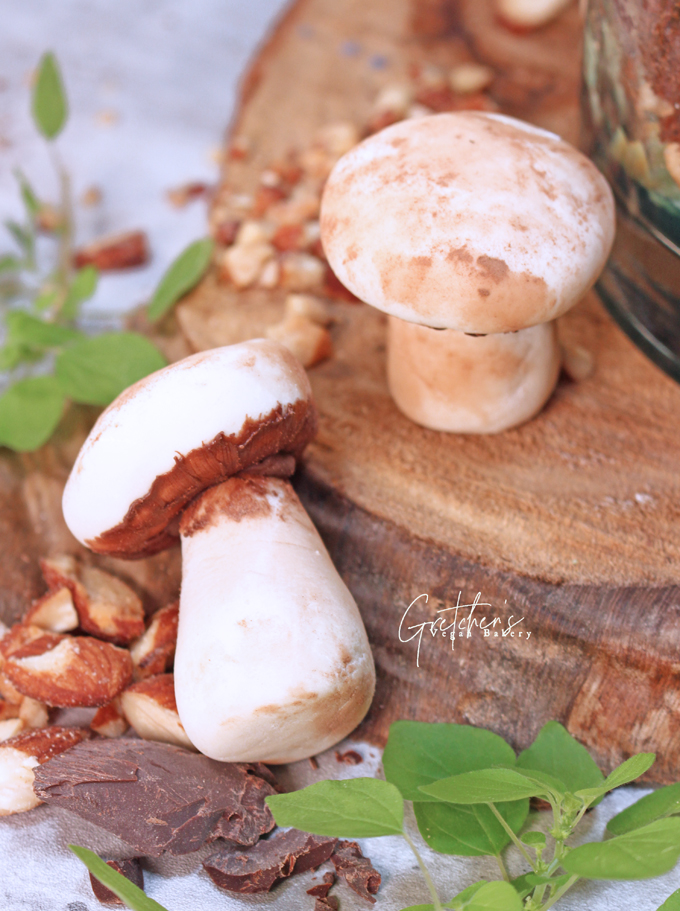 At first I thought lemon custard would be slightly weird with a predominately chocolate dessert!
But there really isn't any chocolate being eaten with the actual dessert itself since the chocolate box is used more as a vessel to carry the cake and fillings
I ate my lemon-fruit-custard cake first and then saved my chocolate box to munch on later!
CLICK HERE TO WATCH THE YOUTUBE VIDEO TUTORIAL FOR HOW I MADE THESE!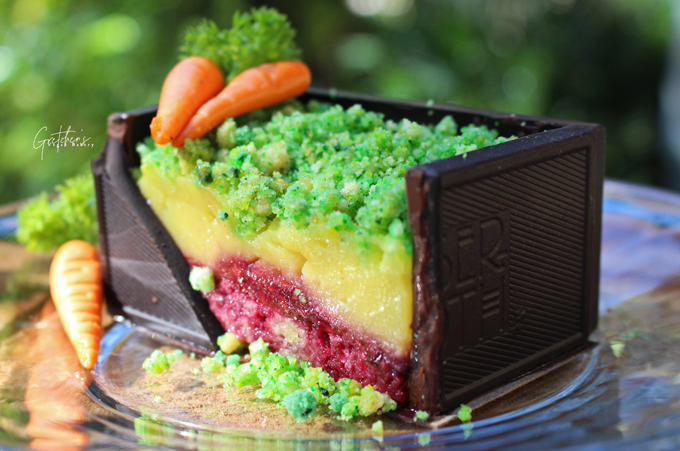 Notes for Success:
If you are using fresh flowers for the decor be sure they are edible culinary grade and not sprayed with pesticides.
Research the types of flowers that are edible so you are not serving up toxic plants!
Lucky for me Moser Roth chocolate rectangles are found at Aldi, it is vegan and so delicious! *not sponsored
You must temper a small amount of chocolate for the "glue" to stick your chocolate boxes together
I have a full length video tutorial for How to Temper Chocolate
Otherwise King David brand is my go-to for non tempering chocolate in a pinch! *not sponsored
If lemon custard is not your "thang" I would recommend any of the following fillings:
Just be sure not to pour hot fillings into the chocolate box cakes or you will melt your beautiful work!
Yield: serves 4
Edible Chocolate Box Cakes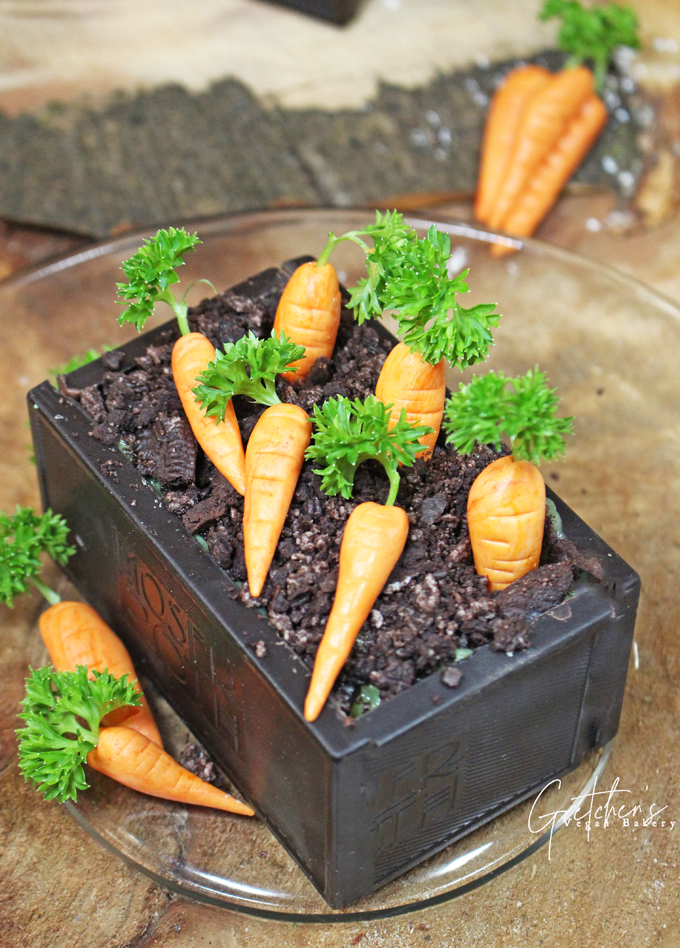 You can use whatever brand chocolate rectangles or squares you can get, and you will need enough to make 4 boxes with 4 sides to each box= 16 squares of chocolate
Total Time
1 hour
15 minutes
Ingredients
For the Lemon Custard:
Plant Milk 1 cup (240ml)
Water ¾ cup (177ml)
Lemon Juice ½ cup (118ml)
Granulated Sugar ¾ cup (150g)
Cornstarch 4 Tablespoons (36g)
Lemon Zest 2 teaspoons
For the Mixed Berry Compote:
6 ounces (170g) Mixed Berries * I use frozen
¼ cup cranberries *optional
2-4 tablespoons Sugar *optional
Crushed Chocolate Cookies for garnish as needed (1 cup)
Instructions
Assemble the chocolate flower boxes with tempered chocolate as "glue" as shown on the video tutorial.
Prepare the yellow cake recipe as per the instructions on that recipe post OR your favorite cake recipe, but you will only need 1-8" layer
Once it is baked and cooled trim it to fit into the bottom of each of your chocolate boxes, it should only be about 1/2" thick or less!
Prepare the lemon custard by whisking the sugar with the cornstarch in a small bowl, then add it to a medium sauce pot along with the water, lemon zest & juice and plant milk
Bring it up to a rolling boil whisking constantly to prevent scorching on the bottom
Once it boils fully pour into a heatproof container and reserve in the refrigerator to set and cool for later
Make the berry compote by combining your favorite berries * cranberries optional but the BEST thickener!
In a medium sauce pot over medium to high heat add the sugar *optional ingredient
If you are using fresh berries you will most likely have to add about 2-4 Tbs of water to help the cooking process
Bring to a boil stirring constantly and then reduce the heat to simmer until the berries are breaking down and the sauce is starting to thicken, it will thicken more in the refrigerator
Assemble the cakes inside the flower boxes as shown in the video tutorial using your choice of decor and the crushed cookies and/or cake crumbs to represent dirt & grass
Notes
Chocolate flower boxes with no filling can be stored at room temperature in a cool dry place for up to 3 months!
Once the fillings are inside you will have to refrigerate them and they will stay fresh for up to 4 days