We all need an index of tried and true cake recipes
that we can always rely on as the base of every cake creation under the sun
As I complete the last touches for this yellow cake recipe
I can confidently say that I have also completed the list for all the base cake recipes you will ever need!
For me those cakes are:
Some people may ask what is the difference between the white cake and the yellow cake? And why do I need both?
For most it is simply aesthetics, but when you look at those two recipes in comparison it comes down to the ingredients used.
In our past life it was the egg yolks in the recipe that gave the cake it's classic yellow tinge.
This yellow cake recipe happens to be my Super Easy Vanilla Cake recipe which is a variation on the Wacky Cake we have all come to know and love.
It is one of my most acclaimed recipes in my Cookbook Modern Vegan Baking
It is dense with a tighter crumb resembling a pound cake more than a sponge cake
It doesn't crumble and it stacks and carves like a dream come true!
Iced with classic bakery fudge icing this cake is going to top your winners list!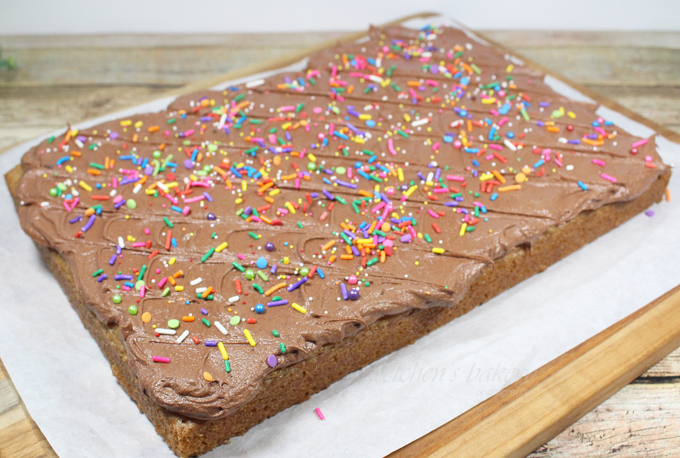 Of course you can ice it with whatever you prefer
But I love the classic yellow cake and deep, dark fudge icing combination!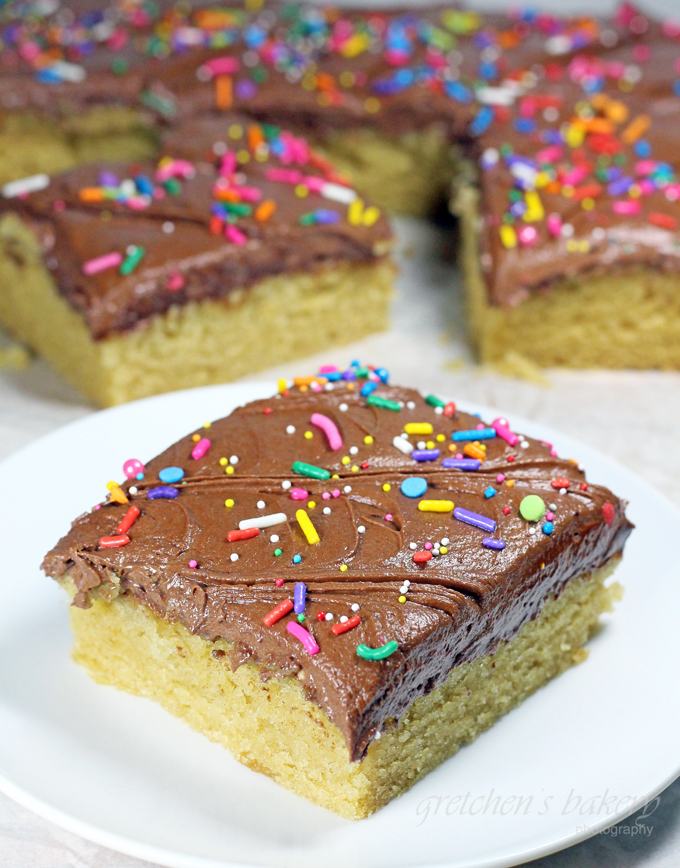 I have all the icing recipes here for you.
From five buttercream recipes and all the flavorings like mocha, chocolate and strawberry
Any of those would be amazing on this perfect bakery recipe for yellow cake!
Bake it into round cake layers or even cupcakes!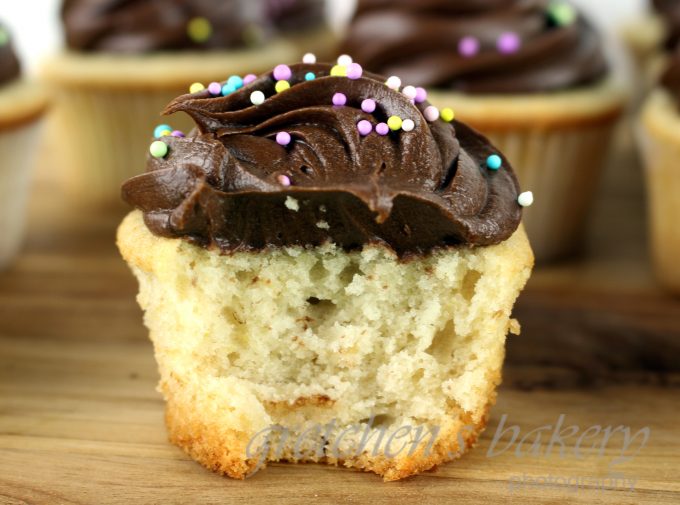 This is one easy recipe to mix since you don't even need an electric mixer!
It's all done by hand in one large bowl!
I even show you how to make your own homemade sprinkles if you can't find vegan ones or just want to make a particular color mix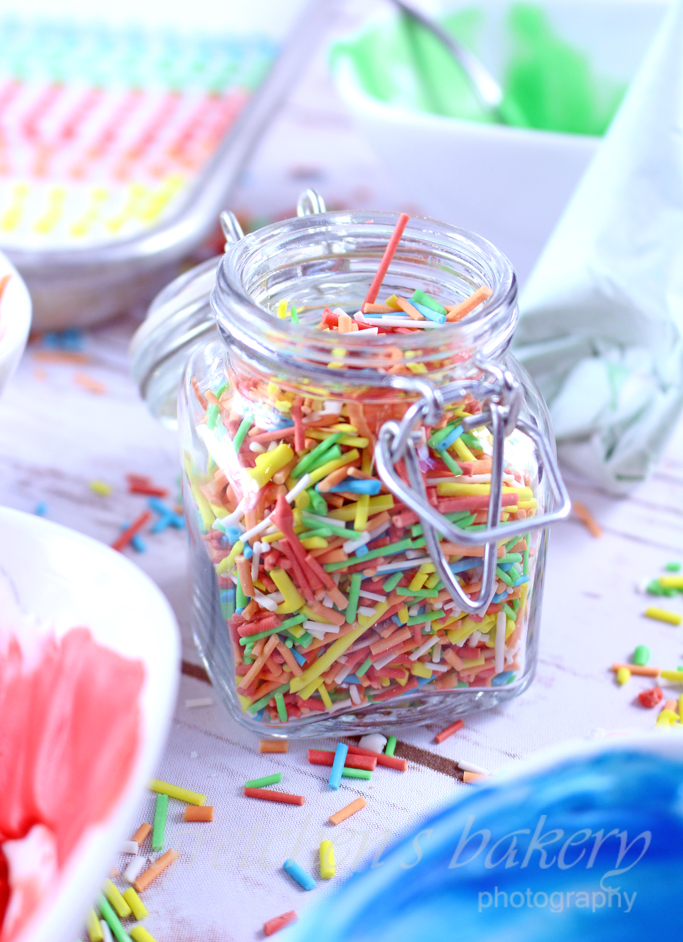 Note for Success:
I use soy milk as the milk for the majority of my baking.
Soy milk is the only milk that will sour upon adding vinegar which is what we do to make a mock "buttermilk"
You can use any plant milk of your choice if you are staying away from soy
But you will still need to add the vinegar, as that is also the activator for the baking soda to leaven this recipe
I am using a combination of cake flour and all purpose flour here, but if you have trouble getting cake flour you may use all ~all purpose flour instead, just take out ¼ cup of the total amount of flour
CLICK HERE FOR MORE ABOUT CAKE FLOUR & SELF RISING FLOUR
For more easy cake recipes click the links below!
Fluffy Vegan Lemon Cake Recipe
One Hour ~One Bowl Vegan Chocolate Cake Recipe
CLICK HERE FOR THE YOUTUBE VIDEO TUTORIAL FOR HOW TO MAKE THIS CAKE!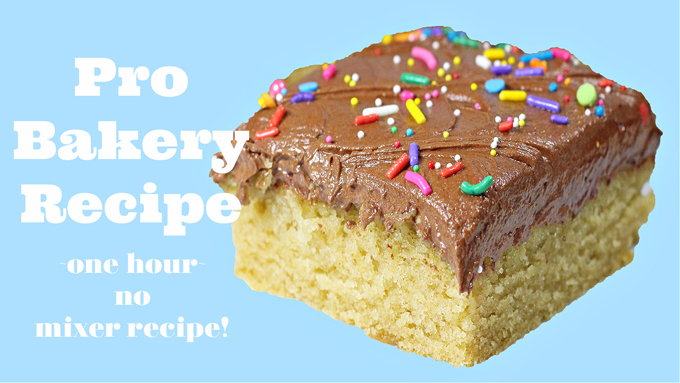 Bakery Recipe for Perfect Yellow Cake
I am baking in a 9" x 13" cake pan today but this cake batter will make 18 cupcakes, 2- 8" layers or 3-7" layers
Grease and Parchment line your cake pan(s) and preheat the oven to 350°F
Ingredients
For the Cake Batter:
Soy Milk 1½ cups (355ml) *soy milk is the only plant milk that will thicken like buttermilk, but you can use whatever plant milk you prefer
White Vinegar 1½ Tablespoons
Vegan Butter ½ cup (113g)
Vegetable oil of your choice ½ cup (117ml) *or more vegan butter melted
Granulated Sugar 1¾ cup (350g)
Salt ½ teaspoon
Vanilla Extract 3 teaspoons (15ml)
All Purpose Flour 2 cups (250g)
Cake Flour 1 cups (120g) *see notes in body of the text article for more info on cake flour
Baking Soda 2 teaspoons
1 recipe Fudge Icing *optional or whatever icing you prefer
Instructions
First combine the vegetable oil with the melted vegan butter add the vanilla extract and set aside
Combine the soy milk with the vinegar and let stand for 5 minutes to thicken.
Sift all the dry ingredients together in a large mixing bowl, including the sugar.
Pour the wet ingredients in and whisk smooth, this will be the plant milk mixture and the butter/oil mixture
Pour the batter into the greased and parchment lined pan(s) and bake immediately in the preheated 350°F oven for 15 minutes, then turn the open temperature down to 325°F to bake the rest of the way, approximately 20 minutes more or when you gently press the centers they are springy to the touch. Or do the toothpick test for moist crumbs.
Cool in the pan(s) until you can safely touch without burning yourself then turn the cake(s) out onto a cooling rack to cool the rest of the way.
Once completely cooled ice with your choice of icing