You know me, when I get stuck on a theme I just go with it!
From Caramel Turtle Donuts last week to this Chocolate Turtle Cheesecake; I am swimming in chocolate, caramel and pecans!
Oh what a combination!
My best double chocolate cheesecake recipe takes on a new form with this addition of caramel sauce and toasted pecans.
If you love cheesecake then this one is going to be your new favorite!
Creamy chocolate and gooey caramel!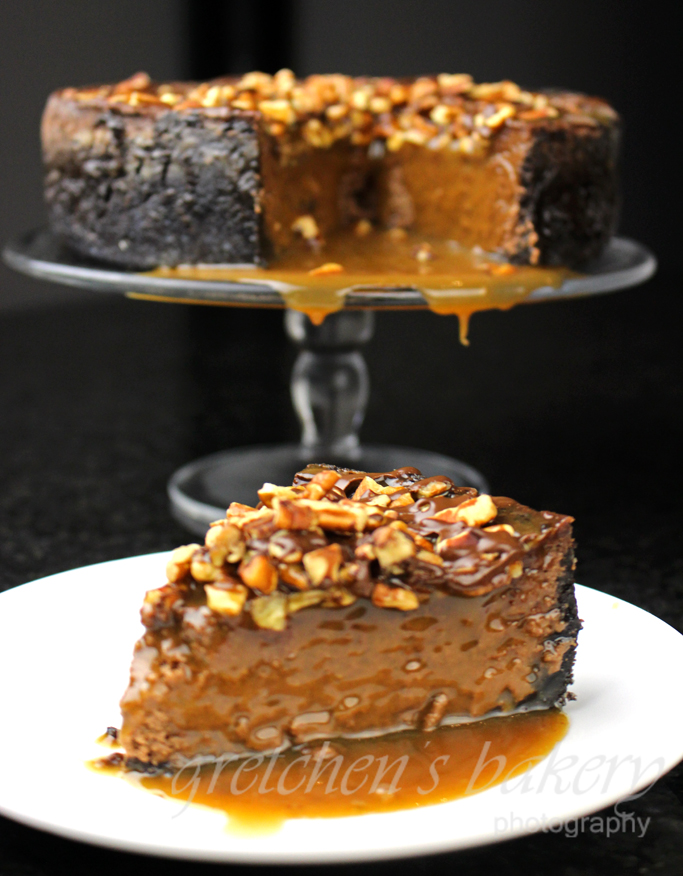 Chocolate Turtle Cheesecake
Ingredients
For the Crust:
Vegan Chocolate Sandwich Cookies 12
Vegan Butter 2 Tablespoons (28g)
For the Cheesecake Batter:
Vegan Cream Cheese (I use Tofutti brand) 1-8ounce package (226g)
Medium or Firm Tofu half package drained 7ounces
Semi Sweet Baking Chocolate 4 ounces (113g)
Granulated Sugar ½ cup (100g)
Cornstarch 2 Tablespoons (16g)
Natural unsweetened Cocoa Powder 2 Tablespoons
Salt ¼ teaspoon
Lactic Acid 1 teaspoon (or 1 tsp apple cider vinegar)
Vegan Butter 2 Tablespoons (28g)
Soy milk ¾ cup
For the caramel sauce:
½ cup Light Brown Sugar
½ cup coconut milk (120ml)
Salt pinch
Vanilla Extract 1 teaspoon
Pecans 1 cup lightly toasted
Instructions
Prepare the crust by crushing the sandwich cookies (with cream fillings) in a food processor and then add the melted vegan butter
Press it into the greased and parchment lined 7" cake pan and freeze while you prepare the cheesecake batter
Place all cheesecake ingredients except for the milk & the chocolate and vegan butter into the food processor and process smooth
Melt the chocolate with the vegan butter over a low heat stirring constantly (or in the microwave) and then add it to the other ingredients in the food processor.
Process smooth while pouring the milk alternative through the feed tube while processing to a smooth batter
Pour batter into prepared pan with the cookie crust and bake in a water bath in a preheated 350°F oven for 1 hour, then turn the oven off and leave the cheesecake inside for another hour.
Remove from the oven and refrigerate overnight or at least 4 hours to set before unmolding
For the Caramel Sauce:
Combine the sugar, salt and coconut milk together in a sauce pot and whisk smooth until it starts to boil
Once it boils reduce heat to medium and stop stirring and let it reduce to almost half the original volume (which would be about ½ cup) this should take about 5 minutes, not much longer
Add the vanilla extract and swirl the pan to combine
Pour into a heat proof container to cool completely
Once cool pour over the cheesecake and top with roasted pecans
Notes
Cheesecake must stay refrigerated at all times, can stay at room temperature for up to 4 hours.

I do not like the way this cheesecake freezes, it gets grainy on the thaw