Can we just take a moment to admire these giant, fluffy, puffy strawberry cheesecake cinnamon buns?!
Seriously this is the stuff dreams are made of!
Cheesecake icing gets slathered all over these warm fluffy scrolls
And only now can you say you have lived life to the fullest extent!
There is not much more to experience after this!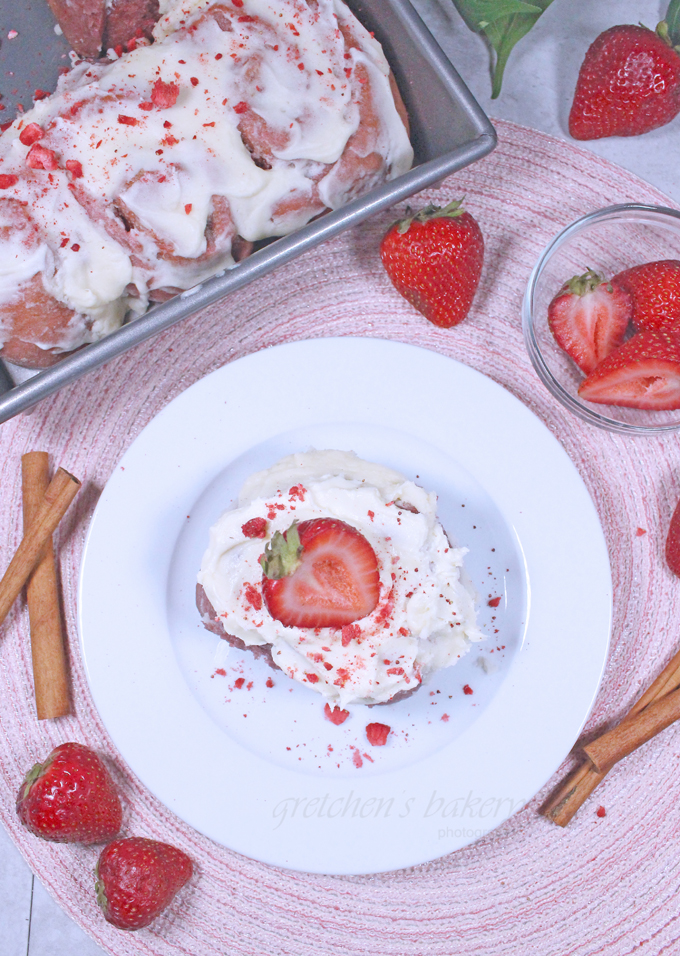 But before we get to the recipe can I just say, I am obsessed with freeze dried fruit powders!
*not sponsored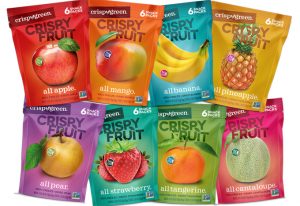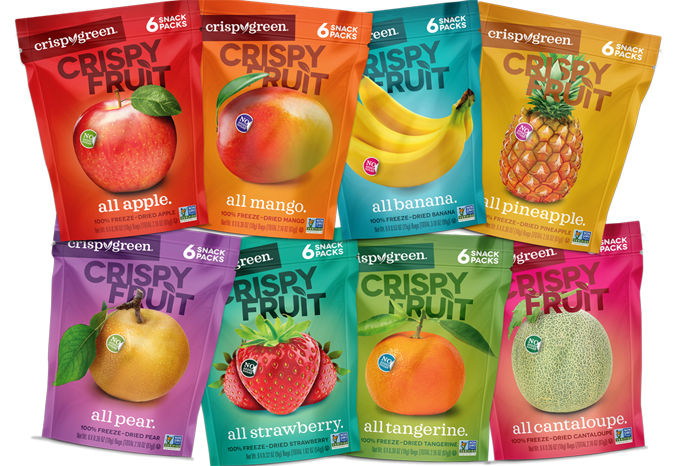 If you are lucky enough to be able to get your hands on this stuff you must try it!
The strawberry fruit powder addition to this bun dough recipe is what transformed it into strawberry fields forever!
Not to mention the vibrant color it creates!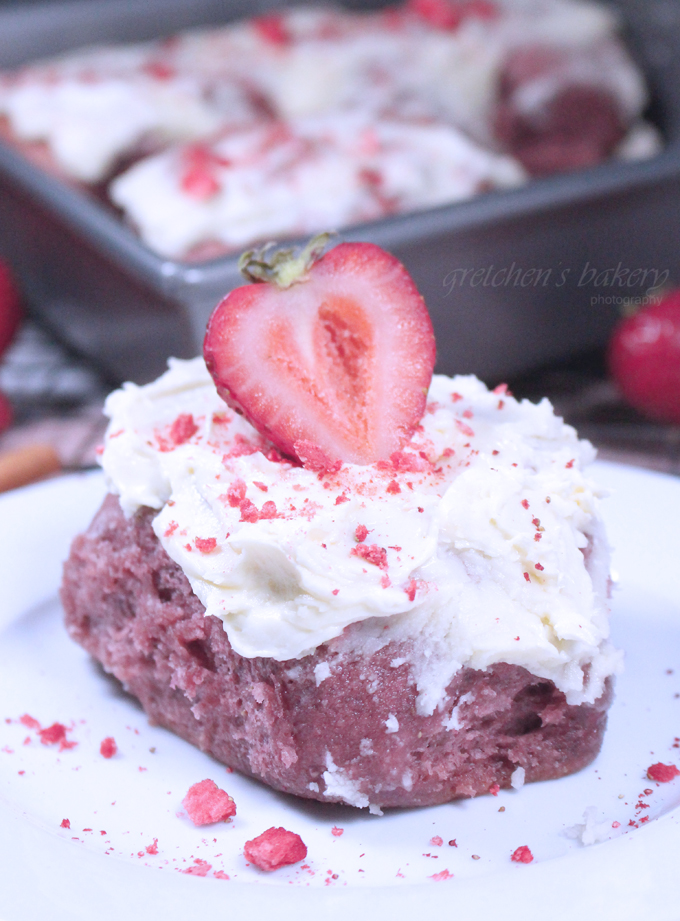 If you can't get the freeze dried fruit powders though, you can leave it out and just make the plain cinnamon bun dough recipe
I actually did that on my first attempt and added chopped fresh strawberries instead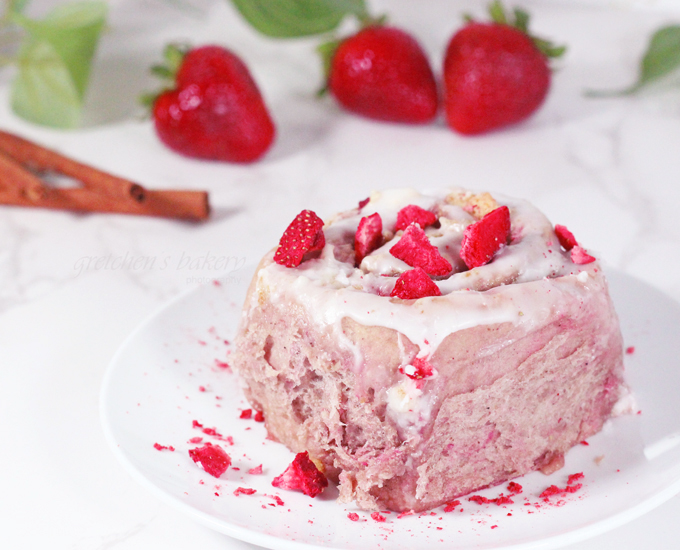 And a drop of food color to the dough for a light pink hue
So there are a few different ways to approach this if you don't have the fruit powder
This recipe makes 6 jumbo buns and these are the same sized giant buns that I sold when I had my bakery!
Notes for Success:
Pressed for time? You can baking the buns the next morning
Simply stop at the step in the instructions after you have formed the buns and then placed them into the greased pan.
Cover with plastic wrap and refrigerate overnight.
The buns will not have risen too much in the refrigerator so you will have to take them out and bring them back to room temperature and give them their second rise.
This could take an hour or longer depending on your room conditions
Once they have fully risen to fluffy *see video* preheat the oven to 350°F and pick up at the step below for baking
As with any bread and yeast dough recipe the amount of flour being used will vary based on a few variables
Often times in humid climates you will need much less flour than places that have drier and cooler temperatures
It is important to get a feel for making dough to determine if you will need to add more or not.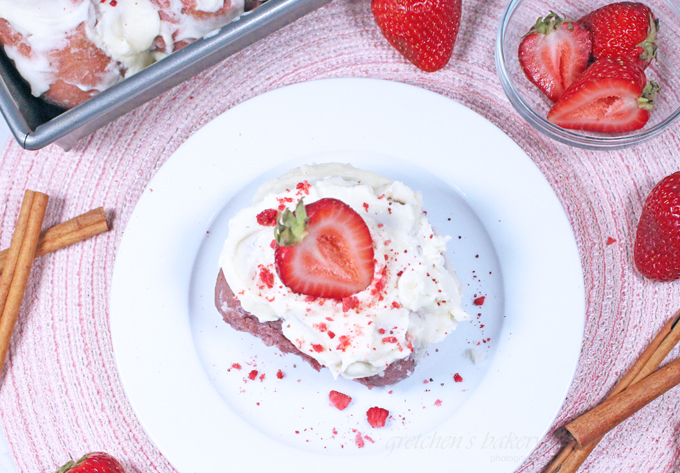 IN RETROSPECT:
The cheese filling that I used for this recipe seemed to get lost into the dough, there was no clear swirl of cheesey-cinnamon throughout the center as I had expected
I think the traditional melted butter with cinnamon sugar would be fine on it's own
Since the cream cheese icing delivered plenty of cheesecake pop in each bite!
So I will provide the recipe below for exactly how I made these, but you can probably save yourself a step and omit the cheese filling altogether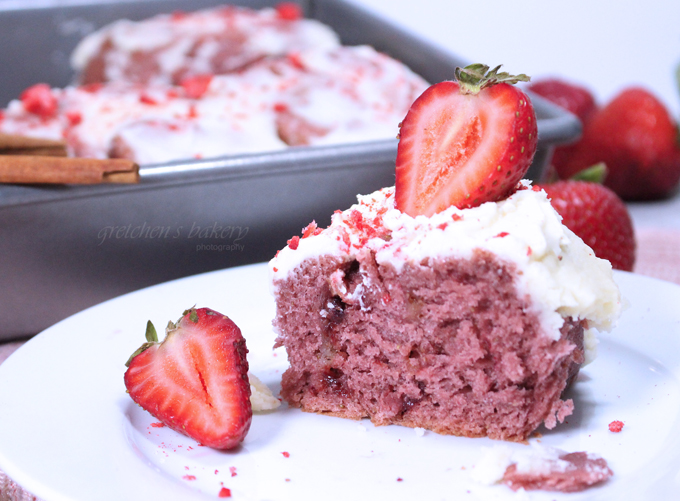 CLICK HERE TO WATCH THE FULL YOUTUBE VIDEO TUTORIAL FOR HOW TO MAKE THESE STRAWBERRY CHEESECAKE CINNAMON BUNS!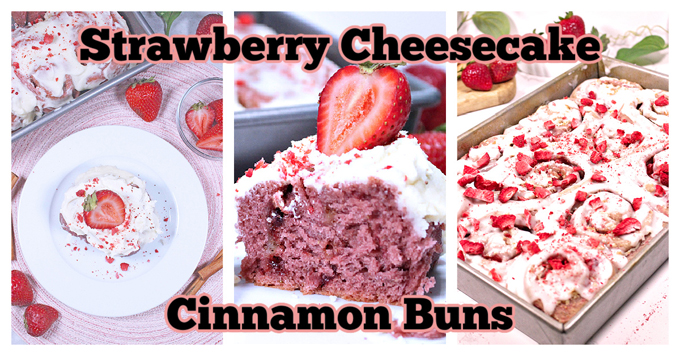 For more amazing breakfast bun recipes click the links below!
Strawberry Cheesecake Cinnamon Buns
See the noted for success as well as "In Retrospect" before you begin this recipe! Also notes about what to do if you do not have freeze dried strawberry powder!
Ingredients
For the Dough:
All Purpose Flour 2-2½ cups (250-325g) *see notes above the recipe about the amount of flour
Ground Cardamom ½ teaspoon
Strawberry Powder *see notes above ¼ cup (18g)
Plant Milk ¾ cup (177ml)
Dry Yeast 1½ teaspoons
Sugar 3 Tablespoons (42g)
Salt ½ teaspoon
Softened Vegan Butter 4 Tablespoons (55g)
Pink Food Color 1 drop *optional
For the Cheesecake Filling: *optional see notes above
Vegan Cream Cheese ¾ cup (160g)
Vegan Butter 1 Tablespoon (14g)
Confectioners Sugar 3 Tablespoons (22g)
Cornstarch 1½ Tablespoons (12g)
Vanilla Extract 1 teaspoon (5ml)
For the Cinnamon Sugar:
Light Brown Sugar 2 Tablespoons (28g)
Ground Cinnamon 1 teaspoon
For the Icing:
Softened Vegan Butter 4 tablespoons (56g)
Confectioners Sugar 1 cups (120g)
Vanilla Extract 1 teaspoon
Vegan Cream Cheese 1 -8ounce packages (226g)
Additional Ingredients:
Freeze Dried Strawberries for the filling & the topping 1 cup (27g)
Instructions
Grease a 9" X 9" X 2" cake pan, set aside for later.
Combine the brown sugar & cinnamon together in a small bowl, reserve for later
Mix the cheese filling by hand with a spatula, cream the soft vegan butter with the vegan cream cheese, sift the confectioners sugar & the cornstarch into the cheese mixture and blend to combine, add the vanilla extract
For the Dough:
Combine the yeast with the warm milk and a pinch of sugar and let stand for 5 minutes
In a mixing bowl combine all the dry ingredients and blend well
Add the milk with the yeast, the strawberry powder and the softened butter to the bowl of your stand mixer and add all the sifted dry ingredients.
Mix with the dough hook ~ you may need to help it along with a spatula until it forms a soft mass, then let it knead for 5 minutes on medium speed
Add more flour to adjust the consistency as needed *see video demonstration
Turn mixer speed to low and mix for another 3 minutes
Once it is to desired consistency and properly kneaded for a total of about 8 minutes
Turn out to a lightly floured surface and continue to knead until it is no longer super sticky to your hands of the table
Transfer to a lightly oiled bowl covered and let rise to double in a warm spot
Roll out on a lightly floured surface to approximately 12" x 10" and about ¼ thick
Brush with the cheese filling OR traditional butter **see notes above recipe and then spread evenly with the sugar spice mixture
Then a layer of the freeze dried strawberries
Roll up then cut into desired portions ~ cutting the log into 6 even pieces for giant bakery size buns
Place them into the greased pan
Cover loosely and let rise again covered in a warm spot. 35 - 60 minutes depending on the conditions in your area
Once they are light and fluffy and puffy and almost doubled in size and the buns are almost touching each other, bake in a preheated 350°F oven for approx 35 - 45 minutes depending on the size of your buns
To make sure your buns are completely baked, pull away a piece from the center of the pan to make sure there is no raw dough
While the buns are baking you can prepare the cream cheese icing recipe by mixing the vegan cream cheese with the softened butter by hand with a wooden spoon or spatula, to combine evenly
Add the sifted confectioners sugar and vanilla extract and mix well.
Cool slightly then top generously with Cream Cheese Icing and a sprinkle of crushed freeze dried strawberries
Notes
As with any bread or yeast type pastry, they will go stale before they go bad so it is always best to bake them fresh daily.

Keep them wrapped airtight & due to the cream cheese icing you will have to keep any leftovers refrigerated, which is not the best way to eat a cinnamon bun, but you can always warm it in the microwave or toaster oven
3.5.3251