What do you do when everyone wants a different dessert for the Thanksgiving feast this year!?
Make them all!
That's right~ 6 Desserts 1 Tray for Thanksgiving this year!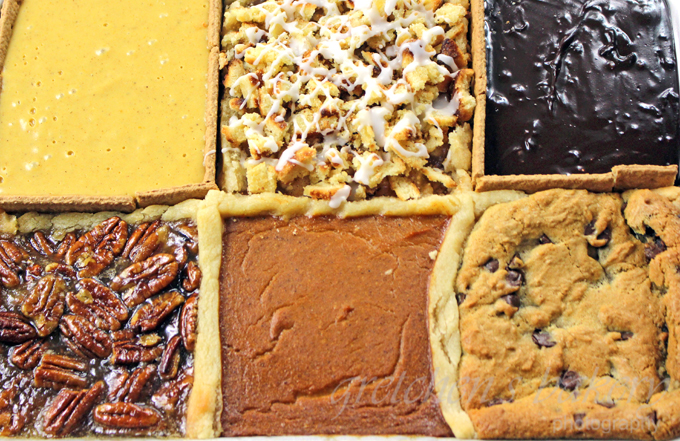 I've taken my best recipes for Pumpkin Pie, Pecan Pie, Apple Pie, Chocolate Silk Pie, Pumpkin Cheesecake & Even Chocolate Chip Cookie Pie and turned it all into one epic tray of desserts!
It's all about keeping it simple
This Thanksgiving Dessert Hack is going to make your feast preparations a breeze giving you more time to relax and enjoy rather than bake desserts for days on end!!
You will still have to make several recipes to pull it all off
But trust me I have worked out all the recipes for you with a step by step video tutorial to show you just how easy it can be!
*Watch the entire video for my commentary and review of this process!
CLICK HERE FOR THE FULL YOUTUBE VIDEO TUTORIAL FOR HOW TO MAKE THIS DESSERT!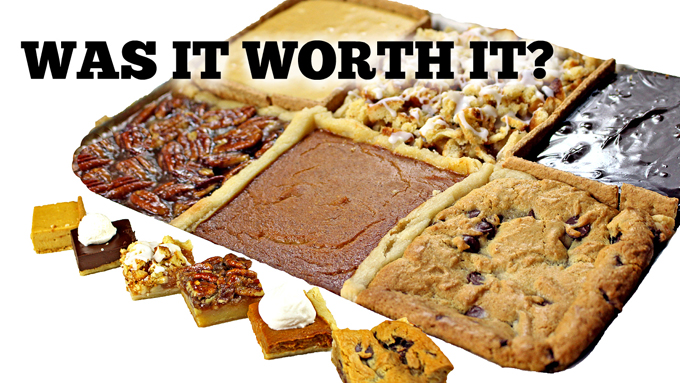 All of the recipes except for the no bake pumpkin cheesecake can be made in advance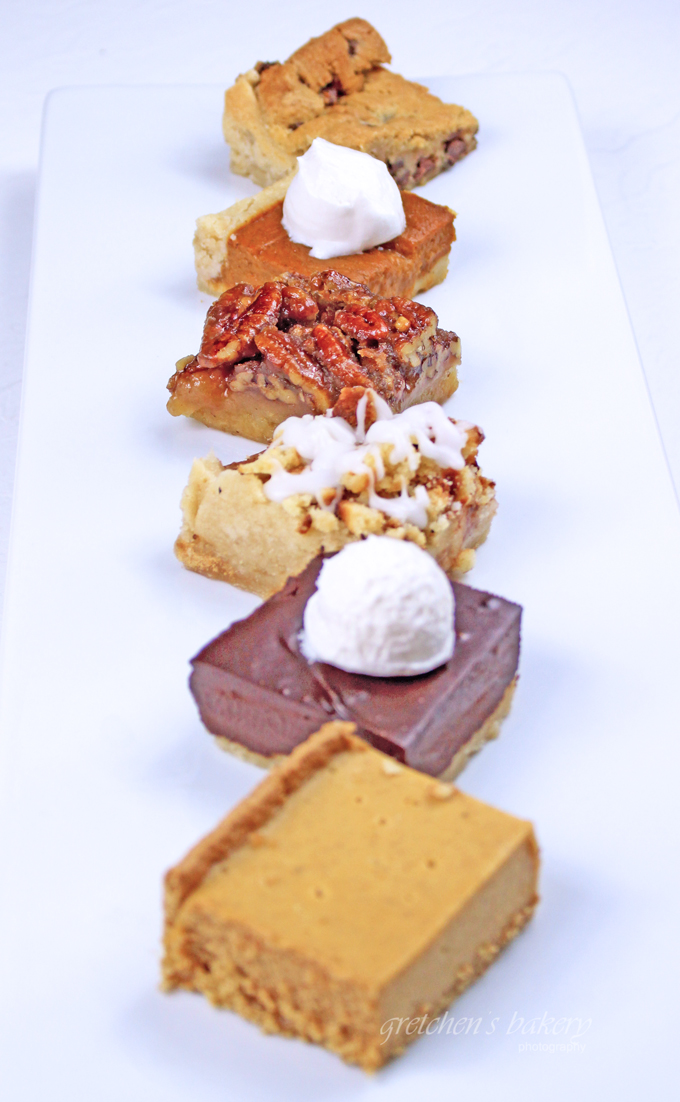 So your prep can start days ahead of time with the final day for baking taking around 30 minutes!
Each recipe listed below has been scaled down to fit *almost perfectly into the Quarter Sheet Pan (12″ x 9″ pan)
If you prefer full recipes of each be sure to scroll to the bottom after the recipe for links to full recipes & step by step video tutorials for each!
6 Desserts 1 Tray
The recipes below have been scaled down to an almost perfect size to fit into this 6 Desserts 1 Tray idea!
You may have a tiny bit of each recipe leftover - in which case just bake into a small ramekin or a cupcake liner for a chefs tasting portion! Or Check out my "Kitchen Sink" Pie where I threw it all into a pie crust, baked with fingers crossed and well, honestly it was pretty OK!! LOL
Alternatively, click the link to each recipe link highlighted below to check out the full version with video tutorial included for each recipe
Ingredients
All Purpose Flour 3 cups (375g)
Baking Powder 1½ teaspoons (7g)
Salt ½ teaspoon (3g)
Vegan Butter 1 cup (226g)
Granulated Sugar 1 cup (200g)
Aquafaba 4 Tablespoons (60ml)
Vanilla Extract 1 teaspoon (5ml)
Lemon Zest 1 lemon approx 1 teaspoon
Semi Sweet Chocolate 4 ounces (113g)
Soy Milk *or any plant milk you prefer ¼ cup (50ml)
1 Large Granny Smith Apple peeled & small diced
Apple Juice ½ cup (118ml)
Granulated Sugar 2 Tablespoons (25g)
Cornstarch 1 Tablespoon
Cinnamon ¼ - ½ teaspoon * i like it cinnamon-y!
Canned Pumpkin or Homemade Pumpkin Puree ½ cup + ⅓ cup
Light Brown Sugar 2 Tablespoons
Cornstarch 1 Tablespoon + 1½ teaspoons
Maple Syrup 1½ Tablespoons
Vanilla Extract 1 teaspoon
Cinnamon ⅓ teaspoon
Ground Ginger ¼ teaspoon
Cloves ⅛ teaspoon
Nutmeg ⅛ teaspoon
Melted Vegan Butter 1 Tablespoon
Plant Milk *I prefer soy milk ⅓ cup
Vegan Cream Cheese 7 ounces
Lactic Acid or Apple Cider Vinegar ¼ teaspoon
White Chocolate, Cocoa Butter OR Coconut Oil 2 Tablespoons
Confectioners Sugar ½ cup
Canned Pumpkin or Homemade Puree ⅓ cup
Agar-Agar1 teaspoon
Soy Milk*or any plant milk you prefer ½ cup
Vegan Sour Cream 2 Tablespoons *this is optional if you cannot get it you can leave it out no changes
Cinnamon ¼ teaspoon
Ground Ginger ⅛ teaspoon
cloves ⅛ teaspoon
nutmeg ⅛ teaspoon
Vegan Butter 7 Tablespoons
Granulated Sugar ½ cup (100g)
Light Brown Sugar 7 Tablespoons (88g)
Salt ¼ teaspoon
vanilla Extract 1 teaspoon
Soy Milk *or any plant milk you prefer 3 Tablespoons
Aquafaba 1 Tablespoon
All Purpose Flour 1½ cups + 2 Tablespoons
Baking Soda ½ teaspoon + ⅓ teaspoon
Semi Sweet Dairy Free Chocolate Chips 1¼ cups
For the Pecan Pie a.k.a Caramel Pecan Bars
Vegan Butter 2 Tablespoons
Vegan Honey, Golden Syrup, Agave, Maple Syrup or Corn Syrup ¼ cup
Light Brown Sugar ⅓ cup
Soy Milk 1½ Tablespoons
Pecans *NOT toasted ¾ cup
You will also need:
Graham Crackers approx 10 sheets
Dry Rice or Beans for pie weights 2 cup2
Instructions
First prepare the cookie dough recipe
Cream the vegan butter with the sugar until light and fluffy, about 3- 5 minutes.
Add the lemon zest, the aquafaba and the extract to the creaming butter/sugar mixture and then stop the mixer and scrape the sides of the bowl
Next sift together the flour baking powder and salt and add it all at once to the creamed mixture. Mix just until it is all combined.
Wrap this dough disc in plastic wrap and chill for at least 2 hours or overnight before using
You must re work this dough with some additional flour to a pliable consistency after it has been chilled. Do not skip this step.
Knead it with some flour until it is no longer a crumbly mass, but a soft pliable dough


Next prepare the other recipes:
After you prepare each recipe as per the instructions on each written recipe/video tutorial you will grease & parchment line a 12" x 9" sheet pan with the parchment paper overlapping the sides so you have something to ease the removal of this entire dessert later *see video
Roll half of the cookie dough to fit into the bottom of the pan then roll the remaining dough into the same size but this one will get cut into 1" strips- this will become the liner for the sides of the pan including the barrier from each dessert in the tray
*See video for step by step
Pour each recipe into one of the spaces you have constructed from the cookie dough, leaving 2 spaces unoccupied for the No Bake recipes.
Line those spaces with parchment paper & pie weights or beans or rice
Bake in a preheated 375°F oven for 30 minutes or until the pumpkin pie is set, the caramel pecan filling is bubbly all over the surface and the cookie dough is golden brown *the cookie dough may start to brown too much on the top, so place a piece of foil over that section to prevent over-browning.
The entire pan will only bake for 30 minutes and then take it out of the oven too cool.
Once everything is completely cooled, you can prepare the no bake pumpkin cheesecake recipe, line 1 extra space with graham crackers *optional* then pour the filling into the space.
Re-warm *if necessary the ganache and pour into the remaining space.
Refrigerate everything until set & cold then remove the entire dessert from the pan by grabbing firmly on the over lapping parchment paper them transfer in one motion to a cutting board.
Cut into 1½ " squares for serving *or desired portion size.
Notes
Keep refrigerated until serving.

All desserts may be displayed at room temperature for up to 2 hours, but be sure to refrigerate at all other times for best shelf life.

Up to 1 week stored in the refrigerator
CLICK HERE FOR PUMPKIN PIE RECIPE/VIDEO
CLICK HERE FOR CHOCOLATE GANACHE TART RECIPE/VIDEO
CLICK HERE FOR AUTHENTIC CHOCOLATE CREAM PIE RECIPE/VIDEO
CLICK HERE FOR BAKED PUMPKIN CHEESECAKE RECIPE/VIDEO
CLICK HERE FOR CARAMEL PECAN BARS RECIPES/VIDEO
CLICK HERE FOR THE HOT APPLE PIE FILLING RECIPE/VIDEO
CLICK HERE FOR CHOCOLATE CHIP COOKIES RECIPE
CLICK HERE FOR STEP BY STEP VIDEO TUTORIAL & RECIPE FOR NO SPREAD COOKIE DOUGH