Move over Girl Scouts, Gretchen's Vegan Bakery is here.
With a vegan version for the classic Tagalong a.k.a. Peanut Butter Patties Girl Scout Cookie!
These shortbread cookies with a layer of peanut butter cream dipped in chocolate are quite possibly better than the real thing!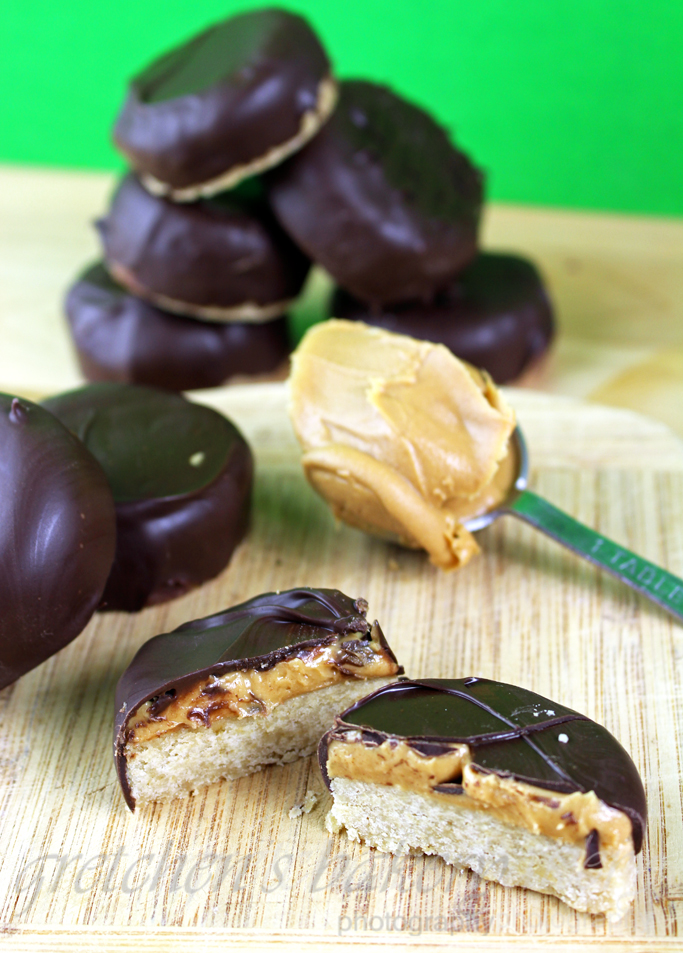 Well, no…. they ARE better than the real thing because these are vegan! YAY!
These cookies are so good you may not want to share them!
Copy Cat Tagalong Cookie Recipe
Aquafaba is the egg replacer for this recipe, it is simply the water from a can of chickpeas
Ingredients
For the Shortbread Cookie:
All Purpose Flour 3 cups (375g)
Baking Powder 1½ teaspoons (7g)
Salt ¼ teaspoon
Hi Ratio Vegetable Shortening or Vegan Butter 1 cup (226g)
Vegan Granulated Sugar 1 cup (210g)
Aquafaba 4 Tablespoons (60ml)
Vanilla Extract 1 teaspoon (5ml)
For the Peanut Butter Filling:
Creamy Peanut Butter 1½ Cup (375g)
Vegan Butter or Margarine ¼ cup (56g)
Confectioner's Sugar 1½ Cup (180g)
Salt ¼ teaspoon
Additional Ingredients:
Semi Sweet Chocolate that does not contain milk, tempered click here for how to temper chocolate OR just useKing David Non tempering chocolate! It's easier!
Instructions
For the cookie dough
Cream the shortening with the sugar until light and fluffy, about 3- 5 minutes.
Add the vanilla extract then stop the mixer and scrape the sides of the bowl
Add the aquafaba and mix well
Next sift together the flour baking powder and salt and add it all at once to the creamed mixture. Mix just until it is all combined.
Wrap this dough disc in plastic wrap and chill for at least 2 hours or overnight before using or you can store it for up to 1 week wrapped in plastic wrap in the refrigerator, or in the freezer for 2 months.
You must re work this dough to a pliable consistency after it has been chilled. Do not skip this step.
Knead it with some flour if necessary until it is no longer a crumbly mass, but a soft pliable dough
Roll out the dough to ½" thick rectangle and transfer to a sheet pan lined with parchment paper
Bake the entire dough rectangle in a preheated 350 °F oven for approximately 25 minutes or until golden brown.
I wanted to be sure the center was done so I turned the oven off and let it stay in for another 10 minutes
Transfer careful to a cooling rack to cool
Then spread with the peanut butter filling, recipe as follows:
For the Peanut Butter Filling:
Cream the peanut butter with the butter to smooth
Add the sifted vegan confectioners sugar and a pinch of salt
Spread over the COOLED cookie as shown int he video then cut out rounds 1¾" in diameter
Freeze the cookie cutouts for at least an hour preferably 2, then dip them in tempered chocolate