The subtle way we roll ever so slowly from pumpkin everything season and then straight into gingerbread everything season!
Eggnog custard tart is a perfect way to transition into fall baking!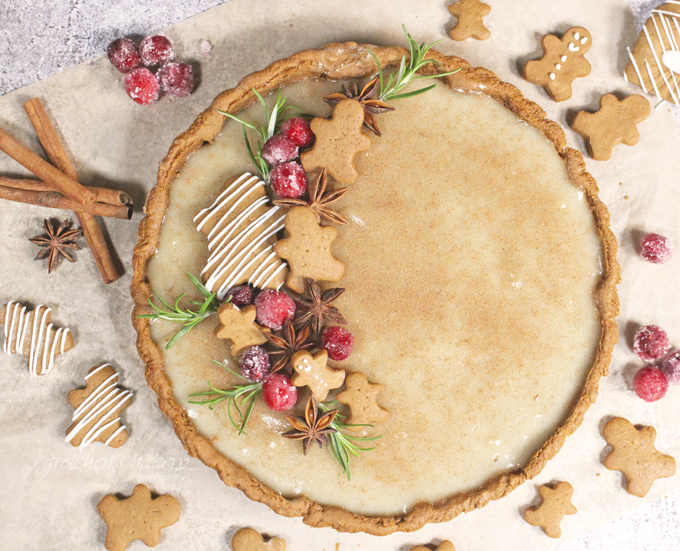 It seems that from September through December we meld all the flavors perfectly together
Delicately creating that classic "something in the air" called holiday baking!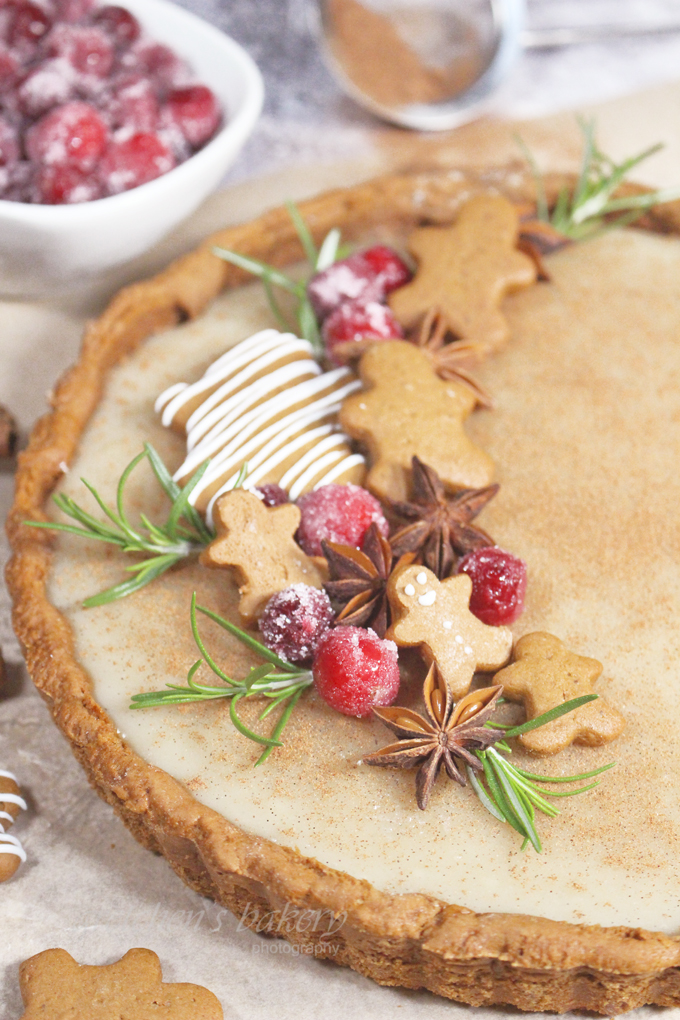 Eggnog custard tart is an easy yet elegant way to complete your holiday dinner!
With a gingerbread crust and gingerbread men dancing on top!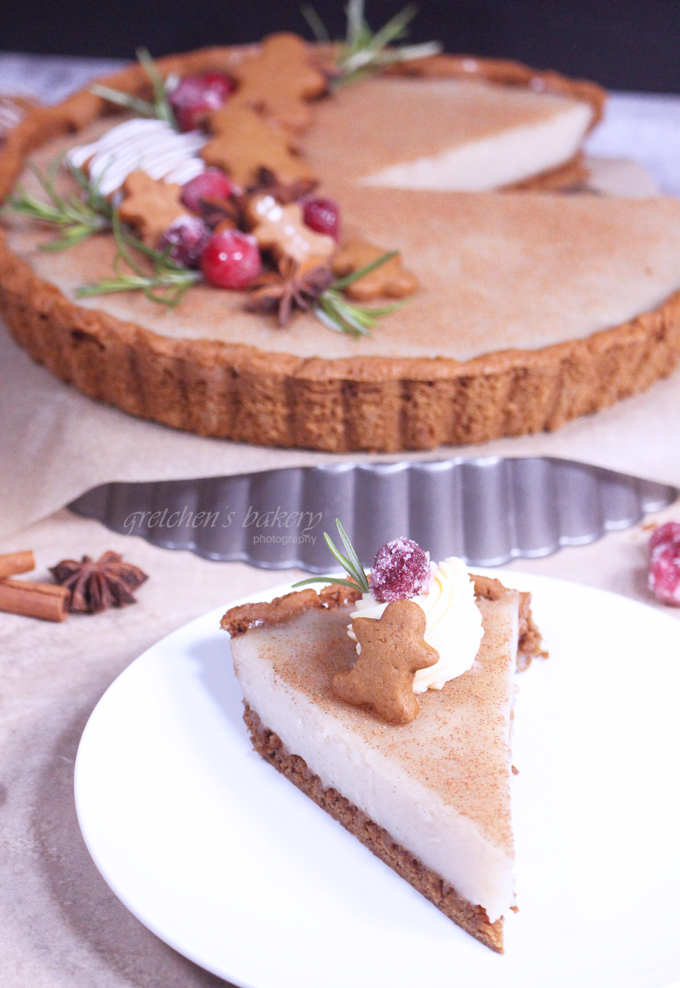 The custard is an easy stove top recipe that is ready in minutes
Traditional eggnog is made with rum or bourbon or brandy, but I know many of you are alcohol free
In which case you can leave it out and it will still be a luscious vanilla bean custard with warming notes of nutmeg!
While the gingerbread cookie decor with the candied cranberries are optional, it really ties this tart together and screams
Festive! Holiday! Fun!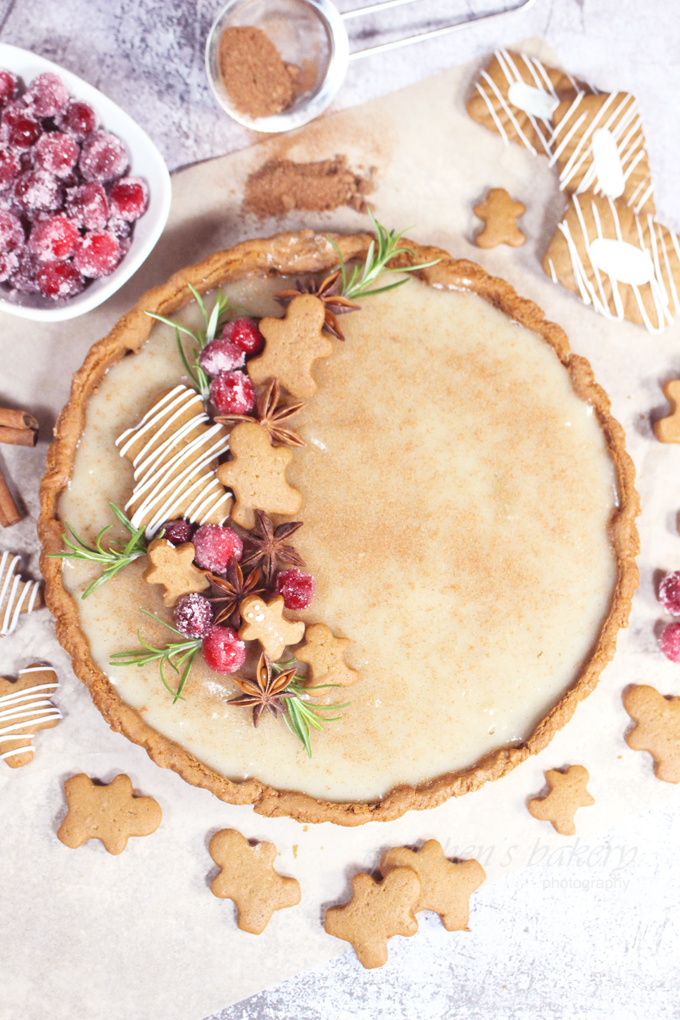 Notes for Success:
When measuring cornstarch I cannot stress enough that a kitchen scale is the best way to go.
Cornstarch is a very difficult ingredient to measure consistently with a volume/spoons measure
So while I list both measures below I cannot stress enough how the grams measure with a scale is going to give you the best results.
Many times people have complained that their custard is like rubber and they don't know why!
This is from a heavy measure of cornstarch when using volume measuring spoon vs the 100% accurate scale measure in grams.
Additionally agar can be a tricky ingredient in No Bake Desserts such as this one.
And quite honestly you can leave it out for a slightly softer setting custard
A heavy hand ~ even a pinch too much~ can be the difference between creamy delicious and rubbery inedible!
Pay attention to the strength of agar you are using in comparison to the one that author of the recipe is using
I typically use 900 strength in my recipes SPECIFICALLY THIS BRAND BY Landor Trading Co *not sponsored
But this time I tried another brand *see below and this is definitely NOT 900 strength
So I have adjusted the recipe below to reflect a possible 700 strength agar which is what I think the Kate Naturals is closer to
For those who know they have 900 strength agar reduce the amount to ½ teaspoon
CLICK HERE FOR THE EXACT BRAND I USED IN THIS RECIPE *not sponsored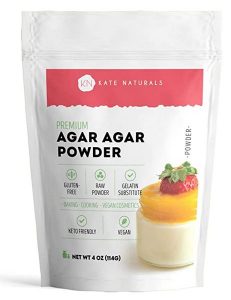 Adding agar to this custard is a sure way to have slices that stay perfect after each cut!
But if you do not use agar or do not want to buy it, you may add another scant tablespoon of cornstarch for a firmer set|
Just be aware that the cornstarch will break down faster than the agar, which is why I like to use them in combination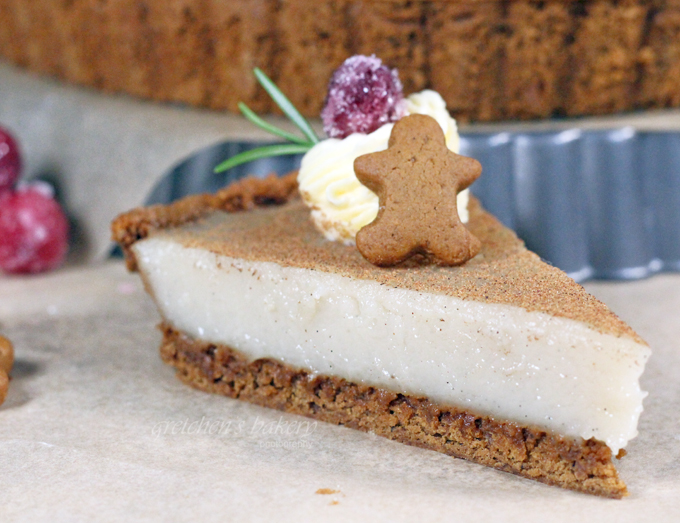 CLICK HERE FOR THE FULL YOUTUBE VIDEO TUTORIAL FOR HOW TO MAKE THIS TART!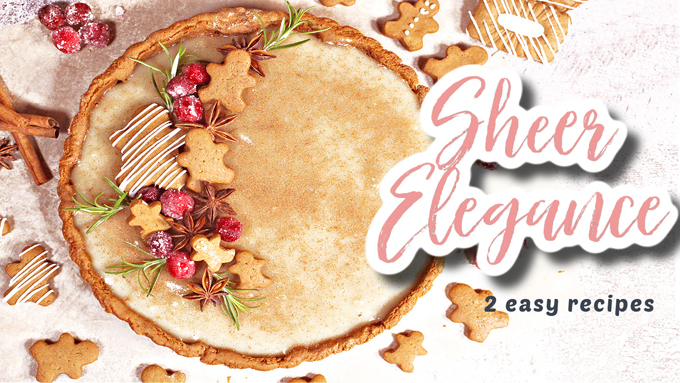 Yield: serves 10ppl
Eggnog Custard Tart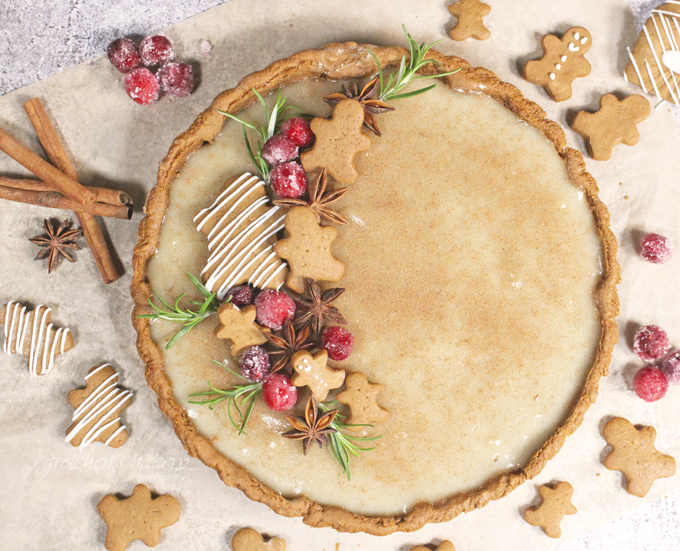 Total Time
1 hour
20 minutes
Ingredients
For the gingerbread crust & cookie decor
For the egg nog custard
Vegan Butter 3 Tablespoons (42g)
Soy Milk 2¼ cup (533ml)
Granulated Sugar ¾cup + 2 Tablespoons (175g)
Cornstarch 6½ Tablespoons (52g)
Agar ¾ teaspoon
Turmeric 1/8 teaspoon *optional for color
Vanilla Bean Pod scraped of it's seeds, OR Extract 1 teaspoon (5ml)
Brandy Or Bourbon 1 Tablespoon (15ml)
Rum 1 Tablespoon (15ml)
Nutmeg for sprinkling on the finished tart
Instructions
First prepare the gingerbread dough as far as 1 week in advance.
When you are ready to roll the crust lightly spray an 8" tart pan with a removable bottom with pan spray
Roll the gingerbread dough to less than ¼" thick and line the tart pan *see video tutorial
Use the excess dough to make decorative cookies for your tart or to serve another time
Blind bake the crust by lining it with parchment paper and pie weights
bake in a preheated 350°F oven for 15 minutes, the edges should be visibly getting golden browned
Carefully remove the tart shell from the oven and empty the pie weights into a large bowl taking care not to damage the tart crust
Then peel off the parchment paper liner as the dough will not be fully baked, so be careful
Return to the oven for another 10 minutes to bake the rest of the way.
Cool while you prepare the custard filling
Combine the sugar, cornstarch & agar in a small bowl to distribute the sugar throughout *this prevents lumps while cooking!
Melt the vegan butter with the vanilla bean pod & seeds in a medium heavy bottom sauce pot then add the soy milk with the turmeric *if using
Add the sugar mixture and bring to a boil while stirring constantly.
Once the mixture boils, remove from the heat and add the rum and or bourbon or brandy *if using and whisk smooth
Remove the vanilla bean pod, rinse it off and dry it then put into your vanilla sugar container!
Pour the custard into the prepared gingerbread crust and then refrigerate to set to firm, this takes several hours
Sprinkle with nutmeg
Notes
Eggnog custard tart must be kept refrigerated

This tart will stay fresh in the refrigerator for up to 4 days

I do not freeze custard desserts as they get runny on the thaw
I recently developed a homemade custard powder recipe that can be plugged into to many existing custard recipes.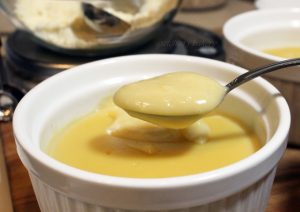 If you want to eliminate the agar in this recipe and use my homemade custard powder recipe
Simply substitute 12 Tbs of the homemade custard powder recipe for the cornstarch and agar listed above!