Quite possibly the richest cake you will ever eat!
The Gold Digger Cake is not for kids because they just won't appreciate all this bling!
I'm already thinking ahead to New Year's with these little individual mousse cakes
Since I imagine how perfect this one would be as an intimate dessert for two!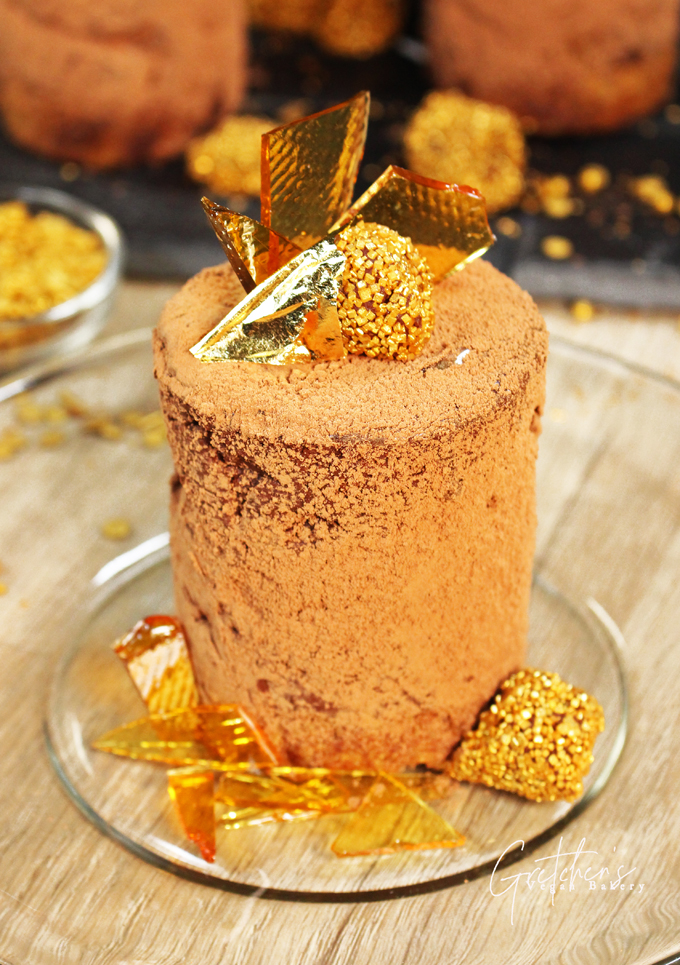 The Gold Digger Cake is aptly named for it's rich chocolate velvet mousse and liquid gold center!
Studded with caramel shards, gold nuggets and even edible gold leaf!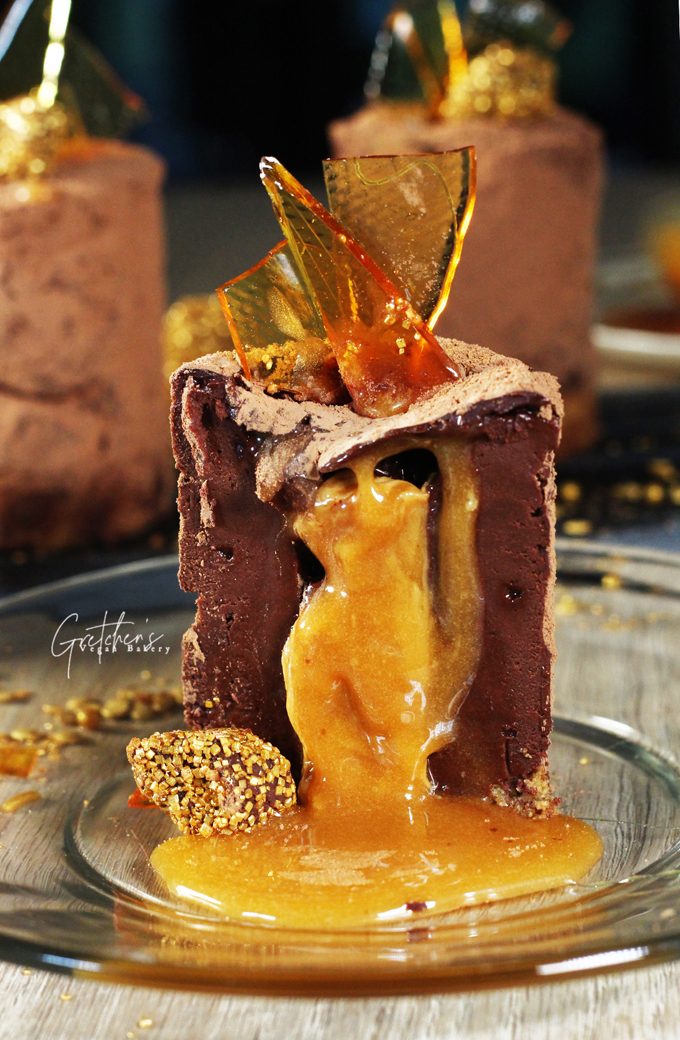 It's true this may seem like a difficult recipe to make since it has so many components and supporting recipes
However the technical aspect is quite easy you really just have to organize yourself and take it one recipe at a time!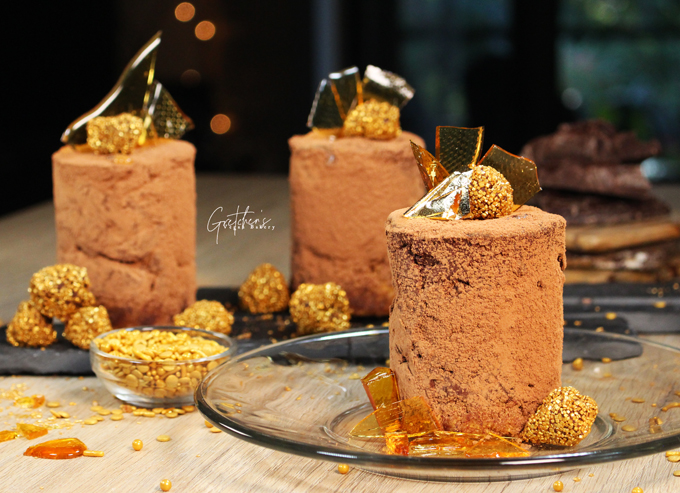 Be sure to read the entire recipe before beginning and the notes for success as follows!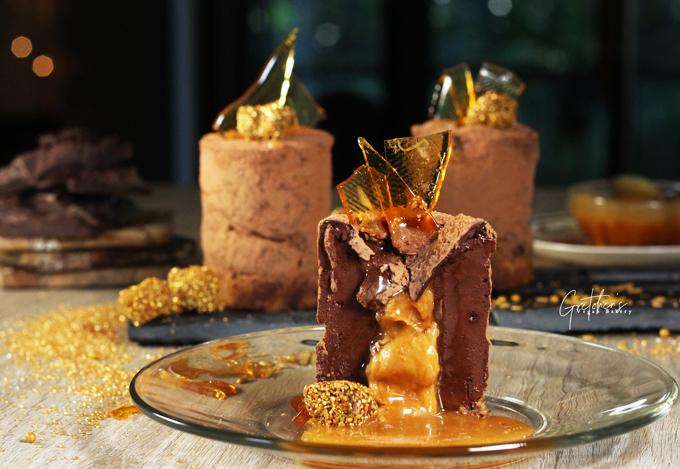 Notes for Success:
For a mousse recipe like this one it is imperative that you have your molds prepared before you start to mix the mousse
This includes the cookie base inside the lined cupcake molds with the acetate cake strips
I don't often ask that you buy specific tools to make my cakes, but for cold preparation dessert that are molding like this one
The acetate cake strips will be your lifesaver!
Vegan chocolate mousse sets almost instantly so you must also prepare ahead the caramel for the shards that get mixed into the mousse
If you are looking to cut out some of the work from this recipe, the caramel shards can definitely be left out.
I liked the little crunch in the mousse from the amber caramel not to mention the added decor for more bling!
The aquafaba and coconut whipped cream must be ready in waiting, so just leave those in the refrigerator while you melt the chocolate
My go-to whipped cream for a mousse recipe like this one is canned coconut fat, but you can use any vegan whipped cream you like best
Two full cups volume of vegan whipped cream is what you will need
You must work fast as the cold coconut cream will instantly set the mousse
A bit of vigorous whisking will smooth this right out and give you time to fold in the aquafaba!
Be sure it is to thick stiff glossy peaks!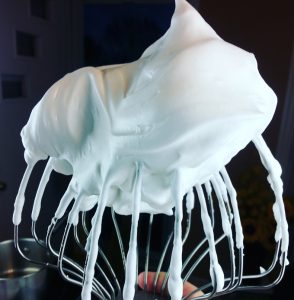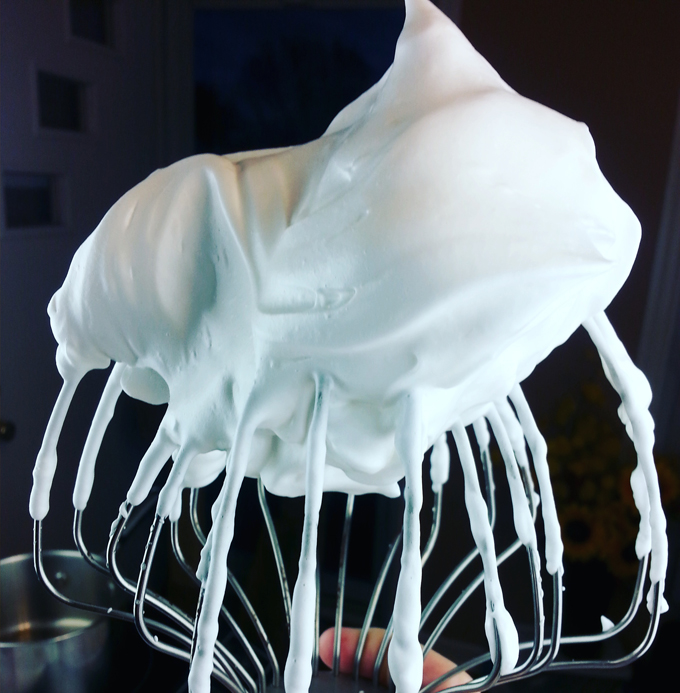 Last, I am using agar powder as an added stablizer for this mousse.
This is not actually necessary since this mousse will set very firm even without it!
But if you want to use it I use this brand specifically
WATCH THE FULL YOUTUBE VIDEO TUTORIAL FOR HOW I MAKE THE GOLD DIGGER CAKES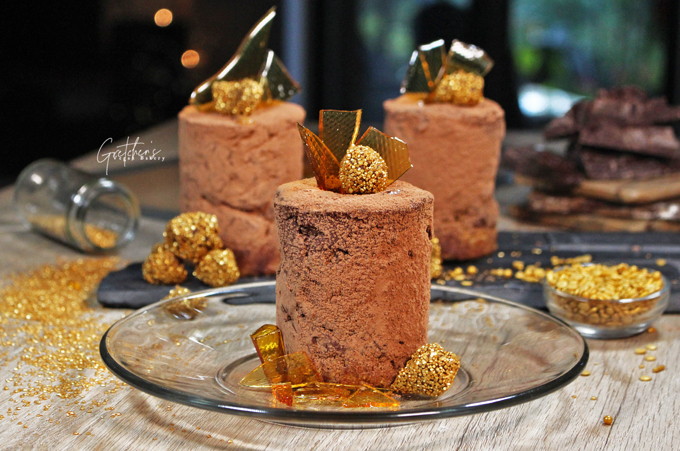 For more advanced pastry desserts like this one click the links below!
Chocolate Covered Strawberry Mousse Cake
Yield: 6 desserts (serves 12)
Gold Digger Cake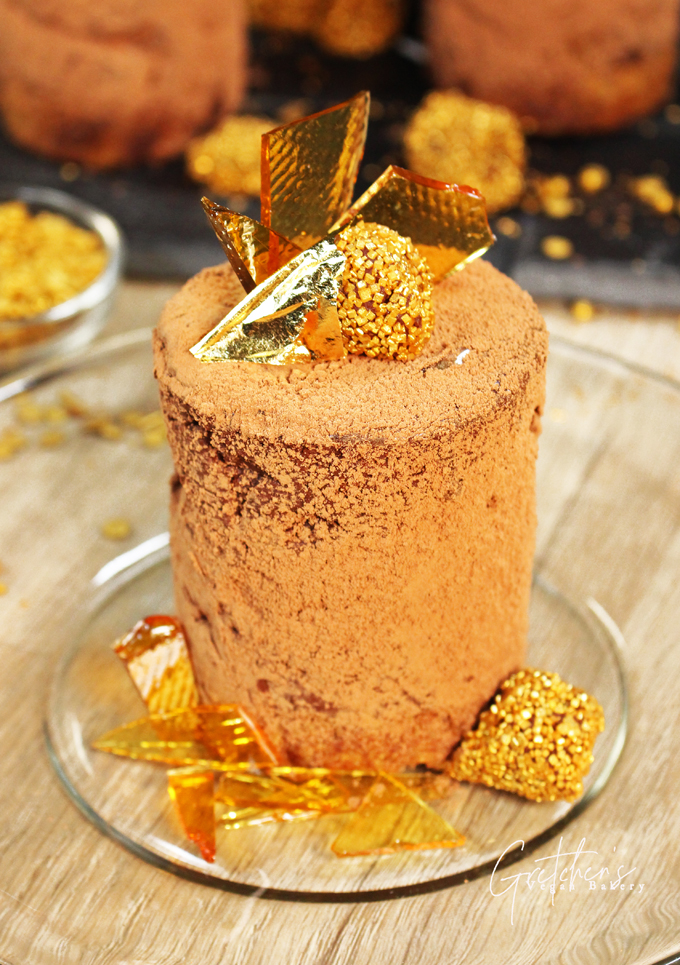 I know the ingredients for the mousse seem excessive especially for just 6 small cakes, but this recipe is super rich so while it only makes 6 individual portions~ each one really serves 2 people! I molded mine into jumbo muffin tins, but for a smaller portion use a standard sized muffin tin for 12 cakes
Remember to refrigerate your coconut milk overnight before beginning.
Ingredients
For the Caramel Shards:
Granulated Sugar ½ cup (100g)
White Vinegar or lemon Juice 1 teaspoon (5ml)
Water 3 Tablespoons (45ml)
For the Cookie Base:
Graham Crackers or your favorite sandwich cookie 2 cups crushed *approx 220g
Vegan Butter melted 6 Tablespoons (85g)
For the Mousse:
Vegan Semi Sweet Chocolate 1½ pounds (680g)
Brewed Coffee *or water 6 Tablespoons (90ml)
Granulated Sugar 6 Tablespoons (90g)
Powdered Agar *optional ¼ teaspoon (this mousse sets fine without it so you can leave it out!)
Aquafaba ~ liquid from canned chickpeas ¾ cup (177ml)
Cream of Tartar ¼ teaspoon *not imperative, you can leave it out if you don't have it!
For the Liquid Caramel Centers:
Granulated Sugar 1 cup (200g)
Water 3 Tablespoons (45ml)
Lemon Juice or Vinegar ½ teaspoon
Plant Milk *highest fat milk works best ½ cup (118ml)
Vegan Butter 1 Tablespoon (14g)
Sea Salt *optional ¼ ½ teaspoon *to taste
Gold Sprinkles for the nuggets *optional
Edible Gold Leaf *optional
Instructions
First prepare the cupcake molds as shown in the video with the acetate cake strips
Next prepare the cookie base: by crushing the graham crackers in a food processor to fine crumbs.
Add the melted vegan butter and pulse until it resembles wet sand
Press the crumbs into the prepared molds evenly on the bottom
Freeze while you prepare the rest of the recipe
For the Caramel Centers: Stir the sugar, acid and water only until is dissolved not after it starts to boil or you will get crystals in your caramel! The acid helps to prevent this, but it can still happen if you stir after it starts boiling
Watch it carefully as it turns from a light amber to medium amber, take it off the heat when it is medium amber as it will continue to cook and darker even after you remove it from the heat
Slowly & carefully pour in the plant milk and vegan butter and once the bubbling subsides stir it to a smooth sauce
Stir in the salt if using
Pour into a heat proof container and refrigerate until needed *it will thicken as it sits!
The liquid caramel must be COLD before pouring into the mousse centers!
Next prepare the caramel shards: Stir the sugar, acid and water only until is dissolved not after it starts to boil or you will get crystals in your caramel! The acid helps to prevent this, but it can still happen if you stir after it starts boiling
Watch it carefully as it turns from a light amber to medium amber, take it off the heat when it is medium amber as it will continue to cook and darker even after you remove it from the heat
Slowly & carefully pour it onto a silicone lined sheet pan or a sheet pan that has been sprayed lightly with pan spray. Allow it to cool then crack it with a hammer or break apart with your hands
For the smaller bits to fold into the mousse you will have to break it in a food processor or by hand in a bag with a hammer *as shown in the video
Keep the caramel shards tightly sealed to prevent condensation & sticking together!
For the mousse: melt the vegan semi sweet chocolate over a double boiler or in the microwave.
Sprinkle the agar powder over the hot coffee with the sugar and bring it to a boil then keep it warm in a pan of hot water to prevent it from setting.
Whip the coconut fat from the tops of the cans of coconut milk or prepare your favorite vegan whipped cream recipe
Reserve the soft whipped coconut cream in the refrigerator and then prepare the aquafaba by whipping it in a high speed stand mixer with the balloon whip attachment & the cream of tartar until thick & glossy
Whisk by hand, the warm agar/coffee into the chocolate & whisk smooth, then fold (whisk) in the coconut cream along with the crushed bits of caramel shards (approx ¾ cup) then fold in the whipped aqaufaba.
Immediately portion into your prepared molds and then refrigerate to set.
With a cupcake corer (or a cannoli tube) hollow out the centers of each dessert but keep the mousse you are taking out! this will get rolled into gold sprinkles for the gold nugget decor!
Fill the centers with caramel sauce and replace some of the mousse to the top to seal
Refrigerate to set (at least 2 hours) unmold the desserts and sprinkle with cocoa powder then garnish with the remaining caramel shards, edible gold leaf & your gold nuggets
Notes
Gold Digger Cake must be kept refrigerated and will stay fresh for up to 5 days
The caramel decor may not last more than 1 day in the refrigerator due to condensation & melting
You can freeze Gold Digger Cakes for up to 1 month