I am definitely in the Christmas spirit after making these Christmas Ornament Cakes!
These eye catching cakes will be the centerpiece of your holiday table this year and most people will never guess that they are actually all edible!
More than edible though, undeniably delicious!
Moist Red Velvet Cake filled with Cream Cheese Buttercream Icing and encased in a thin white chocolate shell decorated in sparkling silver and gold!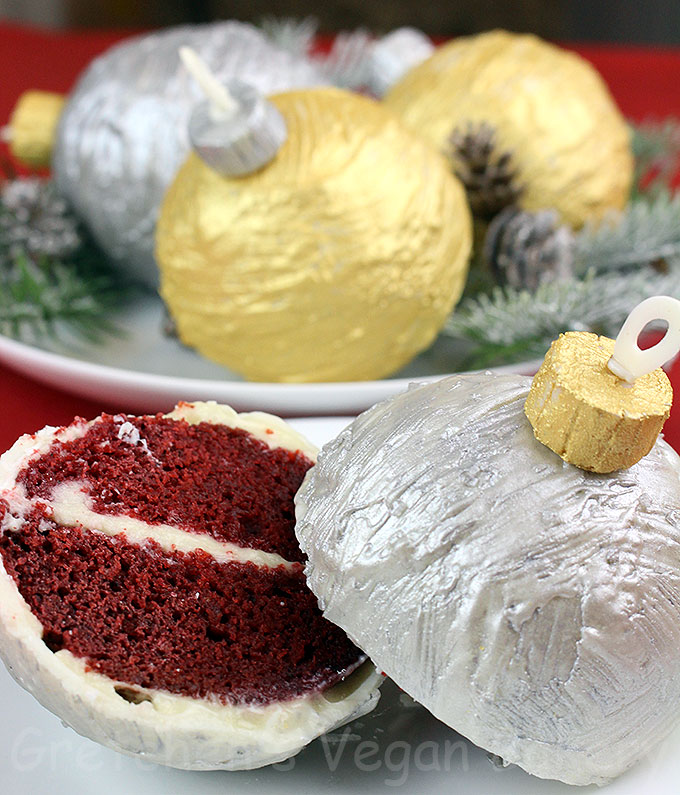 If any of you have been following me from my earlier days on YouTube, you probably know I am a self proclaimed MacGyver when it comes to cake decorating.
Meaning I don't have all the fancy tools and tricks that the more advanced cake decorators have.
But that has never stopped me; and you will see that in action as I show you how to make these stunning cakes with nothing more than white chocolate, a couple of standard cookie cutters, some luster dust and a paint brush.
Sure you will need the silicone mold to bake the cakes into spheres, but otherwise, nothing but your hands and a bit of patience.
Oh yeah and a parchment paper cone!
Honestly, I really don't get into doing much decorating anymore since I sold my bakery, because… well, I just can't hold a candle to those "How to Cake It" folks!
But after making these little Christmas Ornament Cakes, I was really proud to share them with you and show you that you too can make some really showstopping cakes with minimal tools.
Pick your favorite cake recipe and filling, but I think red velvet cake is the most appropriate for the holiday season!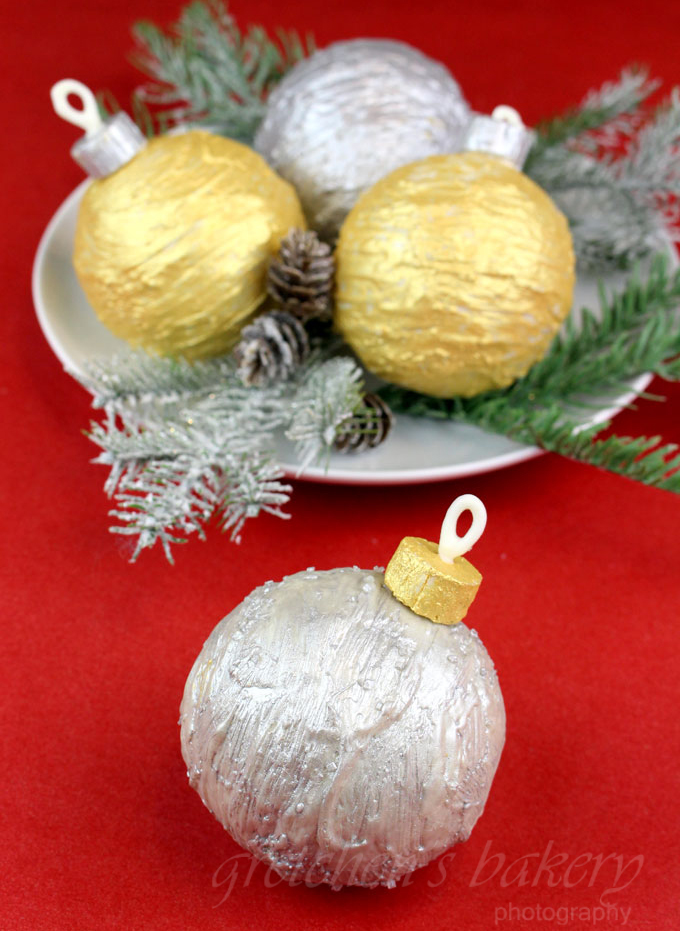 Christmas Ornament Cakes
Serves:
8 Individual cakes
Ingredients
For the Red Velvet Cake:
All Purpose Flour 1¼ cups (156g)
Granulated Sugar ¾ cups (150g)
Baking Soda ½ teaspoon
Salt ½ teaspoon
Natural Unsweetened Cocoa Powder 1 Tablespoons
Coconut Oil ⅓ cup
Almond Milk ½ cup (120ml)
Flax Meal 1 Tablespoons (8g)
Hot Water 2 Tablespoons (30ml)
Red Food Color 1-2 teaspoons OR NO DYE RECIPE HERE
White Vinegar 1 teaspoon (5ml)
Vanilla Extract 1 teaspoon (5ml)
For the Cream Cheese Icing:
Vegan Cream Cheese 1 tub (8ounces)(113g)
Vegan Butter 4 tablespoons (56g)
Confectioners Sugar 1 cup (120g)
Vanilla Extract ½ teaspoon
For the Vegan Buttercream:
Vegan Butter ⅓ Cup (85g)
Hi Ratio Solid Vegetable Shortening ⅓ Cup (85g)
Confectioners Sugar 1½ cups (180g)
Almond Milk 1 Tablespoons (15ml)
Vanilla Extract 1 teaspoon (5ml)
Salt ¼ teaspoon
Vegan White Chocolateas needed get 12ounces to 1 lb
Luster Dust as needed ( I used 2 jars for 8 cakes)
Instructions
For the Cake:
First combine the flax meal with the hot water and whisk smooth, let it stand for 5 minutes to thicken
Combine the vinegar with the almond milk to sour
In a large mixing bowl combine the sugar with the melted coconut oil, vanilla extract and beet juice or food color and whisk smooth
Add the flax paste and the soured milk and whisk smooth
Sift all the dry ingredients into the sugar/oil mixture and whisk smooth again
Portion into the silicon sphere molds and bake in a preheated 350°F oven for approximately 15-20 minutes or until they are springy to the touch when you gently press the center
Meanwhile prepare the cream cheese icing:
Smooth the vegan cream cheese with the room temperature vegan butter, by hand with a wooded spoon or spatula,
Add the sifted confectioners sugar and then vanilla extract, mix gently to avoid cream cheese soup!!
Refrigerate while you prepare the vegan buttercream as follows
For the Vegan Buttercream:
Cream the vegan butter with the shortening on high speed for 3 minutes then add the salt
Add the sifted confectioners sugar all at once then mix on high speed again for another 3 minutes
Add the almond milk very slowly while mixing on high speed then continue whipping for another 3 minutes
Combine the cream cheese icing with the buttercream
Continue as per the video instruction for assembling the cakes