Vegan Baking can be wonderful when you finally master it.
But Vegan Baking can be super frustrating if you are new to the arena!
I was classically trained in traditional baking and I have 25+ years experience in the professional baking industry.
So my switch to Vegan Baking a several years ago was a shock to the system to say the least.
But what about Whipped Cream?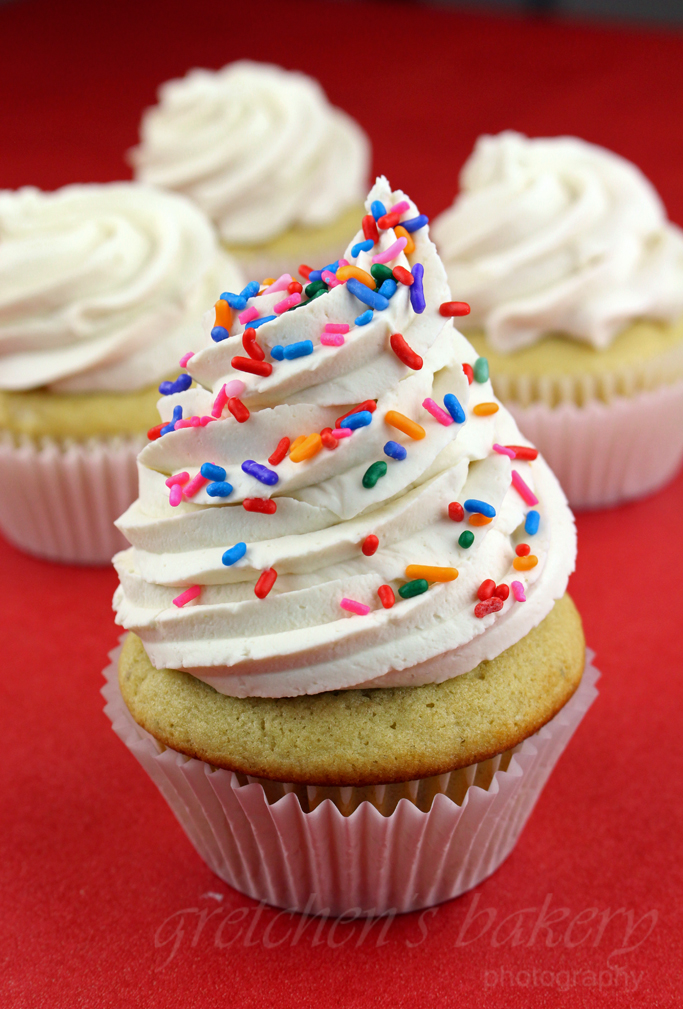 If you have done any amount of vegan baking or even just perused some recipes, you have probably seen the old Coconut Milk whipped cream trick!
You basically take a can (or ten cans) of full fat coconut milk and refrigerate it overnight.
The fat will separate to the top and the liquid will stay at the bottom.
Coconut Milk will not whip up though unless it is completely separated from the liquid, which is why we refrigerate it overnight.
Even a tablespoon of that liquid will prohibit thick whipping.
When you open the cans you will scoop out the fat and use that for the whipping
The fat will whip up just like whipped cream and it is wonderful!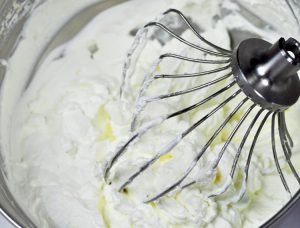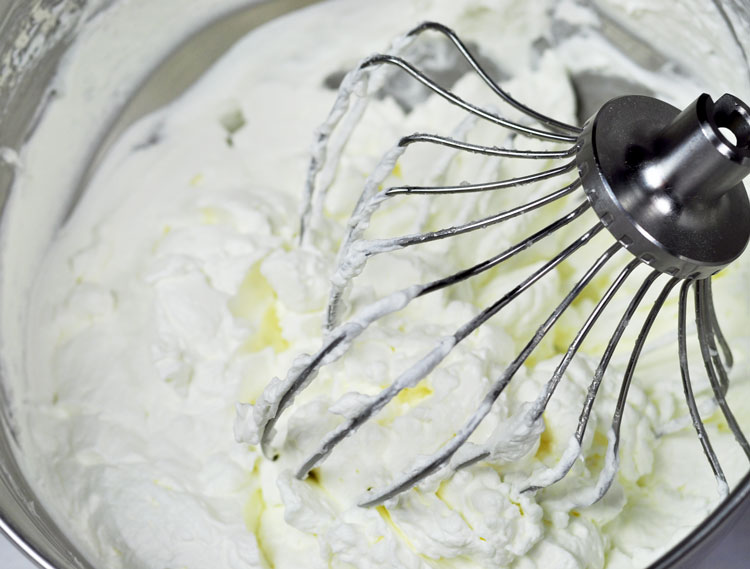 You can add sugar to it to sweeten or just use it as the base for mousses and other desserts.
Be sure to use the FULL FAT variety, not Lite Coconut Milk
Here in the USA I have found luck with Thai Kitchen *not sponsored
The other thing to note is that you do not want to shake the cans before refrigerating, this will prevent clear separation of the fat from liquids.
The most recent Best Vegan Product of 2020 in my opinion is SILK Brand Heavy Whipping Cream!*not sponsored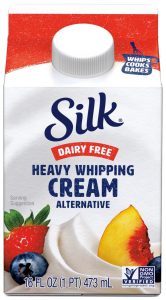 It basically makes this entire article obsolete and changes the vegan whipping cream game forever!
You can whip it with an electric mixer or by hand with a whisk
Just be careful not to over whip or it will become grainy.
Stop at soft peaks as it will continue to firm up on your cakes and once it is refrigerated
Typically I will add about 1/4 – 1/2 cup of confectioners sugar when using as an icing for cakes and pastries
Another option is to buy this product by Nature's Charm but it is pricey and you still need quite a few cans. *not sponsored
If you are filling and icing a cake though, prepare to buy about 4 cans of it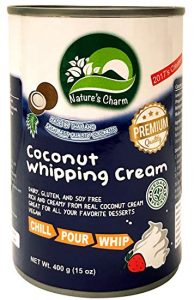 So back to the lab to figure out how to make a more practical, cost effective vegan whipped cream recipe!
My Homemade Recipe for Whipped Cream
No nuts! Once you master it ~ it is a dream come true!

Vegan Whipped Cream
The xanthan gum adds thickness and stability to the cream and also acts as an emulsifier, if you do not have it, you CAN leave it out or use guar gum ion the same amount.
I Do not recommend to HALVE the recipe for the soy milk whipping cream. There is some truth in the saying "strength in numbers" and it seems the people having problems with this recipe are the ones who have halved the recipe. Just make the full amount, trust me you will love it so much it will not go to waste!
Also be sure you are using pure soy milk, unsweetened with the only ingredients that are soybeans & filtered water **I have not had good luck with using any other brand soy milk than WestSoy since it is 100% soy milk, no added anything.
Ingredients
Soy Milk 2 cups (474ml)
Refined Coconut Oil melted 2 cup (454g)
Granulated Sugar ½ cup (100g)
Xanthan Gum ½ teaspoon *or guar gum same amount ~ or omit if you can't get either
Vanilla Extract 2 teaspoons (10ml)
Instructions
Combine everything in a high speed blender and blend for about 20seconds
Pour into a clean container and refrigerate until cold (I freeze it for under an hour just before whipping, but not so it is getting hard- if you freeze it to the point is starts to get chunks of frozen cream, this is too much)
Whip with a balloon whip attachment for about 3 minutes until soft peaks form
If you over whip the cream it will get grainy so be careful to just whip to soft peaks. I find that we are so used to whipping cow cream that we are looking for the same results, this is not the case here, you will get very soft peaks, and it WILL thicken over time & in the refrigerator on the finished cakes.

If you DO over whip though, you can add a tablespoon or two of soy milk and gently fold it in to loosen
**For the stubborn occasion where it just will not whip, I have put the entire container back into the freezer and froze solid. Thawed in the refrigerator and then re-whipped with good results. This of course is not convenient when you need it NOW! So I am now in the habit of preparing the cream 1 day ahead, freezing sold and then thawing to whip just to play it safe
Notes
Whipped cream liquid can be stored in the refrigerator for up to 1 week before whipping.

Once it is whipped it is best to use right away on your cakes or desserts, but will stay firm in the refrigerator for up to 4 days
My first success, besides using those cans of coconut milk, was with
Miyoko Schinners recipe
But I decided it needed some tweaking, so below is my revised Miyoko Schinner recipe for Vegan Whipped Cream with cashew base

Vegan Whipped Cream- Miyoko Schinner
Ingredients
Soy Milk 1 cup (237ml)
Melted Coconut Oil ¾ cup (177ml)
Soaked Raw Cashews ¼ cup (50g)
Granulated Sugar ¼ cup (50g)
Vanilla Extract 1 teaspoon (5ml)
Instructions
Combine all of the ingredients listed: the milk, coconut oil, vanilla, sugar and cashews together in a high speed blender and blend until perfectly smooth and there are no traces of nuts.
Transfer the liquid to a mixer bowl and refrigerate until ice cold (several hours) I find this whips best when it is as cold as possible and I have sped the process by freezing for just under an hour, just be careful not to freeze solid or you will have to wait until it thaws to whip.
If you over whip the cashew cream it will get grainy so be careful to just whip to soft peaks. If you DO over whip though, you can add a tablespoon or two of soy milk and gently fold it in to loosen
In this video for Peaches and Cream Cake you will see the making of the whipped cream~
skip to 2:28
Another in depth look at making vegan whipped cream here in this Black Forest Cake recipe~ skip to 1:15