The best vegan cheesecake recipe all dressed up for Easter!
Miniature two bite cheesecakes for a pretty spring party!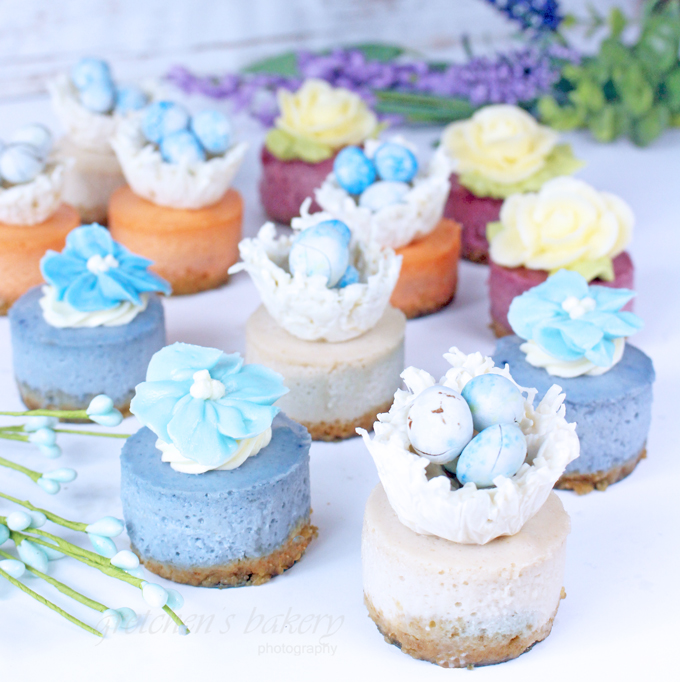 Many people will bake miniature cheesecake in muffin cups
But if youwant a very affordable pan specific for miniature cheesecake
The presentation is just so much prettier!
With my new obsession for natural food coloring and my best recipe for vegan cheesecake
These two things together make the most beautiful miniature vegan cheesecakes perfect for spring!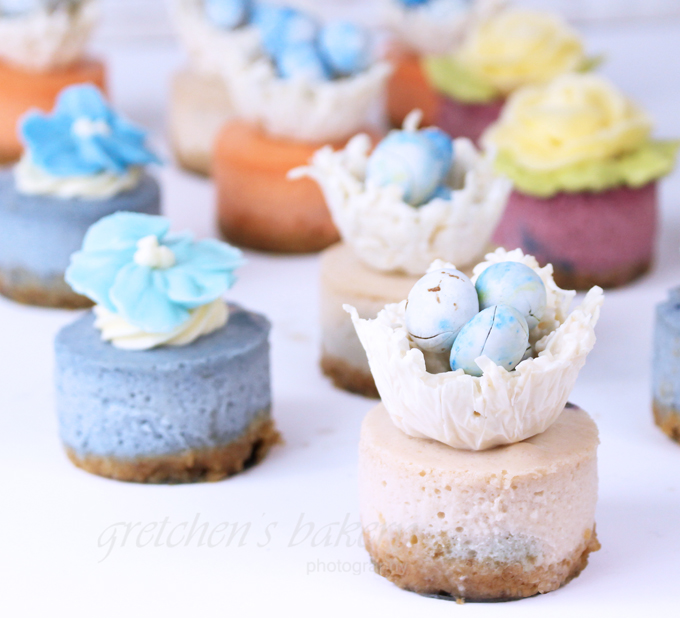 I've been experimenting lately with these flower powder natural food colors I picked up from Suncore Foods
*Not sponsored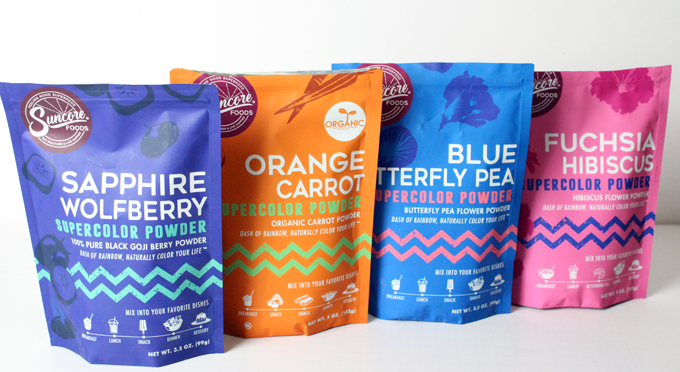 I am really digging the vibrant colors and the fact that they are all natural!
Of course if you did not want to buy them for yourself, as they are very pricey at almost $20 per bag
You could always use a tiny drop of whatever food coloring you are using for the same effect
The flower powder does however impart a subtle nuance of flowery essence
And depending on the recipes acidity it can change the color of the final result due to the pH level!
#science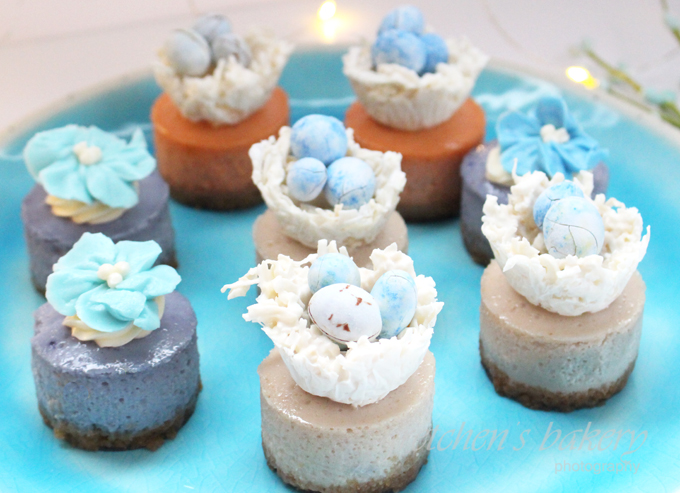 Notes for Success:
The Hibiscus Flower Powder makes the cheesecake taste a bit fruity and almost reminded me of a raspberry cheesecake
The Blue Butterfly Pea Flower Powder is very subtle and reminded me of roses somehow!
I was using the colors very sparingly since I notice when they bake they intensify almost 4 times!
The Wolfberry Goji Berry Powder was gorgeous in the cheesecake batter but for some reason when it baked it disappeared!
So for that one I think that 1 teaspoon would have been better than the 1/4 teaspoon I used for the others
The Carrot Powder was awesomely vibrant but did not impart much flavor at all
My base cheesecake recipe which is the starting point for all my cheesecake recipes is perfect all by itself
So again if you want to forgo the flower powders and the food colors all together, by all means you don't have to get all fancy like I did!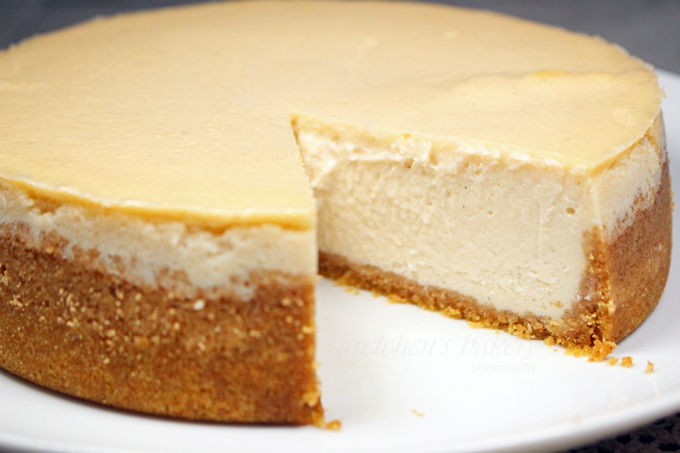 CLICK HERE FOR THE FULL YOUTUBE VIDEO TUTORIAL FOR HOW TO MAKE THESE ASSORTED SPRING CHEESECAKES!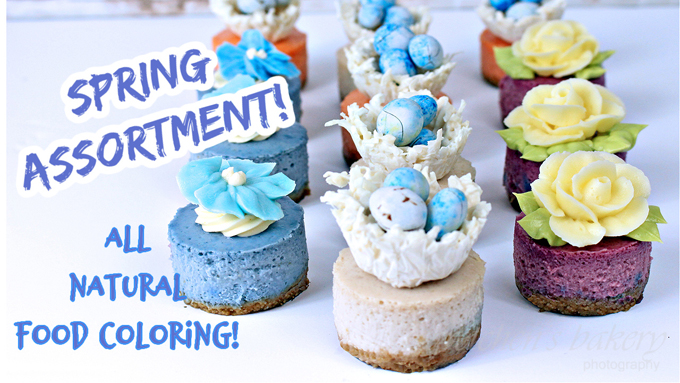 More Notes for Success!!
I only use Tofutti Cream Cheese for my BAKED recipes *not sponsored
I have not had success with any other brand in BAKED recipes; for some reason some other brands I've tried have broken down into an oily mess when baked.
However more recently some of my viewers have commented on some of those brands that now seem to work in baked recipes?
One noted having success with Violife, another person stated they used Miyokos original and it turned out divine,
While Treeline cream cheese in Connecticut; and in the UK, the Asda supermarket brand works great
When measuring cornstarch I cannot stress enough that a kitchen scale is the best way to go.
Cornstarch is a very difficult ingredient to measure consistently with a volume spoons measure
So while I list both measures below I cannot stress enough how the grams measure with a scale is going to give you the best results.
Many times people have complained that their cheesecake is like rubber and they don't know why!
This is from a heavy measure of cornstarch when using volume measuring spoon vs the 100% accurate scale measure in grams.
CLICK HERE FOR MORE INFORMATION ON MEASURING
For the white chocolate coconut nests I used about 1 cup of unsweetened natural coconut flakes mixed with approximately 4 Tablespoons of melted vegan white chocolate
Pressed into a plastic wrapped lined mini muffin tin until they set
I also use Little Secrets peanut candies for the "eggs" *not sponsored
I simply wash them quickly under cold water to get off that intense color for a more subtle speckled egg look
For more of the best vegan cheesecake recipes click the links below!
The Best Vegan Cheesecake Recipe Ever! Strawberry Cheesecake
Vegan Double Chocolate Cheesecake
Yield: 18 miniature cheesecakes
Miniature Cheesecakes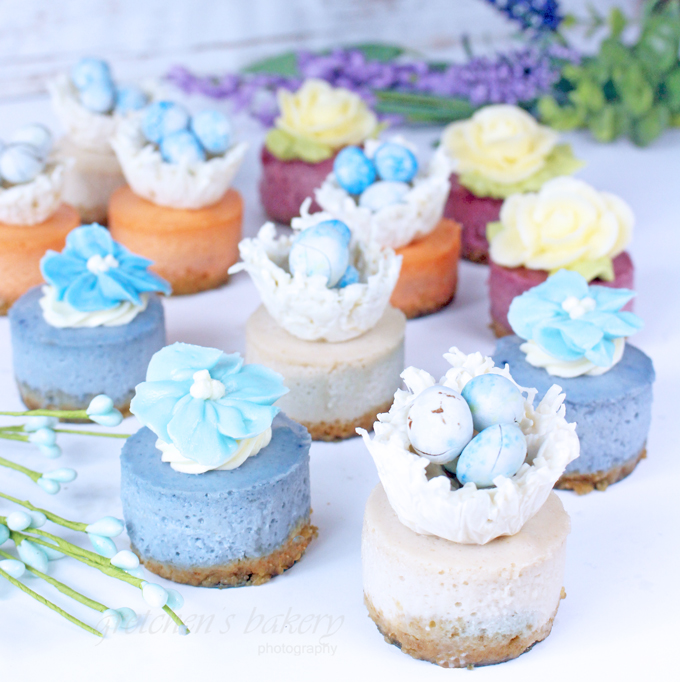 Ingredients
For the Crust:
8ounces (approx 1½ cups) crushed cookies to fine crumbs
4 Tablespoons Vegan Butter Melted
For the Cheesecake Batter:
Tofutti Cream Cheese *see note above 16ounce (454g)
Granulated Sugar 1 cup (200g)
Vegan Butter melted 2 Tablespoons (28g)
Salt ¼ teaspoon
Vegan Lactic Acid or Apple Cider Vinegar ½ teaspoon
Cornstarch 4 Tablespoons (32g)
All Purpose Flour 3 Tablespoons (24g)
Plant Milk * I use soy milk 6fl oz (177ml)
Vanilla Extract 3 teaspoons (15ml)
Instructions
Prepare the crust for this cheesecake by placing your cookies in a food processor and grind to fine crumbs
Add the melted vegan butter and pulse until the mixture resembles wet sand
Press this mixture into the bottom of your greased & parchment lined 7" cake pan OR the individual miniature cheesecake pan then freeze while you prepare the cheesecake batter.
Place all of the cheesecake ingredients into the work bowl of your food processor and pulse to blend
Scrape the sides of the bowl to ensure an even mix then blend again to a smooth mixture
Divide the batter into as many bowls as needed to flavor with flower powder or food coloring.
Add ¼ teaspoon of flower power into to each 1 cup of cheesecake batter
Pour the batter into the prepared crust and bake in a water bath in a preheated 350°F oven for 30 minutes for the individuals and 1 hour for the 7" cake
**If making a 7" cheesecake leave the cake in the oven for an additional 1 hour AFTER turning off the oven, to let it cool slowly with the oven off.
Remove the cheesecake and cool completely then refrigerate for at least 2 hours to set or overnight before unmolding.
Loosen the sides and bottom of the cheesecake pan submerging the pan into hot water and running a small spatula around the edges
Decorate the cheesecakes with white chocolate coconut nests and buttercream flowers is desired
Notes
Cheesecakes must be kept refrigerated and will stay fresh for up to 6 days
I do not freeze vegan cheesecakes, they turn soggy and the texture changes upon thawing