Yay! You've found it!
Welcome to the Best Vegan Cheesecake Recipe Ever!
No seriously!
It really is the best vegan cheesecake recipe ever!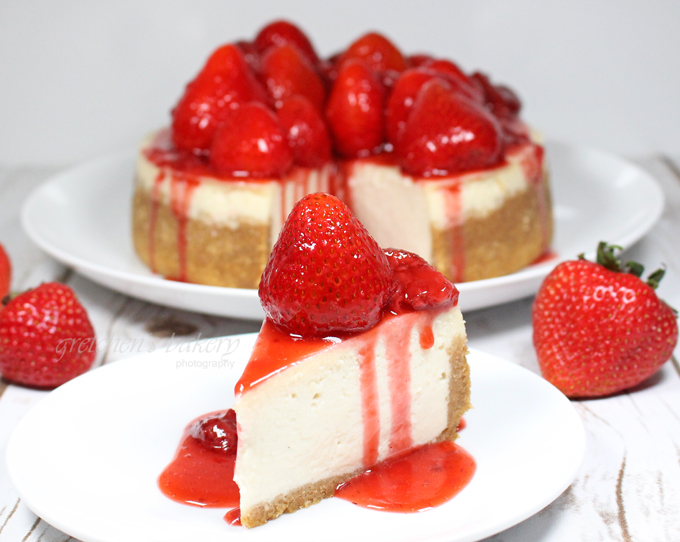 If you know anything about me you will know that my cheesecake recipes are by far ~the best!
I've got everything from super fancy Baklava Cheesecake and a Copy Cat Cheesecake Factory recipe for Funfetti Birthday Cake Cheesecake!
Even a Chocolate Mousse Cheesecake too!
However I realized that with all those fantastic combinations of over the top cheesecake recipes,
I never actually shared just a basic vanilla cheesecake with classic strawberry topping!
But  don't be fooled, this is anything but basic!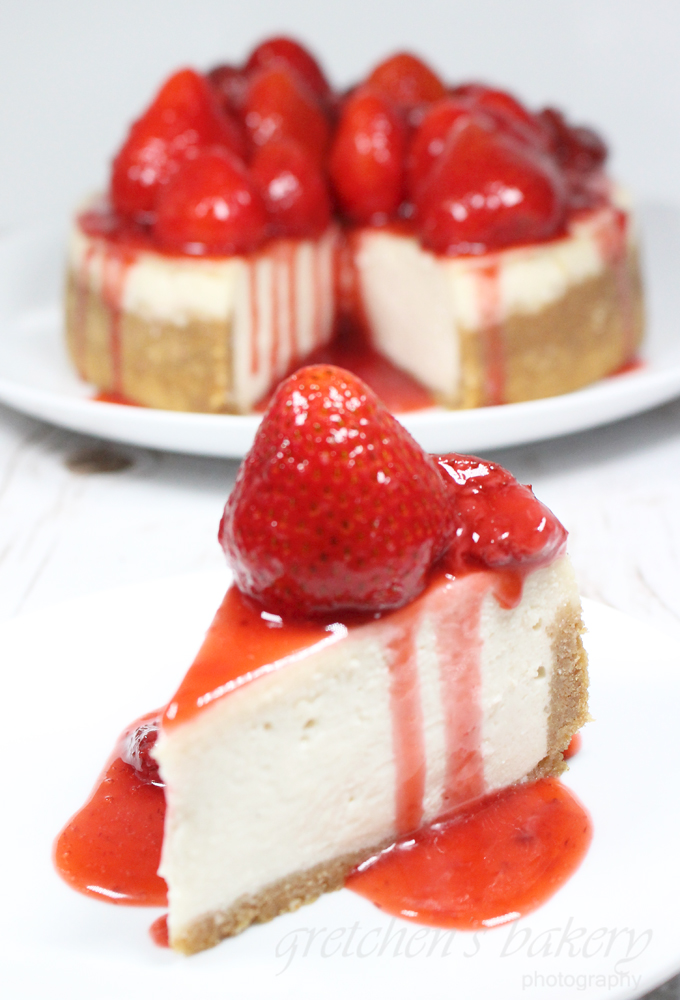 My famous vegan cheesecake recipe is luscious, creamy and dense at the same time!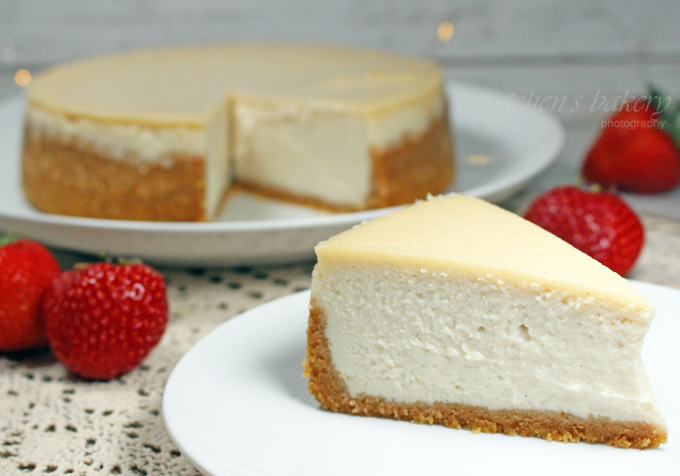 It's essentially a vegan perfect version of a New York style cheesecake and it is unmatched!
My base recipe for the cheesecake is almost always the same
It's a very simple food processor or blender recipe that is ready in minutes
Pour the batter into a 7″ cake pan, yes that's right I bake all of my cheesecakes in cake pans, never spring form pans; Believe me once you try it, you won't go back!
For more information on that sensitive topic click through to find out my reasons!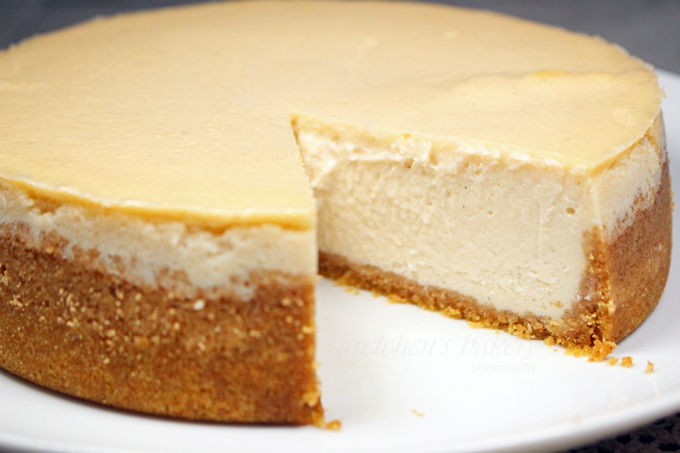 But let's stay focused on this luscious strawberry cheesecake!
With a classic graham cracker crust and homemade recipe for fresh strawberry compote , you will be begging for more!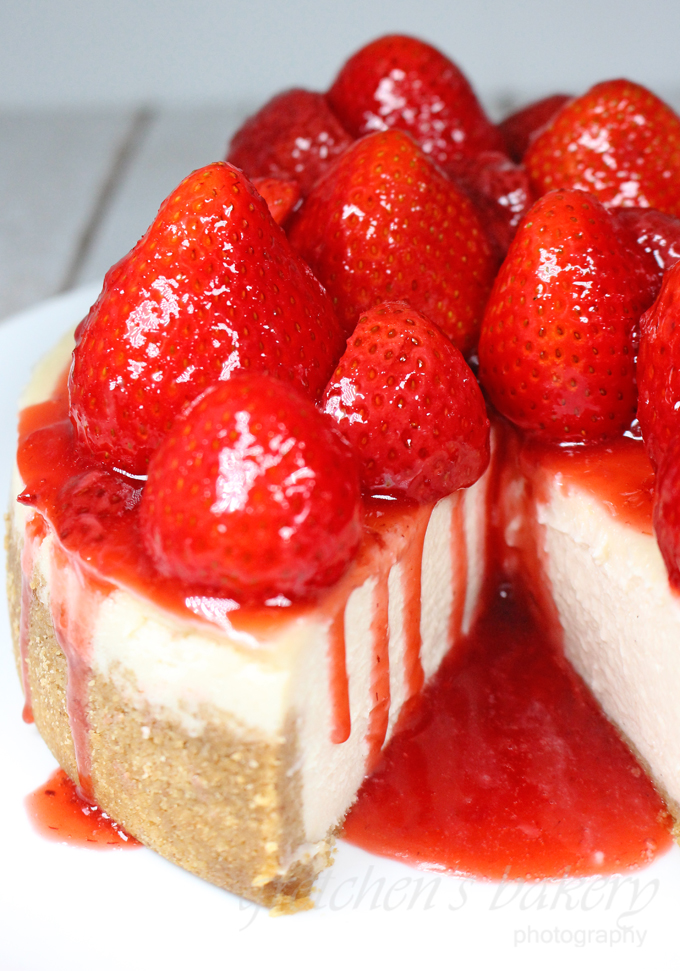 The strawberry topping is optional of course, but for some reason whenever I think "classic cheesecake"
I always have visions of fresh glazed strawberries dripping down the sides of every piece!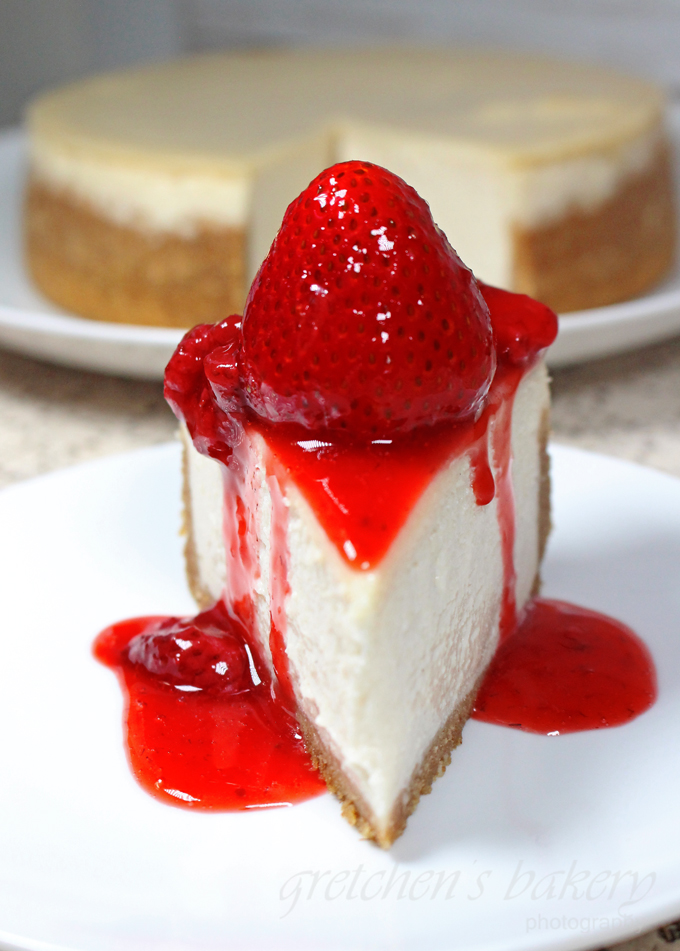 Notes for success:
In the video you will notice that I used frozen strawberries for my fruit compote.
I have always used frozen berries over fresh because #1 I almost always have frozen berries in my freezer
And #2 I find that frozen berries have a brighter taste than fresh, mainly because I do not have to add any water to help the cooking down process since the frozen berries release an abundant amount of liquid
Not to mention I also rarely have to add sugar so that's a double win!
You may notice that my base recipes for cheesecake are always the same with some slight variations to the sugar or an added spice depending on what flavor I am making.
At times I add an addition of firm tofu in place of some of the cream cheese for a lightened up version and to cut some of the fat calories.
I do not find an extremely noticeable difference in the outcome of straight vegan cream cheese versus the tofu addition,  so for me I like the tofu version.
Additionally I only use Tofutti Cream Cheese for my BAKED recipes.
*Not sponsored
I have not had success with any other brand in BAKED recipes.
For some reason the other more expensive brands I've tried have broken down into an oily mess when baked.
UPDATE: A viewer told me: I was able to find Kite Hill and the consistency was perfect since it is not oil based like Violife, however not quite as tangy as I would have liked.
Perhaps more importantly when measuring cornstarch I cannot stress enough that a kitchen scale is the best way to go.
Cornstarch is a very difficult ingredient to measure consistently with a volume spoons measure
So while I list both measures below I cannot stress enough how the grams measure with a scale is going to give you the best results.
I cannot tell you how many times people have complained that their cheesecake is like rubber and they don't know why!
This is from a heavy measure of cornstarch when using volume measuring spoon vs the 100% accurate scale measure in grams.
To make this cheesecake gluten free simply substitute gluten free flour for the all purpose flour and be sure to use gluten free graham crackers to make the crust!
One last thing! Nabisco Graham Cracker are VEGAN!
No Honey in the recipe, so be sure to check your ingredients list when buying your crackers if you cannot find Nabisco Brand *not sponsored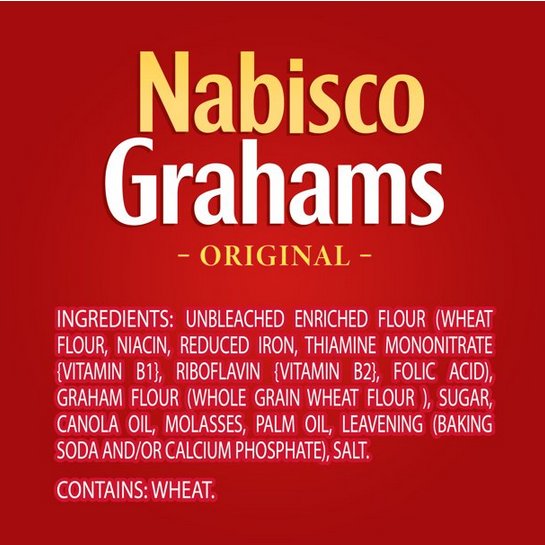 CLICK HERE FOR THE FULL YOUTUBE VIDEO TUTORIAL FOR  HOW TO MAKE MY VEGAN CHEESECAKE RECIPE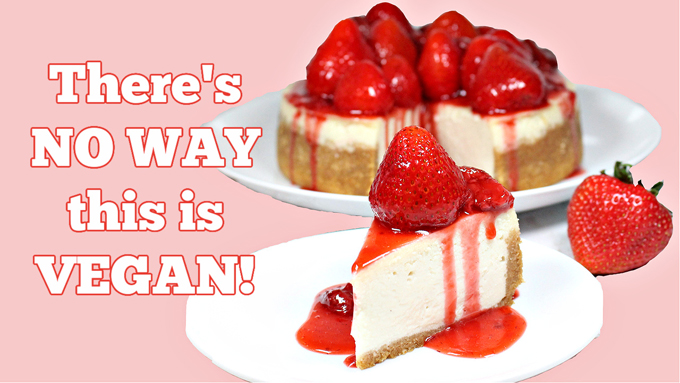 For more of the best vegan cheesecake recipes click the links below to the most popular recipes!
Biscoff Cookie Butter Cheesecake
Vegan Snickerdoodle Cheesecake
Vegan Double Chocolate Cheesecake

The Best Vegan Cheesecake Recipe Ever! Strawberry Cheesecake
Preheat the oven to 350°F
Grease & parchment line a 7" cake pan *8" cake pan will also work fine your cheesecake will just be slightly thinner than mine- no change to the recipe needed.
I only use Tofutti Cream Cheese for my cheesecake recipes. *Not sponsored I have not had success with any other brand in BAKED recipes. For some reason the other more expensive brands I've tried have broken down into an oily mess when baked.
Serves:
serves 8-10 people
Ingredients
For the Crust:
Graham Crackers or Digestive Biscuits 1 package of graham crackers= 10 sheets (140g)
Vegan Butter melted 4 tablespoons (56g)
For the Cheesecake:
Vegan Cream Cheese *see notes 12ounce (339g)
Firm Tofu 4ounces (113g) * see notes
Vegan Butter melted 2 tablespoons (28g)
Granulated Sugar 1 cup (200g)
Cornstarch 4 Tablespoons (32g) *see notes
All Purpose Flour 3 Tablespoons (24g)
Plant Milk *I use soy milk 6fl oz (177ml)
Vegan Lactic Acid or apple cider vinegar 1 teaspoon
Salt ¼ teaspoon
Vanilla Extract 3 teaspoons (15ml)
For the Strawberry Compote/Glaze:
1 pound fresh or frozen strawberries (454g)
Sugar as needed ¼ - ½ cup *optional
Instructions
First prepare the graham cracker crust by crushing the graham crackers in a food processor to fine crumbs.
Add the melted vegan butter and pulse until it resembles wet sand
Press the crumbs into the prepared greased & parchment lined cake pan evenly on the bottom and up the sides.
Freeze while you prepare the cheesecake batter
Placing all of the cheesecake ingredients into the work bowl of your food processor and pulse to blend
Scrape the sides of the bowl to ensure an even mix then blend again to a smooth mixture
Pour the batter into the crust and bake in a water bath in a preheated 350°F and bake for 60 minutes
After 60 minutes turn the oven off but leave the cheesecake in the oven with the door cracked open to cool slowly for another 60 minutes
Remove the cheesecake & cool completely at room temperature and then refrigerate for at least 2 hours to set or overnight before unmolding.
For the strawberry compote place the fresh or frozen strawberries with the optional sugar in a heavy bottom sauce pot and cook over low to medium heat
Bring to a low boil stirring often to prevent scorching
Cool compote and store in the refrigerator for up to 1 week before using
Loosen the sides and bottom of the cheesecake pan with a blowtorch or by submerging the pan into hot water and running a small spatula around the edges
Vegan Cheesecakes unmold very easily so flip int out onto your serving platter then add the cooled strawberry compote to the top
Notes
Cheesecake must be kept refrigerated at all times, I do not like to freeze cheesecakes as I think the texture changes on the thaw; but this cheesecake will stay fresh wrapped loosely to prevent drying for up to 10 days in the refrigerator