I'm not sure which part to talk about first!
The No Bake Vanilla Cheesecake Recipe or the melon jelly on top?
Ok first of all, let me always admit when I am wrong.
Jelly Cakes, I was wrong about you, and now I am totally obsessed!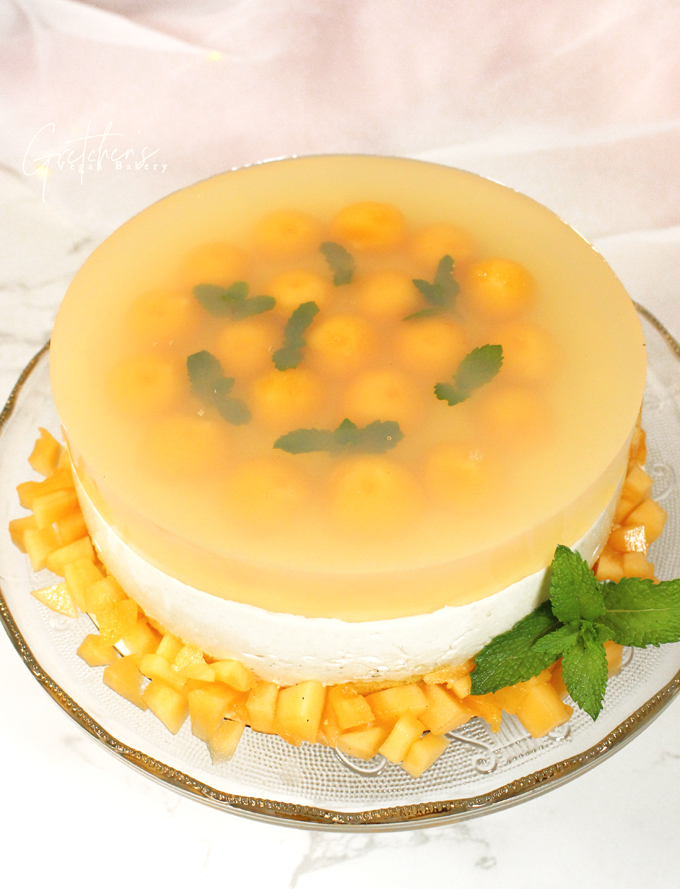 If you are like me and have already said "No" to the jelly cake
Please let me coerce you like I was coerced to at least give it a try!
I was definitely not trying to have any part of this newly trending, 1970's, retro comeback of a Jell-O mold dessert!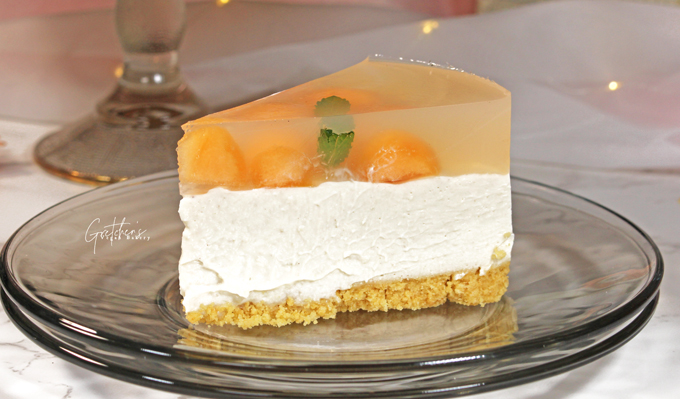 Texture! Texture! Texture!
As I said in my previous recipe post for Jelly Cakes, "I can't believe I love this!"
Well believe it because it's a double winner when combined with my perfectly creamy No Bake Vanilla Cheesecake recipe!
Correction~ It's a triple win because it is just so beautiful too!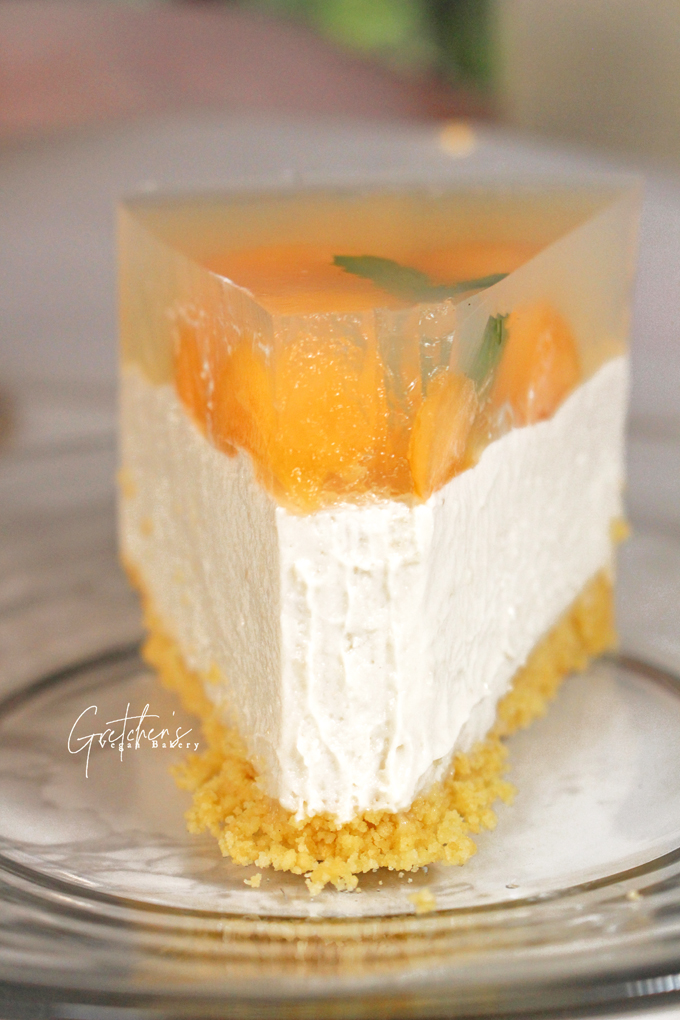 Notes for Success:
Although it is not 100% necessary, I like to use acetate cake strips for a no bake cake like this one, they ensure a clean and easy unmolding
Agar can be a tricky ingredient in No Bake Desserts such as this one.
A heavy hand ~ even a pinch too much~ can be the difference between delicious and rubbery inedible!
Pay attention to the strength of agar you are using, I typically use 900 strength in my recipes SPECIFICALLY THIS BRAND BY Landor Trading Co *not sponsored
Cornstarch is a very difficult ingredient to measure consistently with a volume/spoons measure
So while I list both measures below I cannot stress enough how the grams measure with a scale is going to give you the best results.
Many times people have complained that their custard is like rubber, this is from a heavy measure of cornstarch when using volume measuring spoon vs the 100% accurate scale measure in grams.
Because this is a no bake cheesecake you can use any brand of vegan cream cheese that you like!
WATCH THE YOUTUBE VIDEO FOR HOW TO MAKE THIS NO BAKE VANILLA CHEESECAKE!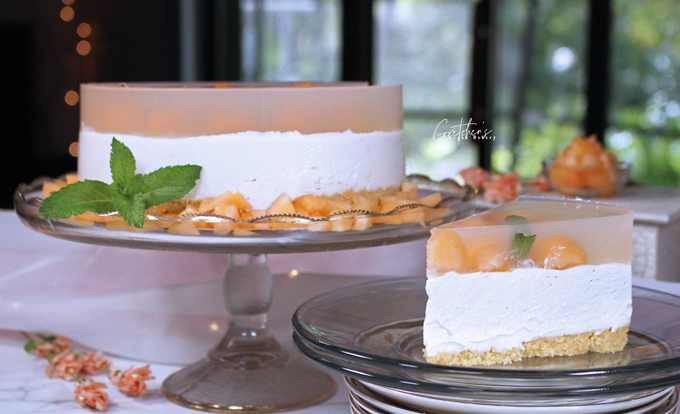 For more No Bake Desserts like this one click the links below!
Yield: serves 12-15ppl
No Bake Vanilla Cheesecake Recipe
Ingredients
For the Crust:
Sandwich cookies 15 (170g)
Vegan Butter 4 Tablespoons (56g)
For the Vanilla Cheesecake:
Cashews 2 cups (350g)
Plant Milk 1½ cups (360ml)
Granulated Sugar ¾ cup (150g)
Cornstarch 4 Tablespoons (36g) *see notes
Agar Powder ½ teaspoon (1.5g)
Vanilla Extract 2 teaspoons (10ml)
Vegan Cream Cheese *see notes 12 ounces (336g)
For the Jelly:
Coconut Water or Fruit Juice 2 cups (480ml)
Granulated Sugar ¼ cup (50g)
Agar powder 2 teaspoons (6g)
Canteloupe ½ of a large melon
Instructions
Combine the cashews and about 2 cups of water in a medium sauce pot and bring up to a boil
Turn off the heat and let the cashews soak for 1 hour, then drain and reserve for later.
Make the cheesecake crust by crushing the cookies (with the fillings) in a food processor to fine crumbs and add the melted vegan butter.
Process until it resembles wet sand then press the crust mixture into the bottom of a 7" ring mold or spring form pan with the bottom removed.
Be sure the cake ring mold is on a sheet pan lined with parchment paper or a cardboard cake circle before you begin the recipe.
The cake ring mold should also be lined with acetate cake strips for ease of removal although this is not 100% necessary it makes for a much cleaner presentation & un molding.
Once your cake ring is prepared, refrigerate it until you are ready to pour in the cheesecake.
Start with making the custard by combining the sugar with the cornstarch and agar powder and then add the plant milk in a large sauce pot and cook whisking constantly over medium to high heat.
Once the custard boils be sure to let it boil for 30 seconds to activate the cornstarch and the agar.
Remove from the heat and add the vanilla extract
Now place the drained cashews along with the hot custard and the vegan cream cheese in a high speed blender and blend smooth
Pour the cheesecake into the prepared cake ring mold onto the crust and the refrigerate to set for at least 2 hours or overnight
While the cheesecake is setting up, use a melon baller to scoop balls of melon for the topping and set aside.
The remaining melon can be chopped up into tiny pieces and served as garnish
Now prepare the jelly by combining the coconut water or fruit juice with the sugar and agar powder and bring to a rolling boil stirring constantly
Transfer to heatproof container to let cool slightly before pouring it on top of the cheesecake
First arrange the melon balls over the top of the cheesecake then pour the jelly over top
Refrigerate the cake to set for at least 2 hours or overnight
Notes
No Bake Vanilla Cheesecake must be kept refrigerated and will stay fresh for up to 1 week, although I did notice on day 4 that the jelly was much firmer than the previous days so the agar seems to tighten more over time.
I do not like to freeze vegan cheesecakes, although I have done it. They seem to change texture on the thaw and get slightly soggy, again I have done it but I do not prefer it.