When I offered my neighbor this Oatmeal Cookie
He said, "Wow Gretchen! That's no ordinary oatmeal cookie!"
So the name was determined and the cookie recipe deemed worth sharing!
Forget those raisins that your grandmother used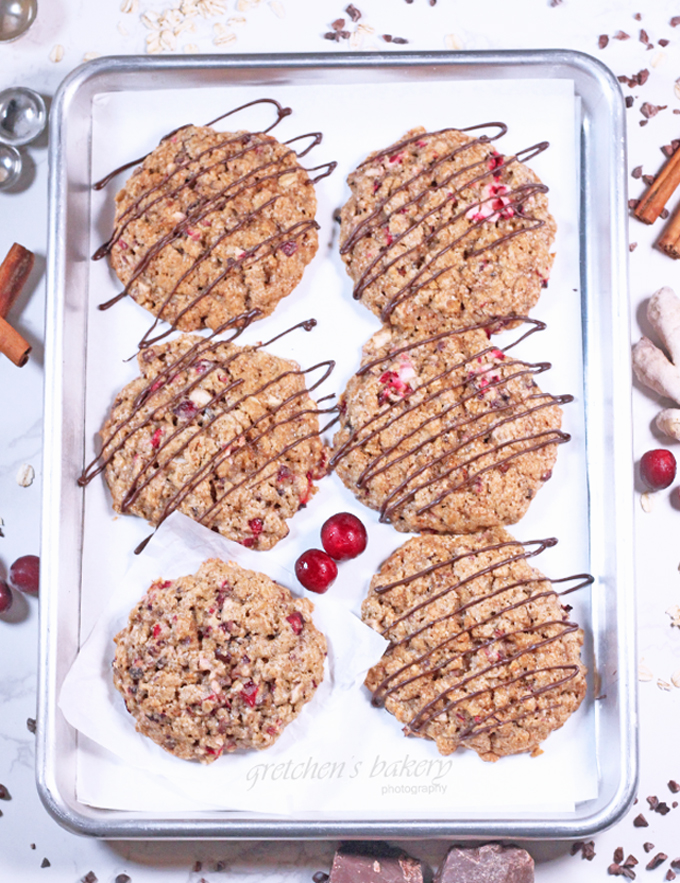 Let's fast forward into 2022 with shredded apples, crushed fresh cranberries, cocoa nibs for a healthy chocolate-y crunch!
Loads of spices that blast you into a world that your traditional Oatmeal Cookie could never dream of!
Fresh ginger grated into the dough
A thin coating of white chocolate on the bottom…just because
*ok I confess there's more to that story ~ read more below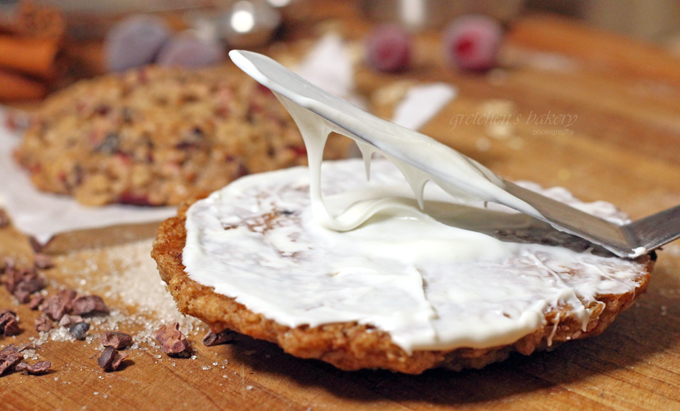 And a drizzle of dark chocolate on top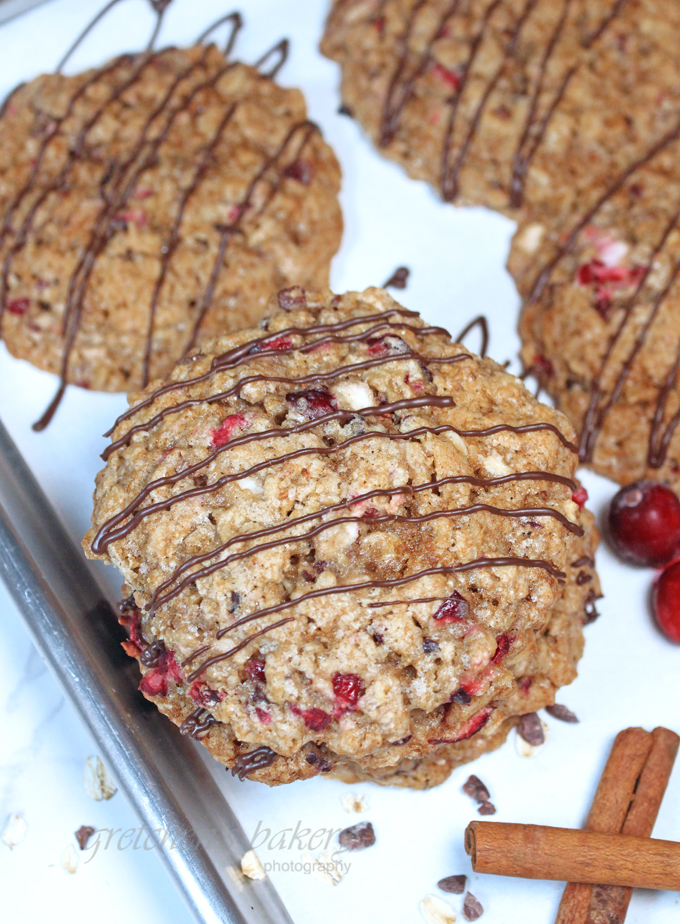 Crispy on the outside and thick and chewy on the inside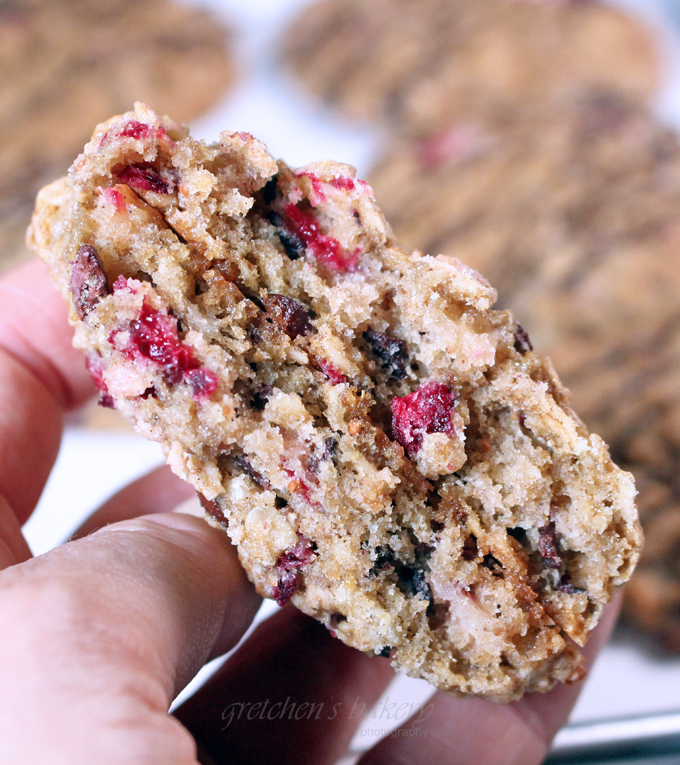 I can't stop saying it: "This is no ordinary oatmeal cookie!"
Despite the list of ingredients which I know may intimidate some people
These cookies are so easy to make and so satisfying for a quick treat
This dough freezes beautifully for fresh baked cookies on a moments notice!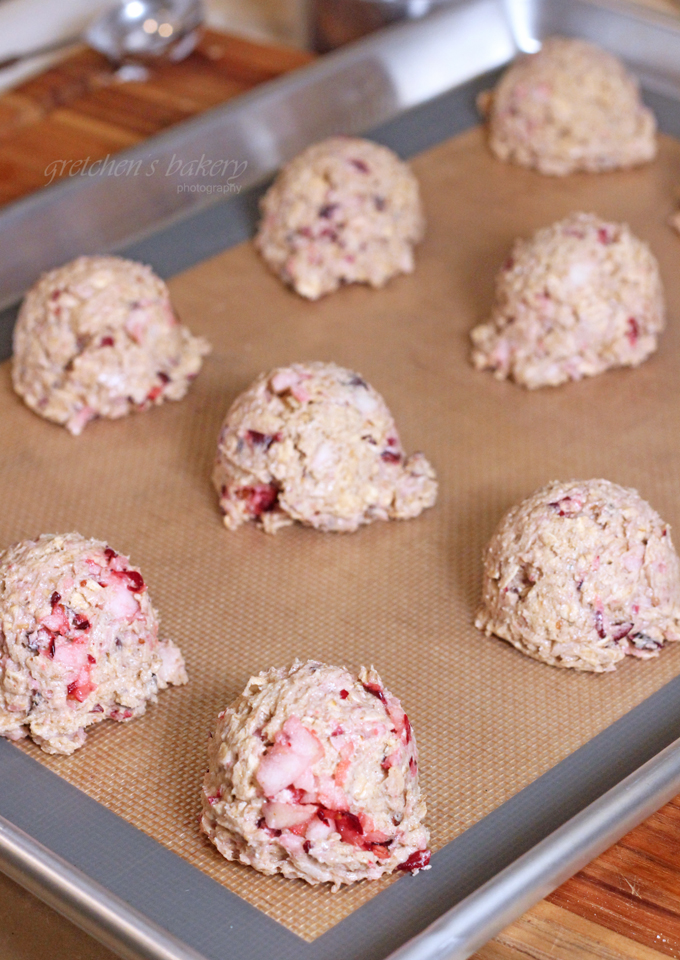 Simply scoop them onto a sheet pan and freeze until they are solid
Then just store the frozen dough balls in a bag or airtight container
For fresh baked cookies as fast as you can preheat the oven!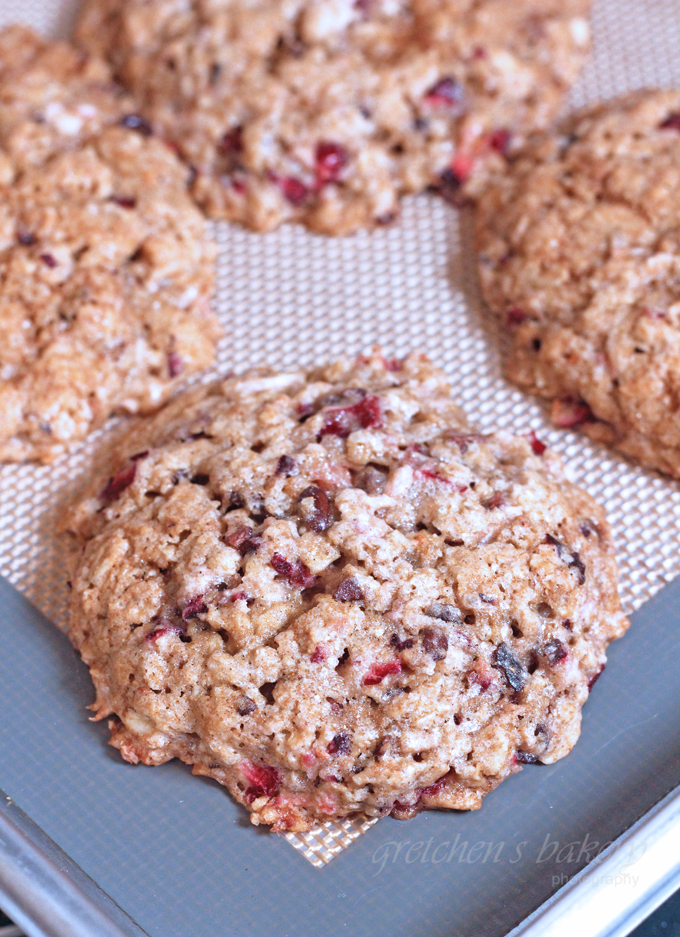 Substitutions & Notes for Success:
Speaking of freezing dough, by freezing the dough balls for about 15 minutes before baking, they will spread less and stay softer in the middles
Using a 2ounce cookie scoop will ensure that each cookie is exactly the same size as the next and they all bake uniformly
I am using aquafaba for the egg replacer mixed with flax meal for a "super flax egg" that I love in cookie recipes!
You can replace both of these ingredients with a store bought egg replacer of your choice in the amount of 2 teaspoons with plant milk to replace the liquid aquafaba
If you do not like the ginger in this recipe (What!??) you can leave it out completely with no changes to the recipe
Substitute the apples for shredded carrots, zucchini or combination of all of those!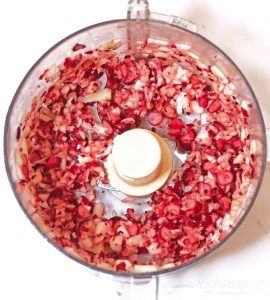 Fresh cranberries add moisture to the recipe so if you opt for dried cranberries add another tablespoon or two of shredded apples
Additionally fresh cranberries are very low in sugar so beware if you add dried fruit which has a very high concentration of sugar
A thin layer of white chocolate on the bottom is optional of course, as well as the chocolate drizzle on top
The reason I started coating the bottoms in chocolate is because this is quite a delicate cookie
Almost lacy in it's structure so it easily fell apart if I was not super gentle with them
The white chocolate gives it an added strengthener to hold up in any lunch box!
If you want to make them a bit stronger, increase the flour an extra 3 Tablespoons making the total flour 2 + 1/3 cups (290g)
I use cacao nibs for a healthy alternative to chocolate chips as well as adding crunch without using nuts
However you can leave those out and add nuts or chocolate chips instead
I've used cinnamon, more ginger that is ground and a hint of cardamom as well.
Feel free to adjust or leave out any of those spices if you don't have them or don't like them all
Although I have to say the combination of the three is perfection!
This is a very versatile and friendly recipe that can handle lots of tweaks and changes to suit your individual taste!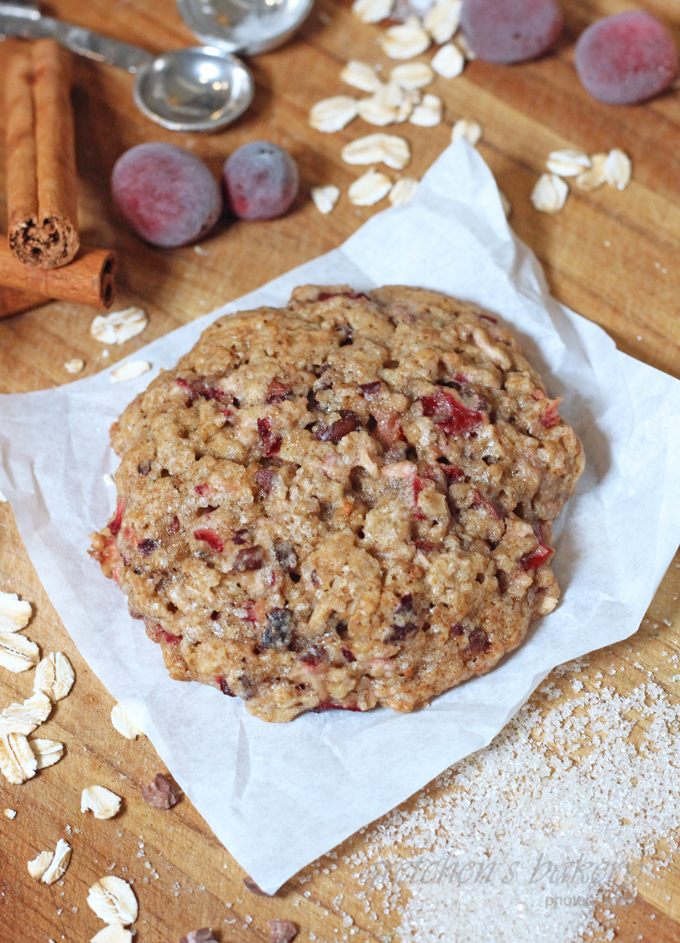 For more of the best vegan cookie recipes click the links below!
Seriously the Best Vegan Chocolate Chip Cookie Recipe!
No Ordinary Oatmeal Cookie
Ingredients
All Purpose Flour 2 cups + 2 Tablespoons (265g)
Old Fashioned Oats 3 cups (300g)
Baking Soda 1 teaspoon
Baking Powder ¼ teaspoon
Ground Cinnamon 2 teaspoons
Ground Ginger 1 teaspoon
Ground Cardamom 1 teaspoon
Salt ¾ teaspoon
Vegan Butter 1 cup (226g)
Light Brown Sugar ¾ cup (150g)
Granulated Sugar 1 cup (200g)
Aquafaba ⅓ cup (77ml)
Ground Flax Meal 2 Tablespoons (16g)
Vanilla Extract 2 teaspoons
Fresh Grated Ginger 2 teaspoons
Shredded Apples 1 cup * I use granny smith
Fresh Cranberries 1 cup
Cacao Nibs ½ cup
Vegan White Chocolate *optional ¾ cup melted
Vegan semi sweet chocolate *optional ¼ cup melted
Instructions
Preheat the oven to 350°F
Cream the softened vegan butter with both sugars until light and fluffy this should take about 4-5 minutes
Scrape the sides & bottom of the bowl from time to time to ensure an even mix
Meanwhile combine the aquafaba with the flax meal, stir to smooth and set aside to thicken
Sift the flour with the baking powder, soda, salt and all the spices
Chop the fresh cranberries in a food processor to chunky consistency, then combine with the apples and cacao nibs, reserve
Once the vegan butter/sugar has been creamed to fluffy add the aquafaba/flax paste along with the vanilla extract and grated fresh ginger
Whip on high speed to emulsify and then scrape the bottom & sides of the bowl again
Add the sifted dry ingredients and mix on low speed just until incorporated
Add the oats and mix well
Add the apples, cranberries and cacao nibs and mix evenly
Scoop the dough onto a parchment (or silicone mat) lined sheet pan and bake in a preheated 350°F oven for 18 minutes
Allow cookies to cool completely before spreading a thin coating of white chocolate on the bottom of each cookie, then drizzle with the semi sweet chocolate