The perfect peanut butter cookie just got turned inside out and filled with chocolate!
Peanut Butter Fudge Cups are so easy to make and even easier to eat!
I love this recipe so much and if you have a mini muffin pan you already are half way there!
If you love peanut butter cookies you will  love this new spin on the classic.
Slightly crispy outside with a softer chewy middle and filled to the brim with ganache!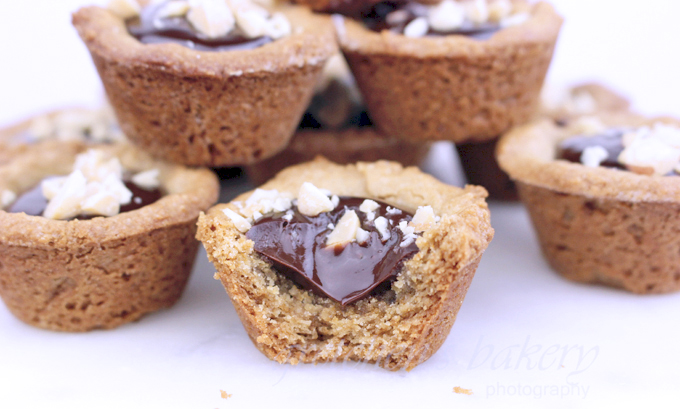 By pressing the dough into mini muffin tins they bake into the cutest little cups!
While they bake you will prepare the 2 ingredient chocolate filling
The hardest part is waiting for them to cool so you can fill them up!
You will notice the recipe makes close to 4dz cookies
While this may seem like a lot and you may be tempted to halve the recipe
I urge you to make the entire recipe!
These little bites start disappearing almost immediately
So you may quickly realize that 4 dozen may not even be enough!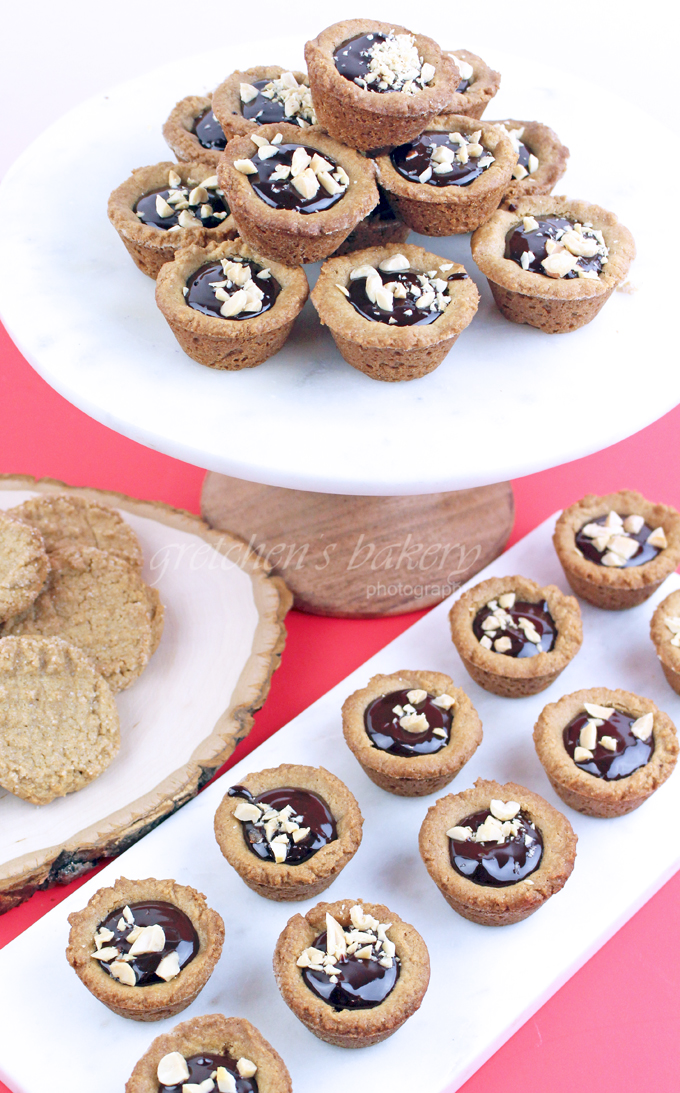 If you have more self control than me though,
You can easily freeze the baked and filled cookies or just bake the excess dough into classic peanut butter cookies
Cover the tops with granulated sugar before baking and give them the old fork indent!
For me though, I can't get enough of these little peanut butter fudge cups
I think you will agree!
This was originally part of my 12 Days of Christmas Cookies compilation
But they are a total hit all year round!
You will surprised at just how easy they are to make!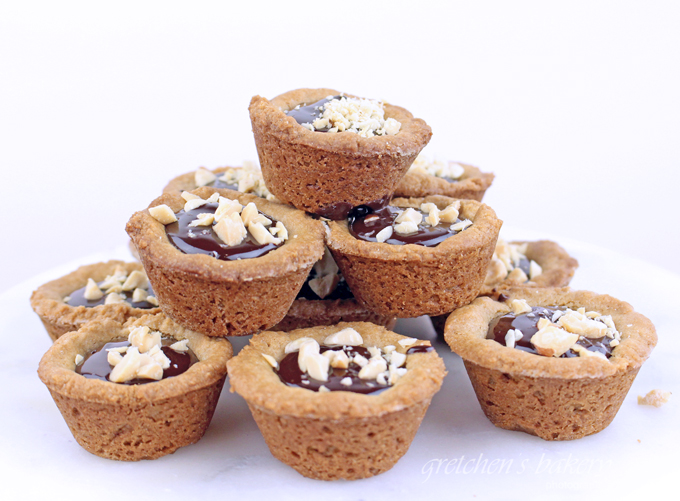 For more of my favorite cookie recipes click the links below!
Strawberry Cheesecake Cookies ~ Vegan
Also don't forget to check out my 12 Days of Christmas Cookies Compilation!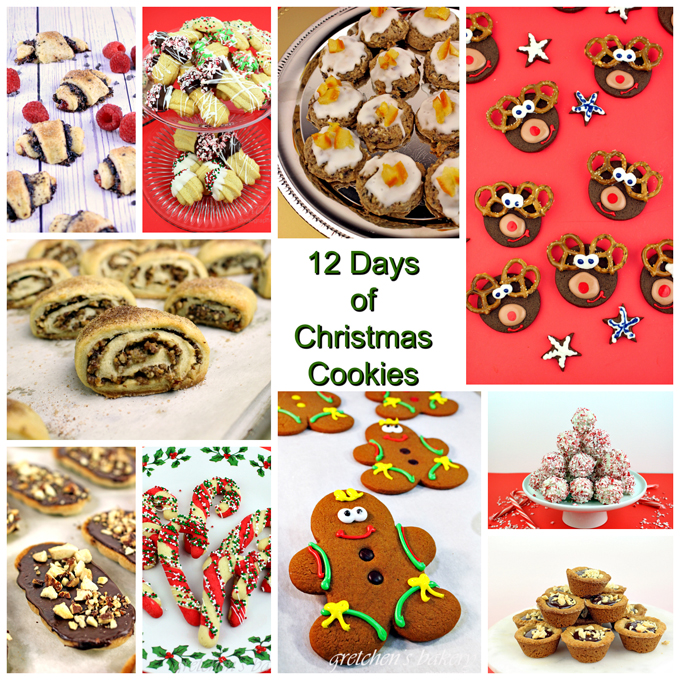 CLICK HERE FOR THE FULL YOUTUBE VIDEO TUTORIAL FOR HOW TO MAKE THESE COOKIES!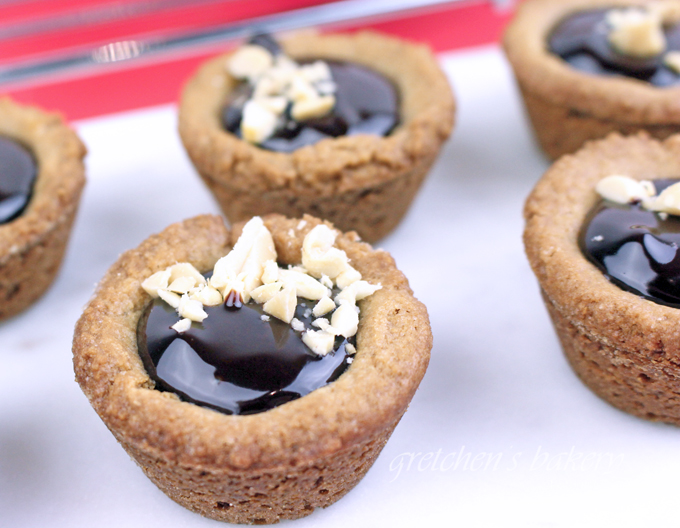 Inside Out Peanut Butter Cookie Cups
Ingredients
Vegan Butter 6 Tablespoons (85g)
Creamy Peanut Butter ¾ cup (180g)
Light Brown Sugar packed 1¼ cup (255g)
Plant Milk 6 Tablespoons (90ml)
Vanilla Extract 2 teaspoons (10ml)
Egg Replacer 2 teaspoons (4.8g) * I am using Bob's Red Mil
All Purpose Flour 2 cup (250g)
Baking Soda 1 teaspoon
Salt ½ teaspoon
Peanuts finely chopped ¼ cup
Instructions
Cream the vegan butter, peanut butter and brown sugar until well blended, no need for light and fluffy here~ about 1 minute on high speed.
Add the vanilla extract to the plant milk and then add only half of it slowly to the creaming mixture scraping the bottom and sides of the bowl often for an even mix. Reserve the other half for last
Sift the flour, egg replacer, baking soda and salt and then add it to the creaming mixture while blending on low until all incorporated.
With a #100 Scoop drop rounded scoops into each cavity.
Press the dough with your fingers so it spreads to the sides of each cavity
Bake for 12 minutes or when they are light golden brown
Allow to cool in the tins slightly then unmold onto a cooling rack, flip them over and then I like to press them slightly to make a bigger indent to fit more chocolate in the centers!
Once the cookies are cooled~ fill the sunken centers with vegan ganache and sprinkle with chopped peanuts