This recipe was sponsored by Olive Nation, for the best extracts, nuts, spices and more
Visit Olive Nation.com and use the coupon code at the end of this post for a discount on your order!

If this doesn't scream summer to you than I don't know what will!
Piña Colada Cheesecake Bars to kick off this summer party
And I don't even care if no one shows up!
That just means more for me!
Usually I am looking for a fast exit strategy to get these desserts away from me so I don't eat every last crumb
But this time I  don't even care, I want these all to myself!
My famous New York Style Cheesecake recipe is the canvas for this new tropical version!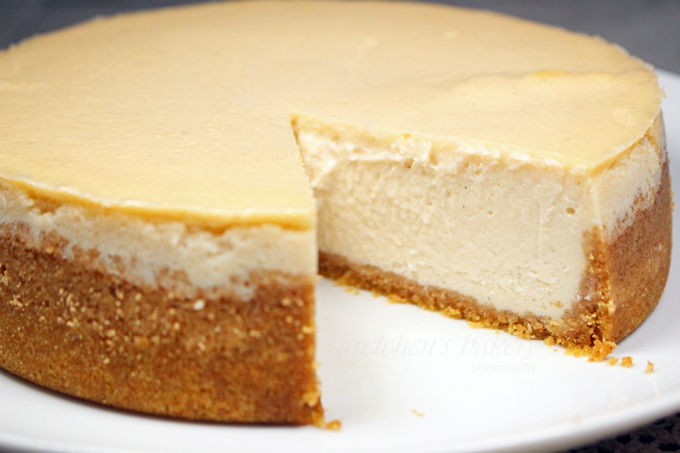 I have one base recipe that I use to spinoff and make hundreds of variations of amazing vegan cheesecakes!
This time though,  it's spiked with coconut extract and I even threw a bit of coconut in there too!
Pineapple Butter Rum topping and coconut graham crust is the best way to carry this bar straight into your mouth!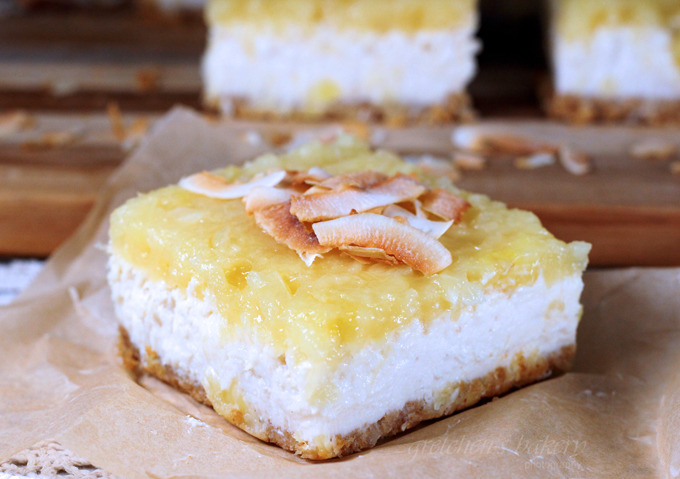 Creamy and tangy and refreshing and so summery!
This pineapple butter rum topping would make an excellent filling for inside of a cake too, so stay tuned for that because my wheels are already turning!
It's almost like a pineapple custard because I cook the butter and pineapple juice with cornstarch to thicken it ever so slightly
Then add the rum and pineapple chunks!
I will warn you ahead of time, be careful you don't eat all of the topping before the cheesecake is ready!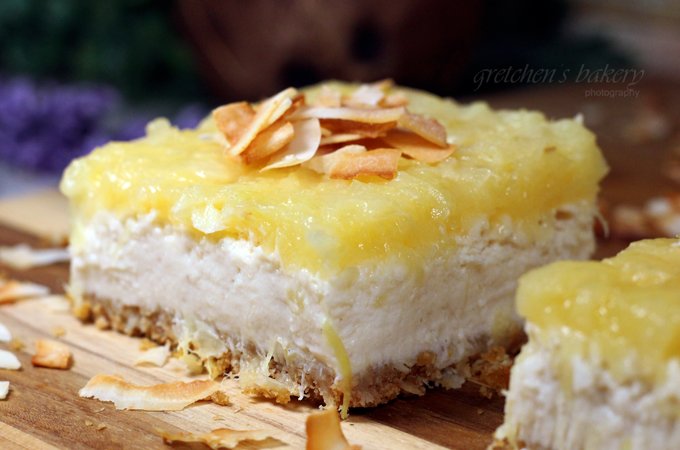 By baking everything in a 9″ x 9″ cake pan today, greased and then lined with an overhang of parchment paper for easy removal.
Because I decided to make this entire recipe into bars this time rather than my usual round cheescake
It's just easier to grab a cheesecake bar with your hands rather than worry about finding a plate and a fork!
Especially at an outside party where you just can't be worried about plates and forks, just grab one and go!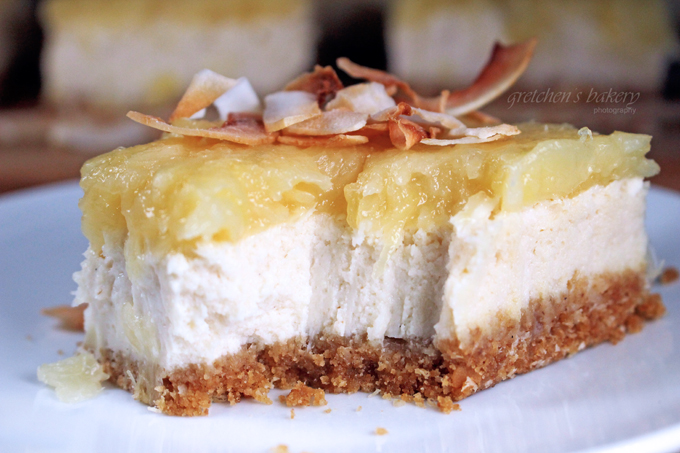 CLICK HERE FOR THE FULL YOUTUBE VIDEO TUTORIAL FOR HOW TO MAKE THESE CHEESECAKE BARS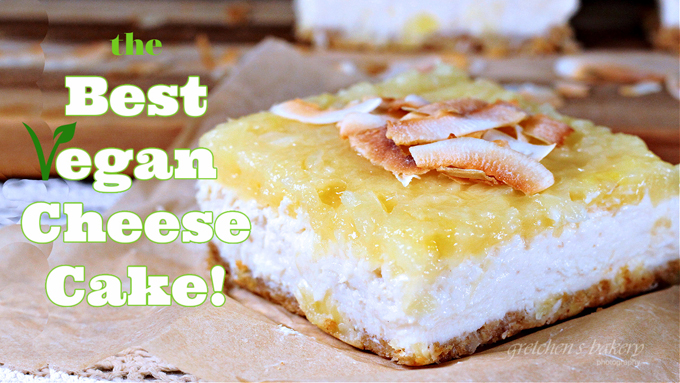 While Piña Colada is typically an alcoholic drink, instead I am using rum extract from Olive Nation to make this dessert completely alcohol free!
It really adds a nice zing the way any respectable Piña Colada would, so if you've got it~ add it!
If you prefer the real deal then go ahead and add your favorite spiced rum in place of the extract here.
But I will advise to grab yourself a bottle of this awesome Coconut Extract from Olive Nation.
Read to the bottom for the 20% off discount code!
*this recipe/video was sponsored by Olive Nation https://www.olivenation.com/
They have all the great little specialty things we love for baking, like nuts and extracts
So of course I am using the coconut & rum extracts and the desiccated coconut for this recipe
Their flavors and extracts are super affordable and a little bottle goes a long way!
For more recipes using Olive Nation products click the links below!
Strawberry Cheesecake Cookies ~ Vegan
Caramel Flan ~ Vegan Creme Caramel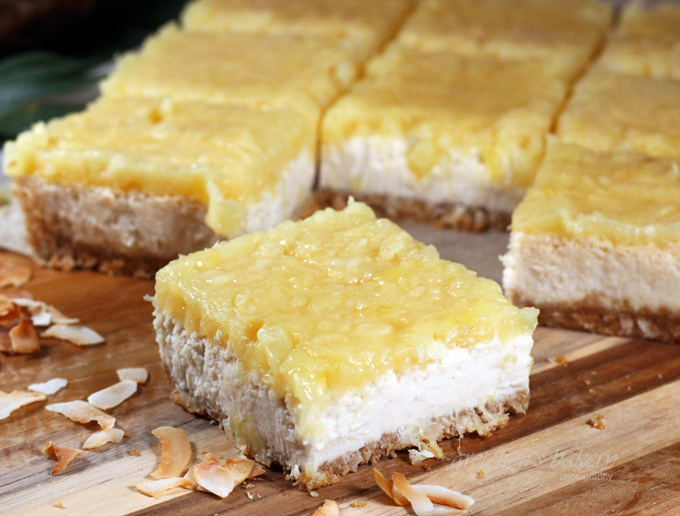 Notes for Success:
You may notice that my base recipes for cheesecake are always the same with some slight variations to the sugar or an added spice depending on what flavor I am making.
At times I add an addition of firm tofu in place of some of the cream cheese for a lightened up, higher protein version and to cut some of the fat calories.
I do not find an extremely noticeable difference in the outcome of straight vegan cream cheese versus the tofu addition,  so for me I like the tofu version.
Additionally I only use Tofutti Cream Cheese for my BAKED recipes.
*Not sponsored
I have not had success with any other brand in BAKED recipes.
For some reason the other more expensive brands I've tried have broken down into an oily mess when baked.
Additionally when measuring cornstarch I cannot stress enough that a kitchen scale is the best way to go.
Cornstarch is a very difficult ingredient to measure consistently with a volume spoons measure, so while I list both measures below I cannot stress enough how the grams measure with a scale is going to give you the best results.
Many times people have complained that their custard or cheesecake is like rubber and they don't know why!
This is from a heavy measure of cornstarch when using volume measuring spoon vs the 100% accurate scale measure in grams.
CLICK HERE FOR MORE INFORMATION ON MEASURING WITH A SCALE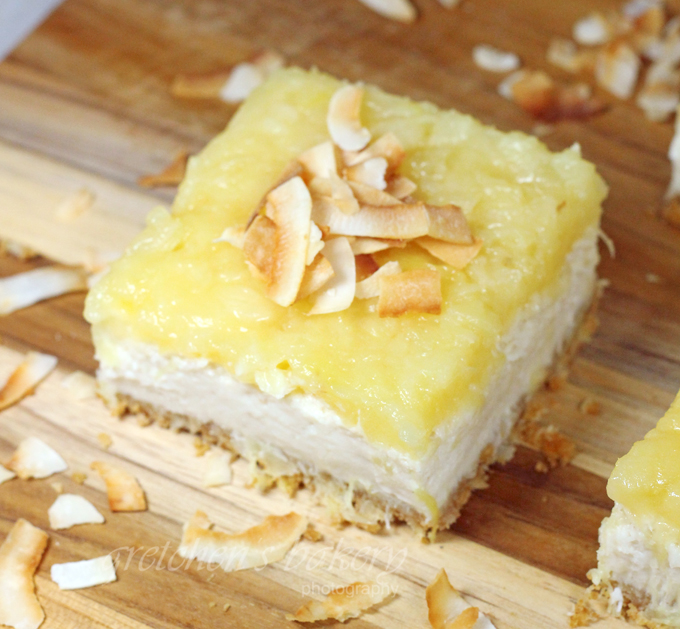 Piña Colada Cheesecake Bars
I am using a
9" x 9" square pan
but you can bake this entire recipe into 1-8" round cake pan with no changes to the recipe
I really jacked up the intensity with
all the extracts from Olive Nation
listed below, the taste was out of this world! So if you have all the extracts that I used it is worth it! But you can adjust to your tastes.
Preheat the oven to 350°F
Grease & parchment line a 9" x 9" square cake pan, an *8" cake pan will also work too, no changes to the recipe needed.
For the water bath I used a 9" x 13" cake pan and this was perfect
Ingredients
For the Crust:
Graham Crackers or Digestive Biscuits 1 package of graham crackers= 10 sheets (140g)
Shredded Flaked Coconut *sweetened or unsweetened *your option ½ cup (35g)
Vegan Butter melted 6 tablespoons (85g)
For the Cheesecake:
Vegan Cream Cheese *see notes 12ounce (339g)
Firm Tofu 4ounces (113g) * see notes
Vegan Butter melted 2 tablespoons (28g)
Coconut Extract 1 Tablespoon (15ml)
Vanilla Bean Paste 2 teaspoons (10ml)
Granulated Sugar 1 cup (200g)
Cornstarch 4 Tablespoons (32g) *see notes
All Purpose Flour 3 Tablespoons (24g)
Light or Full Fat Coconut Milk *your option 6fl oz (177ml)
Vegan Lactic Acid or apple cider vinegar 1 teaspoon
Salt ¼ teaspoon
Rum extract or pure spiced rum *optional 1 Tablespoon (15ml)
Unsweetened Desiccated Coconut ½ cup (35g) *optional
For the Pineapple Topping:
1 Can 20oz Crushed Pineapple in 100% juice this is equivalent to approx 2.5 cups crushed Pineapple in 1 cup juice
Cornstarch 2 Tablespoons (16g)
Vegan Butter 4 Tablespoons (56g)
Spiced Rum Extract or Spiced Rum 4 teaspoons (20ml)
Shredded Flaked Coconut for the garnish *optional approximately ¼ cup (17g)
Instructions
First prepare the cake pan with an overhang of parchment paper for easy removal *see video tutorial
Next prepare the graham cracker crust by crushing the graham crackers in a food processor to fine crumbs.
Add the melted vegan butter and pulse until it resembles wet sand, then add the coconut just to combine
Press the crumbs into the prepared greased & parchment lined cake pan evenly on the bottom and up the sides.
Freeze while you prepare the cheesecake batter
Placing all of the cheesecake ingredients except for the optional coconut, into the work bowl of your food processor and pulse to blend
Scrape the sides of the bowl to ensure an even mix then blend again to a smooth mixture
Pour the batter into the crust and then sprinkle the desiccated coconut over top of the batter, this forms a nice crust on top of the cheesecake bar while baking
Bake the cheesecake pan in a larger pan (i used a 9" x 13" pan) to make a water bath in a preheated 350°F oven and bake for 50 minutes.
Because we are making bars, the cheesecake should finished baking in less time than a regular deeper cheesecake pan.
Shake the pan gently if the center is firm to slightly jiggly, but not liquid, it is done.
Remove the pan from the oven and cool at room temperature.
The refrigerate to set to cold.
Meanwhile prepare the pineapple topping by combining the juice from the pineapple can in a small sauce pot with the cornstarch and vegan butter.
Cook over medium high heat whisking constantly until it comes to a full boil
Remove from the heat and add the spiced rum extract and the crushed pineapple, transfer to a bowl or container to cool
Once the cheesecake is completely cold & set, spread the pineapple topping over the entire top then remove it from the pan by pulling it out by the parchment paper flaps.
Cut into bars and serve!
Notes
Pineapple Cheesecake Bars must be kept refrigerated but can stay at room temperature during service for up to 2 hours.

Cheesecake bars will stay fresh wrapped well in the refrigerator for up to 1 week

I do not love to freeze vegan cheesecakes, I feel they take on a strange texture upon thawing.
Be sure to take advantage of the 20% off discount code to Olive Nation
CODE: GVB20 at checkout!