This year for Thanksgiving I decided to go a different route than traditional pumpkin pie.
Of course there will still be pumpkin pie at the table, but not from me.
This year I want to bring this Raw No Bake Maple Cream Cake.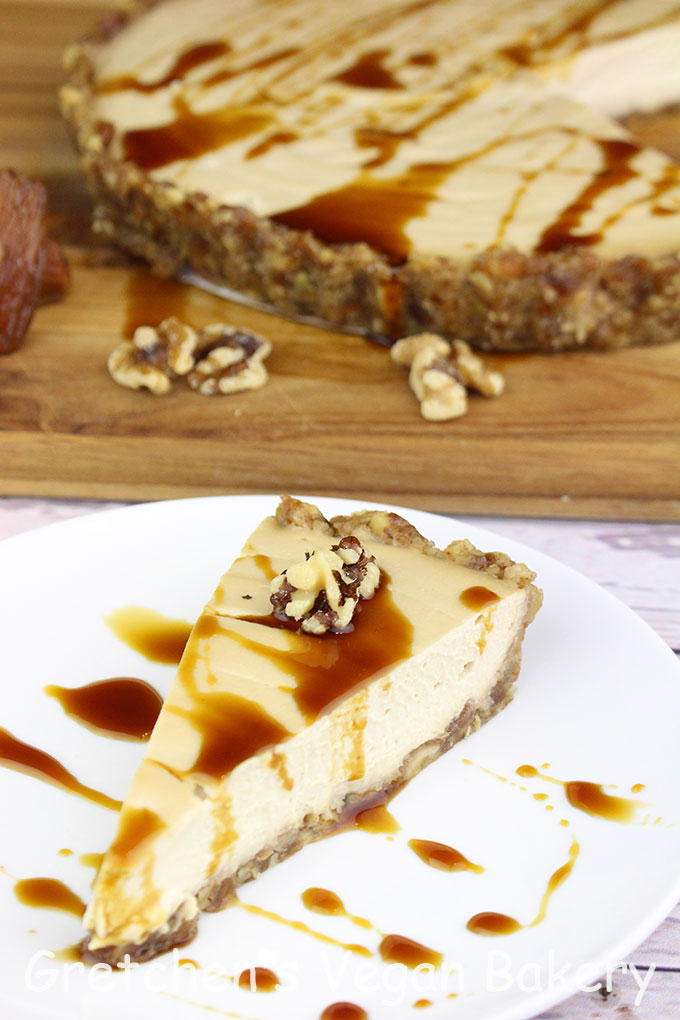 Mostly because I love the reaction from non vegans when they say, "There is no way this is vegan!" as they go for second helpings!
I love the maple taste of this dessert, it is so unique and a good change from the norm, especially on a holiday that is repetitive of the same things year after year.
The creaminess is sublime and the sweet date, walnut crust is a perfect encasement to this silky cashew base.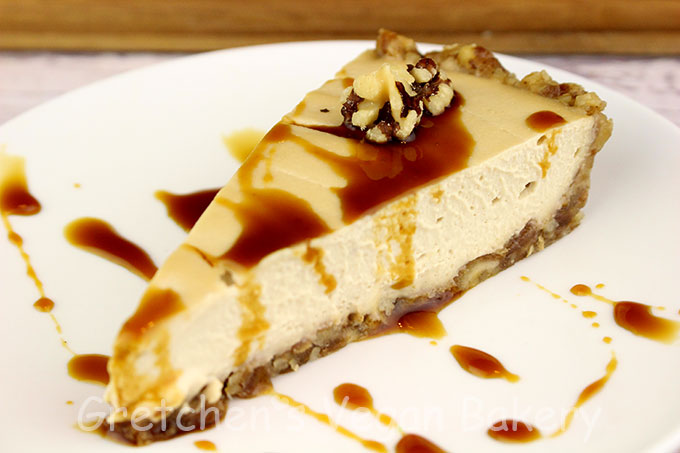 For this recipe all you need is a high speed blender and a reminder to soak your cashews at least 8 hours before you begin.
I often soak mine at night then by morning I'm good to go.
In case you are wondering why we even soak nuts in the first place?
Nuts by nature have high enzyme inhibitors, meaning they can be hard to digest and since the bulk of this dessert is cashews, we don't want anyone feeling sick or bloated after eating it.
So by soaking the nuts with a small amount of salt, it neutralizes the enzymes making digestion easier.
Raw No Bake Maple Cream Cake
Be sure to soak the nuts in about 6 cups of water with 1 Tbs salt for 8 hours or overnight. Rinse them the next day and then they are ready to use in the recipe.
If you cannot find sweetened condensed coconut milk in the store, you can make your own recipe below.
Serves:
1- 9" Tart serves 12
Ingredients
for the crust:
Dates 1 cup
Toasted Walnuts 1 cup
Salt pinch
Vanilla Extract 1 teaspoon
Water 1 Tablespoon
For the Filling:
Cashews 2 cups soaked overnight
Vegan Yogurt ½ cup
Coconut Oil or Vegan Butter ¼ cup (60ml)
Almond Milk ¼ cup (60ml)
Apple Cider Vinegar 2 teaspoon *optional but it will add a slight tang that is really nice
Maple Syrup ½ cup
Vanilla Extract 1 teaspoon
Light Brown Sugar 1 Tablespoon *optional, I felt that it really didn't need this after I made it
Maple Extract 2 teaspoons
For the Glaze:
Maple Syrup 2 Tablespoons
Molasses 2 teaspoons
Instructions
First prepare the crust by combining everything together in a food processor until chunky and a paste forms
Press this into the bottom of a non stick tart pan with a removable bottom. then freeze
Prepare the filling by combining all the ingredients together in a high speed blender and blend smooth
Pour into the prepared crust and freeze for at least 4 hours or overnight to set
Unmold then drizzle with the maple syrup/molasses syrup
Thaw for about 1 hour in the refrigerator before serving.
Notes
The freezer seems to keep this Maple Cream Cake in best shape, but it can be stored for up to 4 days in the refrigerator.

Can be served semi frozen or simply out of the refrigerator, your option.

Will freeze wrapped well for up to 2 months