Everyone needs a vegan pumpkin pie recipe that passes the test from all our non vegan friends and family.
The one dessert on the Thanksgiving Dessert Table that will be under much scrutiny is the Vegan Pumpkin Pie.
We all have those friends and family members that are going to " be the judge of that" when it comes to tasting out vegan creations.
This recipe is a sure winner and I guarantee you no one will know!
I've veganized my famous pumpkin pie from my bakery days.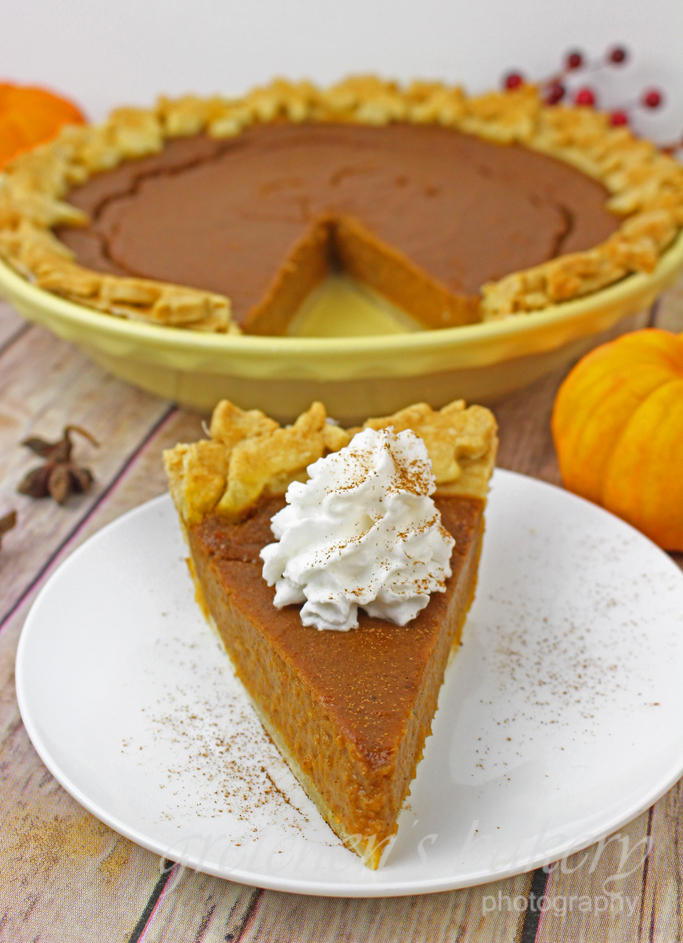 With a really easy pie crust recipe that is a cross between my vegan butter recipe and my mom's oil crust recipe.
It's basically got a little of both vegan butter and oil for a super flaky crust that can be the canvas for any pie you are making this season not just pumpkin!
The pumpkin pie filling is sweetened with maple syrup and a little brown sugar and thickened with a blend of cornstarch and The Plant Based Egg Egg replacer.
If you are not into using egg replacers or don't want to buy The Plant Based egg, you can leave it out, or use another brand equal to 1 egg  but I do like the addition of the PBE here as it really gives it that authentic "egg binding" that the traditional pie offers. Just add 1 more teaspoon of cornstarch for added thickening

For those who cannot get pumpkin in a can, you can easily make your own! CLICK HERE
Vegan Pumpkin Pie Recipe
Ingredients
For the Pie Dough:
All Purpose Flour 2 cups (250g)
Sugar 2 Tablespoons (28g)
Salt ¼ teaspoon
Vegan Butter Cold 6 Tablespoons
Shortening or Solid Coconut Oil 4 Tablespoons
Liquid Vegetable or Coconut Oil 2 Tablespoons
Cold Water 3 Tablespoons (90ml)
For the Pumpkin Pie Filling:
Canned Pumpkin 1¾ cup
Light Brown Sugar ¼ cup (50g)
Cornstarch 2½ Tablespoons (25g)
Plant Based Egg 1 teaspoon (2.5g) *Please read blog post above for more on this ingredient
Maple Syrup 3 Tablespoons (90ml)
Vanilla Extract 1 teaspoon (5ml)
Cinnamon ¾ teaspoon
Ground Ginger ½ teaspoon
Ground Nutmeg ¼ teaspoon
Ground Cloves ⅛ teaspoon
Almond Milk ¾ cup (177ml)
Vegan Butter Or Coconut Oil Melted 2 Tablespoons (28g)
Instructions
For the pie dough first get the vegan butter and shortening or coconut oil to the freezer while you measure the rest of the ingredients.
Combine the flour, salt, sugar in a food processor (or you can mix the entire recipe by hand with a pastry cutter or fork) process to distribute the ingredients evenly.
Add the cold vegan butter and the shortening or coconut oil and process until it is mealy and course crumbly texture.
Add the cold water and the oil through the feed tube while pulsing and then process until a soft crumbly dough forms.
Turn it out onto a lightly floured surface and gather the dough together to a soft ball that stays together.
Wrap in plastic and refrigerate for an hour to relax the dough and allow the flour to absorb through.
Once chilled, roll the dough on a lightly floured surface (this dough is much easier to roll between 2 pieces of parchment or wax paper) to about 12" diameter (¼" thick) and line your pie plate. Trim the excess and re-roll to cut out the optional leave shapes to adorn the rim of the pie.
Poke holes in the bottom of the pie dough with a fork and blind bake in a preheated 350ªFoven for 12-15 minutes on a pizza stone (*optional but really helpful for a nice color bottom crust)
For the pumpkin pie filling, combine all the ingredients together in a large mixing bowl and whisk smooth.
Pour into the pie crust and bake in a preheated 350°F oven for 1 hour and 10 minutes.
Remove from the oven, cool completely and then refrigerate to set before serving.
Notes
Pumpkin Pie should be kept refrigerated and will stay fresh for up to 5 days