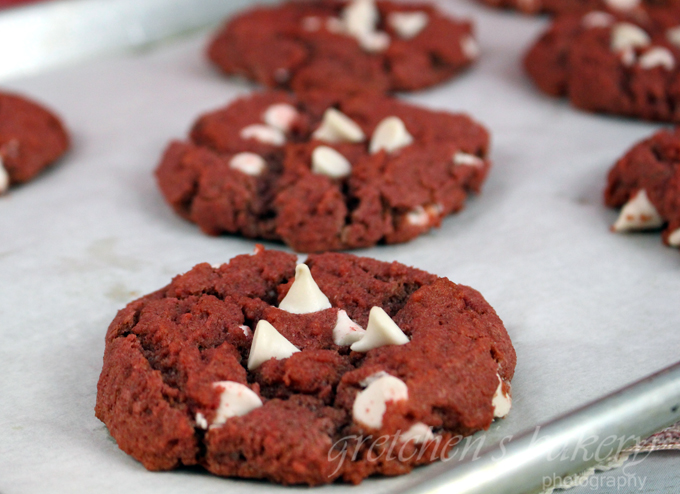 Good old beet root powder does it again!
 If you are looking for an alternative to those harsh (probably not vegan) red dyes for your baking,  beet root powder is the best natural food color for red velvet everything!
This time Red Velvet Cookies take center stage.
All natural – no dye – and of course they are VEGAN!
This chewy on the inside, slightly crispy on the outside cookie is packed with white chocolate chips that are top-8 allergen friendly.
If you want easy and delicious than this recipe is for you!
You can have a dozen of these in less than 1 hour!
I would suggest to double the recipe below though because let's face it, who bakes just 12 cookies?!
I mean six of them will probably be gone before they are even done cooling so let's just get real with ourselves.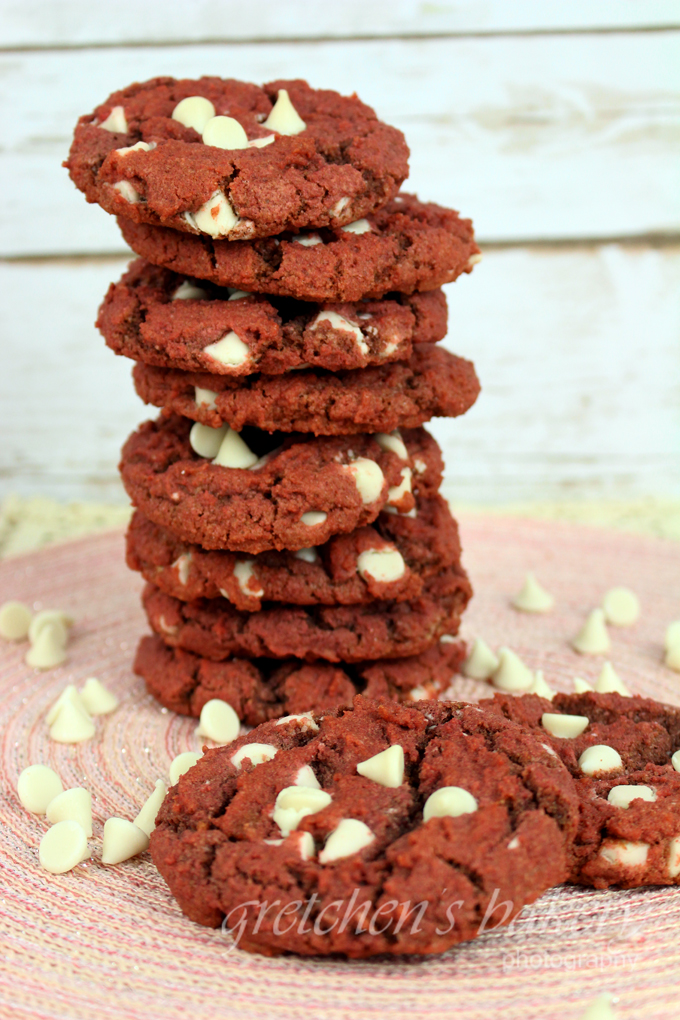 Besides this recipe is so simple to make you will wonder why you just didn't make four dozen of them and put half of the dough in the freezer!
Yeah, did you know that was a real thing?
You can totally just scoop the cookie dough as usual but instead of baking them, just pop them into the freezer and you can have fresh baked cookies at midnight like me!
Who loves ya babe?
Simply thaw the frozen cookies on the sheet pan you will bake them on while the oven preheats and bake as usual!
Oh one last thing, what I love about these No Dye Red Velvet Cookies is that they stay true to their traditional "cocoa" like insides.
The story behind a true red velvet is the reaction of the baking soda with the acids in the recipe is what causes that red tinge.
Not all that un-natural red dye like most people think!
In reality the taste and look of the cookie (and all things red velvet) is that of a light cocoa cookie.
Of course if you do not have beet root powder or don't want to buy it for whatever reason, you can go old school (which happens to actually be new school) and use the red dye.
It's ok.
We won't judge you 🙂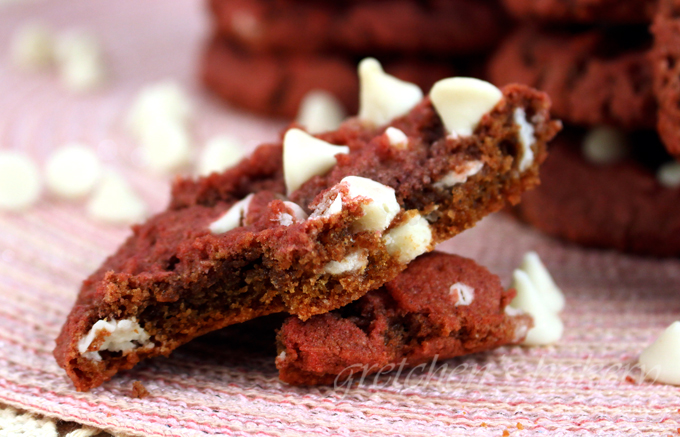 The egg repacer I am using here is aquafaba.
Some of you may not want to use that and will ask me for another option.
You can use flax meal 1 Tablespoon dissolved in 3 Tablespoons of hot water instead.
Additionally the white chocolate chips look really nice in this cookie, but I will say they are very sweet.
Maybe just a sprinkling on top would be better than adding the entire cup to the cookie dough.
But use your own taste to decide which way you like it better!
You could always just melt the chips with a spot of coconut oil and drizzle the tops rather than have those chunky chips inside!
Ah the possibility is endless!
CLICK HERE FOR THE FULL TUTORIAL ON HOW TO MAKE THESE RED VELVET COOKIES!

Red Velvet Cookies (all natural- no dye - vegan)
I am using Earth Balance vegan butter for this recipe as I find it is the best. If you have another vegan margarine it will be fine, but may spread slightly more so you will want to refrigerate your scooped dough before baking to prevent severe spreading.
Serves:
13 - 2 ounce cookies
Ingredients
Vegan Butter 8 Tablespoons (113g)
Light Brown Sugar ½ cup (100g)
Vegan Sugar ½ cup (100g)
Aquafaba 3 Tablespoons (90ml) *see note in the text of this post above
Vanilla Extract 1 teaspoon (5ml)
All Purpose Flour 1¾ cups MINUS 2 Tablespoons! (205g)
Beet Root Powder 2 Tablespoons (20g)
Baking Soda ½ teaspoon
Baking Powder ¼ teaspoon
Salt ½ teaspoon
Vegan White Chocolate Chips 1 cup *optional
Instructions
Cream the vegan butter with both sugars with an electric mixer on medium - high speed until light and fluffy approx 2 minutes.
Scrape the sides and bottom of the bowl to ensure an even mix, then add the vanilla extract and the aquafaba slowly as you continue to mix on low speed.
Once it is incorporated whip on high speed for about 20 seconds to emulsify.
Scrape the bowl again and then add the salt, baking powder & soda, the beet root powder and the flour.
Mix well to incorporate and then add the vegan white chocolate chips.
Mix to combine then using a 2ounce cookie scoop scoop dough onto a parchment lined sheet pan spaced 2" apart.
Bake in a preheated 350°F oven for 10 minutes then turn the temperature down to 325°F for another 15minutes.
Turn the oven off and let the cookies sit inside for 5 more minutes.
Cool on a rack and then eat them!
Notes
Cookies will stay fresh for up to 10 days in an airtight container at room temperature.

You can freeze either the unbaked dough for up to 2 months in a freezer bag or the baked cookies for 1 month in an airtight container