What better way to eat two of the most fabulous desserts ever?
By combining them!
Red Velvet Cake meets my famous New York Style Vegan Cheesecake.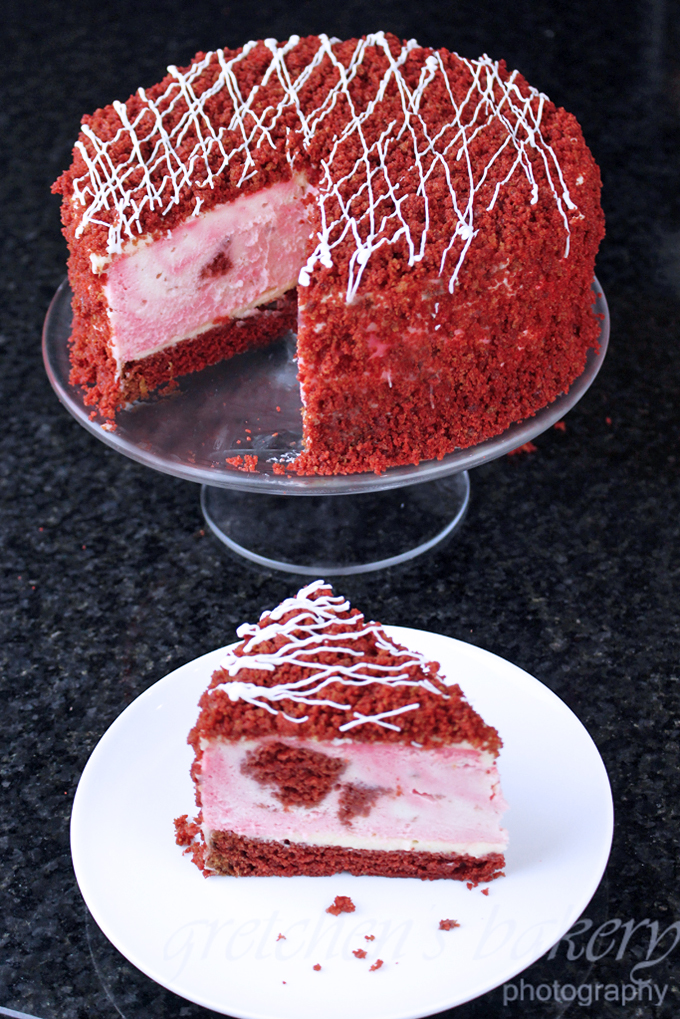 I am using my original red velvet cake recipe and adding chunks of it to the cheesecake batter
Another layer of red velvet cake for the base
Then it all gets smothered in crushed up red velvet cake crumbs!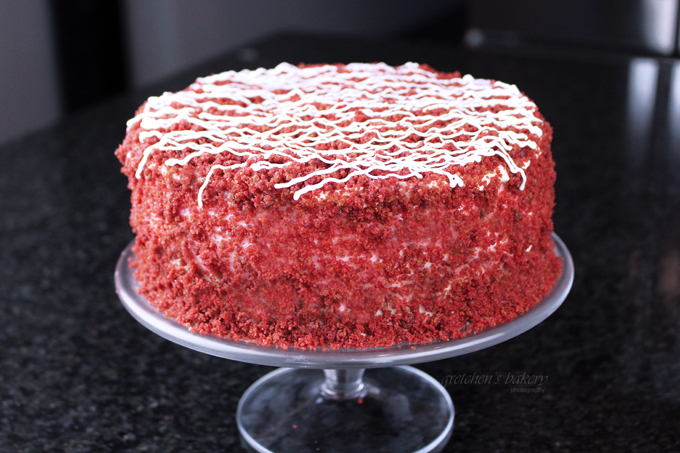 The original cake recipe includes the red dye and some of you may not want to be using artificial dyes.
Research "Is red dye vegan?" and you will see right away that it is not.
But no worries because I came up with a new recipe for red velvet cake that is dye free!
Using all natural beet root powder for an amazing intense red color!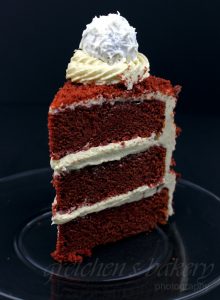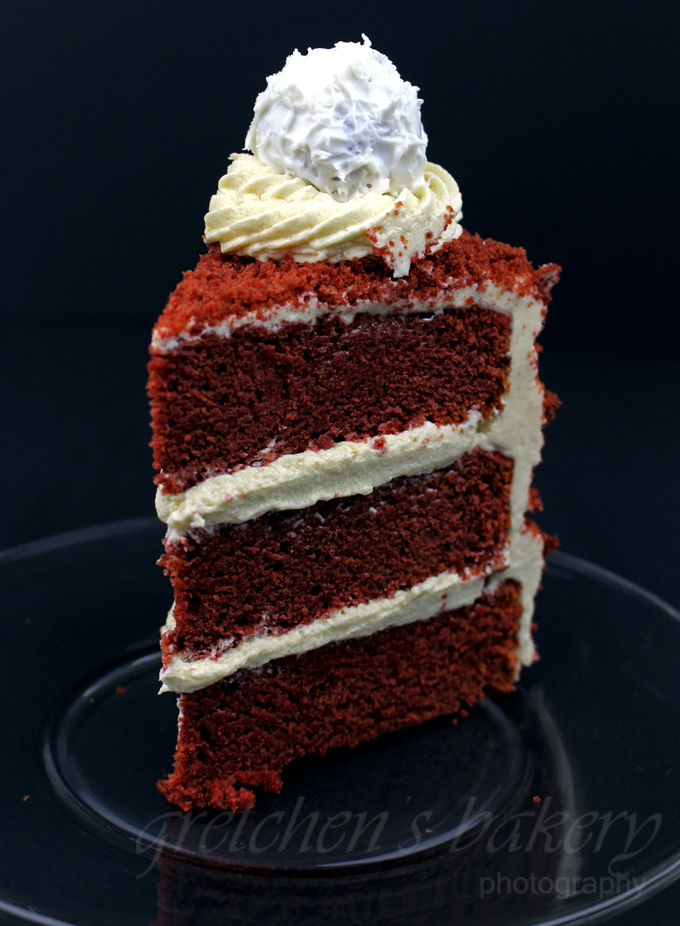 Click here for the all natural Beet Root Powder No Dye Red Velvet Cake recipe!
Whichever recipe you decide to use
This cheesecake is going to be a win at your next party!
You don't even need an electric mixer for this entire recipe!
A blender or food processor will make your job a bit easier, but even that is not 100% necessary.
CLICK HERE FOR THE FULL YOUTUBE VIDEO TUTORIAL FOR HOW TO MAKE RED VELVET CHEESECAKE!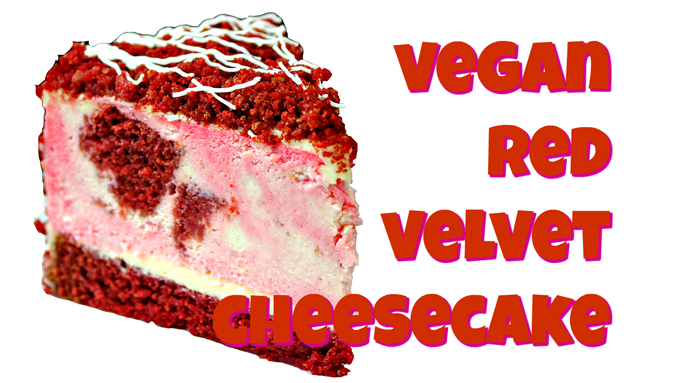 Notes For Success:
You may notice that my base recipes for cheesecake are always the same with some slight variations to the sugar or an added spice depending on what flavor I am making.
At times I add an addition of firm tofu in place of some of the cream cheese for a lightened up version and to cut some of the fat calories.
I do not find an extremely noticeable difference in the outcome of straight vegan cream cheese versus the tofu addition,  so for me I like the tofu version.
Additionally I only use Tofutti Cream Cheese for my BAKED recipes *not sponsored
I have not had success with any other brand in BAKED recipes.
For some reason the other more expensive brands I've tried have broken down into an oily mess when baked.
Cornstarch is a very difficult ingredient to measure consistently with a volume spoons measure
So while I list both measures below I cannot stress enough how the grams measure with a scale is going to give you the best results.
Many times people have complained that their cheesecake is like rubber and they don't know why!
This is from a heavy measure of cornstarch when using volume measuring spoon vs the 100% accurate scale measure in grams.
For more of the best cheesecake recipes click the links below!
Italian Cheesecake Recipe ~ Vegan
Vegan Red Velvet Cheesecake
Since I made 7" cheesecakes, the red velvet cake batter will also be baked into 2- 7" cake pans.
One layer will be for the base of the cheesecake (after cooling and unmolding) and the other will be for chunks to go into the batter- so be sure to prepare the red velvet cake recipe first.
In the video I made a larger sized batch of red velvet cake, but realized I only needed a half recipe which is written below, for those who question why my recipe looks bigger on the video- It was!
Ingredients
For the Red Velvet Cake OR CLICK HERE FOR NO DYE RECIPE
All Purpose Flour 1¼ Cups (156g)
Granulated Sugar ¾ cups (150g)
Baking Soda ½ teaspoon
Salt ¼ teaspoon
Natural Cocoa Powder 1 Tablespoons (6g)
Vegetable Oil ¼ cup (60ml)
Almond Milk ½ Cup (120ml)
Ground Flax Seeds 1 Tablespoon (8g)
Hot Water 3 Tablespoons (45ml)
Red Food Color 1-2 teaspoons *gel paste or liquid
White Vinegar 1 teaspoon
Vanilla Extract 1 teaspoon (5ml)
For the Cheesecake Batter
Vegan Cream Cheese 1½ package (12oz) (282g)
Firm Tofu half package (7ounces) (196g)
Vegan Granulated Sugar 1 cup (200g)
Cornstarch1 Tablespoon
All Purpose Flour 1 Tablespoon
Salt ½ teaspoon
Vanilla Extract 2 teaspoons (10ml)
Vegan lactic Acid OR Apple Cider Vinegar 2 teaspoons (10ml)
Vegan Butter 2 Tablespoons (28g)
Instructions
First prepare the red velvet cake recipe by combining the ground flax seed with hot water and whisk smooth
Let stand for at least 5 minutes to thicken to a paste
In a large bowl place the sifted flour, Baking Soda, Salt and Cocoa Powder together
In another bowl combine all of the wet ingredients including the sugar and the red food color whisk smooth
Add the flax paste and then the dry ingredients and whisk smooth
Pour the batter into the greased and parchment lined cake pans and bake immediately at 350°F for 25 - 30 minutes or until springy to the touch when gently pressed in the centers or a toothpick comes out with moist crumbs
Once the red velvet cake is cooled take one layer and chop it up into ½" cubes, reserve them in the freezer or refrigerator to go into the cheesecake batter later.
The other layer of cake will go into the refrigerator (wrapped well) until after the cheesecake is completely set and ready to assemble
Place all cheesecake ingredients (except the red velvet cubes) into a food processor and process until smooth
Fold the red velvet cubes in by hand so they don't break up too much
Optional red food color swirl into a small portion of the batter (which actually made mine more pink, and I still can't decide if I like it or not! LOL)
Pour into a greased and parchment lined cake pan and bake in a preheated 350°F oven for 1 hour.
After 1 hour turn the oven off and let the cheesecake stay inside to cool down for another hour,
Take out of the cooled oven and place in the refrigerator to cool and set for at least 4 hours or overnight.
Once completely firm and set unmold the cake onto a platter or cardboard cake circle, remove the parchment paper and adhere the red velvet cake layer onto the bottom (sometimes a little cream cheese icing helps as glue)
Ice the top and sides with more cream cheese icing then press the red velvet cake scraps that have been ground down to crumbs all over the top and sides, vegan white chocolate drizzle optional