S'mores cookie cups are fast and easy and oh so delicious!
Your weekend party dessert problem has just been solved!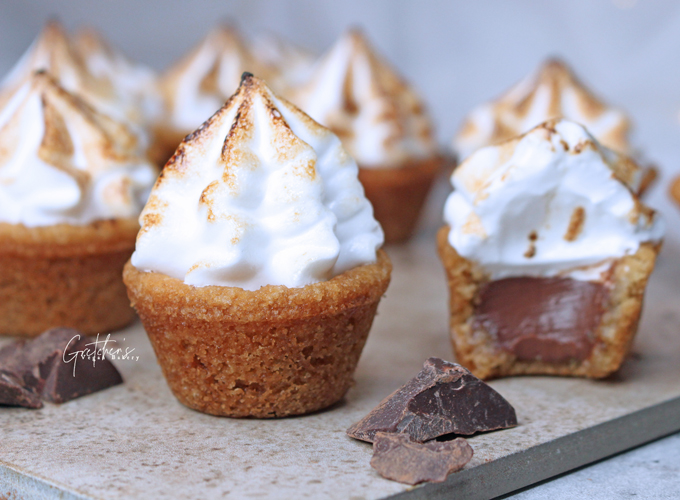 All you need is a quick cookie dough recipe and some vegan ganache
Billowy marshmallow toasted to perfection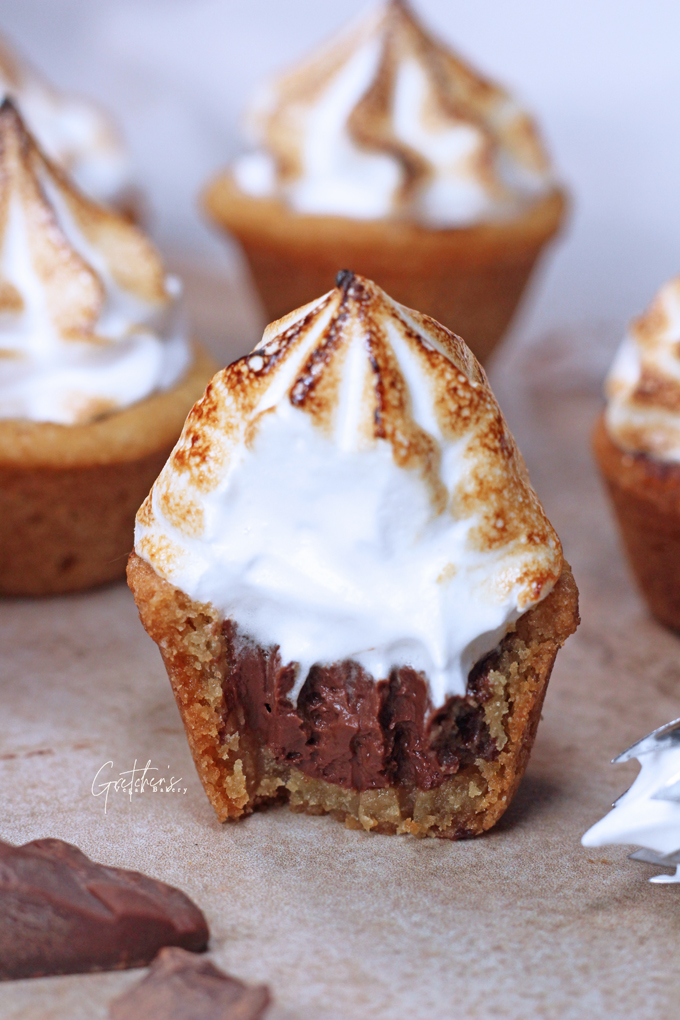 These bite sized S'mores cookie cups are quite addicting so don't say I didn't warn you!
The recipe below makes two dozen but I guarantee that won't be enough!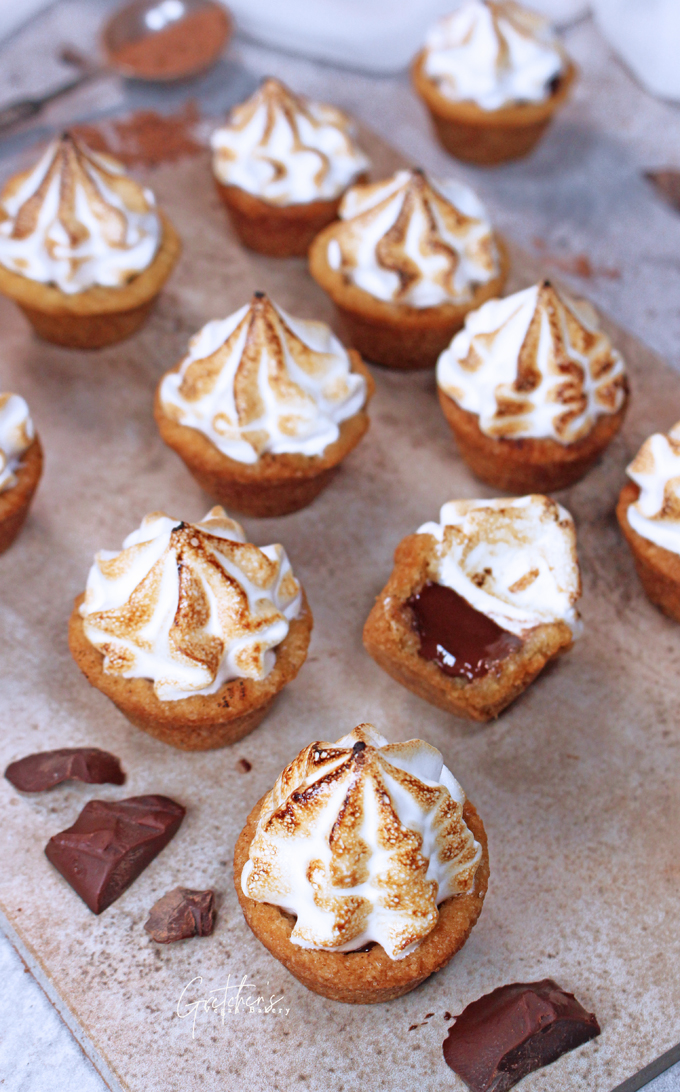 Tools I used for this recipe:
Kitchen Aid Mixer with balloon whip attachment
WATCH THE QUICK YOUTUBE VIDEO TUTORIAL FOR HOW TO MAKE THEM!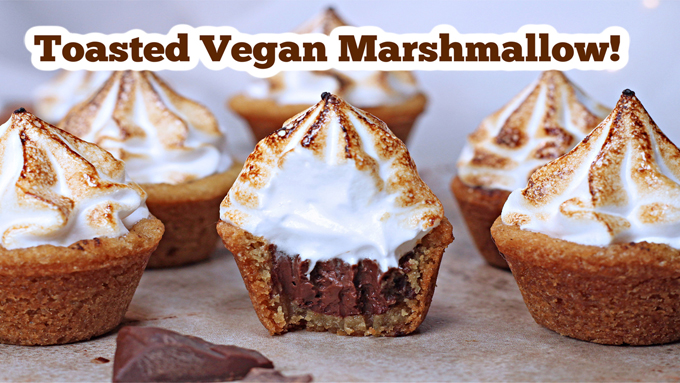 For more easy one bite desserts click the links below!
Miniature Chocolate Cream Pie Cookie Cups
S'mores Cookie Cups
Ingredients
For the Cookie Dough Cups:
Vegan Butter ½ cup (113g)
Granulated Sugar ½ cup (100g)
Light Brown Sugar ½ cup (100g)
Salt ½ teaspoon (3g)
Aquafaba 2 Tablespoons (30ml)
Vanilla Extract 1 teaspoon (5ml)
All Purpose Flour 1¾ cups (218g)
Baking Soda ½ teaspoon
Baking Powder ¼ teaspoon
For the Vegan Marshmallow:
Aquafaba ¾ cups (355ml)
Granulated Sugar ½ cup (100g)
Water 3 Tablespoons (45 ml)
Cream of Tartar ¼ teaspoon *optional
Instructions
First prepare the cookie dough recipe by creaming the vegan butter with both sugars and the salt in the bowl of your electric mixer with the paddle attachment
Cream for 3 minutes on medium to high speed ~ until light & fluffy
Add the aquafaba slowly while mixing on low speed until incorporated
The stop the mixer and scrape the bottom & sides of the bowl then add the vanilla extract and mix on high speed for 20 seconds to emulsify
Sift together the flour, baking powder and baking soda and then add all at once to the creamed mixture.
Mix just until it comes together, do not over mix
Scoop the dough with a tablespoon scoop into a non stick mini muffin tin~ if you are unsure if it is non stick lightly spray the cavities with pan spray
Bake in a preheated 350°F oven for 10-15 minutes or until golden browned the cookie cups will be puffed and some of them may have already fallen with an indent this is OK
Once they come out of the oven tap them on the counter and the indents will fall even more, using a teaspoon measure press gently while still warm to make more impressive indents
Next prepare the vegan ganache according to the recipe post and then while still warm spoon a hefty tablespoon into each cookie cup
Let them set (refrigerator is a good idea to speed the process)
Now make the Italian meringue Marshmallow
Start whipping the aquafaba with the cream of tartar on medium to high speed while you cook the sugar syrup at the same time
Combine the water and sugar together in a heavy bottom sauce pot and bring to a boil over high heat.
Once it boils do not stir or agitate the pot
Attach a candy thermometer and cook to 240°F
It should take about 8 minutes to reach temperature which is approximately the same time it takes to get the AF to stiff peaks.
Slowly pour the hot sugar syrup into the whipping meringue until it is all incorporated
Pipe the marshmallow onto each cookie ganache cup and then toast with a blow torch or butane creme brulee torch
Notes
S'mores cookie cups should be kept refrigerated for best storage results. They can be left out at room temperature for serving in a cool climate for up to 4 hours
The marshmallow will stay fresh and firm for about 3 days after that it will start to deflate & the cookie cup will also start to get soft