A few weeks ago I was at my Aunt's house and she made this amazing Spinach Provolone Stromboli for my cousins birthday.
The only problem was it was NOT VEGAN!
Yikes! It looked so good and everyone loved it, and I decided right then I would be veganizing that bad boy so I could enjoy it too!
And I did just that.
Now there is Spinach Provolone Stromboli for everyone!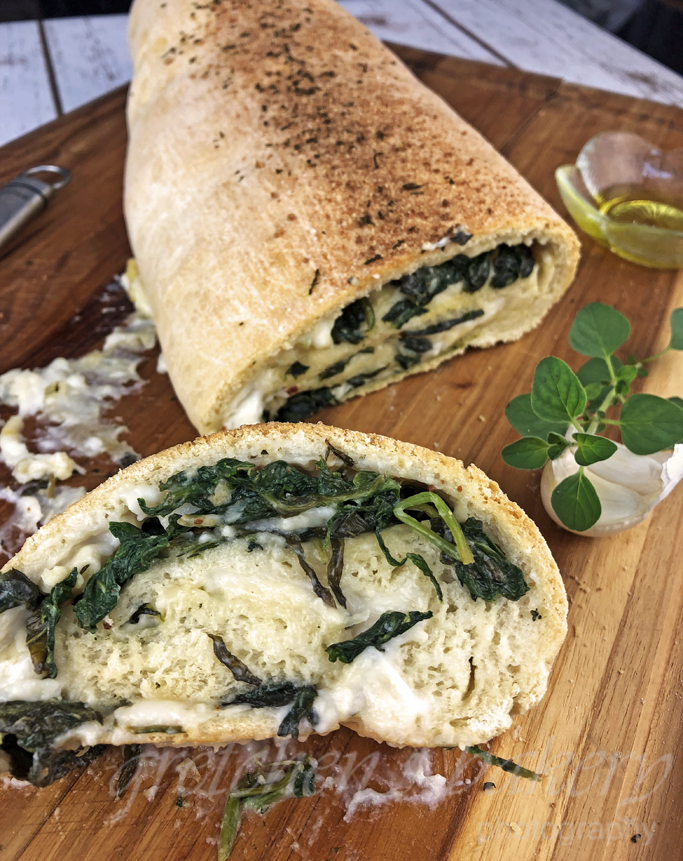 It's really not that difficult to make, you just need some time (mostly in waiting for the pizza dough) and some organization skills which I will spell out for you step by step here now.
I have to say there are so many amazing vegan cheeses available to us nowadays that it really makes vegan life so much easier and better!
I am using Daiya Provolone slices for this spinach provolone stromboli and I know your first reaction may be "Daiya!? Yuck!"
But trust me they have improved their formula 100x since they first hit the vegan scene and I think you will be pleasantly surprised so you may want to give them another try!
But honestly if you really don't like Daiya or you can't get it, any vegan cheese will work just fine.
I also used a mix of mozzarella shreds too since I wanted a super cheese overload!
Spinach Provolone Stromboli
Ingredients
1- 5oz Package Baby Spinach
1 -5oz Package Baby Kale
Fresh Basil scant 1 cup chopped
Fresh Rosemary 2 teaspoons minced
Fresh Garlic 5 cloves minced
Daiya Provolone Slices 1 package (8 slices)
GoVeggie Mozzarella Shreds ¾ cup
Go Veggie Vegan Parmesan Cheese ¼ cup + more for sprinkling on top
Salt
Crushed Red Pepper ¼ - ½ teaspoon
Olive Oil 1 Tbs + more for brushing
Instructions
First preparethe pizza dough as per the instructions on that recipe/ blog post
While the dough is resting, bring a large pot of salted (about 2 teaspoons) water to a boil and prepare an ice water bath
Once the water boils blanch the baby kale and let cook for about 4 minutes to tenderize then lift it out with a colander and plunge into the ice water to stop the cooking (this also keeps it's vibrant green color)
Next do the same to the baby spinach but this only needs to cook for about 1 minute
Drain the kale & spinach of as much water as possible by squeezing handfuls of it and transfer it to a large mixing bowl.
Add the chopped basil, garlic, olive oil, 1 teaspoon of salt, vegan parmesan cheese and the crushed red pepper (I used ¼ tsp but thought more would not be bad, since I like spicy, but use your judgement)
Toss the mixture to distribute evenly and by this time the dough should have risen to double in size
Roll the dough on a lightly floured surface to approximately 18" x 15"
Layer the cheese sliced over the surface of the dough leaving a 1" border on all sides
Sprinkle the vegan mozzarella over that and then layer with the spinach mixture and then roll up jelly roll style tucking in the edges as you roll
Pinch the seam together and it is helpful to use a brushing of water to help seal it, I did not do that and got a slight blow out from the seem popping open while it baked.
Brush the top with additional oil and a sprinkling of vegan parmesan cheese and the finely chopped rosemary
Let the stromboli rest in a warm spot while your oven preheats to 350°F and then bake for 45 minutes or until it is browned and you may seem some bubbly spots of cheese oozing out! YUMM!
Rest 5 minutes before cutting and serve warm
Notes
Stromboli can be served hot out of the oven or at room temperature.

Leftovers should be wrapped and refrigerated for up to 1 week, reheat to serve