One of my favorite snack cakes from my childhood was the Snowball Cakes from Hostess
A miniature chocolate cake stuffed with cream and covered with marshmallow and coconut!
Today I am veganizing it, and wait until you see how easy it is!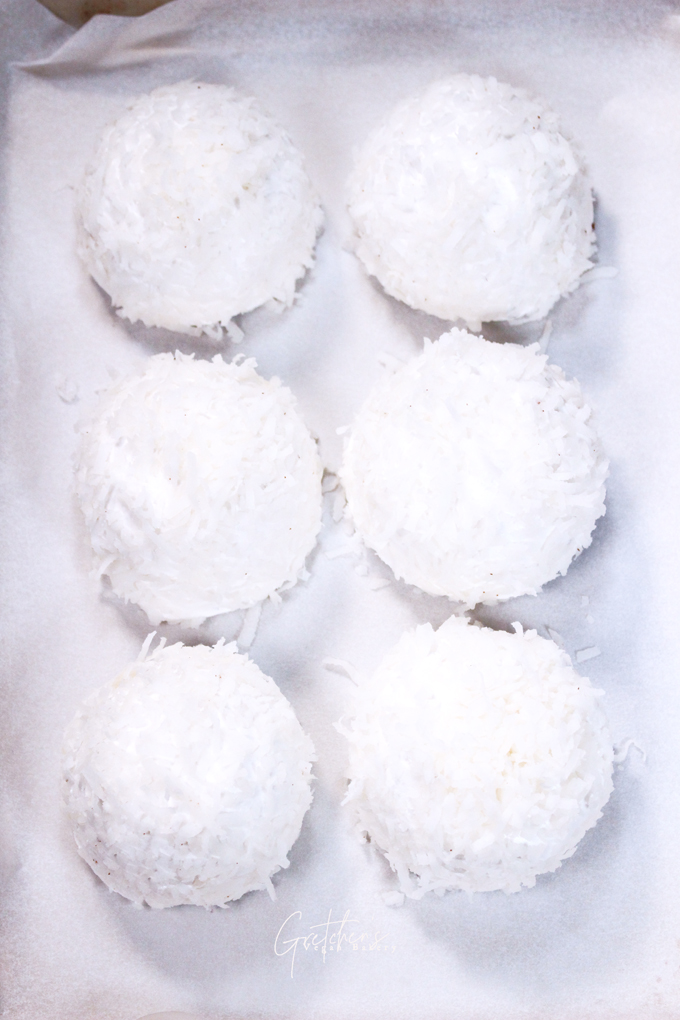 The only special requirement would be the sphere mold needed to craft these into and an instant read thermometer
Since marshmallow has to be cooked to 240°F
But otherwise it is just three very simple recipes!
Using my best recipe for chocolate cake baked into half sized cupcakes and easy American Buttercream recipe to stuff them up!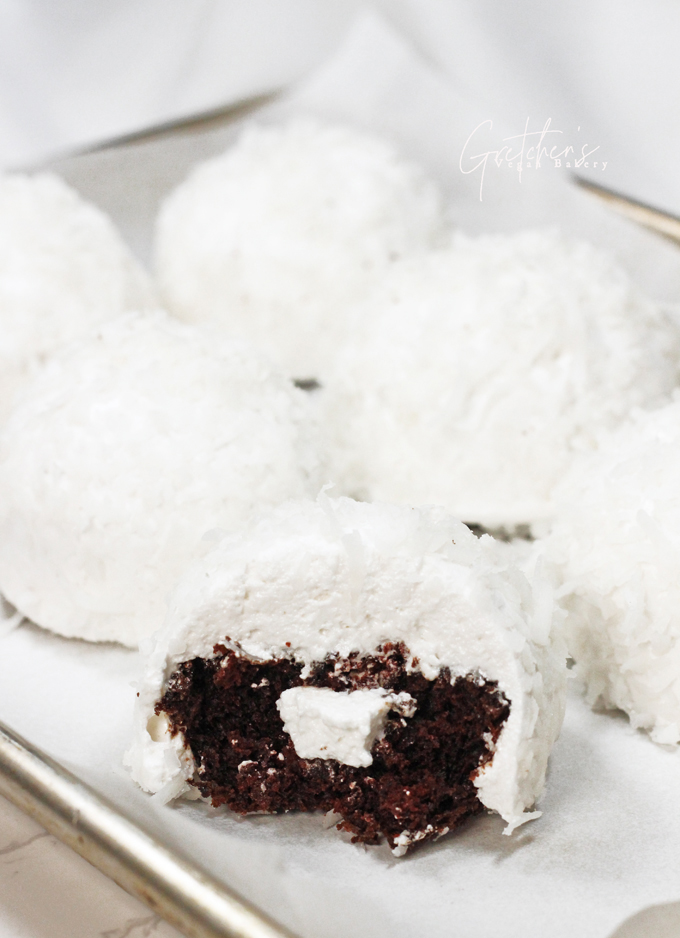 Vegan marshmallow is not as difficult as you may think
You just have to work fast since it will set really quickly!
So be sure to have your cupcakes all ready and stuffed before you start the marshmallow recipe
Coated with coconut flakes just the like real deal
Only better since these are 100% vegan!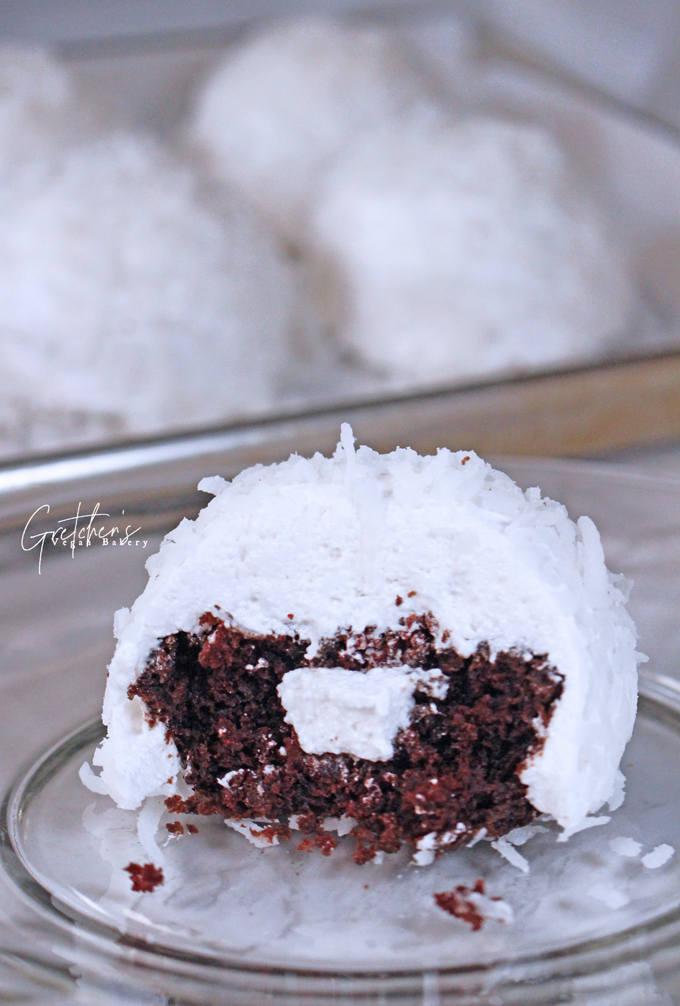 Notes for Success:
Agar can be a tricky ingredient to work with
Pay attention to the strength of agar you are using in comparison to the one that author of the recipe is using
I typically use 900 strength in my recipes SPECIFICALLY THIS BRAND BY Landor Trading Co *not sponsored
Aquafaba is the liquid from a can of chickpeas
Try to get low salt or no salt but if you cannot then omit the salt from the recipe below, or if you prefer to make your own aquafaba by boiling dry chickpeas be sure to reduce your final aquafaba liquid to a stronger gelatinous viscosity after straining the liquid from the beans
Marshmallows are literally just sugar and the recipe below does include corn syrup, if you do not have corn syrup glucose, agave or golden syrup will work as well.
Because of all that sugar I like to use unsweetened flake coconut for the coating instead of the sweetened variety
Regarding using a hand beater for this recipe, while it can be done it takes excessive work and really strains the hand beater motor.
Not to mention it cannot achieve the full thick glossy volume that an electric stand mixer with the balloon whip attachment does
However if you do opt for the hand beater method you will need another person to help you pour in the sugar syrup as you blend in a constant rotational motion
CLICK HERE FOR THE YOUTUBE VIDEO TUTORIAL FOR HOW TO MAKE THESE SNOWBALL CAKES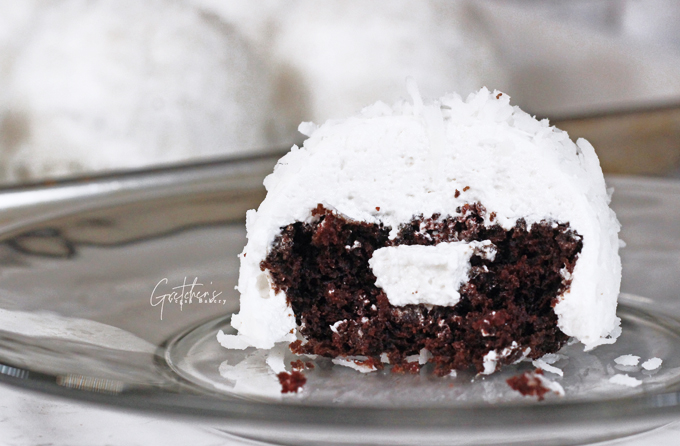 For more recipes like this one click the links below!
Total Time
2 hours
15 minutes
Ingredients
Marshmallow Recipe:
Water ½ cup (117ml)
Granulated Sugar ½ cup (100g)
Corn Syrup ½ cup (117ml) * see notes above
Agar Powder 1½ teaspoons *see notes above
Salt pinch * see notes for canned chickpea brine
Vanilla Extract ½ teaspoon
Aquafaba ¼ cup + 2 Tablespoons (90ml)
Cream of Tartar ¼ teaspoon *see notes above
Unsweetened or Sweetened Flake Coconut 1lb (*you will not use the entire bag)
Instructions
First prepare the chocolate cake recipe as per the instructions on that recipe post and bake them into cupcake tins, but be sure to only use a scant 2 ounce scoopfor each cupcake
The bake time will be about half the regular time for normal sized cupcakes
Cool them completely then refrigerate while you prepare the buttercream recipe
Follow the instruction on the buttercream recipe then fill the cupcakes with the cream by hollowing out a small center space~ reserve cupcakes while you make the marshmallow
For the marshmallow:
In a medium sized sauce pot over medium to high heat combine the water, granulated sugar, corn syrup and agar stirring to dissolve the sugar
Once the solution comes to a boil stop stirring and increase the heat to high
Insert an instant read thermometer and continue boiling to 240°F
About 5 minutes before the temperature of the sugar syrup reaches 240°F start whipping the aquafaba liquid with the cream of tartar with the balloon whip attachment of a stand mixer *see notes for success above!
Whip to stiff, glossy peaks and then start pouring in the sugar syrup very carefully and slowly! See video visual for how to do this!
**Be very careful working with hot sugar syrup!**
Continue whipping the marshmallow until all the hot syrup is incorporated then add the vanilla extract and then quickly transfer the marshmallow to a pastry bag and pip the marshmallow into the sphere molds
Insert the filled (frozen) cupcakes into each marshmallow pushing it in so the marshmallow comes up around the sides and to the top of the cupcake
These will set very quickly at room temperature, no need to refrigerate
Once set you can easily unmold each one and plunge into coconut flakes to coat the entire outside.
Notes
Snowball cakes can be kept at room temperature in an airtight container for up to 4 days

For longer storage refrigerate in an airtight container for up to 2 weeks