Big fluffy almond cream stuffed Stollen Breakfast Buns!
When you can't get enough of that German Christmas Stollen
You make more for breakfast!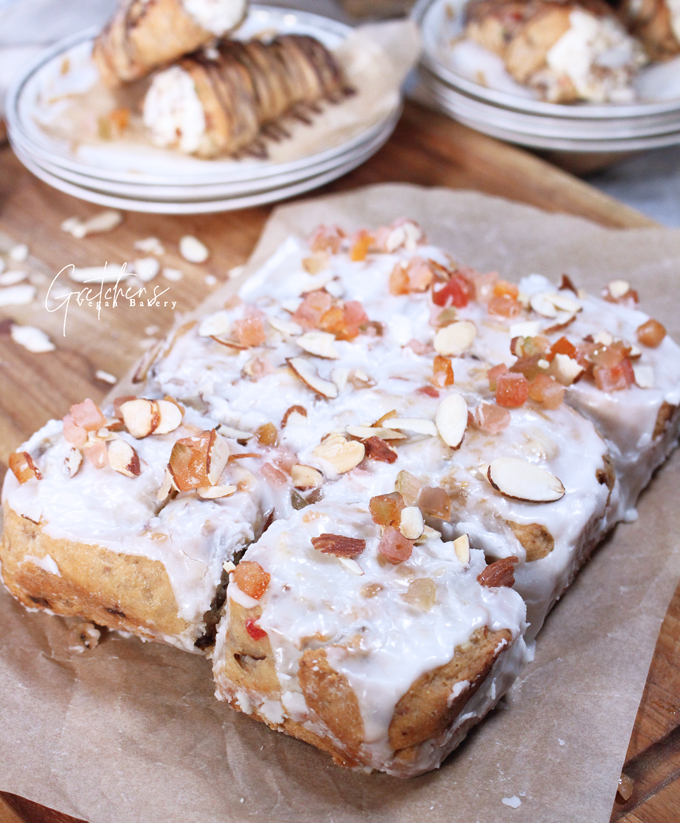 Cinnamon Buns meets Stollen for a unique spin on the classics!
I love German Stollen at Christmas time and what better way to serve it up than with these gorgeous breakfast buns!
Reminiscent of the almond danish pastry only way more festive!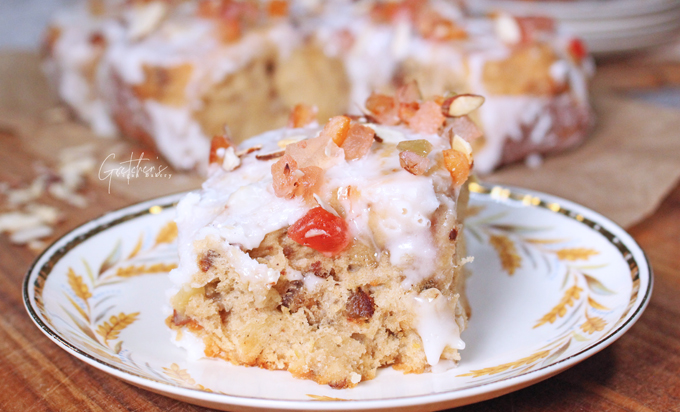 Studded with all the candied fruits, citrus zest and loads of Christmas spice!
Despite all of that goodness going on inside this bread the dough is not very sweet at all!
So it can definitely stand up to a smattering of that traditional sugar icing that the Stollen and the Cinnamon Buns are known for!
Of course you can leave that part out and have a more refined breakfast bun for dunking in your morning coffee!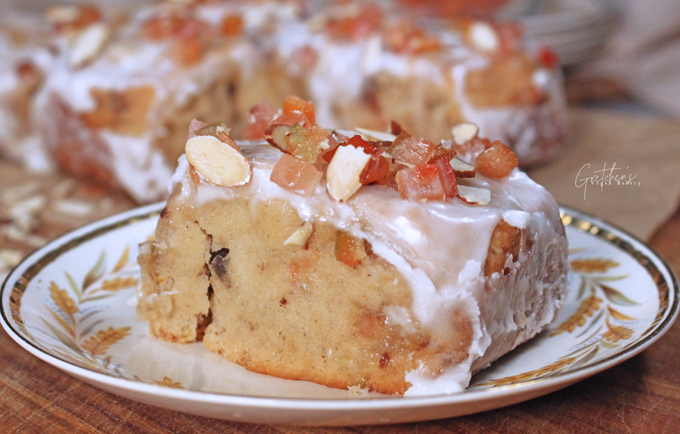 Many German Stollen recipes will use raisins and currants rather than the candied fruits as I have used here in my recipe
Not to mention soaked in rum is the traditional way to go!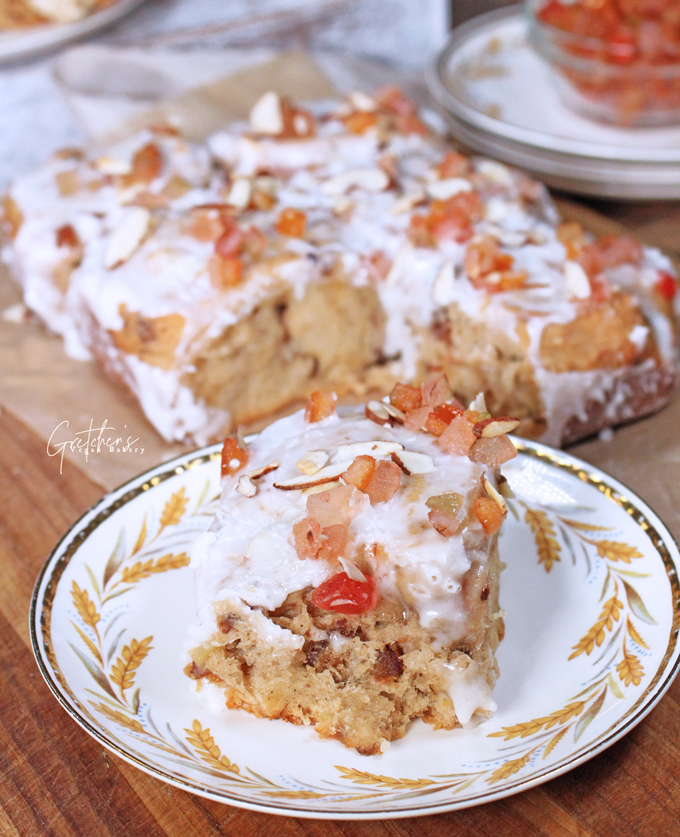 While I do love me some rum in my desserts and pastries! I did leave it out here
And opted for an apple juice soak instead so that I could share these buns with my friends and family who like to stay away from alcohol!
However when I owned my bakery you can believe we soaked those fruits overnight in a hefty amount of rum for baking the next day!
Notes for Success & Substitutions:
The only almond paste I will use in my recipes is from OliveNation *loosely sponsored
Today OliveNation has provided not only the highest quality almond paste for this recipe, but they also provided the candied fruits too!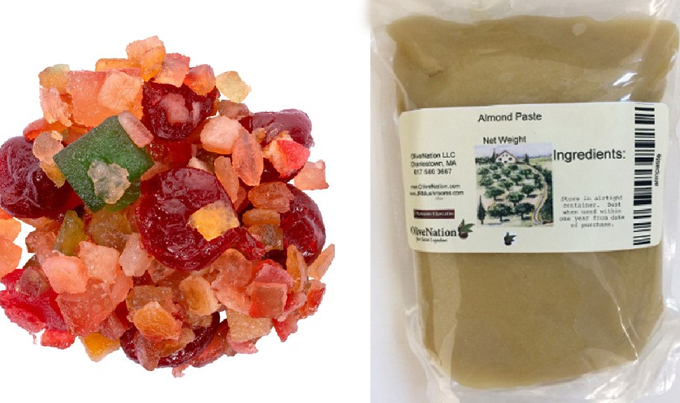 Alternatively you can use a combination of raisins, currants, and even dates if you are not a big fan of candied fruits
Another topic for debate is whether to use almond paste or marzipan inside the loaf.
In my bakery we used marzipan which is merely almond paste that has more sugar added to it to make it creamier and more pliable
Nowadays since I am cutting down on my sugar intake. I prefer to use straight up almond paste

OliveNation has extended a 20% off discount for all of you, so if you have your eye on anything, not just the ingredients I used here
Click through to OliveNation and enter GVB20 in the coupon area at checkout
CLICK HERE FOR THE YOUTUBE VIDEO TUTORIAL FOR HOW TO MAKE THESE STOLLEN BREAKFAST BUNS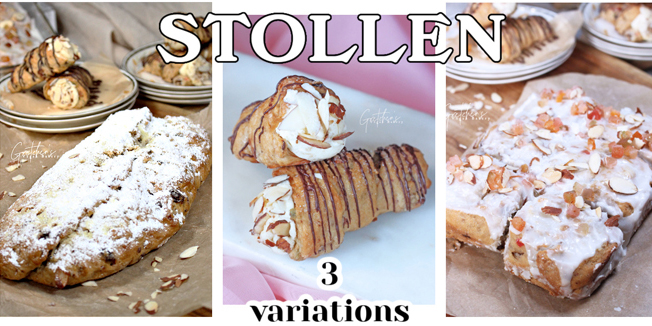 Notes for Success:
For more Stollen Holiday Recipe Traditions, click the links below!
Stollen Breakfast Buns
Ingredients
For the Stollen Dough:
Plant Milk *I am using Soy Milk 1 cup (240ml)
Dry Yeast 1 Tablespoon
Sugar ½ cup (100g)
All Purpose Flour 4 cups (500g) + more for rolling
Aquafaba 4 Tablespoons (60ml)
Cornstarch 1 teaspoon (3g)
Vegetable Oil 1 Tablespoon (15ml)
Vegan Butter Soft 12 Tablespoons (170g)
Vanilla Extract 2 teaspoons (10ml)
Butter Vanilla Emulsion 1 teaspoon (5ml)
Lemon Zest 1 teaspoon *approx 1 small lemon
Orange Zest 2 teaspoons *approx 1 medium orange
Salt 1 teaspoon
Cardamon 1 teaspoon
Allspice 1 teaspoon
Cinnamon ¾ teaspoon
Candied Fruit Mix 1½ cups
Sliced Almonds ½ cup
Good Quality Rum OR Apple Juice ¾ cup (180ml)
For the Almond Paste Filling:
Good Quality Almond Paste 8oz (226g)
Aquafaba 6 Tablespoons (90ml) + more for brushing the dough
For the Glaze:
Confectioners Sugar 1 cup (120g)
Plant Milk 2 Tablespoons (30ml)
Extra candied fruit for garnish *optional
Instructions
Preferably overnight~ soak the fruits with the rum or apple juice
Combine the aquafaba, cornstarch and oil together in a small bowl & set aside
Whisk the yeast into the warm plant milk and give it a pinch of sugar, let stand 5-10 minutes to frothy~ this "proves" that your yeast is alive & you can use it
In a large mixing bowl (or in your electric mixer with the dough hook attachment) combine the flour, spices, zests, sugar, salt, softened vegan butter and the aquafaba mixture and mix by hand o(r on low speed of your electric mixer) to combine evenly
Continue mixing to develop the dough about 5 minutes on medium speed with your mixer or 10 minutes by hand.
If the dough is still too soft and will not come together to a pliable soft elastic dough, add more flour a tablespoon at a time.
Transfer the dough to a lightly oiled bowl and cover in a warm spot for about an hour or until almost doubled in size.
In the meantime smooth out the almond paste with the aquafaba to a spreadable paste~ reserve
Drain the fruits & discard the liquid, add this to the dough along with the sliced almonds and knead by hand on a lightly floured surface until all the fruits & nuts are incorporated
Roll the dough to a rectangle shape about the size of a half sheet pan (12" x 18")
Spread the almond paste mixture over the dough evenly then roll up jelly roll style lengthwise
Pinch the seam and then cut the dough into 18 equal portions
Grease a 9" x 13" pan and place the buns spaced about ½" apart
Cover and let rise in a warm spot for about an hour until they fluffy and puffy
Brush lightly with aquafaba
Preheat the oven to 350°F and bake for 40-45minutes, they will be golden browned and if you check the middle bun it will be soft & fluffy not raw dough
Remove from oven, cool just while you mix the confectioners sugar with the plant milk to a a pourable glaze, spread over the warm buns then sprinkle with the extra candied fruit & nuts *optional
Notes
Stollen Breakfast Buns will stay fresh wrapped loosely at room temperature for 3 days.
Freeze for longer storage , up to 1 month