Summer time is the best time for strawberry shortcakes!
All the strawberries and fresh fruits of summer are abounding and what better way to eat them?
With a flaky biscuit and loads of coconut whipped cream, that's how!
These are the real deal strawberry shortcakes~  biscuit style!
Not to be confused with a strawberry shortcake layer cake.
They are two totally different things!
And while I do have the best recipe for the layer cake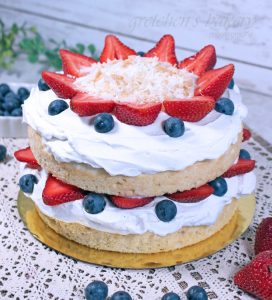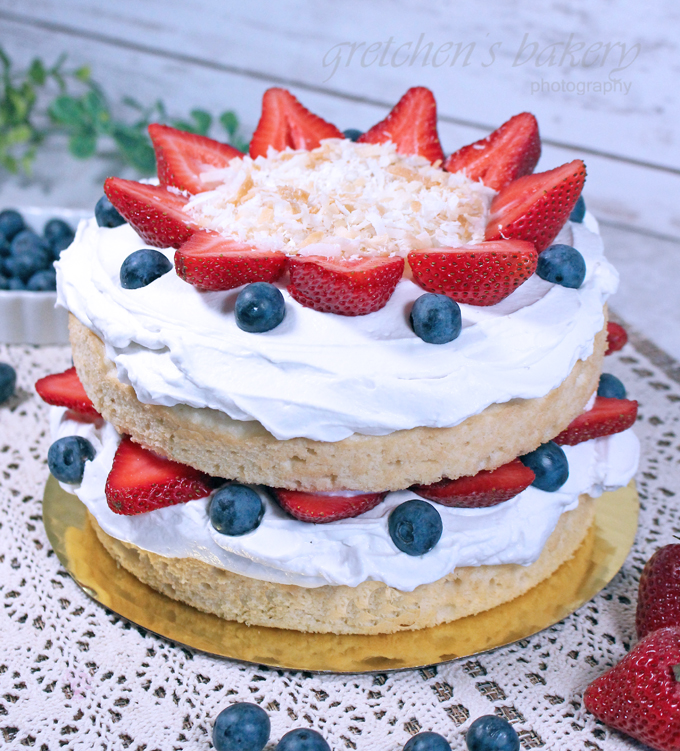 Today we are concentrating on making the flakiest, fluffiest, melt-in-your-mouthiest biscuits!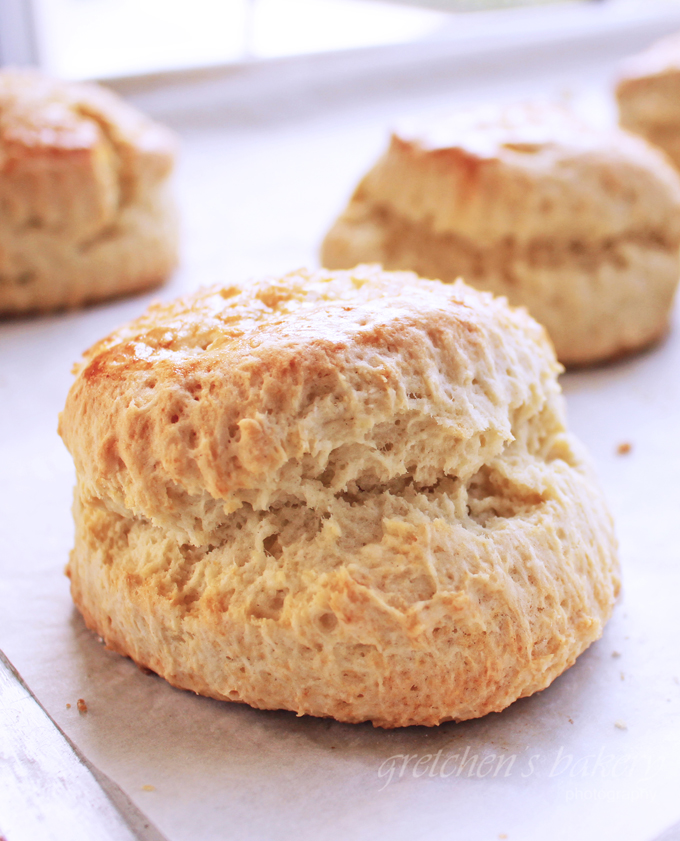 The prefect canvas for your summer fruits to nestle up on!
Needless to say these biscuits can  definitely stand alone, but a piling of fresh strawberry is where it's at!
Or better yet a quick strawberry compote for it's own natural sauce and of course, loads of Vegan Whipped Cream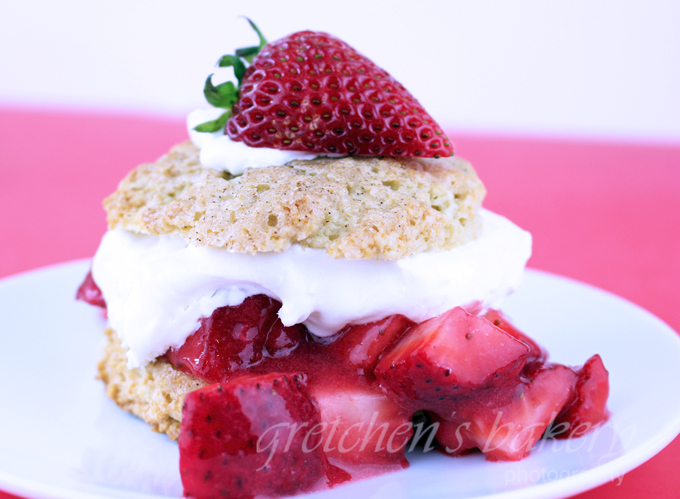 These strawberry shortcakes are perfect for a casual outdoor party or dressed up as a fancy plated dessert
This is one dessert that can do both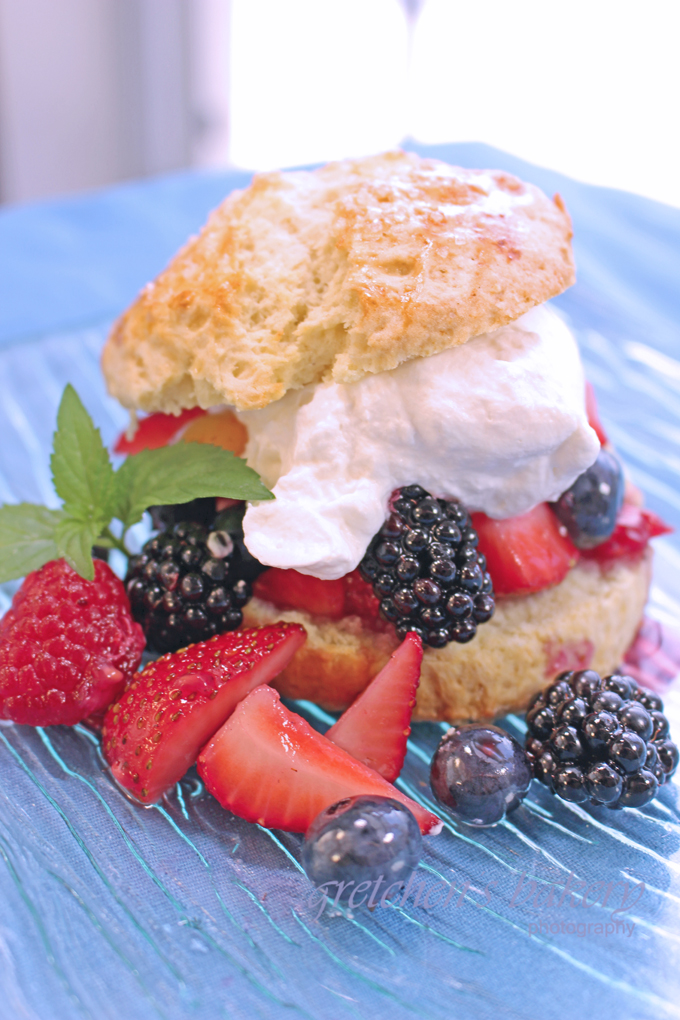 I am telling you these biscuits are so easy and so good you will be making them for every occasion or just to make them for no reason at all!
I love having them around for a light, not too sweet snack!
The biscuits freeze beautifully so you can have a quick dessert in a pinch whenever you have an abundance of fruit on hand!
In the video demonstration below I show you the secrets to perfect flaky biscuits; so sit back, tune in and get your biscuit hands ready!
CLICK HERE FOR THE FULL YOUTUBE VIDEO TUTORIAL FOR HOW TO MAKE THEM!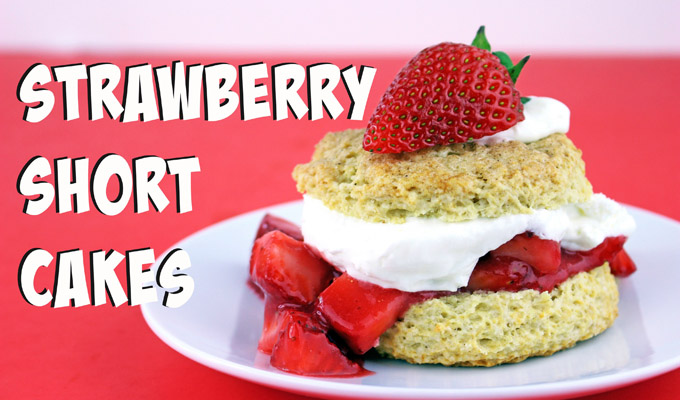 For more summer fruity dessert recipes click the links below!
Blueberry Peach Cobbler Recipe
Strawberry Shortcakes
Ingredients
For the Biscuits:
All Purpose Flour 3 cups (390g)
Granulated Sugar ½ cup + 2 Tablespoons (125g)
Baking Powder 1 Tablespoon (14g)
Baking Soda 1½ teaspoon (7g)
Salt pinch
Vegan Butter COLD 12 Tablespoons (170g)
Plant Milk COLD 1 cup (240ml) * I used oat milk here
Apple Cider Vinegar 1 teaspoon (5ml)
*cinnamon sugar for sprinkling~ optional
*aquafaba for brushing on the biscuits ~optional
For the Strawberry Compote:
Fresh or Frozen Strawberries 1 pint
Fresh Strawberries 1 pint
Granulated Sugar *optional 1 Tablespoon - ¼ cup ~ adjust sweetness to your liking
Arrowroot 1 Tablespoon *optional
Grand Marnier *optional 1 Tablespoon
Instructions
For the biscuits:
Combine the vinegar with the Oat Milk (or any milk alternative of your choice) let it stand to sour
Combine the flour, sugar, baking powder & soda and salt in a large mixing bowl.
With a box grater, grate the frozen vegan butter into the dry mixture and then mash it through with your fingertips to distribute evenly, work quickly so you don't melt the butter
Pour in the soured milk all at once and toss lightly to moisten the flour, allowing it to absorb. Be sure not to over mix, we want to ensure it's lightness and flakiness by being as gentle as possible.
Turn the sticky mass out onto a lightly floured work surface and knead it by folding it over about 5 - 8 times. You may have to add some flour to take out an excessive stickiness of the dough, just do not add too much making it a tough dry dough.
Press it out evenly into a disc about 8 inches in diameter.
With a 3" biscuit cutter cut out the biscuit rounds and place them spaced about 1" apart on a parchment lined sheet pan.
Brush with aquafaba and sprinkle with cinnamon sugar
Bake in a preheated 375°oven (190°c) for approximately 20- 22 minutes or until golden browned and no longer raw in the middles
Cool slightly before slicing horizontally and serve with the strawberry compote and whipped cream of coconut
For the Compote:
Place the first measure of fresh (or frozen) strawberries in a heavy bottom sauce pot and add the optional sugar
Cook over medium heat stirring frequently until the berries break down to a mushy pulp, the mixture may boil but be careful not to scorch, best to keep a t a high simmer
Add the arrowroot (if using) and cook over medium - high heat for an additional 1 minute
You can leave the compote chunky or puree in a blender or with a stick blender to your desired consistency
Add the other pint of fresh chopped strawberries and the optional Grand Marnier liquor.
Prepare your choice for Vegan Whipped Cream (follow link above) or use a storebought vegan whipped topping if you prefer.
Notes
Plain Biscuits can be kept at room temperature for up to 2 days wrapped well to prevent drying.
Assembles shortcakes must be kept refrigerated, although it is best to assemble each one just before serving for best fresh taste.
Plain biscuits can also be frozen for up to 2 months wrapped well.