Summer is here!
Who's got the basil growing?
A better question though, is: "Who is ready for a little twist on ordinary old vanilla ice cream?"
If you have never tried basil ice cream before, you are in for a real treat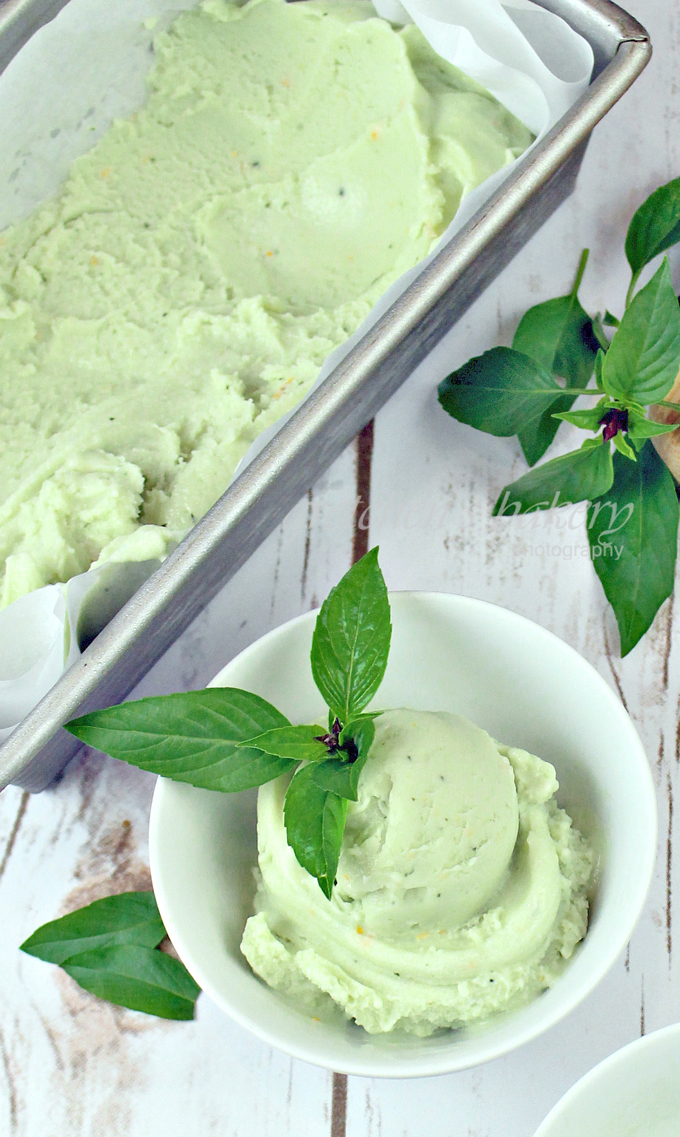 But today I have added another twist and I'm using Thai Basil
Thai basil has a slight licorice or anise scent to it and it is perfect for my Basil Ice Cream recipe!
Of course if you cannot get Thai Basil you will be fine to use all regular basil here with no changes to the recipe.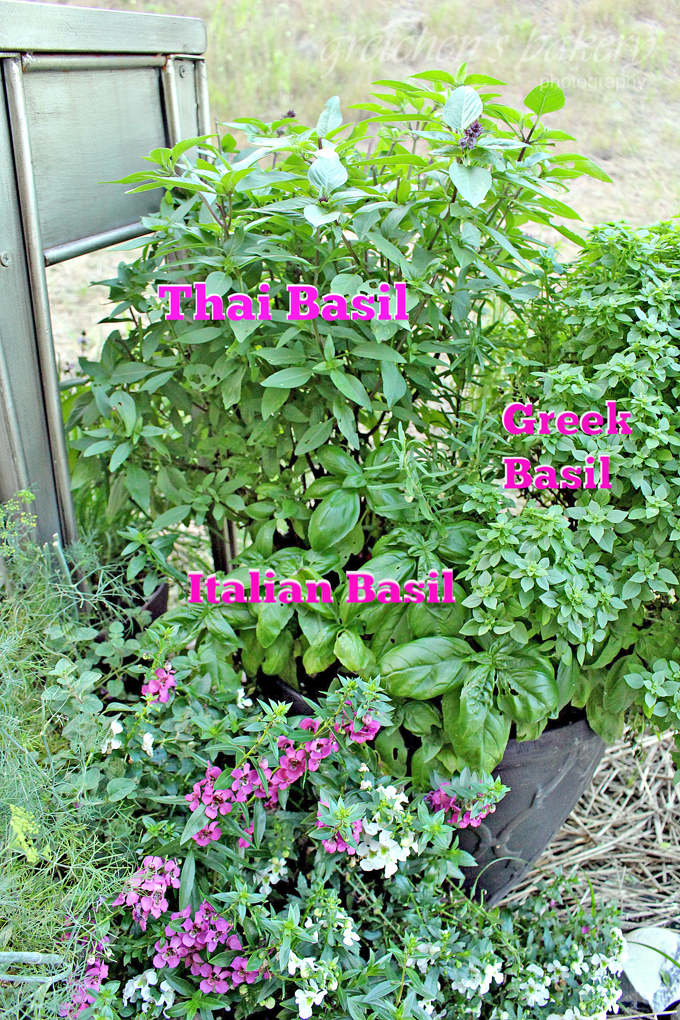 I did use a combination of the two because there is just something about the sweet aroma of regular Italian basil that I cannot go without!
This combination of Thai and Italian is a real winner with a bit of orange zest too!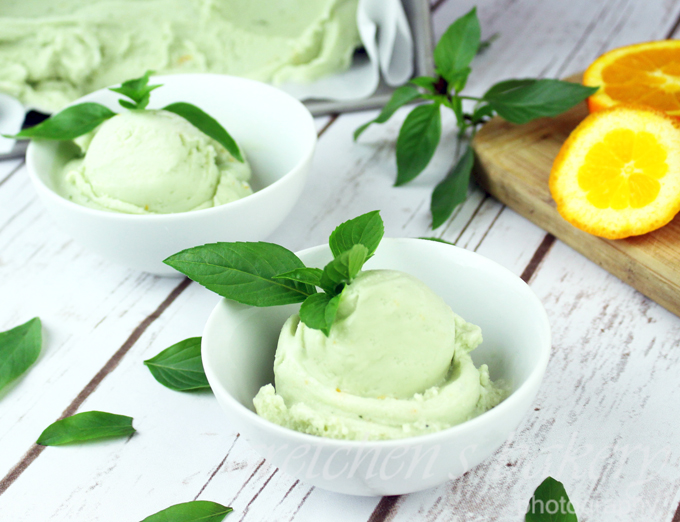 It's really easy to make; all you need is an ice cream machine and a garden of basil!
Ok, well maybe not a garden since all I used was one packed cup full and that's all you really need to get the fullest flavor busting out of this ice cream!
I've even added some black pepper to this recipe in the past so if you want that extra layer of allure of a spicy kick
Add about ¼ teaspoon of fresh cracked black pepper just before freezing in the machine.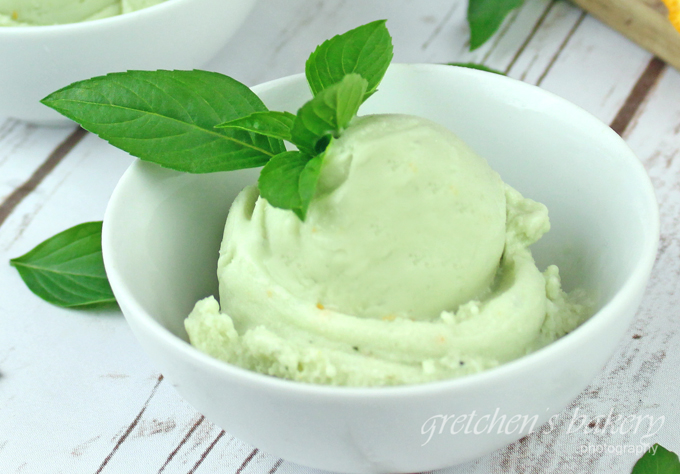 I have the older model of the Cuisinart Ice Cream Machine, but here is the newer version
For those who do not have an ice cream machine
For those who do not have an ice cream freezer it is possible to make ice Cream without an ice cream machine  CLICK HERE
CLICK HERE FOR THE FULL YOUTUBE VIDEO TUTORIAL FOR HOW TO MAKE THIS ICE CREAM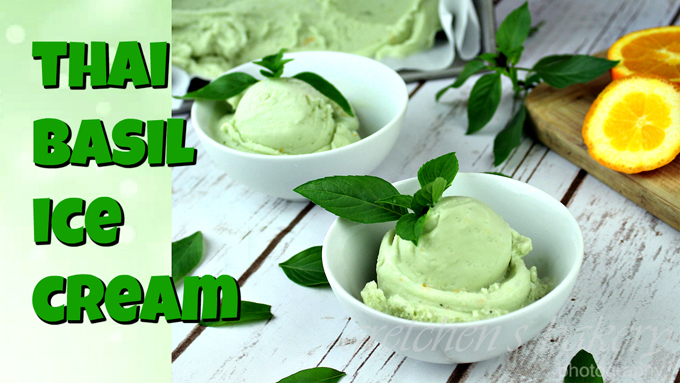 Thai Basil Ice Cream Vegan
Be sure to pack the basil leaves tightly into the measuring cup for the fullest flavor. I found that each half cup was 15g by weight
Ingredients
Full Fat Canned Coconut Milk 1 cans (15oz each)
Almond Milk (*or any milk alternative of your choice) 2 cups (474ml)
Thai Basil ½ cup packed tightly (15g)
Italian Basil ½ cup packed tightly (15g)
Orange zest from 1½ large oranges approximately 1 Tablespoon
Granulated Sugar ¾ cup (150g)
Arrowroot (or cornstarch) 3 Tablespoons (30g)
Xanthan gum ½ teaspoon
Vanilla Extract 2 teaspoons (10ml)
Green food color *optional as needed
Instructions
Combine both milks the sugar, orange zest and half the amount of each of the basil into a large sauce pot and heat over medium heat until it starts to bubble slightly.
Remove from the heat and cover it to steep for at least a half hour (you can do it overnight too for most intense flavor)
Strain the mixture, discard the basil leaves and the orange zest and then return the milk mixture to the sauce pot
Add the rest of the basil leaves and the arrowroot and reheat it over medium heat while stirring constantly.
It will start to thicken as it comes just under a boil and then you can remove it from the heat and add the vanilla extract and the xanthan gum and optional green food color.
Pour into a high speed blender or a food processor and process smooth
Transfer the entire mixture a bowl and cool to col before pouring into your ice cream machine as per the instructions on your particular model.
Once it is frozen to what is more like soft serve, transfer to a container and freeze solid.
Notes
Ice cream will stay fresh in an airtight container in the freezer for up to 1 month