This is the original recipe that sparked my love of food processor cake recipes!
Aptly named Orange Poppy lazy Loaf because admittedly I was lazy and wanted to see what would happen if I threw everything into the food processor!
The result: Perfection!
The whole orange with the skins and all go into the food processor!
Resulting in a super moist orange overload cake that is fluffy and spongy and so delicious!
It literally took 5 minutes to measure out and whiz up all the ingredients and then the bake time was around 40 minutes.
Drizzle with fresh orange sugar glaze and have yourself the easiest, tastiest snack loaf ever!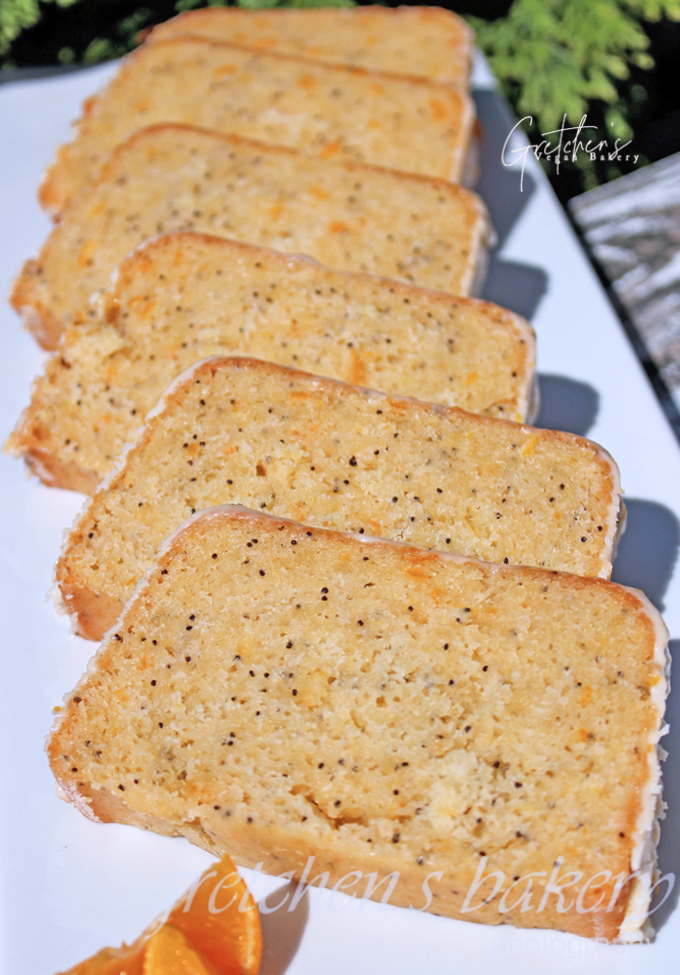 Or turn it into a layer cake like I did here for my Orange Cardamom Cake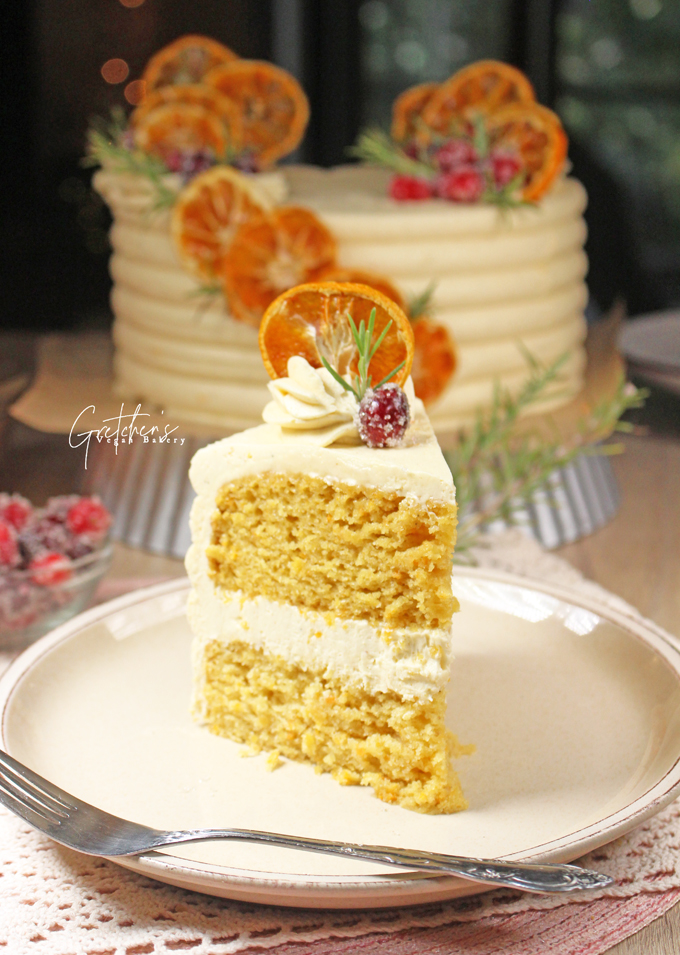 Candied oranges from the holiday season make another fabulous appearance!
But of course you can leave that part out!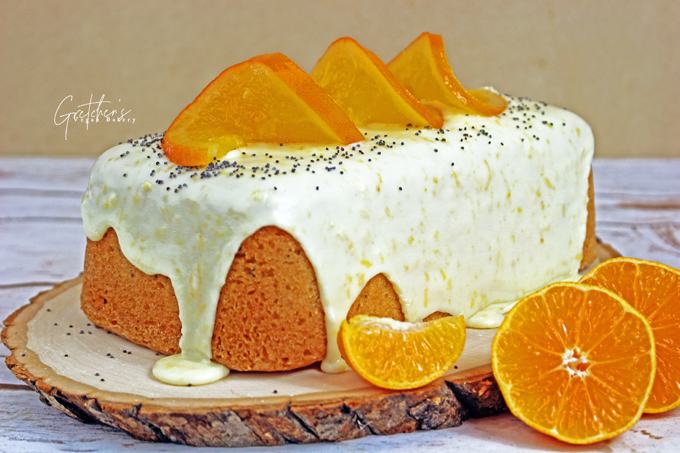 Notes for Success:
If you do not have a food processor a blender will work just fine
I am using Bob's Red Mill egg replacer for this recipe but I have also forgotten to use it once and it still came out great!
Read the note below the recipe for information about using flax as an egg replacer
Small oranges like clementines work the best for this recipe since the skin is very thin.
If using another orange that has a thicker skin I would recommend to cut away a portion of that white pith from the inside which is what gives oranges their bitter taste
This batter bakes perfectly into cake layers and cupcakes too! The recipe listed below will make 12 cupcakes or 3-6″ cake layers
CLICK HERE FOR THE YOUTUBE VIDEO TUTORIAL FOR HOW TO MAKE THIS CAKE!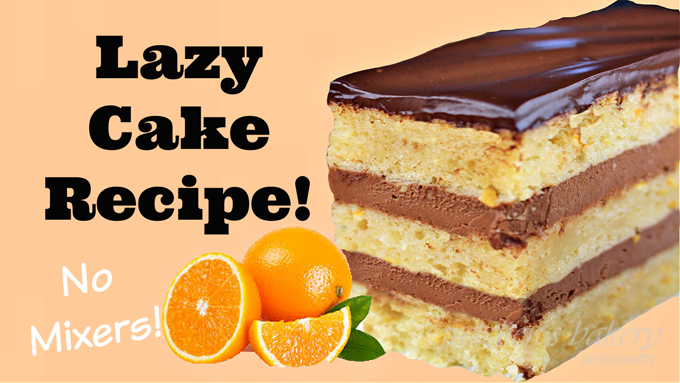 For more orange recipes click the links below!
Yield: serves 8 people
Orange Poppy Lazy Loaf
Ingredients
Plant Milk ¾ cup (177ml)
1 Small Navel Orange or 2 small clementines= total weight of orange with skin on is 5oz (that's approximately 2 small clementines or 1 small navel) total volume measure of pureed orange(s) with the skin on is a scant 1/2 cup
Vanilla Extract 2 teaspoons
All Purpose Flour 1¾ cup (220g)
Egg Replacer 1½ teaspoons *I am using Bob's Red Mill See notes below this recipe
Granulated Sugar 14 Tablespoons (195g)
Baking Powder 3 teaspoons
Salt ¾ teaspoon
Vegan Butter or Vegetable Oil 9 Tablespoons (126g)
Poppy Seeds 2 teaspoons *optional
For the Sugar Glaze:
Confectioner's Sugar 1 cup (120g)
Fresh Squeezed Orange Juice 1 Tablespoon(15ml)
Zest of 1 orange approx 1½ teaspoons
Poppy Seeds for garnish optional
Instructions
First pull of the hard stem of the orange is there are any and check the oranges for seeds by slicing them in half and remove seeds if there are any. The skins stay on the orange, so leave that intact.
Place all of the ingredients except for the poppy seeds into a food processor and processor until smooth batter (about 1 minute)
The orange goes in whole, skin and all! The skin is where the oil essence is and that gives the cake a beautiful orange flavor and fragrance unmatched by just the juice or any extract. Just be sure to cut them open first to see if there are any seeds, in which case remove the seeds first.
Fold in poppy seeds and pour batter into a greased loaf pan
Bake in a preheated oven at 350°F for approximately 40 minutes or until a toothpick inserted into the center comes out clean.
Cool in the pan until you are able to touch it with your hands without burning them, then flip the loaf out onto a cooling rack to cool the rest of the way.
Combine the confectioners sugar with the orange juice and zest and whisk smooth, pour over the loaf cake.
Notes
Cale loaf will stay fresh in an airtight container at room temperature for up to 2 days.

Refrigerate for longer storage wrapped well for up to 1 week
Freeze for 1 month
I felt like
this recent conversation on Facebook
was worth noting here.
Someone commented that when she made this recipe it resulted in a heavy, gummy cake that tasted great but was not great in texture.
Read More:
Hi Gretchen, I used a flax egg as I didn't had any store bought egg replacer but it turned so dense, even when cooling down it collapsed
ITS SO DELICIOUS THO but i wish it was more cake like and less bread pudding.Hey there, you mentioned using Flax as the egg replacer as opposed to the dry blend egg replacer I used.
I wrote:
First things first, flax is a high fat ingredient. I am not sure how you reconstituted it? If you even did?
But I wonder if you added more water/liquid to the recipe to do so? (Yes she stated that she did)
These two changes would cause a heavier result due to the fat in the flax and the added water/liquid to the recipe.
I would say that was what caused the tilt to "too much moisture" this is already a really moist cake when made exactly as I have it written
To add even just a simple 3 Tbs of water and the higher fat (fat=moisture) in the flax versus a drying & tightening property of a proprietary blend egg replacer this is most
likely what caused this result
Next time if you use flax I would suggest to take out about 1 Tbs of the oil in the recipe and reconstitute the flax with some of the liquid
that is already listed in the recipe – DO NOT ADD MORE.
It's just really important to understand the ingredients in your recipe since vegan baking can be slightly less forgiving than our past life experience with non vegan baking.
Also, I totally understand the need to change ingredients that you may not have on hand or want to buy, but now knowing what I explained about the high fat content in flax not to
mention the need to reconstitute it with added water- you can then start to understand why and how I make those suggestions with adjusting the other ingredients as well. It keeps it all in balance