Yes I said it, and I'll say it again The Best Vegan Lasagna Ever.
I am a lover of food, and my favorite meals are Italian American dishes with Lasagna being right there at the top of the list next to Stuffed Shells.
Imagine going vegan and thinking "I'll never eat my favorite foods again!"
Rubbish! That thought was fleeting because where there's a will there's a way and boy oh boy let me show you the way to: I repeat~ The Best Vegan Lasagna Ever!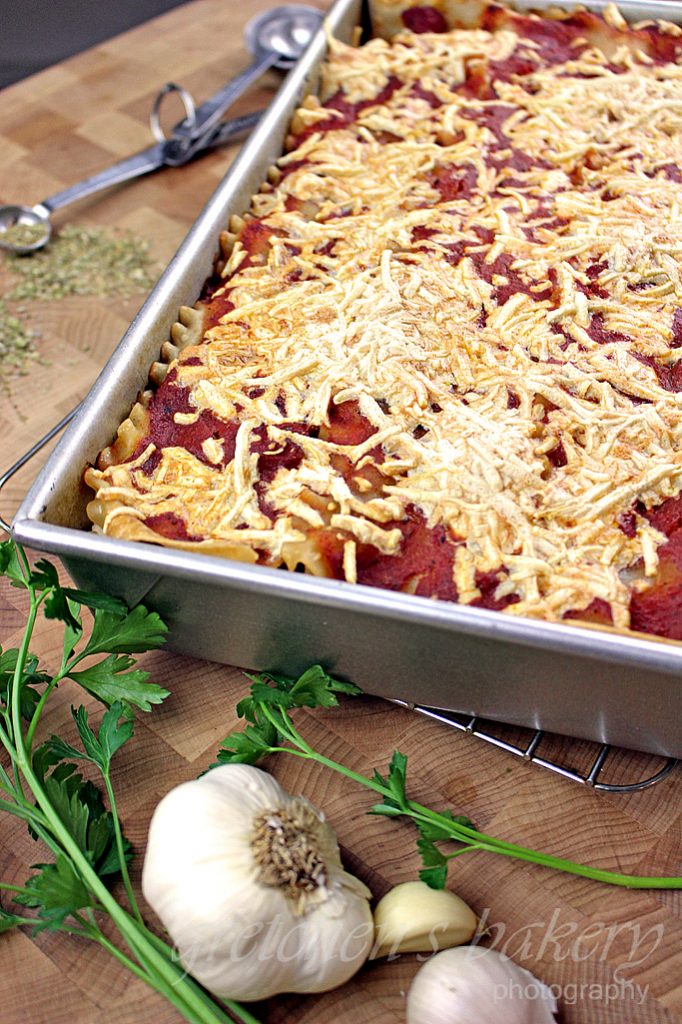 I will admit though that I make my lasagna different on occasion with all vegetables and no pasta one day, or a mix of vegetables and pasta on another day.
This time it includes roasted vegetables, pasta and a meat(less) layer loaded up with vegan ricotta by Kite Hill as well as a tofu ricotta that I made myself for those who can't get the commercial brand or just don't want to spend $9 for a tiny container!
Yes it is $9 for a small container of Kite Hill ricotta cheese and while it is worth it (?) because it is super tasty and I really love it, I don't always splurge those big bucks when I can make an equally delicious ricotta cheese mock-up from tofu and all the right seasonings.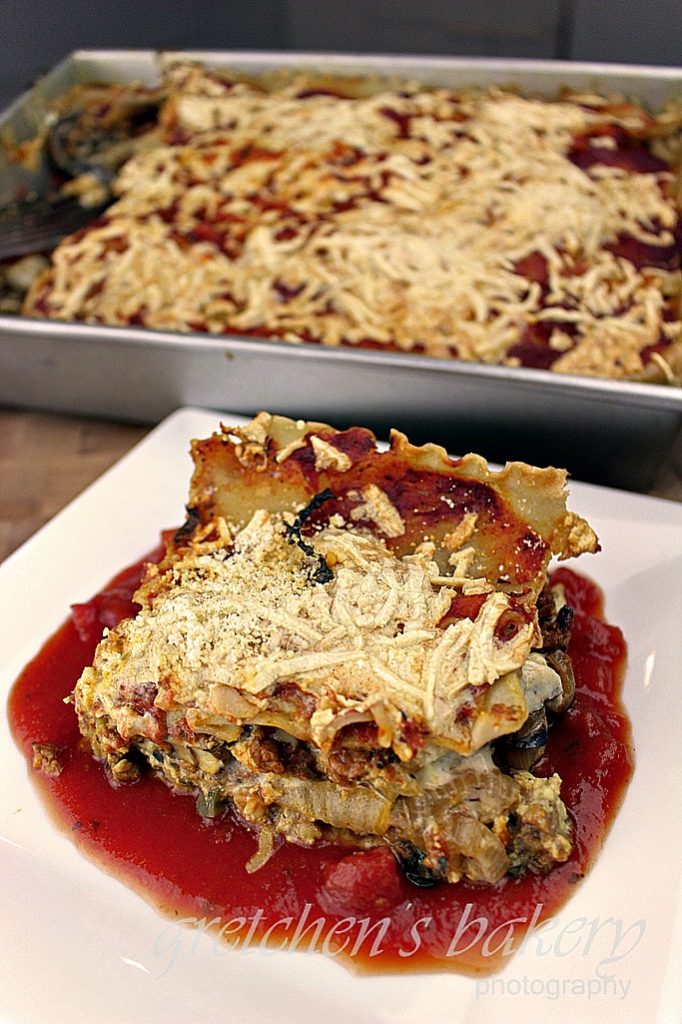 Check out all the recipes that go into this fabulous dish.
The recipe is very easy, but it does make a lot of dirty dishes!
Three saute pans & pots and a few bowls to be exact!
So get that dishwasher ready to rock and roll and prepare yourself for The Best Vegan Lasagna Ever!
Note that I am making this recipe in a 9″ X 13″ casserole dish or cake pan because I decided to run the entire gamut and include the pasta layers, the roasted veg layers and the cheese layers in this one, after all that is what makes this The Best Vegan lasagna Ever! LOL
Ok, I'll stop saying it….. or will I??
The Best Vegan Lasagna Ever
If you do not want to buy the Kite Hill or any commercial ricotta cheese simply double the ingredients below for the tofu ricotta
Ingredients
Brown Rice Lasagna Noodles 1 Box
Your Favorite Tomato Sauce 2 - 32oz Jars
Vegan Shredded Mozzarella Cheese 1 -16 oz Bag
Kite Hill Ricotta Cheese 12 ounce container
Gardien Meatless Crumbles 1 - 13.7oz bag
Sweet Onion 1 small diced
Green Pepper ½ small minced
Fresh Garlic 5 cloves *I like a lot of garlic!
Fresh Basil shredded to make ½ cup packed firm
Dried Oregano 1½ teaspoons
Dried Italian Seasonings 1½ teaspoons
Fresh Mushrooms 5-6 large thick sliced
Sweet Onion 1 large Sliced thick
Zucchini Squash 1 large sliced thick
For the Tofu Ricotta:
Firm Tofu ½ block drained
Nutritional Yeast ¼ cup
Black Pepper ¼ teaspoon
Crushed Red Pepper *optional ¼ teaspoon
Himalayan Pink Salt *or any salt ½ teaspoon
Garlic Powder 1 teaspoon
Fresh Parsley 2 Tablespoons
Lemon Juice 1 teaspoon
Vegan Parmesan Cheese 3 Tablespoons
Instructions
First prepare the brown rice lasagna noodles in a large pot of salted boiling water.
Make the tofu ricotta by combining the tofu, fresh parsley, garlic powder, salt, pepper, nutritional yeast, vegan parmesan cheese, about 1 cup of shredded mozzarella cheese and lemon juice together in a large mixing bowl and crumble the tofu with a fork while mixing everything together. Set aside
In a large saute pan cook the beefless crumbles until starting to brown (I am trying not to use oil in my cooking but sometimes add a tablespoon of olive oil to help it brown) add the garlic, minced green pepper and diced onion and cook stirring often until the veggies are cooked through. Add the basil, salt & pepper to season and 1 jar of the tomato sauce stir to combine, remove from heat and reserve.
Roast or grill the zucchini, sliced sweet onions and mushrooms just to render them slightly and also to help them release much of their water content, this is important to avoid a watery soggy lasagna.
Now that all the components are prepared you can assemble the lasagna.
Pour half of the second jar of tomato sauce in the bottom of a 9" x 13" casserole pan or cake pan.
Layer with half of the cooked lasagna noodles, then half of the "meat" mixture, a layer of tofu ricotta (or half of the total if you are using only tofu ricotta), the grilled veggies get layered next, about 1 cup of shredded mozzarella cheese, the Kite Hill Ricotta gets spread next (or the other half of the tofu ricotta), the remaining "meat" layer, then the remaining lasagna noodles and then top with the other half of the second jar of tomato sauce and the remaining shredded mozzarella cheese.
Bake in a preheated 375°F oven for 45 minutes, allow to cool for about an hour before serving to make clean slices, serve with more tomato sauce if desired