The cake that wants to be a pie?
Yes the Boston Creme Pie is actually a cake.
Let's get that out of the way first and foremost.
The story I have (and like the best) is that originally this cake was baked in pie tins because that was all they had in the Pennsylvania Dutch country back in the 1800's.
The Parker House Hotel claims it's fame though as the first restaurant to actually sell this type of cake.
And over a hundred years later this cake is still going strong!
Now veganized for everyone to enjoy!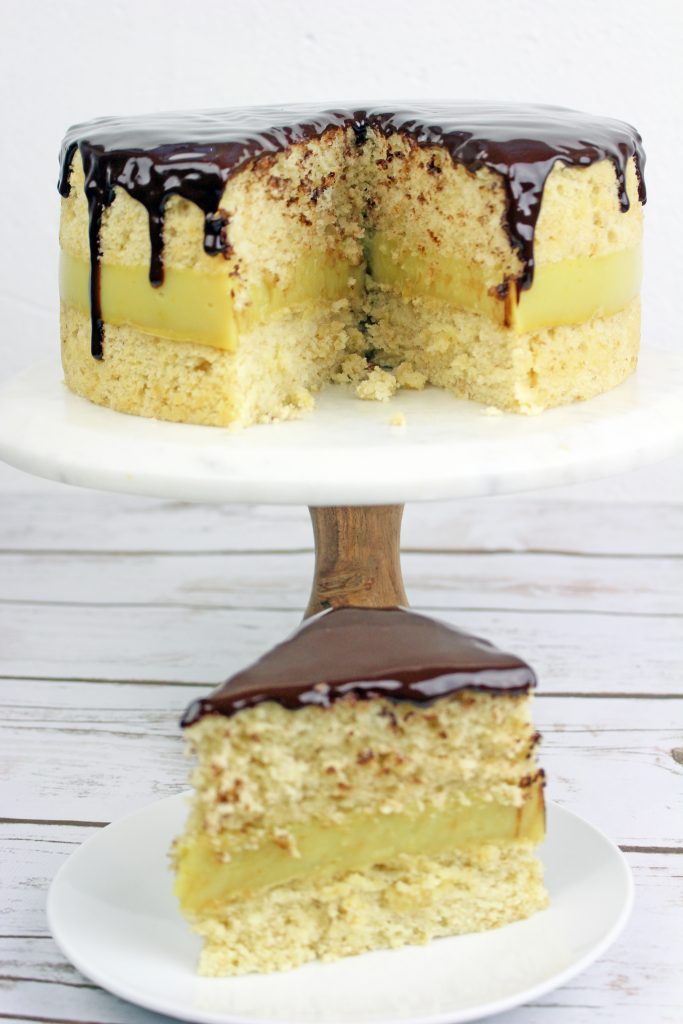 I often want to make some crazy over the top dessert that no one has ever seen before, but then I gravitate back to the classics.
I mean, you can never go wrong with the classics!
This vegan boston creme pie is classic to the core and dare I say better than any other one I've had before? (vegan or not!)
Check out how easy it is to make this rustic, yet stunning and surely delicious cake with my best recipe for vanilla cake as the base and a thick layer of vanilla custard filling.
Don't forget the ganache icing for a perfect marriage of flavors you are going to love!
Oh yeah and for those who want to learn more about egg replacers in vegan baking check out my online class here at Vegan Baking Mastery!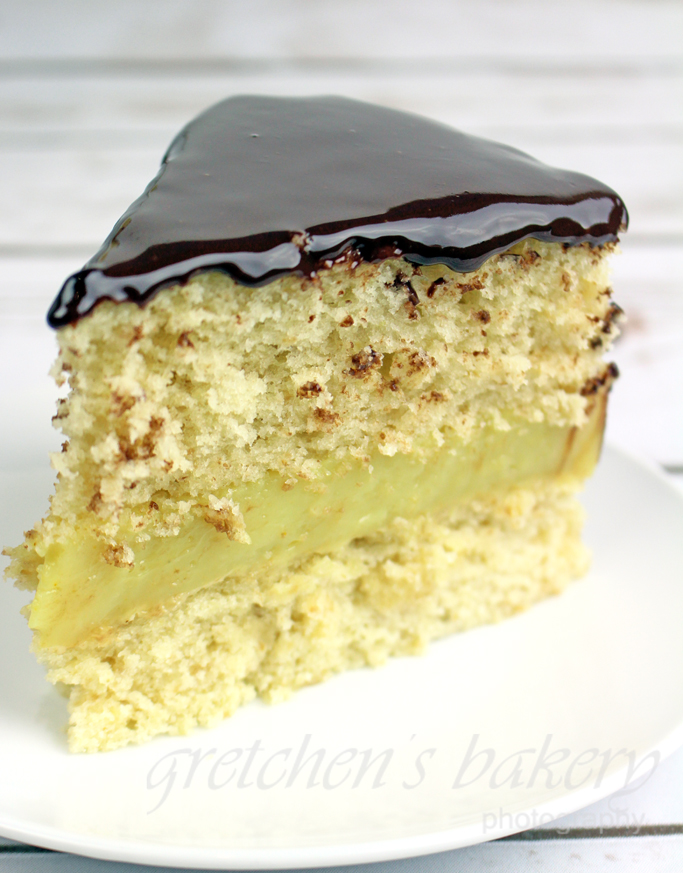 Vegan Boston Creme Pie
For those avoiding soy you can replace the milk in both recipes with almond milk or oat milk
Serves:
serves 12-15people
Ingredients
For the Cake:
Cake Flour 2½ cups (300g)
Baking Powder 4 teaspoons
Salt ½ teaspoon
Vegan Butter 12 Tablespoons (170g)
Granulated Sugar 1½ cups (300g)
Soy Milk 1½ cups (355ml)
White Vinegar 1 Tablespoon (15ml)
Vanilla Extract 1 teaspoon (5ml)
Flax Meal 4 Tablespoons (32g)
Hot Water 10 Tablespoons (150ml)
For the Custard:
Soy Milk 2¼ cup (533ml)
Granulated Sugar ¾ cup (150g)
Cornstarch 6 Tablespoons (50g)
Turmeric ¼ teaspoon
Vegan Butter 1½ Tablespoons (21g)
Vanilla Extract 1 teaspoon (5ml)
For the Chocolate Glaze:
Semi Sweet Vegan Chocolate *I use Baker's Brand it's cheap and good! 4 ounces (113g)
Soy Milk ¼ cup + 1 Tbs
Instructions
First prepare the cake batter
Combine the flax meal with the hot water and let stand to thicken
Add the vinegar to the soy milk to sour then add the vanilla extract
Sift the flour with the baking powder and salt
Cream the vegan butter with the sugar until light and fluffy and this may take about 3-5 minutes on medium to high speed
Add the flax paste to the creaming mixture while mixing on medium speed, scrape the bottom and sides of the bowl to incorporate evenly, whip on high for 30 seconds
Add about ⅓ of the flour to the creamed mixture while mixing on low speed just until combined, then add half of the remaining soured milk
Add another ⅓ of the flour and then the remaining sour milk
Add the last amount of flour and mix just to combine evenly.
Divide the batter between your 2 greased and parchment lined 8" cake pans and bake immediately in a preheated 350°F oven for approximately 35-40 minutes or until they are springy to the touch when you gently press the centers.
While cakes cool prepare the custard combine all the ingredients except for the vanilla extract and the vegan butter in a medium sauce pot over medium to high heat and bring to a boil stirring constantly to avoid scorching the bottom .
Once it starts to bubble let it boil on low heat for about 20 seconds.
Remove from the heat and add the vegan butter and vanilla extract and stir until melted and smooth.
Prepare the cake layers with an acetate strip as shown in the video and then pour the custard over the bottom layer then place the top layer of cake and let cool in the refrigerator while you prepare the ganache glaze
Combine the chocolate and milk together in a small sauce pot and stir constantly over low heat until melted and smooth
Pour over the top of the cake
Notes
Boston creme pie must be kept refrigerated but can stay out at room temperature for up to 2 hours.

Store in the refrigerator for up to 1 week wrapped to keep it from drying