I'll admit it, I know nothing about Harry Potter!
But when one of my viewers asked me to make a vegan Butterbeer Cake
I'll also admit that I was highly intrigued!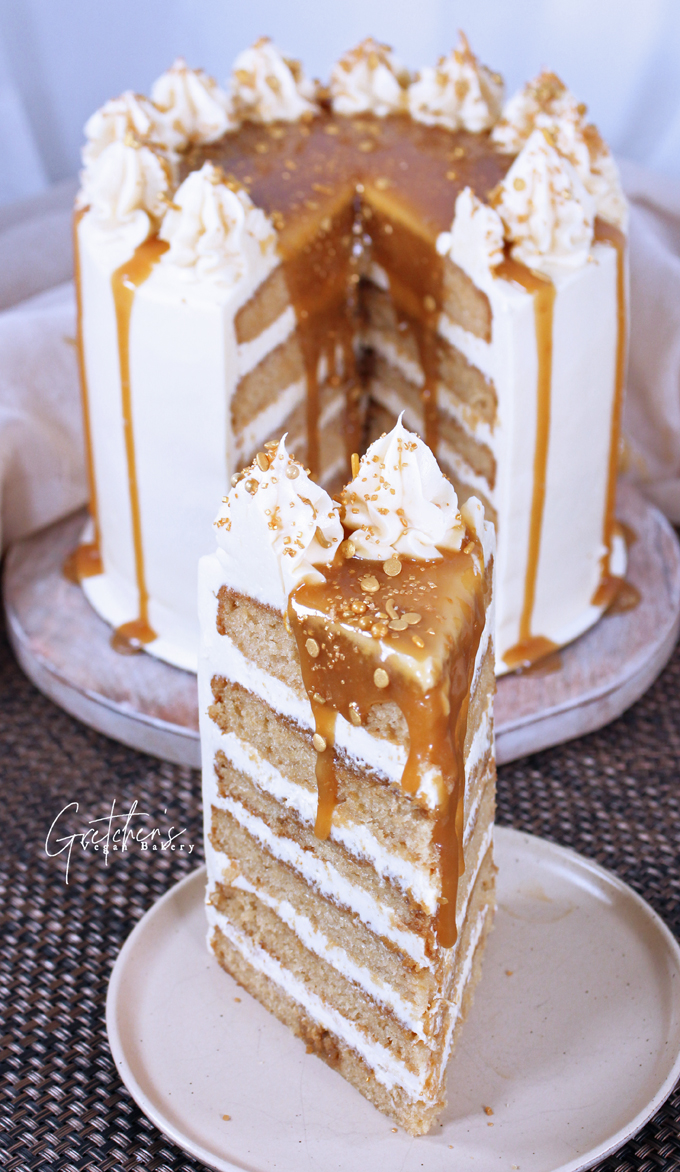 Upon researching this further I discovered that Butterbeer is a popular wizarding beverage
Described as tasting "a little bit like less-sickly butterscotch".
Students of Hogwarts School of Witchcraft and Wizardry would often buy it when visiting Hogsmeade.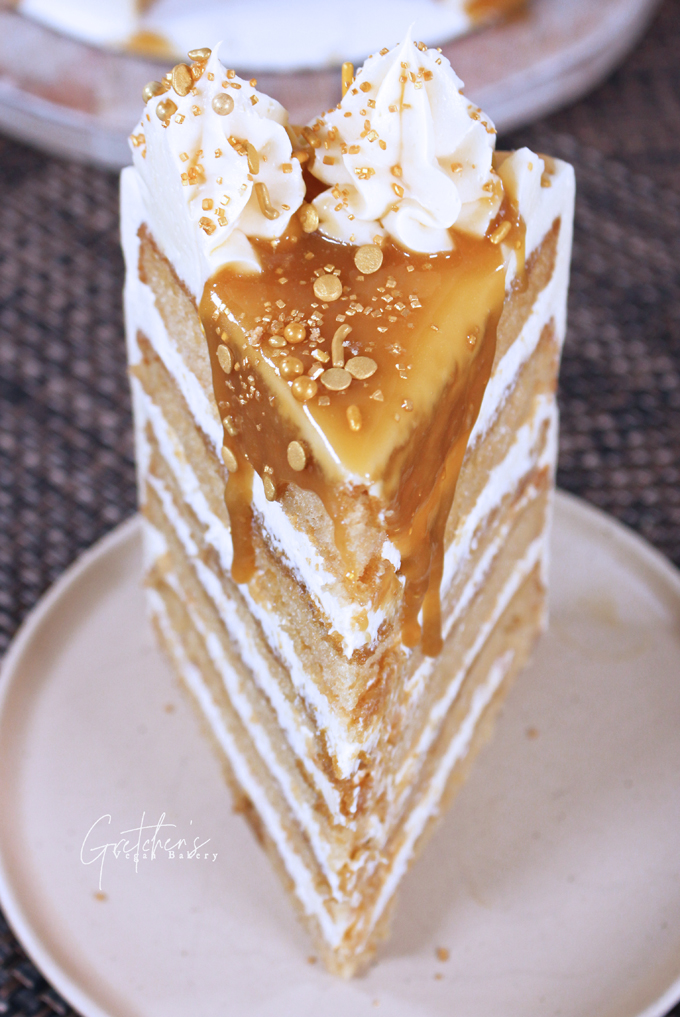 The drink is made with soda, sugar, heavy cream, butter and a tinge of rum
So naturally my cake must follow suit, vegan suit of course so I've replaced the cream with cream soda!
I will also not be adding the rum since I want to keep this one kid friendly; but feel free to indulge yourself by adding it to the buttercream!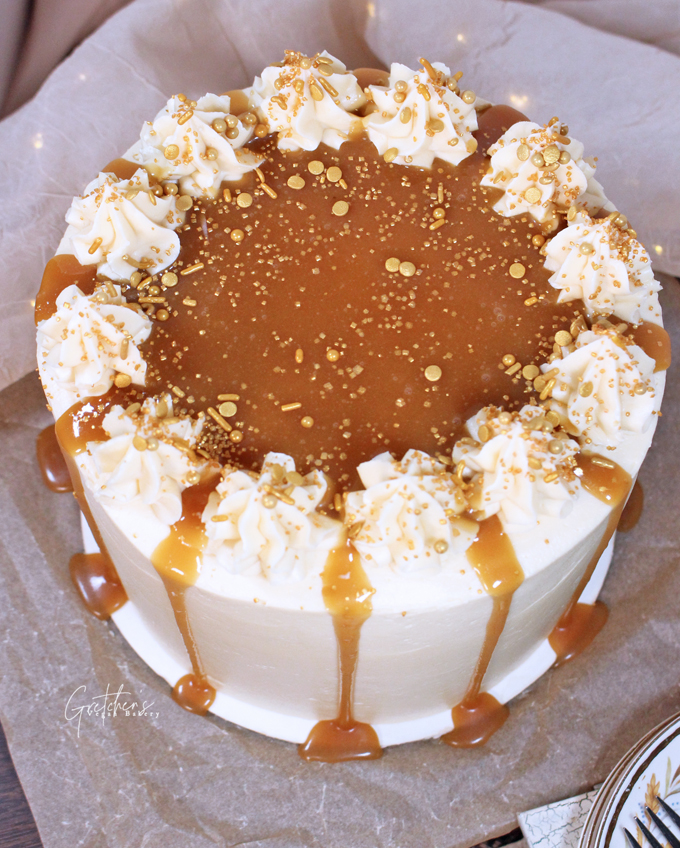 Pan Sizes & Notes for Success:
This recipe works great with a gluten free mix like Bob's Red Mill 1:1 AP Blend
Since I am making a 6 layer cake my layers are going to be much thinner than normal so the bake time is significantly less, about 18 minutes
You can of course use any size cake pans you prefer.
The batter will make
2- thick 8″ pans
1- 9″x13″ cake layer
6 -thin 7″ layers or 3- regular thickness 7″ cake layers
WATCH THE FULL YOUTUBE VIDEO TUTORIAL FOR HOW TO MAKE BUTTERBEER CAKE!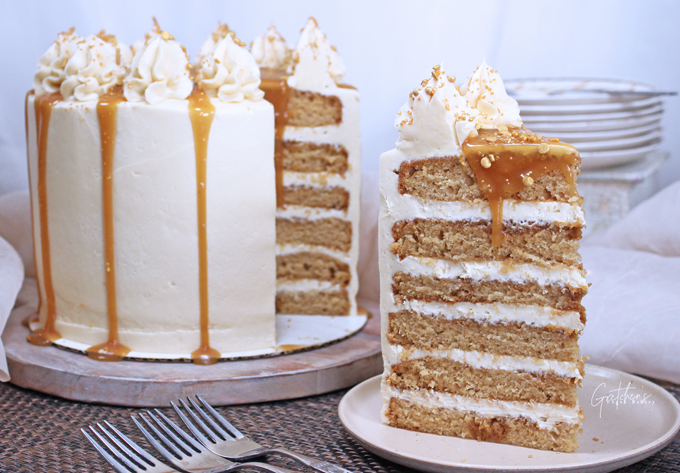 For more awesome layer cakes like this one click the links below!
Double Fudge Chocolate 7 Layer Cake
Strawberry Vanilla Ruffle Cake
Yield: serves 16ppl
Vegan Butterbeer Cake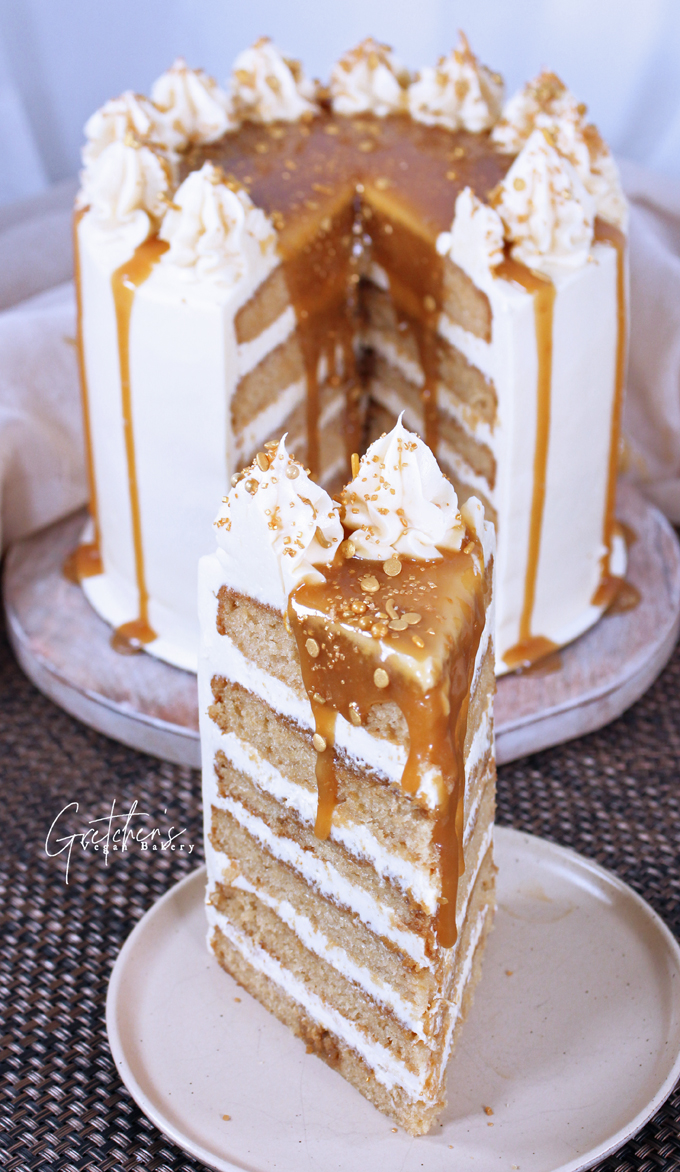 Total Time
3 hours
30 minutes
Ingredients
For the Butterscotch cake layers:
Soy Milk 1¾ cups (420ml) *divided into 1 cup /¾ cup
White Vinegar 3 teaspoons (15ml)
Vegetable oil ½ cup (118ml)
Vegan Butter 10 Tablespoons (140g)
Light Brown Sugar 1¾ cup (350g)
Salt 1 teaspoon
Vanilla Extract 3teaspoons (15ml)
All Purpose Flour 3 cups (375g)
Baking Soda 2 teaspoons (8g)
Baking Powder ½ teaspoon
For the Cream Soda Buttercream:
Vegan Butter 3 Cups (6 sticks) (336g)
Confectioners Sugar 5 cups (600g)
Vanilla Extract 2 teaspoons (10ml)
Butter Extract 1 teaspoon (5ml) *optional
Salt ¼ teaspoon *optional
Cream Soda reduction scant ¾ cup
For the Cream Soda Soak: *optional
1 Can Cream Soda (355ml)
2 Tablespoons Molasses (30ml)
Instructions
Preheat the oven to 350°F and then grease & parchment line your cake pans
I am using 6-7" cake pans *see notes above about pan sizes
First prepare the butterscotch by separating out 1 cup of the plant milk for the cake batter and the other ½ cup for the butterscotch
Make the butterscotch with the light brown sugar and vegan butter combined in a medium sauce pot stirring constantly as you bring it to boil~ be sure the pot is larger than you suspect because it will bubble up!
Once it starts to boil and the butter is melted add the salt and the ¾ cup plant milk, allow it to boil for about 5 minutes stirring and carefully watching it doesn't boil over.
Transfer the butterscotch to a heat proof glass or bowl and cool
Once the butterscotch is cooled to at least 135°F take out 1/3 cup for the drip and refrigerate it for later
Now add the baking powder & baking soda to the flour in a large mixing bowl and set aside
Combine the soy milk with the vinegar and let stand for 5 minutes to thicken. *Soy milk is the only plant milk that will thicken, but you can use another milk if you prefer
Pour the cooled butterscotch along with the other wet cake ingredients into the dry ingredients in the mixing bowl and whisk everything well by hand, about 50 strokes to develop the batter
Divide the batter into the greased and parchment lined pan(s) and bake immediately in the preheated 350°F oven for about 20-25 minutes or when you gently press the centers they are springy to the touch. Or do the toothpick test for moist crumbs. **see notes above for pan sizes
Cool the cakes in the pans until you can safely touch them without burning yourself then turn them out onto a cooling rack to cool the rest of the way.
Prepare the cream soda reduction for the buttercream by pouring 1 can of cream soda into a small sauce pot and cook over medium heat for about 15-20 minut4es until it has evaporated in half
I started with a 355ml can of soda and ended up with about 177ml after 20 minutes
Cool the soda reduction completely and then prepare the buttercream recipe
With the paddle attachment whip the vegan butter on high speed for about 3 minutes.
Add the salt and extracts and whip for another minute
Stop mixer and add the sifted confectioners sugar all at once.
Mix on low speed until incorporated & then scrape the bottom and sides of the bowl again and then mix on high speed for another 3 minutes.
Begin adding the cream soda reduction 1-2 Tablespoons at a time while continuing to whip on medium speed.
Next combine the other cream soda for the soak with the molasses and stir together
Now build the cake as shown in the video tutorial
Notes
Butterbeer cake can be left at room temperature for a full day in cool dry climates

For longer storage keep refrigerated for up to 1 week, loosely wrapped to prevent drying
*The butterscotch drip will be fine in the refrigerator unlike caramel drip that will tend to melt.