This is an old one but a good one!
My mom made these candy cane cookies every year from as long as I can remember until just a few years ago when she stopped baking altogether.
These are nostalgia for me and I just had to add them to my 12 Days of Christmas Cookies recipe series!
So festive with a drizzle of white chocolate and then dipped into some Christmas Non Pariels!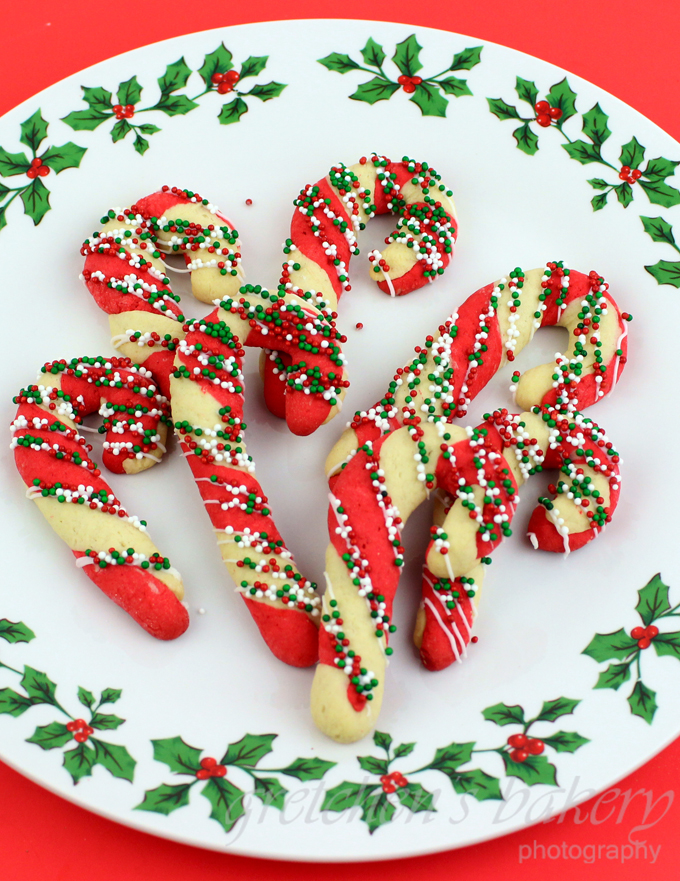 Moms cookie recipe for Candy Cane Cookies always had a hint of almond extract which I love, since most people who make these add mint extract instead.
So of course you can use whatever flavoring you like, but the one flavor you choose is the main attraction here, as this cookie is quite a plain cookie after all.
Slightly crispy outsides with soft chewy insides!
The vegan white chocolate drizzle and non pariels really add an extra pizazz to them; something my mom didn't do (shhh don't tell her mine are better than hers!)
Vegan Candy Cane Cookies
You may see that I am using
The Plant Based Egg by Freely Vegan
as the egg replacer in almost all of my desserts now. If you do not want to buy it or cannot get it, you can sub in another proprietary blend egg replacer of your choice results may vary.
Ingredients
Vegan Butter 7 Tablespoons (98g)
Granulated Sugar ½ cup + 2 Tablespoons (128g)g)
Plant Milk 5½ Tablespoons (82ml)
Almond Extract 1 teaspoons
Vanilla Extract 1 teaspoon
Salt ¼ teaspoon
All Purpose Flour 1¾ cups (220g)
Baking Powder ½ teaspoon
Egg Replacer *I am using The Plant Based Egg by Freely Vegan 1 teaspoon *see note above
Instructions
Cream the vegan butter and sugar on high speed for about 4 minutes until light and fluffy
Sift the flour, egg replacer, baking powder, and salt together and combine the plant milk with the extracts
Add 3 tablespoons of the plant milk to the creamed mixture and be sure to scrape the bottom and sides of the bowl from time to time to ensure an even mix
Add the sifted dry ingredients while blending on low until it is all incorporated and then add the remaining plant milk, mix well to combine
Divide the batter in half and color half of it red *red food color here
It will be a soft dough, but not too difficult to handle with some additional flour for rolling into logs.
Roll the dough into logs about 10" long and then cut into 32 equal sized nuggets.
Roll each little nugget of dough into another tube about 3" long and then twist one red one with one white one and form into a candy cane shape. *See video tutorial for more
Place on a parchment lined sheet pan and bake in a preheated 350°F oven for approximately 18-20 minutes or until light golden brown
Cool completely then drizzle with optional white chocolate and dip in non pariels
Notes
Store cookies at room temperature in an airtight container for up to 2 weeks

Freeze for up to 1 month