Black Forest Cookies are quite possibly my favorite cookie of of all time!
This recipe has been with me for over 20 years and now it is veganized for everyone to enjoy!
Add these to your holiday cookie platter this year for a really unique twist from the classics!
Fudgy brownie-like cookies studded with brandy soaked cherries and chocolate chips!
(yes you can leave the brandy out, see note below)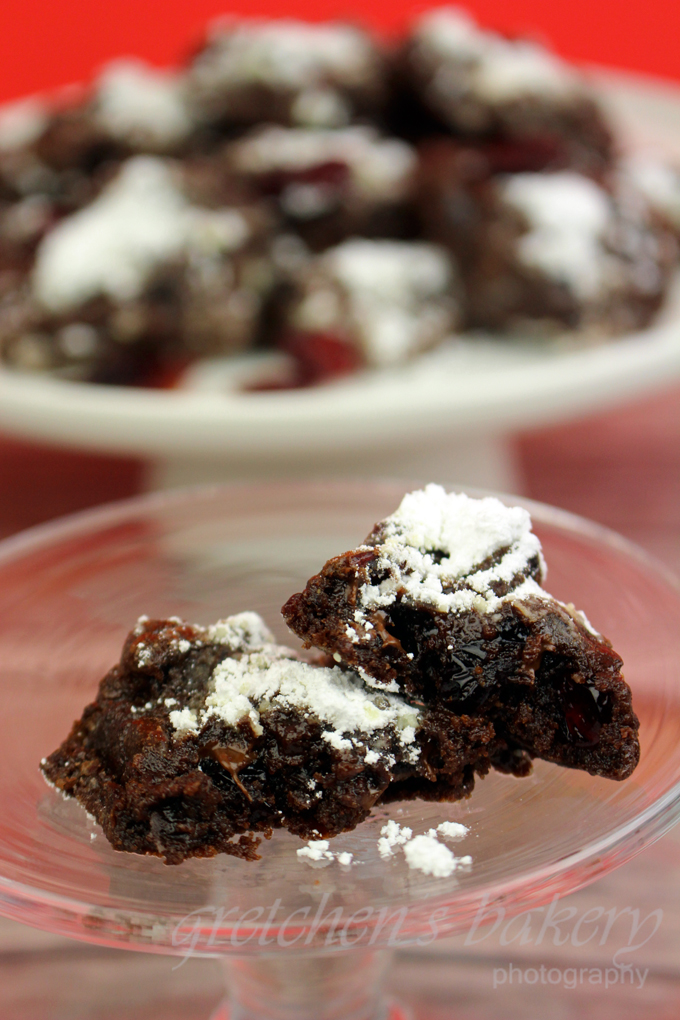 Basically they are moist fudge-y crinkle cookies kicked up to an adult level!
I will advise that you make a double recipe though, they are that good!
These cookies are part of my 12 Days of Christmas Cookies this year!
Black Forest Cookies
I am using the
Plant Based Egg Egg replacer by Freely Vegan
(as I have been for most of my recipes lately) I think it is the best but if you do not want to buy it or cannot get it, you may use another proprietary blend instead, however I have not tested it with another egg replacer, so results may vary slightly.
Ingredients
Semi Sweet Vegan Chocolate finely chopped 1 cup packed (113g)
Unsalted Butter 2½ Tablespoons (35g)
Granulated Sugar ¼ cup (50g)
Strong Brewed Coffee (cold) 2 Tablespoons
Vanilla Extract 2 teaspoons
All Purpose Flour ½ cup + 2 Tbs (78g)
The Plant Based Egg Egg replacer by Freely Vegan 4 teaspoons *see note above
Baking Powder ¼ teaspoon
Salt pinch
Dried Cherries ¾ cup (100g)
Cherry Brandy or for alcohol free use Cherry Juice approx ½ cup
Mini Chocolate Chips ⅓ cup (65g)
Instructions
Pour cherry brandy or juice over dried cherries and let stand for about 30 minutes to overnight, drain, discard liquid
Melt chocolate with the salt and vegan butter- cool slightly
In a large mixing bowl combine granulated sugar, vanilla extract and cold coffee, whisk smooth.
Add melted chocolate & vegan butter mixture, whisk smooth
Add flour, egg replacer and baking powder, mix just until combined.
Add the drained plumped cherries and chocolate chips and mix to combine.
Refrigerate for at least 1 HOUR.
Scoop with a #100 scoop and place on a parchment lined sheet pan spaced approximately 2" apart.
Dust with powdered sugar *optional
Bake in preheated 350°F oven for about 12-14 minutes
When they are cool dust with more powdered sugar to spruce them up a bit *optional
Notes
Store at room temperature in an airtight container for up to 1 week.


Freeze for 1 month
*One of my YouTube followers suggested I add candied orange to these instead of the cherries and since I LOVE chocolate & orange together I did it!
They were awesome!!!  All I did was switch out the cherries for candied orange and instead of semi sweet chocolate I used bittersweet since the candied orange have added sugar.
I highly recommend it! So good!!