Yes another cheesecake! I know! I know! I am obsessed!
If you have tried any of my Vegan Cheesecake Recipes though, you will know why I can't get enough of it!
This time I made a fresh compote from mango to pile on top of my famous vegan NY Style Cheesecake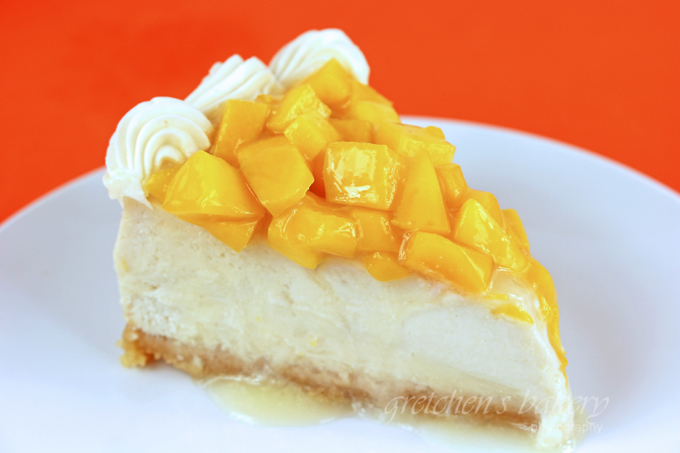 If you know anything about me and my cheesecake obsesssion
You will know that I have been adding everything but the kitchen sink to it to make tons of different fabulous combinations!
From Oreo Cheesecake  to Red Velvet Cheesecake and even as far as a Baklava Cheesecake!
This base recipe for cheesecake is so versatile you will quickly see why it is the base canvas for all my cheesecake variations!
You may notice that my base recipes for cheesecake are always the same with some slight variations to sugar or an added spice
And at times I add an addition of firm tofu in place of some of the cream cheese.
For a more dense NY style Cheesecake I find straight vegan cream cheese will achieve this texture
But for a lightened up version and to cut some of the fat calories I like to add a small portion of tofu instead.
I do not find an extremely noticeable difference in the outcome so for me I like the tofu version best
Additionally I only use Tofutti Cream Cheese for my BAKED recipes.
*Not sponsored
I have not had success with any other brand in BAKED recipes.
For some reason the other more expensive brands I've tried have broken down into an oily mess when baked.
If you want to see that disaster caught on video check out my Cranberry Cheesecake where I used Violife for the first time.
CLICK HERE FOR THE CRANBERRY CHEESECAKE DISASTER!
But let's get back to this luscious combination of mango and pure vanilla goodness!
CHECK OUT THE FULL VIDEO TUTORIAL ON YOUTUBE TO SEE HOW EASY IT IS TO MAKE THIS CHEESECAKE!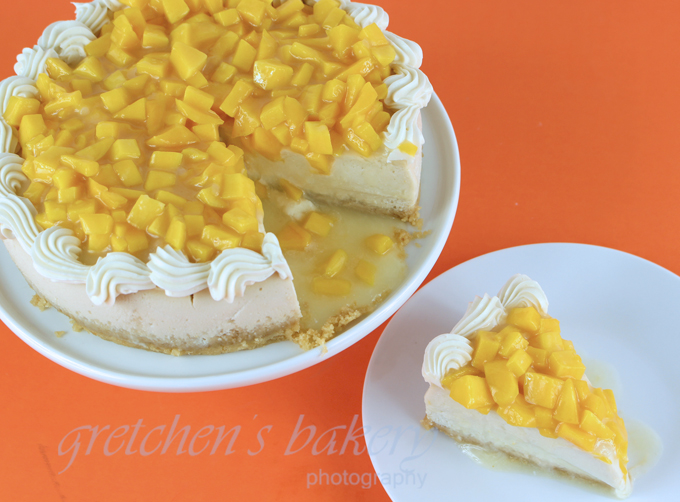 Vegan Mango Cheesecake
Ingredients
For the Cheesecake Batter:
Vegan Cream Cheese *see notes 12ounce (340g)
Firm Tofu 4 ounces (113g) **see note above
Vegan Butter melted 2 tablespoons (28g)
Granulated Sugar 1 cup (200g)
Cornstarch 4 Tablespoons (32g)
All Purpose Flour 3 Tablespoons (24g)
Plant Milk *I use soy milk 6fl oz (177ml)
Vegan Lactic Acid or apple cider vinegar 1 teaspoon
Salt ¼ teaspoon
Vanilla Extract 3 teaspoons (15ml)
For the Crust:
Graham Cracker Crumbs 1½ cups
Granulated Sugar ¼ cup
Melted Vegan Butter 3 Tablespoons
For the Mango Compote:
2 Large Mango small diced (approx 2 cups)
Water ½ cup (120ml)
Granulated Sugar ¼ cup (50g)
Granulated Sugar 2 Tablespoons (25g)
Cornstarch 2 tablespoons (20g)
Water 2 Tablespoons (30ml)
Instructions
Prepare the crust by crushing approx 10 sheets of graham crackers with the sugar in a food processor and then add the melted vegan butter
Press it into the prepared 7" cake pan and freeze while you prepare the cheesecake batter
Place all cheesecake ingredients into a food processor and process until smooth
Pour batter into prepared pan and bake in a water bath in a preheated 350°F oven for 1 hour, then turn the oven off and leave the cheesecake inside for another hour.
Remove from the oven and refrigerate overnight before unmolding
In the meantime you can make the Mango Compote by combining the first measure of sugar with the first measure of water and bring to a boil.
Combine the second measure of water with the cornstarch and second measure of sugar and whisk smooth (this is called a slurry)
Once the sugar water in the pot comes to a boil add the slurry and whisk smooth while bringing back to a full rolling boil to activate the cornstarch.
Remove from the heat and add the diced mangoes, stir to coat well.
Transfer to a bowl to cool completely then refrigerate overnight and top the cheesecake with it in the morning.
Notes
Cheesecake must be kept refrigerated at all times in an airtight container for up to 10 days.