Toasted Coconut Caramel Ice Cream Sandwiches!
If that name doesn't do enough for you, just look at the picture!
You want them.
I know you do.
And you're in luck because you can make these as easy or advanced as you like by making everything from scratch or going 90% store bought
The cookie for the sandwich is really the star of the show here, so you definitely have to make at least that recipe.
But the ice cream, caramel and whipped cream can be store bought
Which means you can be eating these delicious ice cream cookies in less than 1 hour!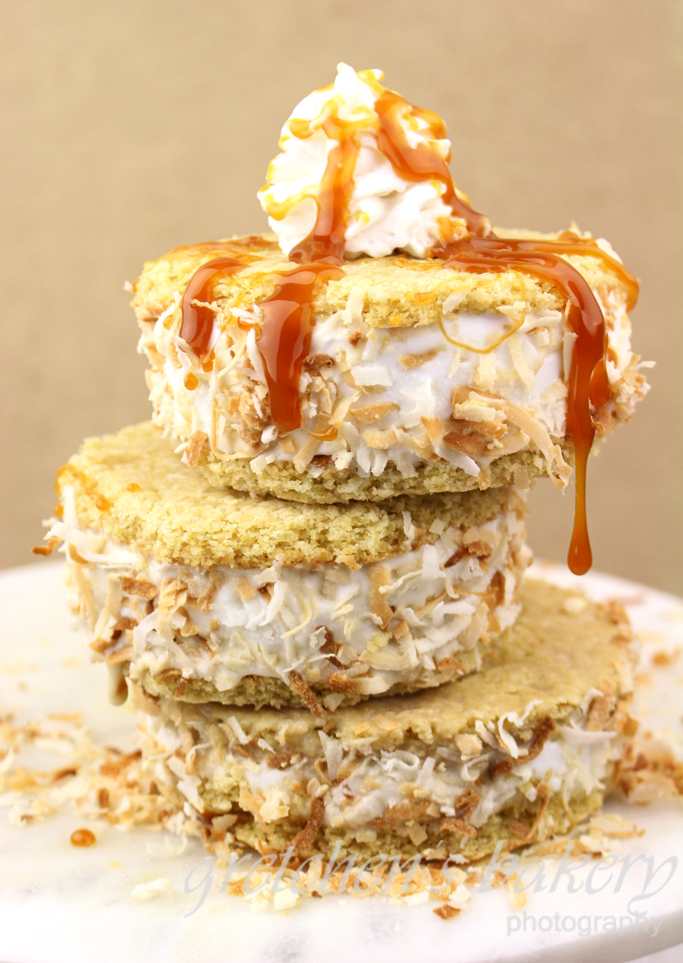 Listed below is the recipe for the vegan caramel sauce and for the cookie
If you want to make your own vegan Ice Cream you will have to search for another recipe since I have not really gotten into making much ice cream here on my website
I think there are just so many great options available at the supermarket nowadays that I cannot beat any of  them in time, taste or value!
But by all means make your own if you are so inclined!
CLICK HERE FOR THE YOUTUBE VIDEO TUTORIAL FOR HOW TO MAKE THEM!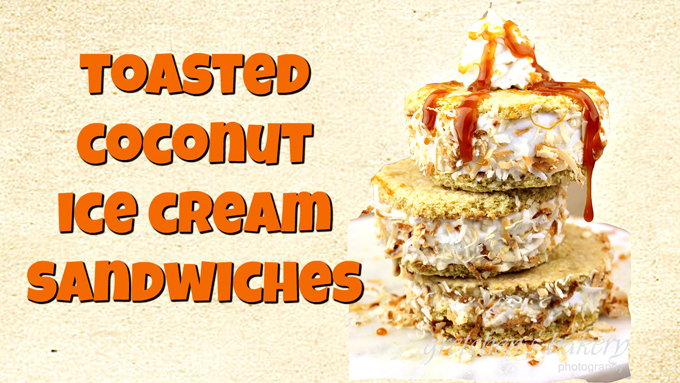 FOR MORE RECIPES USING COCONUT CHECK OUT THESE LINKS!
3 RECIPES USING COCONUT WATER~ CINNAMON BUNS ~ TRINIDAD SWEET BREAD ~ COCONUT ORANGE COOKIES!
Toasted Coconut Caramel Ice Cream Sandwiches
I have used both unsweetened coconut and sweetened coconut flakes ground fine instaed of actual coconut flour for this recipe. I like the texture that finely ground coconut lends to the cookie.
The recipe below is listed for sweetened flake coconut so I have adjusted the sugar in the recipe to compensate for the added sugar in the coconut.
If you are using unsweetened flakes you may want to increase the sugar by 2 Tbs or leave it as is - I preferred a less sweet cookie so I did not add more sugar.
Serves:
6 Large Sandwiches
Ingredients
For the Cookie:
Vegan Butter 6 Tablespoons (85g)
Granulated Vegan Sugar ½ cup (100g)
Plant Milk 6 Tablespoons (90ml)
Vanilla Extract 1 teaspoon
Coconut Extract 1 teaspoon
Almond Extract *optional ¼ teaspoon
Egg Replacer 4 teaspoons (*I am using The Plant Based Egg at 9.6g weight)
Cornstarch 1 Tablespoon (6g)
All Purpose Flour 1 cup (125g)
Coconut Flour or fine ground coconut flakes ¾ cup + 2 Tbs (80g)
Salt ½ teaspoon
Baking Powder 1 teaspoon
Baking Soda ¼ teaspoon
1 Pints of Your Favorite Ice Cream- I am using Haagen Das Coconut Caramel Non Dairy
1 Cup Toasted Flake Coconut for garnish
Caramel Sauce Recipe:
½ cup Palm Sugar Paste Or Vegan Granulated Sugar is also fine here
½ cup coconut milk (120ml)
Salt pinch
Vanilla Extract 1 teaspoon
Instructions
Grind the coconut flakes to a finer consistency in a spice grinder or a food processor.
Combine the room temperature plant milk with the extracts
Sift the flour, baking soda, baking powder, salt, cornstarch and plant based egg together
Cream the vegan butter with the sugar for about 3 minutes on medium to high speed until light and fluffy and then add the plant milk 1 Tablespoon at a time while mixing on medium speed.
Add the sifted dry ingredients all at once and mix thoroughly until incorporated then add the coconut last.
Scoop with a 2ounce scoop into parchment lined or silicone sheet pans and then flatten the cookies with your hand to the size you want them to be because they barely spread at all in the oven (hands dipped in water will help the batter not stick to you!) , then bake in a preheated 350° F oven for approximately 12-15 minutes or until starting to get golden browned
Cool completely then sandwich with your favorite ice cream and roll them in toasted coconut
To make the optional caramel sauce:
Combine the sugar or palm sugar and coconut milk together in a sauce pot and whisk smooth until it starts to boil
Once it boils reduce heat to medium and stop stirring and let it reduce to almost half the original volume (which would be about ½ cup) this should take about 5 minutes, not much longer
Add the salt and vanilla extract and swirl the pan to combine
Pour into a heat proof container to cool completely