One recipe to make dozens of muffins? How is that even possible?
Introducing the only muffin recipe you will ever need and it's never been easier!
Today I made four totally different muffins from one base recipe!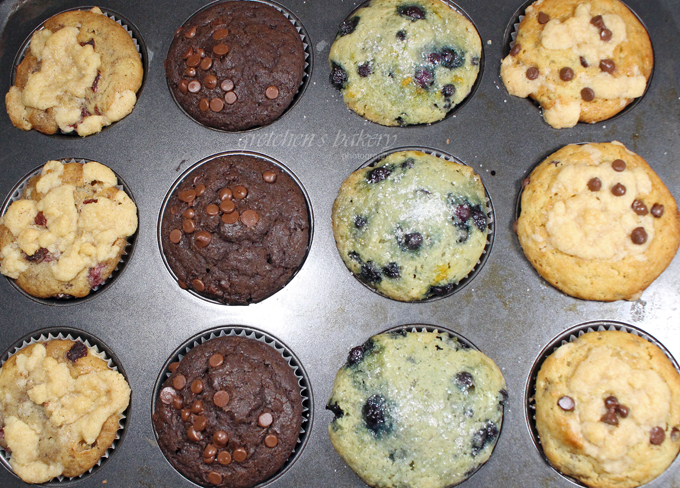 I narrowed it down to these four, but dozens more possibilities are just waiting for you to dream up!
Add nuts and spices and dried or fresh fruits!
Interchange the berry with a fruit you like better or make it a coffeecake swirl muffin with cinnamon throughout!
Whatever flavors you like the best you will see how easy it is to incorporate just about anything into this batter
The best part is, there are no mixers required, but you will need several bowls!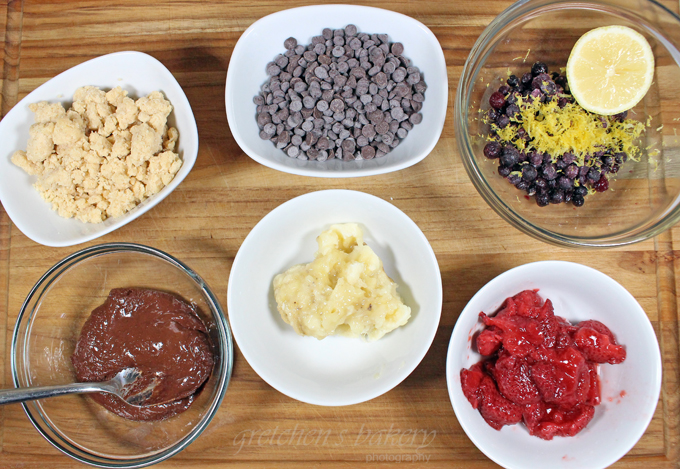 My top four picks today happened to be
Banana Chocolate Chip Streusel *recipe listed below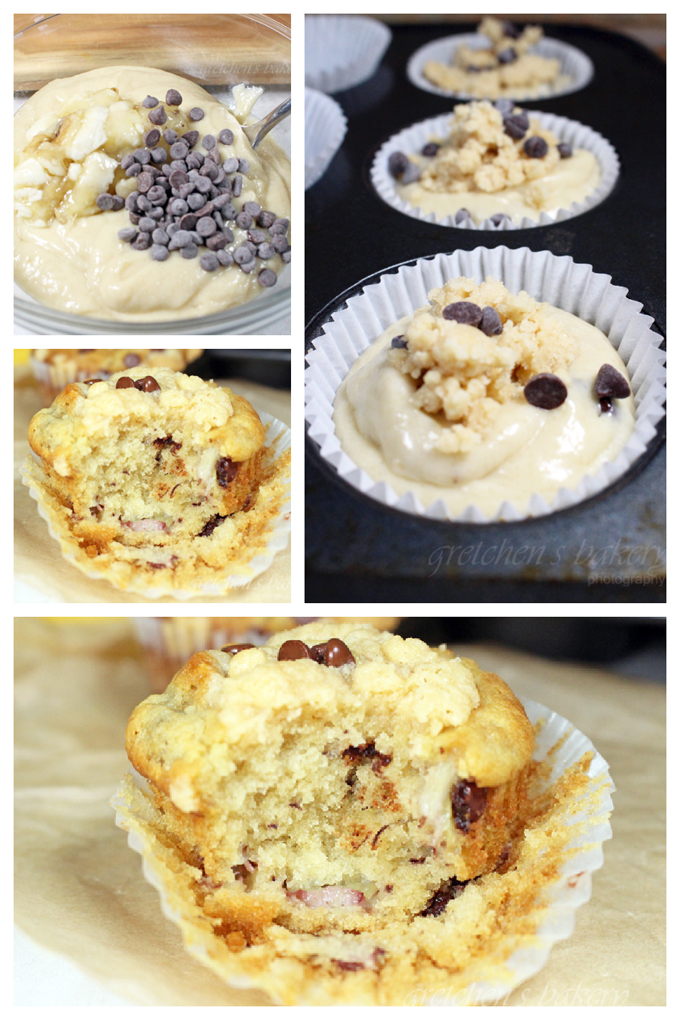 Blueberry Lemon *recipe listed below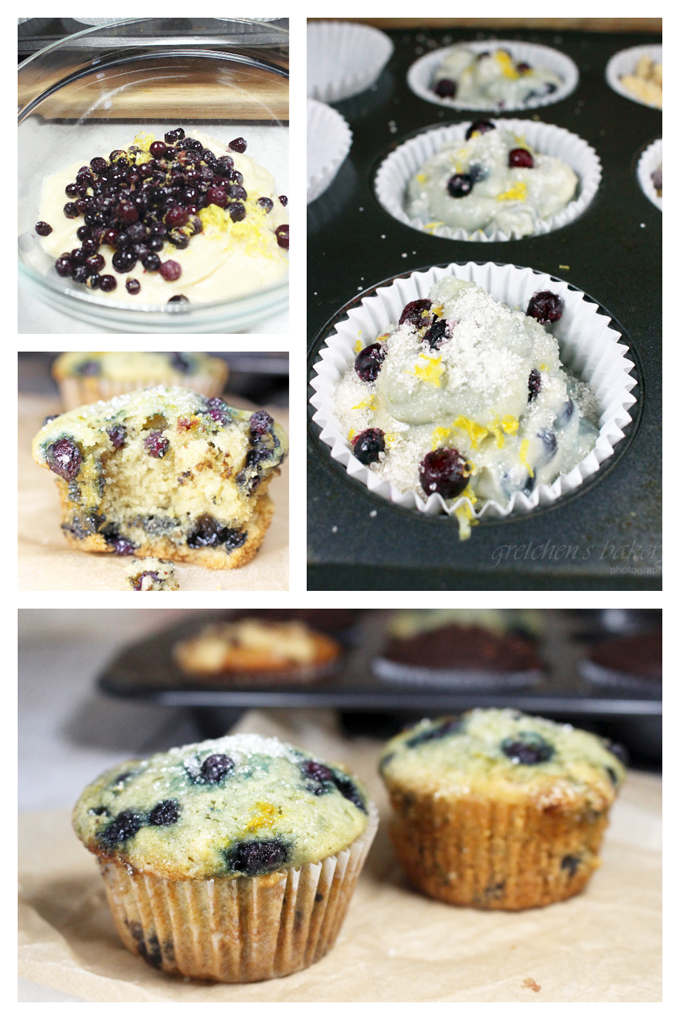 Strawberry Crumble *recipe listed below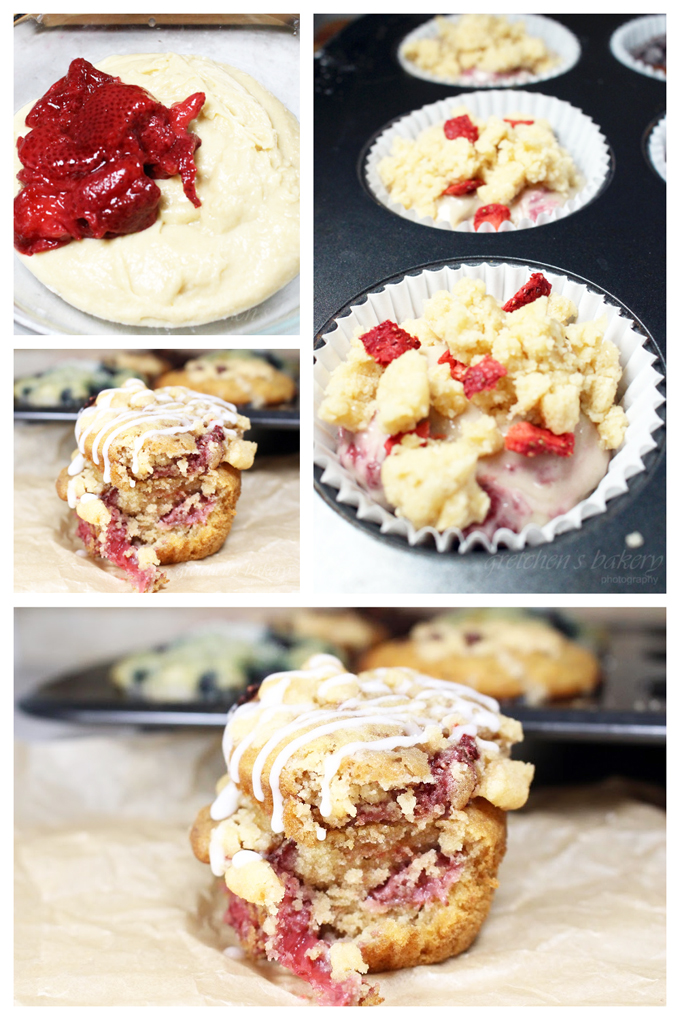 And last but definitely not least,
Double Chocolate Chip *recipe listed below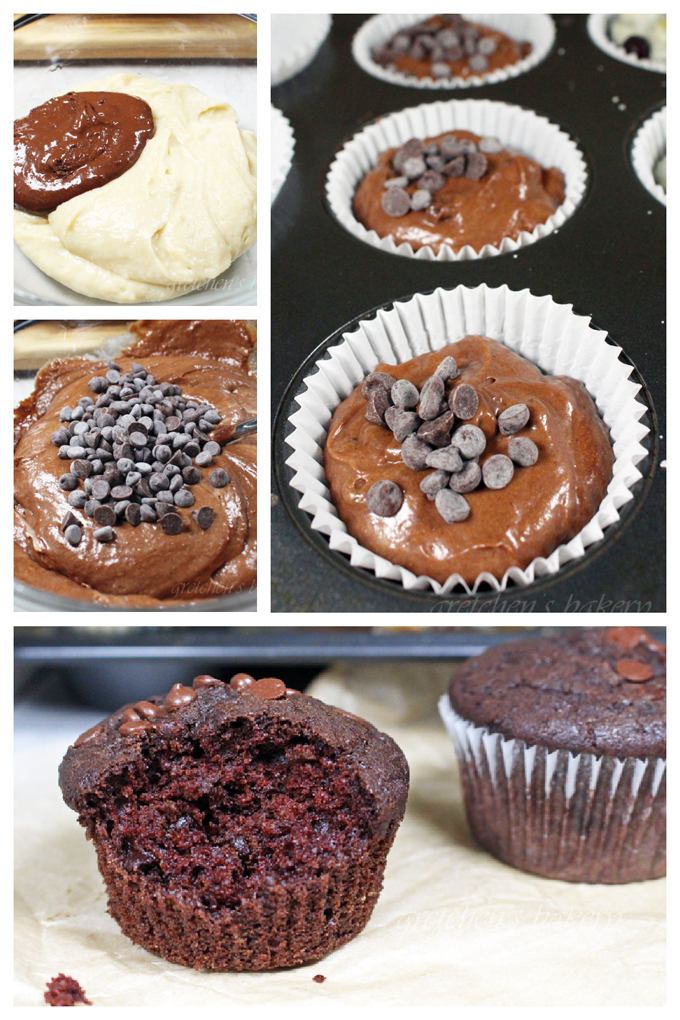 This recipe will make exactly one dozen muffins with three of each variety, but if you have the extra oven space and an additional standard muffin baking pan
Easily double the recipe and go for endless variations!
Just be careful with your math if you do decide to double the ingredients listed below
The number one reason for recipe failures usually starts with the math!
These muffins freeze beautifully after they have been baked so you can pop one out of the freezer any time for a delicious muffin in minutes!
Because the batter is a baking soda recipe, it is important to bake the muffins right away or they start to lose their "oomphf!"
So freezing the baked muffins is a better option that freezing or storing the raw batter.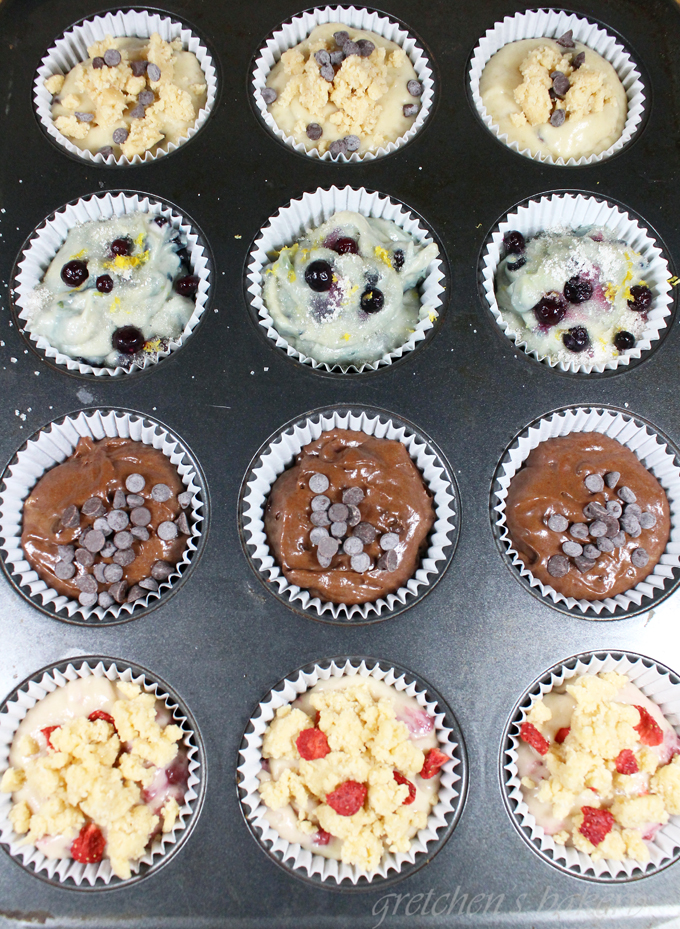 Notes for Success:
For a lighter version you can replace half of the oil or vegan butter with applesauce
This recipe will make exactly one dozen muffins with three of each variety, so for 3 muffins you will need ¾ cup of batter mixed with whatever additions you like.
The bulk struesel topping can be prepared and frozen as noted in the recipe below, it is best to use the topping straight out of the freezer by topping the muffins just before baking.
I like to bake muffins at a higher temperature to get that signature "jump" for that domed muffin top.
You can turn the oven down to 325°F after the initial 20 minutes if you feel they are browning too much, but the standard sized muffins don't usually take more than 25-30 minutes total
I used a strawberry compote as the mix in for my strawberry muffins because I did not have any fresh berries and while I loved the taste of these muffins the best, they did not get a good dome compared to the others.
Most likely because the batter was slightly wet compared to the others causing a harder time to get that rise.
Keep that in mind if you are using a canned filling or something with excess liquids as the add in you may want to add a tablespoon or three more flour to help absorb.
One last thing! You will notice I am using a combination of vegan butter AND coconut oil.
I like this combo, but you can use all of one or the other.
CLICK HERE TO WATCH THE FULL YOUTUBE VIDEO TUTORIAL FOR HOW TO MAKE THESE MUFFINS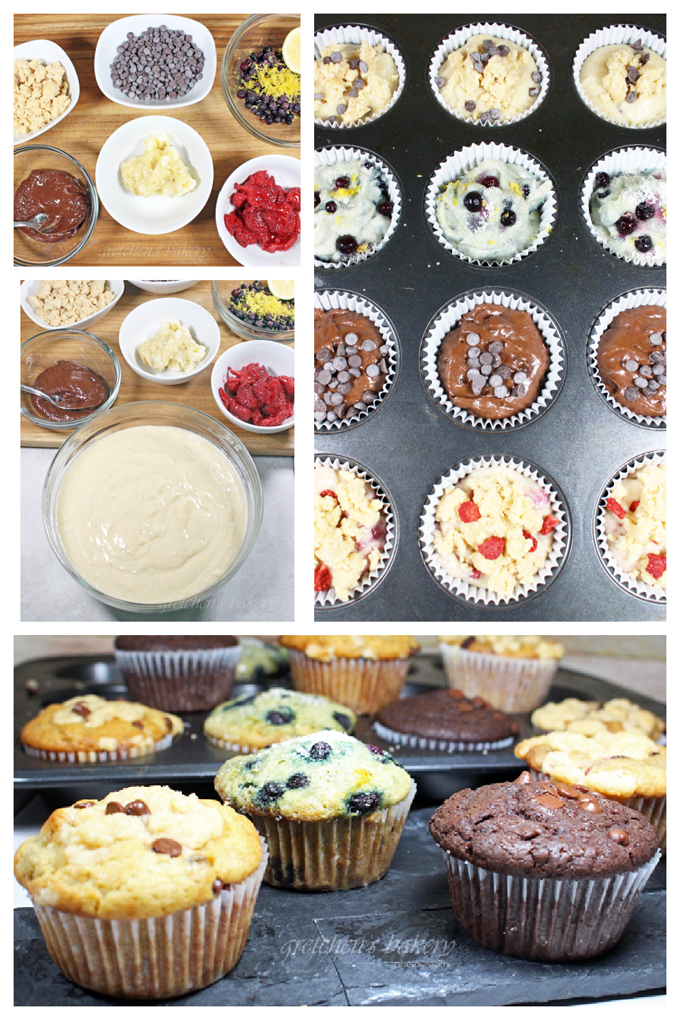 Yield: 12 muffins
Basic Muffin Batter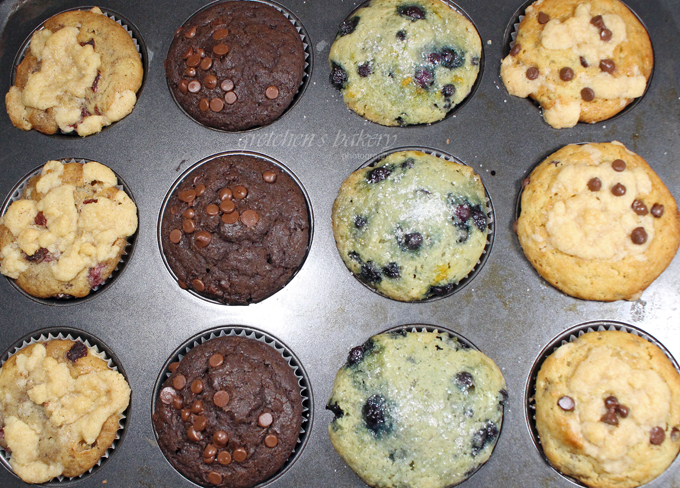 Ingredients
Basic Muffin Batter:
Plant Milk *I use soy milk ¾ cup (177ml)
Vinegar 2 teaspoons (10ml)
Vegan Butter 4 Tablespoons (56g)
Coconut Oil 4 Tablespoons (56g)
Vanilla Extract 2 teaspoons (10ml)
All Purpose Flour 2 cups (250g)
Granulated Sugar 1 cup (200g)
Baking Soda 1½ teaspoons
Baking Powder ¼ teaspoon
Salt ½ teaspoon
For 3 Banana Muffins:
Ripe banana mashed 6 Tbs (98g)
Mini Chocolate Chips 2 Tablespoons
Streusel topping 3 Tablespoons
For 3 Strawberry Muffins:
Fresh or frozen strawberries ½ cup
Streusel topping 3 Tablespoons
For 3 Lemon Blueberry Muffins:
Blueberries fresh or frozen ¼ cup
Lemon Zest from 1 small lemon *approx 2 teaspoons
Lemon Extract 1/8 teaspoon *optional
For 3 Double Chocolate Muffins:
Cocoa powder 2 Tablespoons
Hot water 2 Tablespoons
Mini Chocolate Chips 4 Tablespoons **divided
For the Bulk Struesel Topping:
Vegan Light Brown Sugar Packed ¾ cup (150g)
Vegan Granulated Sugar 1 cup (200g)
Salt ½ teaspoon (3g)
Ground Cinnamon ½ teaspoon
Vegan Butter 3 sticks (340g)
Cake Flour 3¼ cups (390g)
Instructions
First prepare the Bulk Struesel topping *if using
Cream the cold butter with both sugars - about 2 minutes.
Add the cinnamon, salt and flour and mix just until combined then sprinkle it out onto a parchment lined sheet pan breaking up any large pieces of crumbs into smaller crumbles the size of peas.
Freeze solid, then transfer to a ziploc bag or a container suitable for freezing.
Use frozen and store in the freezer for up to 3 months
Now prepare the basic muffin batter by combing the flour, sugar, baking soda & powder & salt in a large mixing bowl, whisk to incorporate everything evenly.
Melt the vegan butter and the coconut oil together
In another bowl or a glass measure combine the room temperature plant milk with the vinegar let it stand a few minutes to thicken, then add the vanilla extract.
Pour the melted butter/oil mixture into the flour along with the plant milk mixture, whisk smooth
You will have approximately 2¾ cups of batter total.
Divide the batter into 4 smaller bowls each with an approximate ¾ cup cup of batter
Then add your variation ingredients to each bowl for each different flavor as listed above in the ingredients
Scoop the batter into your paper lined muffin pans, add the struesel topping or sugar or nuts or oats or whatever toppings you like to each muffin and bake immediately in your preheated 375°F oven for approximately 25-30 minutes or when a toothpick inserted into the center comes out clean
Depending on your oven and placement in the oven you may want to turn the oven temperature down to 350 for the last 10 minutes of baking to make sure they do not over brown
Cool muffins in the pan until you can safely touch the pan without burning yourself, then turn them out onto a cooling rack to cool the rest of the way
For the Chocolate Variation:
Combine the cocoa powder with the hot water and whisk smooth then add it to the batter