10 Minute Strawberry sauce is the easiest recipe you will ever make!
From a simple topping for Ice Cream, Waffles and Pancakes to chunky fresh strawberry fillings for cakes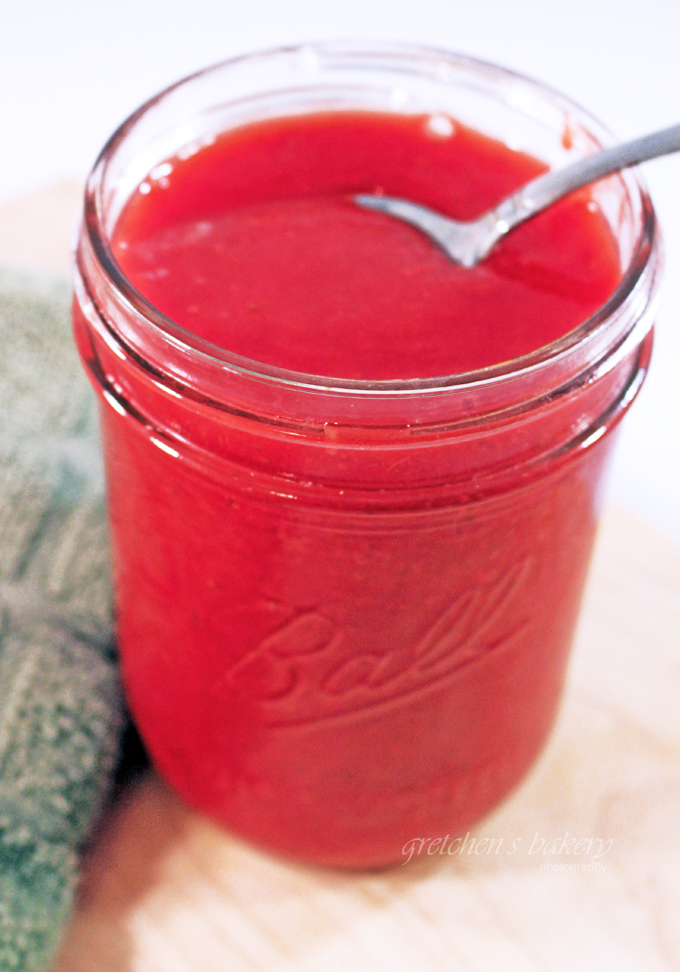 However the big question is: To cook or not to cook?
But that's not the only question because many people also ask whether to use fresh berries or frozen berries.
For me, I always cook my strawberry sauce and ninety nine percent of the time I am using frozen berries
The other one percent of the time is only because I have fresh berries and not frozen|
But typically I will buy an abundance of fresh berries at the height of the season only to freeze them myself
Why do I cook my strawberry sauce?
The main difference in a strawberry sauce that is simply blitzed in a blender raw, versus one that is cooked is going to be sauce thickness
A raw strawberry sauce is going to be much thinner and liquid, more like a drinking juice than a sauce
Cooking fruits and berries helps to break down the cell walls and release more of their natural pectin
Mostly this is information is important when making jams and jellies so for this quick strawberry sauce it's not really an issue
But if you want a thicker sauce for all your things, you will want to cook your berries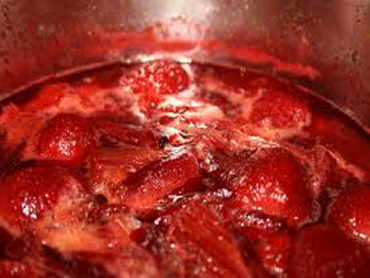 Do I add water to my Strawberry Sauce?
Because I use frozen strawberries the majority of the time I do not need to add water to my sauce
Frozen berries are going to be full of natural juices that are already breaking down from the freezing process
If you are using fresh berries you will have to add some water to help them cook without burning
Frozen strawberries tend to be more flavorful anyway so this another reason why it is my first choice in making berry compotes and sauces
A slow cook over medium heat will ensure the gentle breakdown of the fruits while preserving the taste and texture
Be careful not to cook too fast or boil them for too long, this could scorch the fruit and evaporate too much liquid leaving a bland, dull taste
I also rarely add sugar! But this is completely your option
You will see if you do add sugar your strawberry sauce will be slightly thicker
The sugar not only helps to break down the cell walls of the strawberries but it also attracts water molecules bringing the pectin chains closer together forming a tighter sauce!
A tiny squeeze of fresh lemon juice will also aid in this sugar-acid-pectin-gel
While bringing out all the beautiful bright qualities of your strawberries at the same time
Not to mention the acid will help gel the pectin even more!
Now that I made this simple 10 Minute Strawberry Sauce complicated!
Let me bring it back around! It's nice to know the science that is happening with your baking projects so you can control the outcome as you wish
But for all intents and purposes simply throw your strawberries into a medium heavy bottom sauce pot, add some sugar and water OR DON'T!
And then cook them down gently over a medium heat
Stirring often to avoid scorching and in about 10 minutes you will start to see them break down, get really chunky and then come to a gentle boil
Once the mixture boils, remove from the heat and add a squeeze (about ½ teaspoon) of fresh lemon juice and you're done!
At this point you can leave the strawberry sauce chunky, which I often do
Or blitz the entire thing in a blender for a smooth sauce
Straining the seeds from a pureed strawberry sauce is your option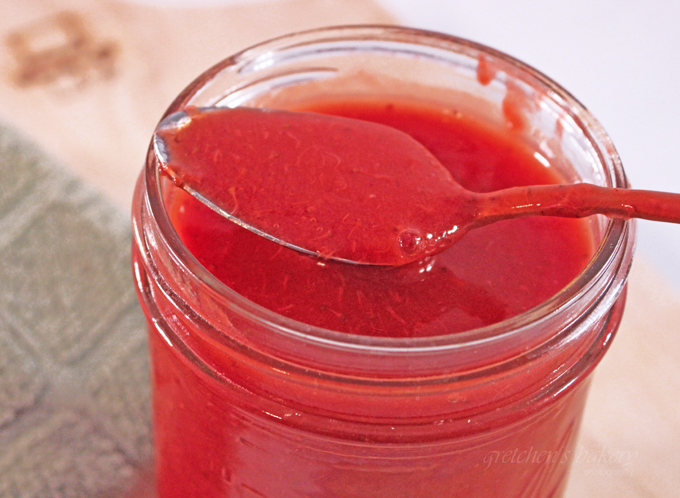 Strawberry sauce must be stored in the refrigerator in a clean, airtight container and will stay fresh for up to 2 weeks
Freezing strawberry sauce is great too! Freeze for up to 2 months!
PRO TIP:
Cranberries are one of the highest pectin fruits so by adding a handful of fresh or frozen cranberries to my strawberry sauce
Ensures the thickest sauce and adds a beautiful deep red color!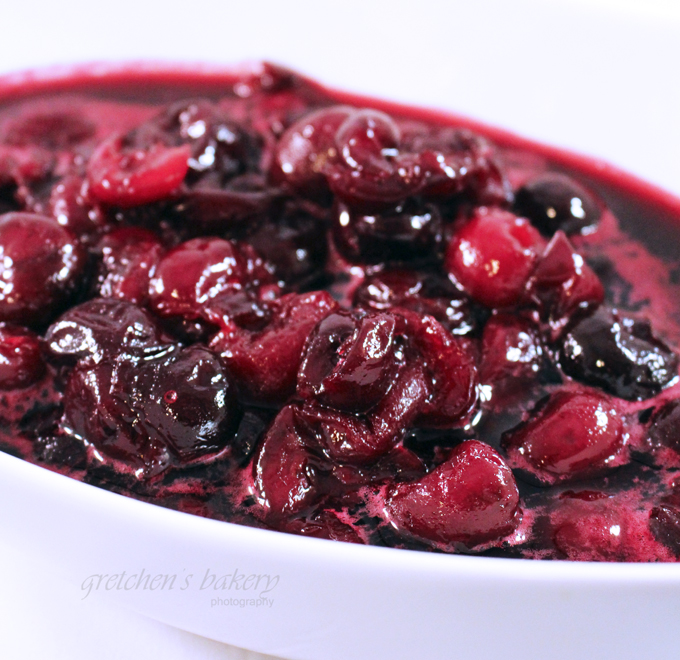 CLICK HERE FOR THE YOUTUBE VIDEO TUTORIAL FOR HOW TO MAKE STRAWBERRY SAUCE
For recipes using strawberry sauce click the links below!
Strawberry Vanilla Ruffle Cake
Yield: 2 cups
10 Minute Strawberry Sauce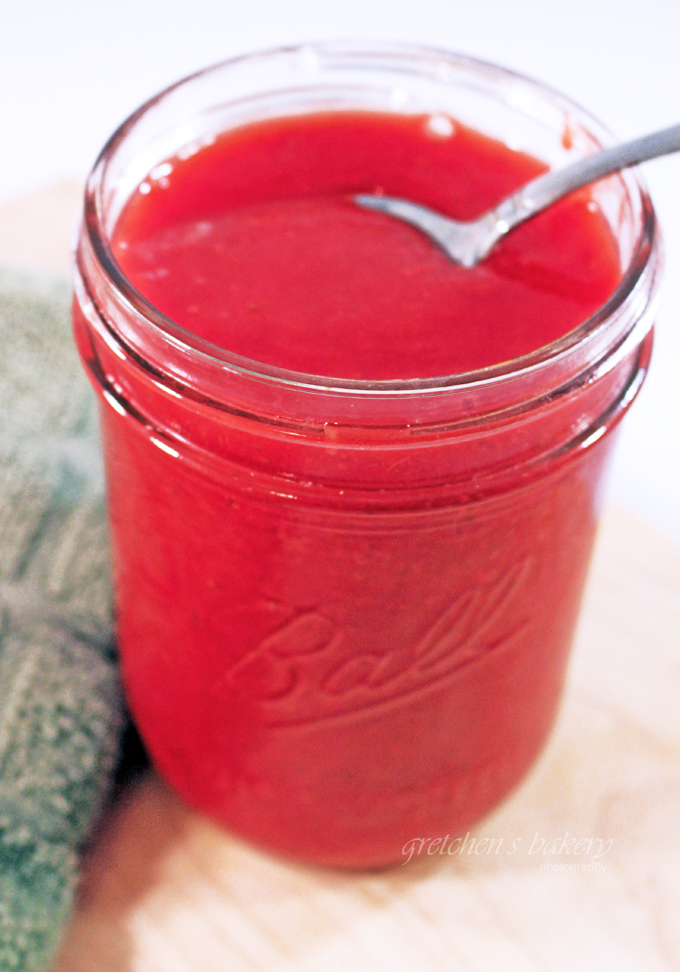 Ingredients
Frozen *or fresh see notes above Strawberries 2 cups
Granulated Sugar ¼ cup *optional see notes above
Lemon Juice fresh squeezed ¼ teaspoon
Water as needed
Instructions
Combine the frozen strawberries and sugar (if using) together in a medium heavy bottom sauce pot
If you are using fresh strawberries you may have to add a few tablespoons of water to help them break down. the frozen strawberries already have an excess of water so this is not needed with frozen berries
Cook over medium heat while stirring often to prevent scorching until the berries start to break down to a chunky sauce
Bring to a gentle boil and let boil for just about a minute to thicken
Sauce will also thicken more once cold
You can leave the strawberry sauce chunky or puree in a blender to a smooth sauce
Notes
Strawberry sauce must be kept refrigerated and will stay fresh for up to 2 weeks