One of the most asked questions I see on the social media groups I am in (on Facebook specifically) is "How to Replace the Eggs in a Box Brownie Mix"?
And the most offered answer is: "Just use Flax (or Applesauce – Or a Banana!)"
And my reaction is: "Noooooooooooooooooooooooooooooooo!"
While yes, technically those standard egg replacers will work, but are they the best options?
You already know my answer.
It is No. They are not!
Unless you want gooey, falling apart, possibly dense rubbery brownies, you will want to ditch those suggestions and follow my Box Brownie Hack here!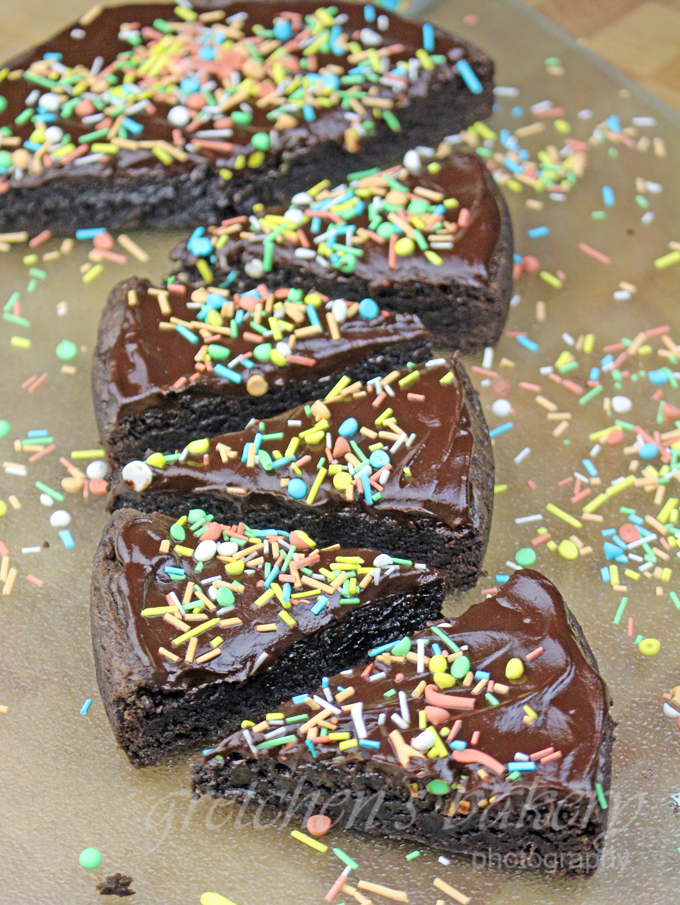 I have added my favorite egg replacer The Plant Based Egg by Freely Vegan as well as a bit more flour to help bind,  a touch more cocoa (is optional but helps balance that additional flour I've added) and along with the ingredients specified on the box for the oil and water, I added just a pinch of baking powder too.
It is necessary to add a few more ingredients more than just "an egg replacer" since when we take eggs out of a traditional recipe some other things get thrown off.
As you can figure out, those things are:
binding (which the additional flour corrects)
leavening (which the additional baking powder corrects)
moisture (which the additional water corrects)
So if you have those extras; and if you even bake just a tiny bit I am sure you do!
You are on your way to perfect egg free boxed brownies that no one will ever know are egg free and vegan!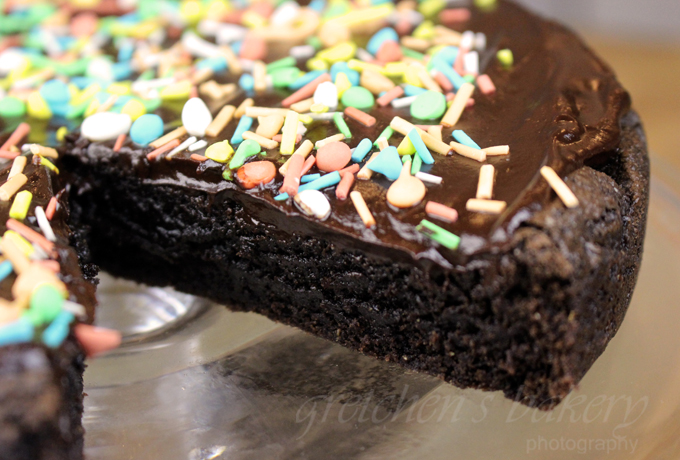 With an icing of chocolate ganache & homemade vegan sprinkles  your fudge brownie life just got a little easier!
For those who prefer to make brownies from scratch I have several recipes here: VEGAN BROWNIES FROM SCRATCH
And by the way I have also hacked the BOX CAKE MIX CLICK HERE
How to Replace the Eggs in a Box Brownie Mix
Ingredients
1 Box Duncan Hines Fudge Brownie Mix
½ cup water
⅓ cup vegetable oil
¼ teaspoon baking powder
2 Tablespoons cocoa powder *optional
All Purpose Flour ¾ cup *reduce to ½ cup for a super fudgy brownie!
2 teaspoons The Plant Based Egg - egg replacer by Freely Vegan
½ Recipe Vegan ganache *optional
Homemade Vegan Sprinkles *optional
Instructions
Sift all the dry ingredients together with the box mix.
Add the water & vegetable oil and mix smooth
Bake in a preheated 350°F oven according to the box instructions.
Cool brownie comletely before icing with vegan ganache & decorate with vegan sprinkles!
Notes
Brownies will stay fresh in an airtight container at room temperature for up to 3 days.

For longer storage refrigerate for up to 9 days, wrapped tightly for freshness.
Some of you may know that for the last 2 years I have been working on developing a vegan egg replacement that my friend Deborah (
at Vegan Kitchen Magick
)pioneered.
I am thrilled to announce it is finally being sold
on Amazon
and at
Freely Vegan.com
This is by far my favorite egg replacement to use (of course I am a bit biased, but only because it works great in every recipe I have ever used it in!)
Spread the word please and consider purchasing to help a small business venture!! THANKS!