Vegan Pasta Panang is one of my favorite dishes to make!
Not only is it fast and easy (you cna have it ready in just about 25 minutes!) it is so delicious!
I love spicy Thai food and this one packs a punch!
But not too much kick, just the right amount of heat in this perfect peanut sauce to go over all those beautiful veggies and Pad Thai style pasta!
For "chicken-less" vegan panang pasta add a package of cooked Gardien Chick'n Strips or any plant based meat alternative of your choice!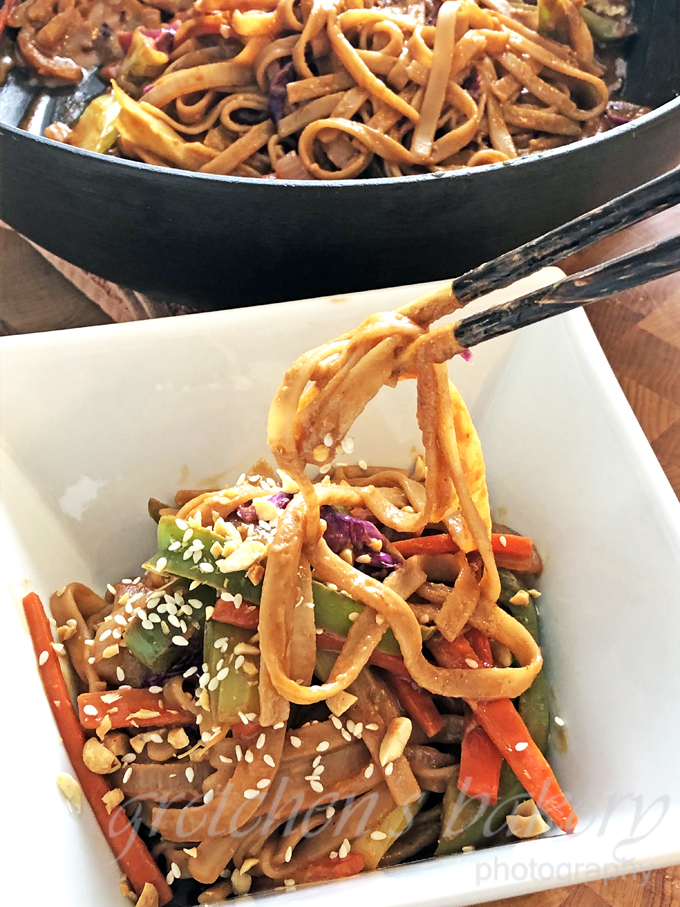 Vegan Panang Pasta
This recipe as listed below has about 800 calories per serving, for a lighter, healthier meal omit the oil
Ingredients
Pad Thai style Pasta or Fettuccine 12 ounces
Vegetables of Choice: I used:
Assorted bell peppers, red, orange, yellow, green all julienne sliced total 1½ cups
Red Cabbage Sliced 1½ cup
Carrots 1 large carrot julienne sliced
Celery Ribs 3 large sliced
Onion 1 Medium sliced
Vegetable Stock ½ cup
For the Thai Peanut Sauce
Vegetable Stock or Water 4 Tablespoons
Peanut Butter creamy 3 Tablespoons
Tamari or Soy Sauce *I use low sodium 6 Tablespoons
Sriracha 2 Tablespoons
Agave or Maple Syrup 4 Tablespoons
Garlic minced 1 Tablespoon
For garnish:
Rice Vinegar 2 Tablespoons
Scallions 4 stalks
Sesame seeds 2 Tablespoons
Peanuts 4 Tablespoons
Instructions
Cook the pasta as per the instructions, in a large pot of salted boiling water
Prepare the veggies by slicing or chopping them
Mix all the sauce ingredients together and whisk smooth
Steam/Saute the veggies (except the red cabbage) with the vegetable stock in a large saute pan or a wok until tender about 5 minutes then add the red cabbage and cook for another 3 minutes
Add the sauce and whisk smooth as it boils add the cooked, drained pasta last
Toss everything together well then add the rice vinegar and toss to coat
Serve hot and garnish with optional chopped scallions, peanuts and sesame seeds
Notes
This pasta is great served leftover! So it can be stored for up to 1 week in the refrigerator

Just reheat on the stove or in the microwave