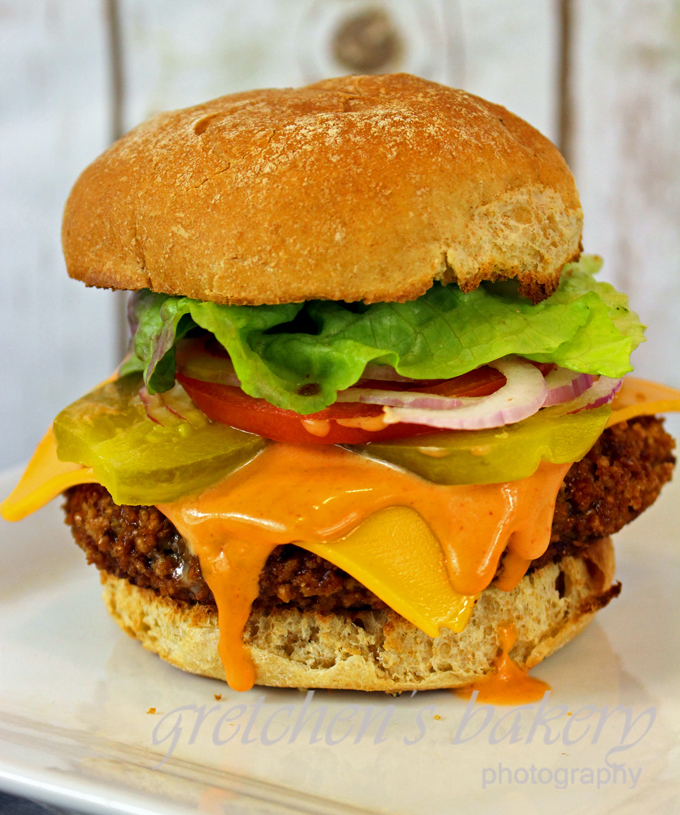 Yes, I can honestly say this is the most Perfect Vegan Veggie Burger you will make at home!
I am so pleased with how this turned out and I think you will be too!
It is a perfect blend of black beans, quinoa and a melange of spices!
There is nothing worse than a mushy, falling apart veggie burger and you definitely won't find any of that nonsense here!
Check out how to make The Perfect Vegan Veggie Burger!
And if you are feeling particularly frisky, go for my amazing Soft Hamburger Buns recipe to go along!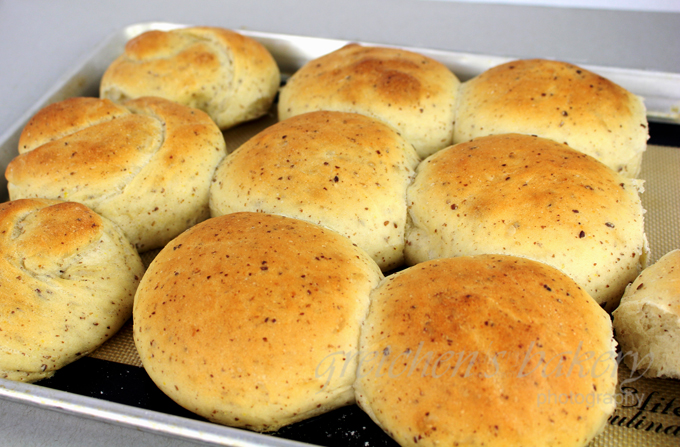 I piled on lettuce, tomato, red onion, pickle and a sauce from ketchup, Sriracha and vegan mayo and a slice of smoked gouda vegan cheese!

Perfect Vegan Veggie Burger
* I used my good friend
Miki's TACO SEASONING RECIPE
which I Highly recommend! But if you do not want to make that, you can use Chili Powder instead.
I try NOT to cook with oil nowadays, but if you do not feel comfortable going without it, you can cook the veg with 1 Tbs Oil of your choice
If you do not want to use the EnerG Egg Replacer you can use all aquafaba 1- 1½ cups INSTEAD of the water
Ingredients
Black Beans canned 1 can (15oz drained) OR 1¼ cup cooked black beans
Quinoa Cooked 1 cup
Old Fashioned Oats ½ cup
Mushrooms * I used Baby Bellas 1 cup chopped
Sweet Onion ¾ cup chopped
Garlic Cloves 3 minced
Panko Bread Crumbs 2 cups divided
Salt 1 teaspoon
Black Pepper 1 teaspoon
2 Tablespoons Miki's BEST TACO SEASONING **see note above
Garlic Powder 2 teaspoons
Onion Powder 1½ teaspoons
Smoked Paprika1 teaspoon
For the Dipping & Crust:
Energy Egg Replacer 2 Tbs **See note above
Water 1 cup
For the Basting Mixture:
BBQ Sauce 3 Tbs
Liquid Smoke 2 teaspoons
Vegan Worcestershire Sauce 2 Tbs
Instructions
Cook the onions, garlic and mushroom together in a large saute pan until tender & translucent approx 8 minutes on medium high heat *oil is optional, see note above
Add the spices and stir to coat evenly
Add the cooked quinoa and cook for an additional 3-5 minutes to steam off the excess moisture
Transfer the mixture to a food processor and add the Plant Based Egg egg replacer, salt & pepper, oatmeal and 1/2 cup of the panko bread crumbs (reserve the rest for dipping the formed patties)
Pulse- process to a paste like consistency but not to puree! You want some chunks of beans left throughout.
Transfer to a bowl and refrigerate for 1 hour or up to 3 days covered.
Form the patties and then dip each one into the EnerG Egg Replacer mixed with the cold water, drip off excess then plunge into the remaining brad crumbs.
Fry in a hot saute pan (cast iron preferably) over medium high heat for 5 minutes per side.
Before the last few minutes, brush on the basting mixture.
Add vegan cheese *if desired and then serve on buns of your choice with your choice of toppings!
Notes
The burgers can be formed and stored in the refrigerator for up to 3 days and fried fresh to order, or frozen for up to 1 month.

Thaw fully before cooking
HERE IS THE LONG VLOG STYLE VERSION OF THE VIDEO WITH THE RECIPE!