Ever since we found out we could make whipped cream from coconut fat, what is everyone doing with all that leftover coconut water?
Aside from adding it to your daily smoothie, here are 3 recipes that use coconut water.
From my vegan version of Trinidadian Coconut Sweet Bread to Chocolate Coconut Cinnamon Rolls and then Coconut Orange Drop Cookies in between!
Try one or try them all!
But be sure to save that luscious coconut fat from the top of the can for your next coconut whipped cream project!
Trinidadian Coconut Sweet Bread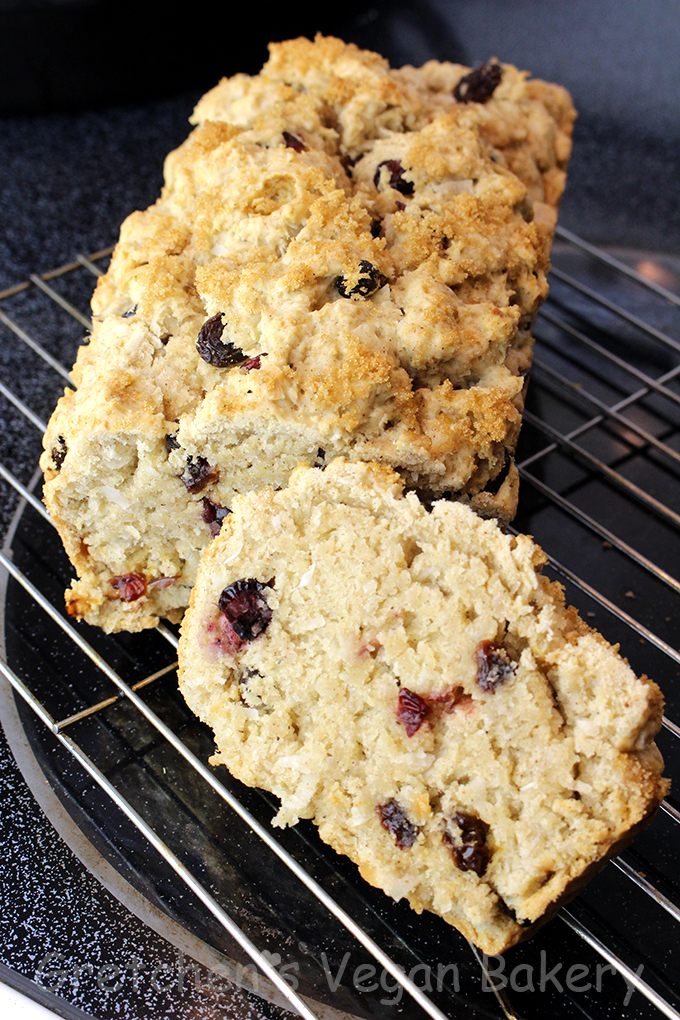 My version of this Trinidad favorite uses slightly different ingredients but the result is the same~ dare I say, Better!?
Ok, Ok I won't say it, I'll let you decide!
The traditional loaf uses candied fruit mix like green and red cherries and some raisins or currants.
But since I really don't like candied cherries I decided to use cranberries, raisins and even some minced crystallized ginger!
I had to be careful of stepping on any Trini toes though, by putting my own twist on things.
But I was reassured by my Bajan friends that this bread can rival the real thing!
Go ahead! try it!

Coconut Sweet Bread
I am using a
larger loaf pan
than the standard dimensions. If you don't have the large loaf pan you can make 2 smaller loaves
Ingredients
All Purpose Flour 3 cups (375g)
Vegan Butter 8 Tablespoons (113g)
Ground Cinnamon 1 teaspoon
Ground Nutmeg 1 teaspoon
Light Brown Sugar 1 cup (210g)
Salt 1 teaspoon (5g)
Baking Powder 3 teaspoons (15g)
Orange Zest 1 teaspoon
Lemon Zest 1 teaspoon
Coconut Water 1 cup (237ml)
Vanilla Extract 1 teaspoon
Dried Fruit Mix (for example: raisins, apricots, currants, cranberries) 1½ cup total
Grated Coconut 2 cups
Instructions
Combine the flour, sugar, baking powder and spices together in a large mixing bowl
Cut in the vegan butter with a pastry blender or a fork until it resembles course meal
Add the zests, vanilla extract and coconut water and mix to a stiff, but sticky dough
Add the fruits and the coconut and then knead it all by hand until it comes together
Place the dough in a greased loaf pan and bake in a preheated 350°F oven for 45 minutes or until it is golden browned and no longer raw on the inside
Cool before turning out of the pan then slice and serve warm with vegan butter
Notes
Traditional Bajan Coconut Bread is wrapped in tin foil and stored at room temperature.

Some freeze the bread for up to 1 month
Chocolate Coconut Cinnamon Rolls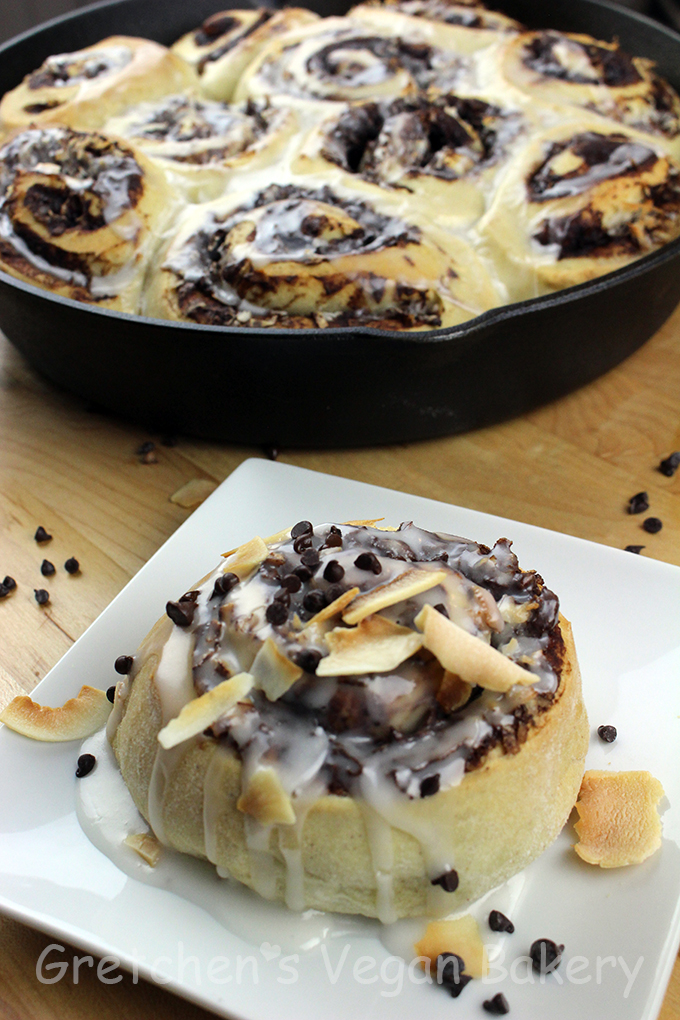 I love chocolate and coconut together.
Not sure about those two flavors together?
Just ask the Almond Joy cake how it's going!
So let's tone down that chocolate on this one, bring the coconut to center stage and have yourself a tropical breakfast with sweet coco-nutty  cinnamon buns!

Chocolate Coconut Cinnamon Rolls
Ingredients
For the Bun Dough
Active Dry Yeast 3 teaspoons (9g)
Coconut Water ½ cup (120ml)
All Purpose Flour 4 - 5 cups (520g-650g)
Salt 1½ teaspoons (9g)
Granulated Sugar ½ cup (100g)
Vegan Butter 8 Tablespoons (113g)
Coconut Milk or more Coconut Water 1 cup (237ml)
For the Chocolate Schmear
Water 4 tablespoons (60ml)
Granulated Sugar 4 Tablespoons (50g)
Unsweetened Cocoa Powder ½ cup
Granulated Sugar 4 Tablespoons (50g)
Shredded Coconut 1½ cups
Sugar Glaze
Confectioners Sugar 2 cups (240g)
Almond Milk 2 Tablespoons or more as needed to your desired consistency
Instructions
Prove your yeast by mixing it with the room temperature coconut water and a pinch of the sugar.
If it gets bubbly and frothy after about 5 to 10 minutes, you have proven that the yeast is alive and you may proceed with the recipe. (*if it does not froth, it is good chance your yeast is old and dead and you should buy a fresh package)
Combine all of the remaining ingredients, including the proven yeast into the bowl of your Kitchen Aid mixer with a dough hook attachment
Follow along in the video tutorial for mixing this dough.
Transfer the dough to a lightly oiled bowl and cover with a towel and set in a nice warm spot to double in size. This will take approximately 1 hour depending on the conditions in your kitchen.
Once it has doubled, you will gently "punch down" the dough to release the gasses and proceed to roll the buns as shown in the video.
Press the dough into the best square or rectangle you can by hand, and then roll with a rolling pin to approximately 12" X 20"
Spread the entire surface with chocolate schmear recipe below and then the shredded coconut
Roll up jelly-roll style and then cut into 12 equal portions.
Arrange the buns in a greased 9" x 13" baking dish or a cast iron pan as I am using this time inteh video, spaced so they are about 1″ apart.
Cover with a towel and place the baking dish in a warm, draft free spot to rise again.
About 1 hour depending on your kitchen conditions.
Once the buns have risen they will most likely be touching each other or almost touching each other and be soft and airy when you poke them, bake them in a PREHEATED 350° F oven for approximately 20- 30 minutes or until golden brown and center buns are fully baked
Cool slightly and then ice with sugar glaze by combining the confectioners sugar and almond milk together and whisk smooth
Notes
As with all yeast products it is best to serve them right away.

1 day is the maximum for any fresh baked bun.
Breads, buns and rolls will get stale very quickly.

To give an extra day to the buns, be sure to wrap them tightly in an airtight container or with plastic wrap after they have fully cooled.
Coconut Orange Drop Cookies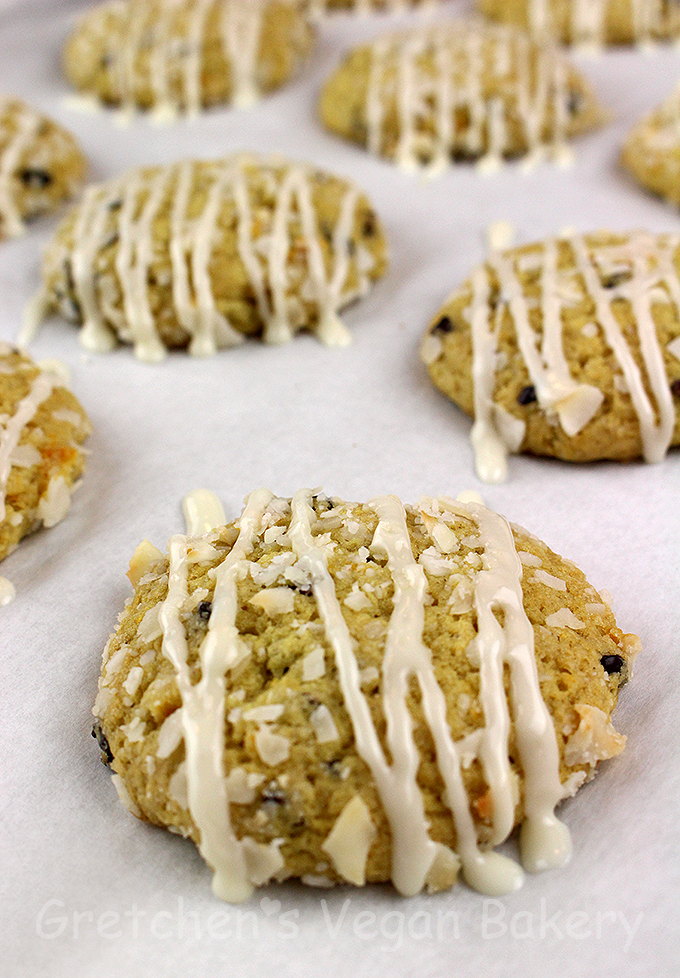 This recipe may seem a bit odd in that we are putting a whole orange, unpeeled (with the skin) into the batter!
But trust me it is so good!
The coconut and orange together give good ol" Chocolate Chip Cookie a run for it's money!
These cookies are more like cake cookies, so light and airy that you can eat about 6 of them before you realize you ate 6 of them!
Cocoa nibs give these cookies a slight chocolate undertone with a crunch; but you can easily substitute with chocolate chips instead.

Coconut Orange Drop Cookies
Ingredients
For the Cookies:
Navel Orange 1 small (skin ON, quartered seeds discarded)
Coconut Oil melted ⅔ cup (150g)
Granulated Sugar ⅓ cup (66g)
Light Brown Sugar ¾ cup (158g)
Coconut Water 6 Tablespoons (90ml)
Vanilla Extract 1 teaspoon
Coconut Extract 1 teaspoon
Salt ½ teaspoon
All Purpose Flour 2½ cups (312g)
Cardamom ¼ teaspoon
Baking Powder 1 teaspoon (5g)
Baking Soda 1 teaspoon
Cocoa Nibs ½ cup (70g)
Sweetened Flake Coconut ½ cup
For the Glaze:
Confectioners Sugar 1 cup (120g)
Coconut Extract 1 teaspoon
Coconut Water 2 Tablespoons (30ml)
Instructions
Place the orange in a food processor and pulse until it is chunky
Add the orange pulp to a large bowl with the sugars, coconut oil, vanilla and coconut extracts, coconut water and salt and whisk to combine well
Add the sifted flour, baking powder & soda and the cardamom and mix to form a batter
Add the cocoa nibs and the sweetened flake coconut and mix well
Scoop onto parchment lined sheet pans and bake in a preheated 350¯F oven for approximately 18 minutes or until they are light golden
Cool slightly before glazing with sugar glaze made from whisking together the confectioners sugar, extract and coconut water
Notes
Cookies will stay fresh for about 1 week in an airtight container at room temperature