As many of you know I owned a bakery for 10 years and if anyone who knows anything about working in the food service industry during the holidays
You will probably already know why I spent my Thanksgivings alone!
The weeks leading up to a major holiday like Thanksgiving are grueling to say the least.
No days off, 18 hour days and then the final push when the actual holiday arrives is literal around the clock work.
So for me, by the end of a run like that I was in no way, shape or form ready, willing or able to dress myself into anything more than pajamas and crawl onto the couch with my Tofurky and my Winklebean and call it a night!
Let me just say that in the beginning years of my bakery ownership I did indeed go to the family gatherings and visited with friends; but by year 4 I was getting older and the bakery life was not in any way getting easier.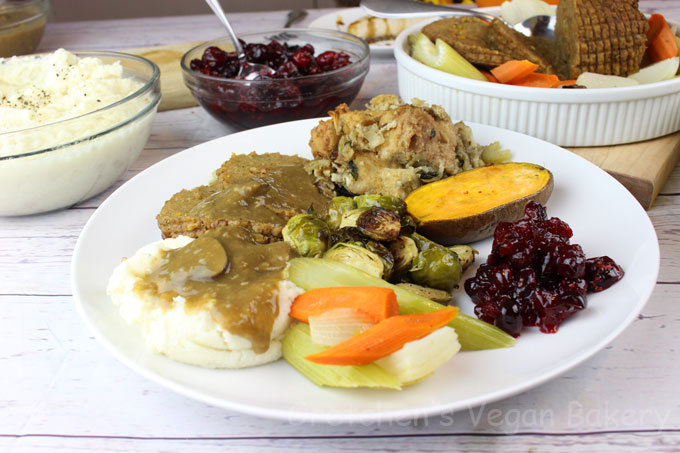 By that time too, my mom had moved to Florida, my sister was doing the Thanksgiving "thing" with her husband and his family, so for me it was almost a relief to just forgo the festivities and have myself my own little Tofurky dinner solo.
It actually became my own tradition to make my Tofurky, mashed cauliflower and mushroom gravy, apple-sage & sausage stuffing, with my homemade cranberry sauce and a little pumpkin pie I grabbed from the bakery before racing out the door.
Winklebean and I would cuddle up on the couch and snuggle while watching How the Grinch Stole Christmas as my segue into the next holiday which started the very next day after Thanksgiving and it didn't stop for one minute until Christmas day.
So it's not really as sad as it may have sounded, since this was my choice and my first choice too!
So whether you are flying solo or have lots of guests planned for dinner,  I wanted to share with you all my recipes I have been using for my Vegan Thanksgiving feast for the last 8 years.
Some of it has changed slightly but all of it has gotten better as my cooking skills have improved over that same time!
I want to also add that I named this blog post "dinner for one" but indeed it will serve possibly four? But at least two if you eat like I do, and I am sure to have another helping late that night or even the next day.
You will notice I am using a Field Roast this year and in this video, although I keep talking about "the Tofurky".
I simply could not get a Tofurky Roast this year! I guess I'm a little bit too early since Thanksgiving isn't for another 2 weeks.
But I have had the Field Roast before and I have to be honest I do prefer it over Tofurky.
It's just that Tofurky has a special place in my heart since it was the only thing available many years ago when I had my very first Vegan Thanksgiving ever!
So although Tofurky tastes…. a bit odd…. I do love it so much, it's nostalgic!
So if I am being honest,  I'll have to say I that am thankful they didn't have any this year and I had to go with the Field Roast instead! LOL
Ok, well I hope you will enjoy everything as much as I did (and do!) and I want to wish you a very Happy Thanksgiving whether you are alone or with family and friends, be grateful.
Today I saw a beautiful tree all blazing in red autumn color and I was so thankful. It was as simple as that.
There really is so much to be grateful for.
And PS- the turkeys will be forever grateful for you too this Vegan Thanksgiving! (Tom told me so!)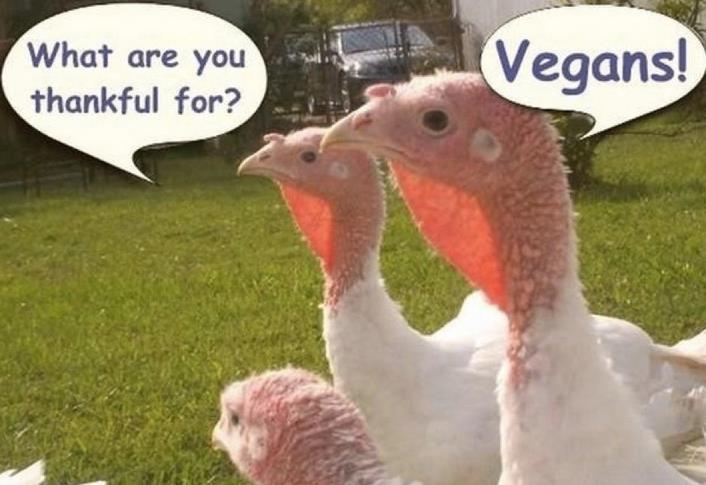 Vegan Thanksgiving Dinner for One
All of these recipes can be made several days in advance and reheated before serving
Cranberry Sauce recipe listed separately below
**Update UPDATE LightLife Sausages are not vegan they have egg whites in them! I did not read the package closely and made the mistake that I ask you all not to make, I would have preferred to use Field Roast brand sausages as these are 100% vegan
Ingredients
Field Roast
Carrots 2
Celery ribs 2
Onion half of a small
vegetable stock ¼ cup
For the Mashed Cauliflower
Cauliflower head 1 medium to large
Vegan Parmesan cheese ¼ cup
Vegan Butter 4 tablespoons
salt & pepper to taste
For the Roasted Brussel Sprouts
Fresh Brussel Sprouts 10ounces
Olive Oil 1 - 2 Tablespoons
Slat & Pepper to taste
For the Fat Free Mushroom Gravy
Vegetable Stock 2½ cups
Onion chopped small ½ medium
Garlic 5 cloves minced
All Purpose Flour ½ cup
Nutritional Yeast 5 Tablespoons
Sage ½ teaspoon
Black Pepper ⅛ teaspoon
Salt ½ teaspoon
Soy Sauce 4 Tablespoons
Fresh Mushrooms Baby Bellas chopped 1½ cups
For the Roasted Sweet Potatoes
Sweet Potatoes 4 small
Olive Oil 1 Tablespoon
salt & pepper as needed
For the Apple Sage Sausage Stuffing
Field Roast Apple Sausages 2 links NOT lightlife as I showed in the video, those are NOT vegan!
Whole Wheat Baguette 1 loaf (approx 6 cups cubed bread)
Celery Rib 2
Onion 1 small
Shallot ½ large
Mushrooms 1½ cup chopped
Fresh Parsley 3 Tablespoons
Vegan Butter 4 Tablespoons
Dried Sage 1 teaspoon
Dried Thyme ½ teaspoon
Salt & Pepper as needed
Instructions
Watch the video tutorial for the instructions on how to prepare each recipe.
Notes
Cauliflower: Can be made in advance and stored in the refrigerator for up to 1 week. reheat in the microwave or stove top before serving

Gravy:Can be made in advance and stored in the refrigerator for up to 1 week. reheat in the microwave or stove top before serving

Roasted Vegetables: Best made the day you are serving, but can be stored up to 4 days in the refrigerator. Reheat in the microwave or stove top before serving

Stuffing: can be made in advance and reheated in the microwave or stove top before serving

Field Roast: Leftovers can be stored for up to 4 days in the refrigerator, Reheat in the microwave or in the oven before serving
CRANBERRY SAUCE RECIPE
Cranberry Sauce
Ingredients
Fresh (Or Frozen) Cranberries 12 ounce Bag (336g)
Granulated Sugar 1¼ cup (250g)
Red or White Wine OR Water 1 cup (237ml) *I used cranberry moscato wine
Star Anise 4 pods (or 1 teaspoon ground anise)
Cinnamon 1 teaspoon
Zest from 1 Orange + Juice
Vanilla Extract 2 teaspoons
Instructions
In a heavy bottom sauce pot, combine all the liquids with the sugar and spices, zest and orange juice and bring to a boil over high heat.
Add the cranberries and then return to a boil.
Lower the temperature to a simmer for 15 -20 minutes, the sauce will begin to thicken and the berries will begin to pop.
Discard the anise pods then add the vanilla extract
If you like your sauce pureed, then immediately pour into a sturdy blender or food processor and blend until puree.
I prefer to keep my berries whole.
Notes
Serve warm or cold but be sure to store cranberry sauce in the refrigerator for up to 2 weeks in an airtight container.

It will thicken to a more "gel like" consistency like traditional cranberry sauce from the natural pectins in the fruit
and don't forget the dessert!
Raw No Bake Maple Cream Cake!